CoverMate Stretch-to-Fit Food Covers
Product Review & Giveaway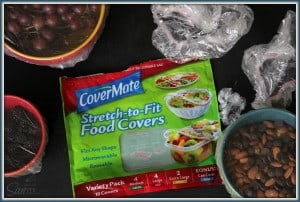 I don't know about you, but I hate putting leftovers away in a fridge for one reason: finding a lid to the tupperware. Whether it's my six-year-old collecting bugs or my girls "borrowing" containers for tea parties, playing kitchen, or digging in the sand box, it seems like I have to buy a new set of tupperware every few weeks.
If you've ever brought a dish to a party or had an unusually large bowl to put in the fridge, unless you shell out the money for the best kind of plastic wrap, it always seems to cause more frustration trying to get it to stick to the sides than anything else. The cheaper versions are exactly that – cheap.
Thank goodness I found CoverMate.
While I was a little skeptical at first, CoverMate quickly won me over. They are simply plastic stretch-to-fit food covers that take the place of Saran Wrap. Being a busy mom, caretaker, and caterer, I shop at the large wholesalers for the plastic wrap boxes that usually my husband has to carry out to the car due to their excessive weight. With CoverMate, that necessity and waste is gone. I feel like I'm saving my sanity and Earth at the same time.
CoverMate is found a lot of places, but online and in local stores, I found it for between $2.00 and $8.00. I love that it is durable, reusable, and super handy for a mom always on the go.
It was especially great to have them during the holidays, including all five Christmases my kids got to enjoy (thank you in-laws). I was able to pre-make stuff and set it aside, allowing me to spend a condensed time in the kitchen all at once instead of having to be in and out all day. My kids appreciated that.
Several sizes and shapes come in a package to fit a variety of dishes, pots, sheet pans and containers, and I've used every single one. Whether covering my spinach cranberry salad on the way to the Gillan gathering, my husband's favorite chile verde on the way to my parents' house, or letting my crème brulee custard set in the fridge, CoverMate has saved some spills and kept that dreaded fridge taste away. And since most people know me as the sugar queen, I also used them to cover the mountain of sweets that literally poured out of my kitchen. It kept my sugar cookies softer longer than any other method I've tried.
It's also great for hot dishes; the plastic doesn't melt, bubble, or get all nasty. And, when I wanted hot homemade refried beans, I threw the bowl with CoverMate into the microwave and there were none of the usual splatterings that would have frustrated me a week later as each of my family members would have ignored them until they formed into petrified wood.
And despite my family and friends' attempts to steal them, I've had mine for a couple months and still regularly use them all. I typically clean them with soap and water by hand right after I use them (this is by far the easiest way) and lay them over a dish rack, banana hook, or paper towel holder to let them dry. Overall, this is product that simply makes my life a little easier and will be a mainstay in my kitchen.
CoverMate receives a full approval from A Dash of Sanity.
XOXO San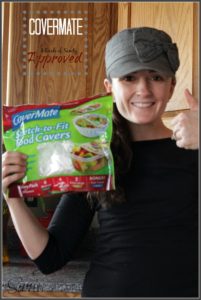 Positives:
• Super handy (better than finding tupperware lids)
• Reusable
• Withstands heat
• Fits anything
• Easy and cheaper to order online (Amazon)
Drawbacks
• You have to clean them
• Not found at every store
• Prices vary

Save