My family, especially my kids are suckers for good Chinese food.
My kids totally crack me up when heading out to eat, when asked where to go we get one of two answers, "Chinese" or "Garlic Knot" (local pizza place). I love that now too they may even say sushi, meaning Chinese because they get sesame chicken at our favorite sushi place in town. I love sushi, love it! So this is always music to my ears. But taking 5 kids, let me correct that, five hungry kids requires a certain amount of energy and patience and let's be real, I just don't have it all the time…that is patience. So there are those nights where it is worth the messy kitchen, dishes upon piles of dishes to stay home and eat "Chinese take-out". It taste even better than take-out, although I actually think my kids may disagree as they love super fried, like "where is the chicken?" fried type of sesame chicken. LOL.
This recipe is amazing, the ginger adds just a simple touch of sweetness. And what I love about this recipe is that it doesn't call for flour to coat the chicken. And yet, you still get the crispiness of "take-out" sesame chicken.
Easy to prepare and make, even easier to serve. Your family and guest will devour this in no time.
Enjoy our twist on "take-out" Sesame Ginger Chicken.
XOXO San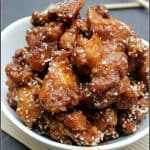 Print Recipe
"Take-Out" Sesame Ginger Chicken
This "Take-Out" Sesame Ginger Chicken recipe is easy to make and easier to serve. It is perfectly crisp and light, just like the original.
Ingredients
2 1/4 - 1/2

pounds

chicken thighs

1 1/4

cup

cornstarch

6

tablespoon

sesame oil

3

tablespoon

sugar

vegetable oil

5

tablespoons

minced garlic

2 1/2

tablespoon

minced ginger

8

tablespoons

rice wine or white wine will work

4 1/2

tablespoons

hoisin sauce

8

tablespoons

low-sodium soy sauce

3

tablespoons

honey

3

tablespoons

sesame chili sauce

1

teaspoon

red chili sauce

found in the Asian aisle at your grocery store

1

lemon

zest and juice

toasted sesame seeds

for garnish, optional

scallions

for garnish, optional

rice

for serving
Instructions
Combine sesame oil, sugar, 2 tablespoons soy sauce, and pepper. Toss in the chicken and coat, cover, place in the refrigerator to marinate for 1 hour.

Add the cornstarch to a shallow baking dish. Dredge each piece of chicken in the cornstarch, shaking off any excess. Set on baking sheet, and continue to coat the rest of the chicken, make sure not to overlap on the sheet.

Fill a Dutch oven or high-sided sauté pan with enough oil to completely submerge the chicken pieces. Heat over high to 375 degrees F, I use a candy thermometer to check. You can also add a drop of water to the oil- if it bubbles and splatters then it is ready. Once heated, reduce heat to medium-high.

Add your chicken in batches to not overcrowd the pan, deep fry the chicken until golden brown, about 3 minutes. I do about 4 batches. Place the finished chicken on a paper towel-lined plate or baking sheet.

In a large sauté pan, heat 1 tablespoon vegetable oil over medium heat. Add the garlic and ginger and cook until golden brown and fragrant, about 30 seconds. Add the rice (white) wine, hoisin, soy sauce, honey, and the chili sauce; bring to a simmer.

In a measuring cup, mix the remaining 2 tablespoons cornstarch with 1/4 cup cold water (to avoid lumps) and whisk until combined. Add to the sauce and simmer for an additional minute, until the sauce thickens. Adjust seasoning to taste, add a little more heat by adding red chili sauce, we like to add more soy and honey.

Coat the chicken in the sauce. Add the lemon zest and juice, optional – we don't do this unless we are having guest over.

Garnish with toasted sesame seeds and scallions. Serve with rice, and enjoy!
Notes
Adapted from Food Network, Kelsey Nixon
Nutrition
Calories:
842
kcal
|
Carbohydrates:
81
g
|
Protein:
53
g
|
Fat:
32
g
|
Saturated Fat:
5
g
|
Cholesterol:
242
mg
|
Sodium:
2236
mg
|
Potassium:
834
mg
|
Fiber:
2
g
|
Sugar:
30
g
|
Vitamin A:
60
IU
|
Vitamin C:
20.4
mg
|
Calcium:
75
mg
|
Iron:
3.6
mg
Kid's reviews: Anyone want "take out"? Yes, they'll scream. Let's whip it up.
Adapted from Food Network, Kelsey Nixon