25+ 30 Minute Back-to-School Meals you need all of these recipes in your life. Like right now.
You see people, the end. For some of you, it is already over. School is about to or has already started and that means carpools, sports, after school activities and not enough time in the day.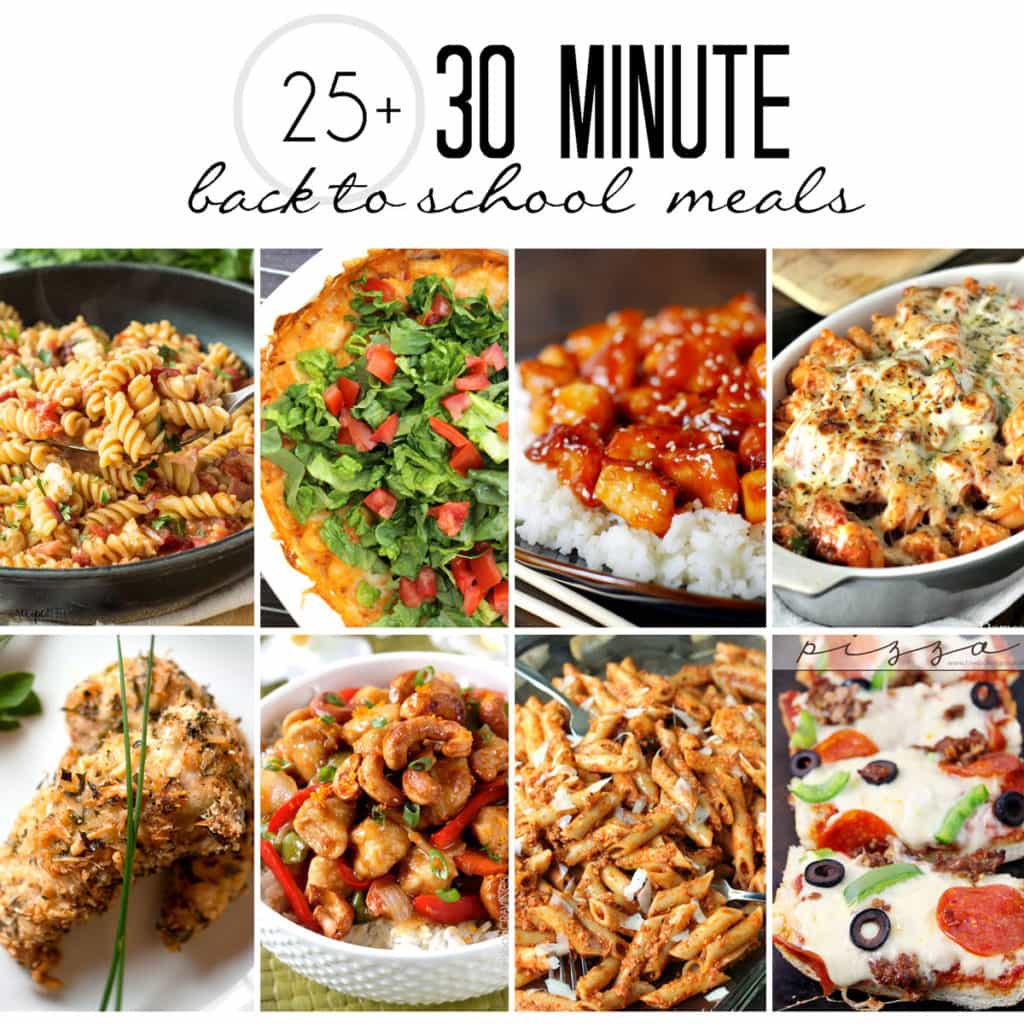 So the whole idea of 30 minutes, getting you quickly in and out of the kitchen is just perfect for this hectic filled time of year. And let's be honest, we will use these recipes but not just right now. You can use them all year. Because many times 30 minutes is all we have. Whether it is back-to-school, Christmas, Spring Break or summertime vacations, there is never enough time in the day.
Sometimes I find myself battling, Subway or homemade easy meals. I'll be honest 99% of the time Subway wins, but then I am there, kids fighting in line, crying for chips, cookies, and sodas. And I think to myself, why didn't I just make mac & cheese. Why, oh why every time do I need to be reminded the hard way.
So while sometimes seems like the easier option, it really isn't. Emotionally that is. And for every mom, her sanity is more important. So here you are friend, 25+ 30 Minute Back-to-School Meals that will bring a little sanity into your life.
Enjoy!
XOXO San
Easy Cheesy Veggie Pasta Bake / One Pot BBQ Chicken & Bacon Pasta
Skillet Lasagna / Family Favorite Sloppy Joes
French Bread Pizzas / Spicy Smoked Sausage Alfredo Bake
Penne with Sun-Dried Tomato Pesto / White Chicken Chili
Easy Chicken Enchilada Bake / Santa Monica Street Tacos
Fettuccine Alfredo / Beef Burrito Skillet
Chicken Alfredo Lasagna Roll Ups / Easy Goulash
Stove Top Pastitsio / Chicken Parmesan Pasta
15 Minute Chicken Alfredo / Sweet & Spicy Cashew Ginger Chicken Stir Fry
Chicken Teriyaki with Vegetable Fried Rice / Caprese Balsamic Chicken
Parmesan Herb Chicken / Creamy Pasta with Bacon and Peas
Healthy Mini Margherita Pizzas / Creamy Pecorino Spaghetti
Simple Teriyaki Stir Fry / Skillet Spinach Lasagna
Orange Chicken / Chicken Pot Pie Crescent Braid
Don't forget to Pin this for later!


Save