50 of the Best Appetizer Recipes for the Holidays that will impress your guests. Everything from easy to elegant we have you covered.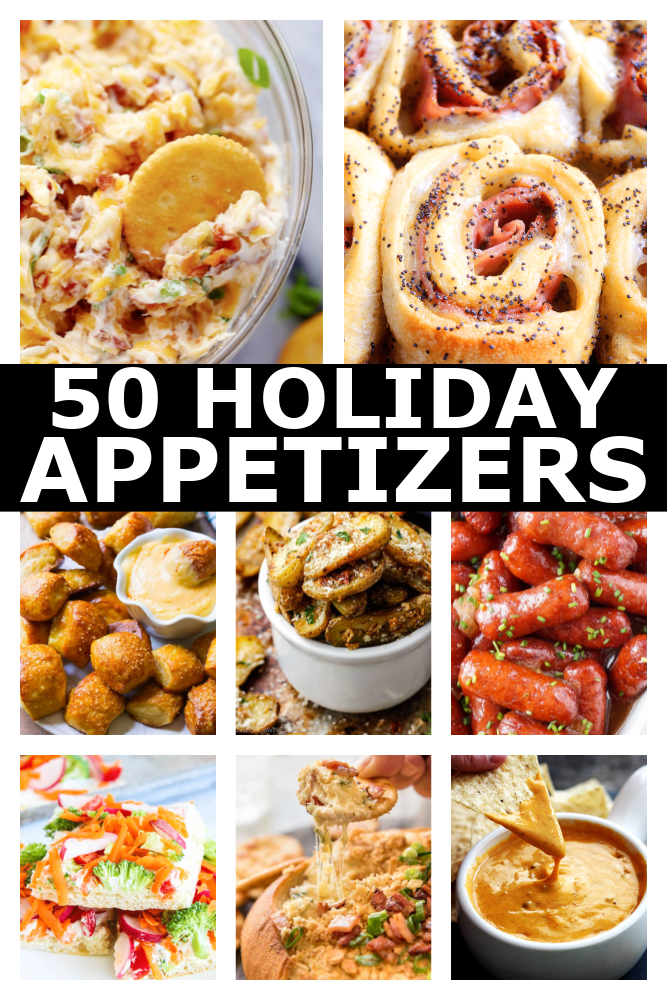 To me since this time of the year I become all about the food. So I went and found 50 of the Best Holiday Appetizers to share with you today.
Honestly, for me, the hardest part of party planning for the holidays whether it is a small or a large crowd is deciding what to serve as an appetizer for a Christmas party. Anyone else have the same issue?
If you do, I think you'll find a lot for holiday party appetizers in this list. There are lots of great ones to choose from.
I love to dress to impress, not necessarily in what I am actually wearing but what my table looks like. And no I am not talking what silverware or china I use, I am talking about the food.
I love bright, vibrant colors and spreads that make people oh and awe. But I also want to make dishes that people will actually eat. Considering I have 5 young kids still at home you can guarantee that some of these get-togethers need to be kid-friendly but that also doesn't mean that your table needs to be a drag.
So I went searching for New Year's and Christmas appetizers and snacks I consider the best of the best. I have some classics like brie and fondue and then some dishes that I would have never even dreamed of.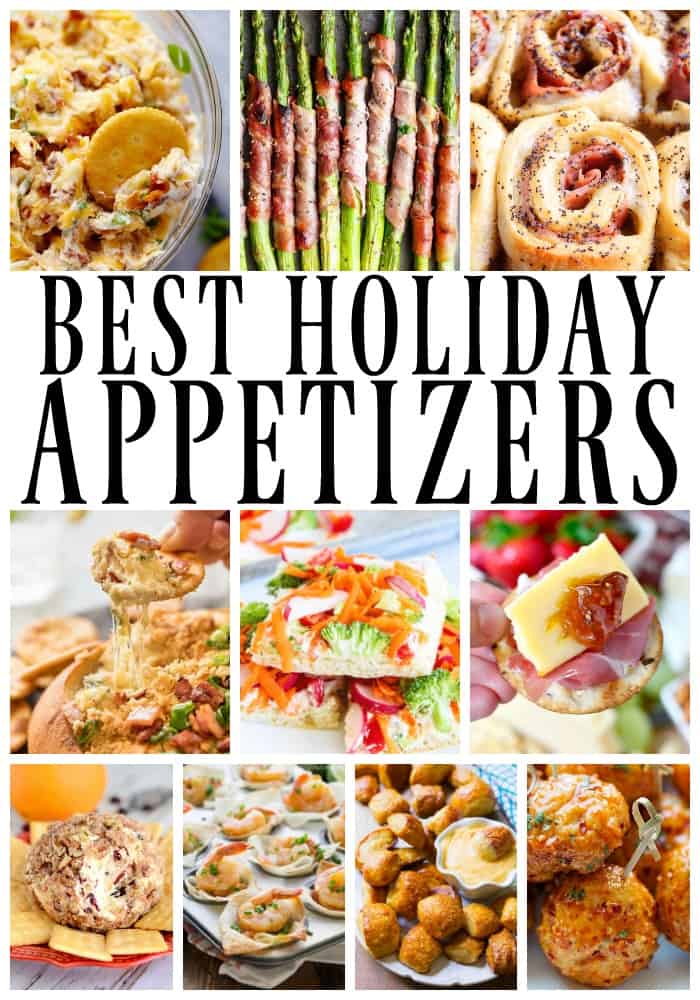 What You'll Find in This Post
First, a few quick recipe links for easy finger food recipes!
Tips for how many appetizers you'll need for a party. Whether you're hosting a small, intimate gathering or a party for 50 I'm sharing how many snacks and apps you should have for the best party.
Links for more holiday fun – decor, cookies, and candy. I've got all of the based covered for you.
Browse 50 recipes for the best appetizers – some of them are my personal favorites and some are from other fabulous blogs. Whether you're hosting a crowd or just need some hors d'oeuvres for Christmas dinner, there is so much delicious inspiration in this list!
So what are the best finger foods for a party?
Need a few quick ideas? You can't go wrong with these finger food recipes:
From nuts to shrimps and dip to spreads one thing is for sure that this holiday my guests will not go hungry.
Welcome to the holiday season, friends, where cooking for many is a part of the season, and parties and celebrations are 2 months long so you're going to want to want some easy appetizers!
How many appetizers do I need for 10 guests?
For every 10-12 guests ideal to have at least 5 appetizer selections, each selection serving 10-12. You can multiply that by each group of 10 you have, but remove 1-2 appetizers for good measure, don't worry, you won't run out of food.
20 guests = 8 appetizer selections
30 guests = 12 appetizer selections
40 guests = 15 appetizer selections
50 guests = 18-20 appetizer selections, don't worry you can double up on some of the recipes, that's what I do.
50 Holiday Appetizers You Have to Try
All of these recipes are great whether you need Thanksgiving, New Year's Eve or Christmas appetizer recipe ideas. There's something for everyone!
Slow Cooker Chili Cheese Dip – A Dash of Sanity | My Slow Cooker Chili Cheese Dip is something every party needs. Grab the chips because you're going to want to try this delicious appetizer.
Five Minute Million Dollar Dip – The Recipe Critic | This dip is so easy and the crowd will love it. 
Ranch Cream Cheese Vegetable Pizza – High Heels and Grills | This veggie pizza is a party classic and perfect for a light bite. 
Shrimp Wontons – A Dash of Sanity | These shrimp bites are crispy and delicious. They look fancy, but are easy to make.
Baked Goat Cheese & Roasted Cranberries – Honey and Birch | The colors are perfect for a holiday spread and the flavors are delicious! Tart cranberries with creamy goat cheese is a perfect combination.
Baked Parmesan Fingerling Potatoes – Carlsbad Cravings | Take a break from the crackers and chips and try these buttery Baked Parmesan Fingerling Potato Fries.
Berries & Brie Crescent Rolls – A Dash of Sanity | Elegant and delicious you love this easy crescent roll appetizer.
Baked Ham & Cheese Rolls Ups – High Heels and Grills | I love this recipe so much we make it for dinner at our house. These pinwheels are the perfect party snack!
Spicy Blood Orange Lil' Smokies – Sugar and Soul | No party is complete without a batch of lil' smokies, and I just love the flavors in this recipe. I could eat the whole batch.
Antipasto Skewers – Dinner at the Zoo | Fresh and delicious – this is a really fun and easy way to serve up a cold appetizer. They will make a gorgeous addition to your holiday table.
Mixed Candied Nuts – A Dash of Sanity | Makes these sweet and crunchy nuts for a party or wrap them up in fun packaging as a party favor for your guests to take home. 
Crab Cream Cheese Wontons – Baking Beauty | An elegant take on a take-out favorite. These crab wontons are the perfect finger food.
Chipotle Lime Bacon-Wrapped Shrimp – Simply Recipes | Bacon and shrimp on a stick! What else do you need to know? Anything with bacon is a winner.
Slow Cooker Spinach Artichoke Dip – Gimme Some Oven | Who are my spinach dip fans? This recipe is warm, cheesy, and irresistible.
Cranberry Orange Cheese Ball – I Heart Naptime | A classic cheeseball is must-make and the flavors in this one just sound amazing.
Cheese Platter – Iowa Girl Eats | Learn how to make a cheese board that will wow your guests. It's always a great choice for a party.
Buffalo Chicken Poppers – A Dash of Sanity | These poppers are easy to make and even easier to eat. They're not too spicy!
Slow Cooker Chex Mix – Show Me The Yummy | You might want to double the batch when you make this Chex Mix. Everyone will love it!
Spicy Cranberry Barbecue Meatballs – Yellow Bliss Road | Sweet and spicy meatballs in a delicious savory, tangy cranberry sauce are the perfect party bite.
Easy Meatball Crostini Appetizer – Reluctant Entertainer | I just love these crostini. The perfect way to serve some savory Italian meatballs as an appetizer.
Cheese Fondue – A Dash of Sanity | Fondue is always in style at our house! This retro party snack is always a favorite – the kiddos love it, too!
Fried Jalapeno Poppers – Serious Eats | These Fried Jalapeno Poppers are my dad and hubby's favorite thing to eat before any party even gets started.
Garlic Butter Prosciutto Wrapped Asparagus – Cafe Delites | I just love how simple this asparagus dish is! Easy to make and eat – you will love it.
Warm Bacon Cheese Dip – Spend With Pennies | More bacon but this time in a cheesy warm dip. Grab the crackers because you'll want to make this one for sure.
Soft Pretzel Bites – Sally's Baking Addiction | Golden chewy pretzel bites look like an amazing snack. Don't forget the cheese for dipping.
Caramel Fondue – Creme De La Crumb | Perfectly dippable and perfectly delicious! This dessert fondue just looks amazing.
Secret Christmas Eve Chex Mix – Half Baked Harvest | Another crunchy snack that everyone will love!
Smoked Mozzarella Fonduta – Center Cut Cook | This cheesy Smoked Mozzarella Fonduta dip is a copycat recipe from the Olive Garden.
Mushroom Marsala Fondue – A Dash of Sanity | Another cheesy fondue but this one is dressed up with mushrooms. It's inspired by the classic mushroom marsala dish but serve up as a delicious fondue.
Buffalo Ranch Chicken Pull Apart Bread – Half Baked Harvest | So many great things in this pull apart bread: chicken, ranch, and buffalo sauce. This one would be a hit for sure.
Mexican Layer Dip – The Pioneer Woman | My dad brings this Mexican Layer Dip to every holiday party and it is always a hit!
Light Tex Mex Shrimp Bites – Julie's Eats and Treats | So elegant and delicious! This shrimp bites are perfect for a party.
Slow Cooker Chili Con Queso – Creme De La Crumb | I just love cheese dip and this con queso just sounds amazing – it's a Chili's copycat everyone will love.
Best Ever Candied Almonds – A Dash of Sanity | Every snack table needs something sweet and candied nuts are always a great choice.
Caprese Skewers with Balsamic Drizzle – Iowa Girl Eats | These skewers make for an eye-catching appetizer that can be made in minutes.
Pumpkin Hummus – Food Faith Fitness | Hummus gets a fall twist! I just love this – looks amazing.
Creamy Bacon & Shrimp Dip – A Dash of Sanity | So many wonderful flavors going on in this dip recipe! It can be served with crackers, bread, or just a spoon.
Slow Cooker Cocktail Meatballs – Mom On Timeout | Cocktail meatballs are always a party favorite. Making them in your slow cooker is such a great idea!
5 Layer Greek Dip – I Heart Naptime | I just love all the textures and flavors in this Greek-inspired dip. Feta cheese with fresh veggies is a great way to balance out other rich and decadent appetizers.
Bacon Bombs – Love Bakes Good Cakes | These are for all you bacon and cheese lovers out there, we have you covered.
Maple Pecan Baked Brie – Fake Ginger | I just love the combination of sweet with the creamy brie cheese. This is an easy and elegant appetizer for a party.
Firecracker Chicken Meatballs – Little Spice Jar | Sweet, spicy, and savory – that's an amazing flavor combo for a meatball. I can hardly wait to make these Firecracker Chicken Meatballs for our New Year's party appetizer.
Sweet Potato Cake with Black Bean Salsa – A Dash of Sanity | We make these every year and never get tired of them. They have fresh flavors and are perfect for the holidays. They would be great with some guacamole on the side!
Bruschetta with Tomato & Basil – Simply Recipes | This Italian classic would be a hit at any party!
Best Ever Fruit Dip – Layers of Happiness | It's always nice to have a fruit platter and even better if you add this fruit dip to go with it!
Slow Cooker Pineapple Brown Sugar Meatballs – The Recipe Rebel | These meatballs have a tropical twist with pineapple. Serve them with toothpicks and watch them disappear.
Everything Parmesan Cheese Crisps – Just a Taste | Parmesan crisps are easy to make and delicious crunchy snack.
Roasted Grape Crostini with Walnuts – Healthy Seasonal Recipes | Roasted grapes are delicious and perfect for serving on crostini with some creamy cheese.
Holiday Cheese Ball Bites – Six Sisters' Stuff | I just love these mini cheeseballs. Instead of dipping into one cheese spread, everyone gets their own!
Parmesan Garlic Smashed Potatoes – Little Spice Jar | These are a wonderful side dish, but great as a party snack, too, because they're easy to serve. They're like little crispy mashed potato bites.
*This post has recently been updated since 2015.
Looking for more holiday ideas? Try one of these below from cookies to decor we have you covered.
Pin this collection of 50 of the Best Holiday Appetizers to your favorite Pinterest board for later.