This is a sponsored opportunity with Foodie.com
Check out this collection of 15 meatless inspired meals that will have your mouthwatering.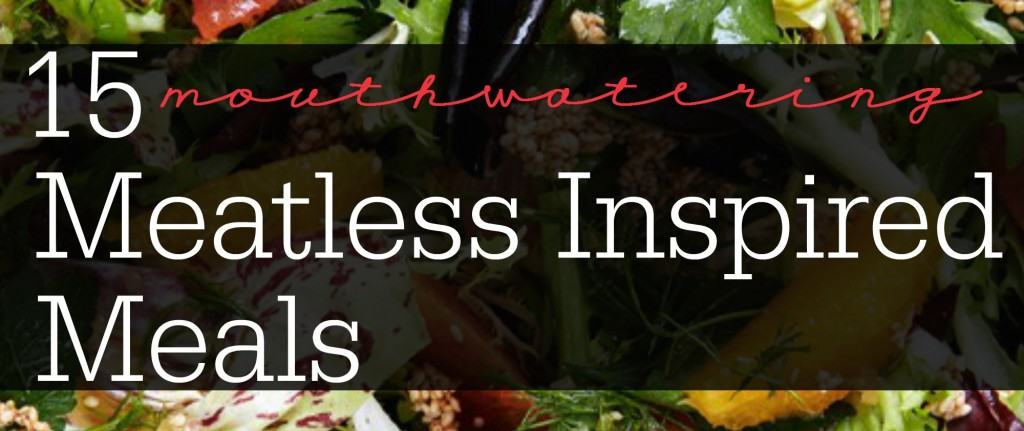 Today, I am going beyond the chicken, beef and fish inspired recipes, and bringing you meatless inspired meals & recipe ideas that can show you how to think "outside the bun", while still captivating your palate. This meatless inspired meals collection is packed full of flavor, color, and offers a variety of health benefits.
Delicious and delectable, these recipes will take into food euphoria. A lot of the time, if we see recipes that are out of our comfort zone, we are intimated to try them. For a variety of reasons, including "it's too hard" or "that looks too complicated".
And it's not.
In my collection, I have included a few recipes that feature MorningStar Farms products. MorningStar Farms has a variety of products that make it easy for you to quickly put dinner together. Whether you have time to prepare dinner or not, don't be swayed into the normal chicken routine. Just try one of the recipes and I guarantee you, that it will have you wanting to try another.
From salads and sandwiches, to pasta and soup there is a variety of options. These recipes will step your culinary adventure to a whole new level, while still being fun, easy, and delicious.
While only a handful of these recipes include a product from MorningStar Farms, I encourage you to check their site out for many delicious recipes and vegetarian products.
My favorite being the Spicy Black Bean Burger – A-H-MAZING! Seriously, my mother-in-law and I love these things, even just wrapped in lettuce.
Cheers to new ideas, recipes, inspirations, and meatless inspired meals.
XOXO San
Check out 15 Mouthwatering Meatless Inspired Meals

by A Dash of Sanity at Foodie.com

Save