Thank you to Carrabba's Italian Grill for sponsoring this post. It was a pleasure working in collaboration with them. All opinions expressed our my own. #Milliondishes #Carrabba's #spon
Carrabba's Italian Grill: 20 New Dishes & 20% Off Every Bill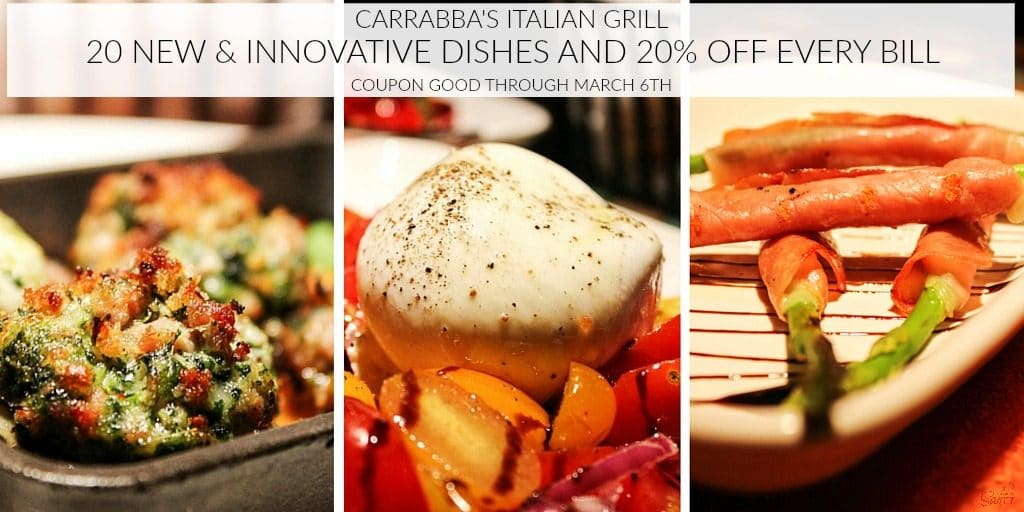 So all those cravings people joke about women having when they're pregnant are true. Trust me. Having gone through five of them, I experienced a wide range of delectable culinary yearnings, but only one has stood the test of time, continuing even now, 6 years later: Carrabba's. I remember laying in the hospital bed, asking for one thing, Carrabba's salad. And my husband never minded going and getting it because he could pick up one of his 22 favorites too. So it was only natural that when we found out Carrabba's was launching 20 new and innovative modern Italian dishes, we had to go and try as many as we could. And we did, leaving with full stomachs and even bigger smiles.
Carrabba's for us is not just a neighborhood restaurant, it's really like a second home.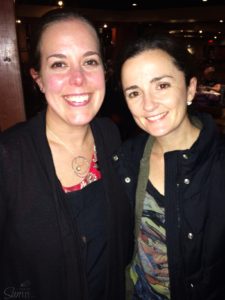 We have come to expect and rely on the quality and consistency of the food and people there.
When we enter, we often share hugs with several staff members, including the Managing Partner – Laura, before making our way to a table, making sure to walk by the open kitchen, complete with the entertaining usual toss of pasta in any variety of colorful sauces and the occasional flame thrown high over the grill. Our kids could stare for hours at the wood-fired pizza stone pizza oven, thinking everything inside has to be theirs. They then play tic-tac-toe while we often just look at the menu to remind ourselves of all the contemporary and classic Italian items they have to offer (even though we usually already know what we're getting).
The new menu has just added to what we already love about Carrabba's. It showcases new school Italian dishes including several that are now some of our favorites.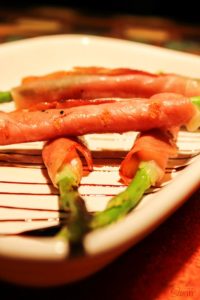 Whether it was the new small plates like the asparagus wrapped in fontina and prosciutto and grilled over the open flame pecan and oak, leaving each a smoky and savory treat, or the three-cheese & sausage stuffed
stuffed mushrooms baked to perfection over a perfectly balanced tomato cream sauce that had us licking the bottom of the dish, we devoured each, appreciating the new twists.
The Mozzarella Rustica is worth getting just for the spicy marinara it comes with. One of my favorites, I love the crispy bites of mozzarella, ricotta, and fresh herbs. We could have left then and been happy. These new small plates and appetizers were fresh, light and left us eager to try even more. And we did.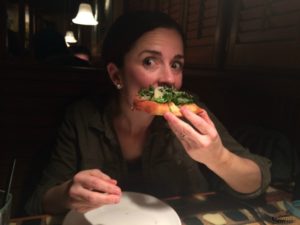 The prosciutto and arugula wood-fired pizza gave my husband hope that he could not only eat leafy greens, but enjoy them… really enjoy them. The pizza lasted about 48 seconds.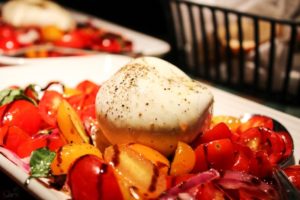 But our favorite thing right now is the tomato Caprese with fresh burrata. This simple dish is inspired. Red and yellow tomatoes tossed with red onion and fresh basil, topped with creamy burrata cheese and drizzled with balsamic glaze and extra-virgin olive oil may be the perfect balance of flavors and colors. I could eat one of these everyday for the rest of my life and be content.
Then the main entrees arrived. We ordered the new Tuscan strawberry salad, Tuscan-grilled sirloin and prosciutto-wrapped shrimp, and salmon cetriolini.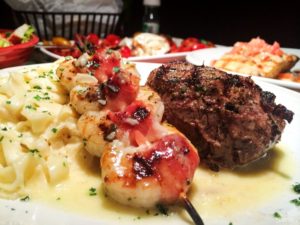 As in all of their dishes, they only use the finest cuts and freshest ingredients, and the salty gorgonzola sauce was a perfect match for the perfectly grilled sirloin, as well as the blue cheese on the salad. The salmon stood out as well, with a healthy 8 oz. serving covered in a lemon white wine sauce with a dash of acidity coming from diced tomatoes, cucumbers and dill.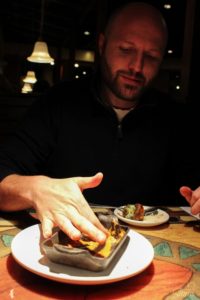 These new additions easily rival our classic Carrabba's favorites, including signature go-tos like Chicken Bryan, The Johnny, heavenly prosciutto-wrapped pork tenderloin in a port wine fig reduction, and really anything with their Marsala sauce on it. Essentially, everything wood-fired grilled has a ton of flavor and is perfectly balanced. Carrabba's grill base can't be matched. And if there's something we need to be changed, Carrabba's takes pride in being a craft kitchen, willing and able to modify most anything to fit the desire of even the pickiest diner (a.k.a. my husband).
We finished the meal with two of their new, refreshing desserts. I ate most of the chocolate and hazelnut gelato and almond biscotti, while my hubby polished off the vanilla gelato and raspberry sorbet. The hint of vanilla in the Brulee ricotta cheesecake was divine and paired well with the port reduction. It was the perfect ending.
With the new and classic flavors on their menu and affordable price points, Carrabba's is our favorite destination for any reason to eat out. And it doesn't hurt that from now until March 6th, Carrabba's is offering 20% off every bill. So whatever excuse you need, a small plate party with friends, a family celebration after the basketball game, or our favorite – a romantic date night, make one experience the delicious, casually modern, Italian cuisine, inspired by the Carrabba's family traditional favorites.