Chicken Bryan Pasta Skillet is a twist on a Carrabba's Italian Grill dish that is ready in about 30 minutes.
Chicken pasta with lemon butter sauce, chicken, sun-dried tomatoes, and goat cheese is inspired by a restaurant dish my whole family loves. It's loaded with flavor and so easy to make you'll want it every week!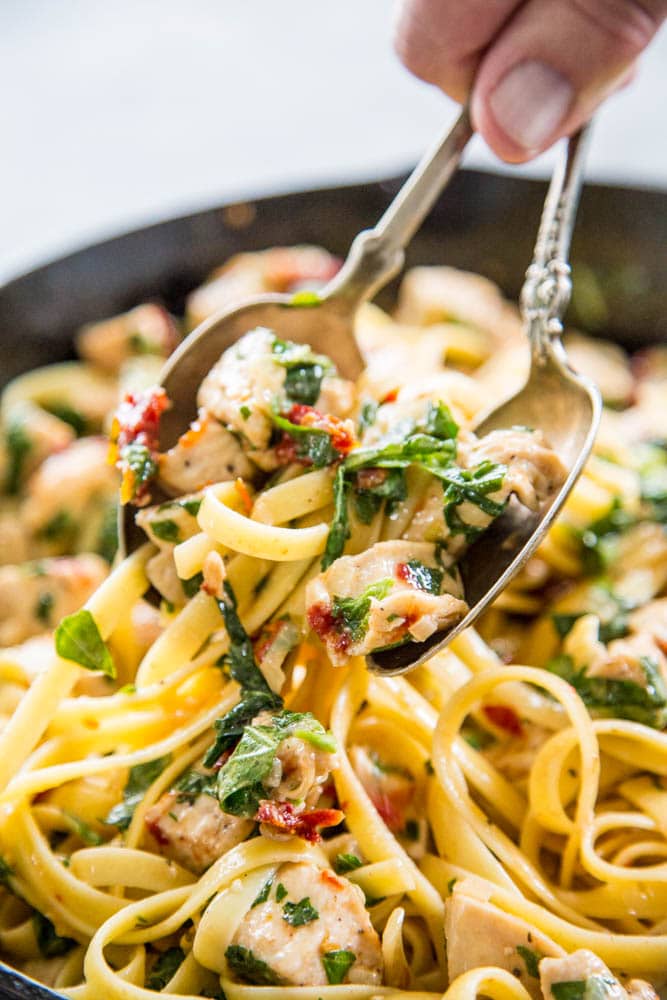 Our favorite dish at our local Carrabba's Italian Grill is the Chicken Trio, which is basically three chicken breasts served three different ways. My husband Jake loves the Chicken Bryan so much that he always subs one and gets two Chicken Bryan and one Chicken Marsala.
We were regulars there for about four years, so we got to know the owner and staff like they were family. Kellie, the owner of Carrabba's while we were regulars, gave all her "favorite" customers a Carrabba's cookbook for Christmas one year. This was the best idea ever!!!
We love their food so much and were excited to make it at home for our family and friends. You would think giving us this cookbook would have lessened our visits, but it didn't. Every Friday night, we went to be catered to until we were stuffed to the brim.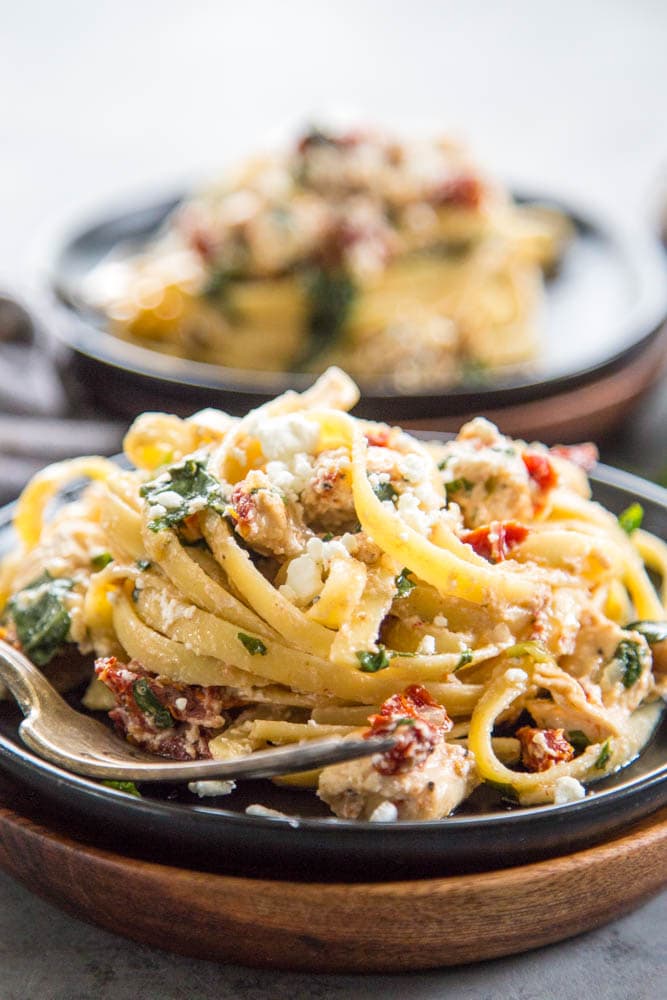 Easy Skillet Chicken Pasta
You are going to love this recipe. We took their Chicken Bryan, a chicken breast garnished with lemon sauce, sprigs of fresh basil, chopped sun-dried tomatoes, and topped with a goat cheese medallion, and made it into a skillet pasta dish.
The first time I made this, Jake walked in, and he knew I had made something yummy, when he saw it. It was like a light trickled down from the heavens, and an "AHHH" moment, with glorious music playing in the background, as he gazed at the skillet before him.
Then came the first bite, and he instantly fell in love. The sauce, chicken, and idea of his favorite dish from Carrabba's reinvented into a pasta dish… well, let's say I scored some major points.
Ingredients for Chicken Pasta
Cooked linguini or fettuccine
Chopped fresh basil
Chopped sun-dried tomatoes
Crumbled goat cheese
Boneless, skinless chicken breasts cut into cubes
Olive oil
Salt and pepper
Sliced butter
Finely diced yellow onion
Minced garlic cloves
White wine
Fresh lemon juice
How do you make Chicken Bryan Pasta Skillet?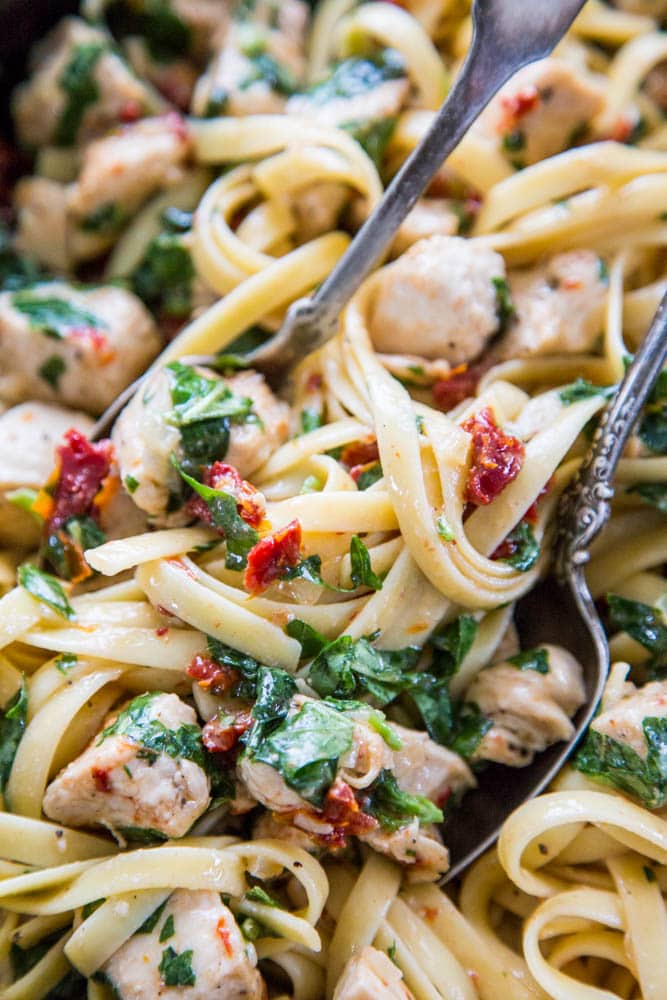 Chicken Pasta Recipe Tips
You don't want the butter to melt instantly when making the sauce. Instead, thaw it slowly so it softens into an emulsified dressing. Softening all the butter and building the sauce should take 3-5 minutes.
You can store the sauce for up to two hours at room temperature to make it ahead. To reheat the sauce, turn the burner on low and whisk until it is warm. This sauce will separate if you do not use low heat. If the sauce does happen to separate, no worries – it will still taste the same it just won't be as pretty.
More Copycat-Inspired Recipes
Pin this to your favorite Pinterest board to save for later!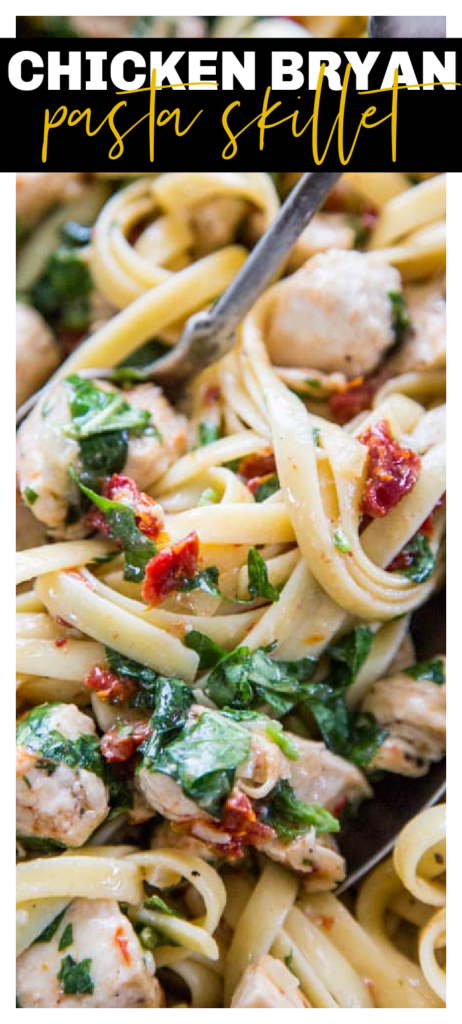 Print Recipe
Chicken Bryan Pasta Skillet
Chicken Bryan Pasta Skillet is made with lemon butter sauce, chicken, sun-dried tomatoes, & goat cheese medallions. Easy to prepare in under 40 minutes.
Ingredients
Pasta
1/2

pound

linguine or fettuccine

boiled to al dente and drained

1

cup

fresh basil

coarsely chopped

2 1/2

ounces

sun-dried tomatoes

drained and coarsely chopped

4

ounces

goat cheese

crumbled

2

chicken breasts

cut into small cubes, about 2 1/2-3 cups

2

tablespoons

olive oil

salt and pepper

to taste
Lemon Butter Sauce
13

tablespoons

butter

cut into 1 tablespoon squares

3

tablespoons

finely diced yellow onion

4

garlic cloves

minced

1/2

cup

white wine

3

tablespoon

fresh lemon juice

Kosher salt and white pepper
Instructions
Heat olive oil in skillet. Season the chicken with salt and pepper to your taste and cook in skillet until slightly golden brown on both sides and cooked all the way through, about 4 minutes on each side. Remove chicken on to plate and set aside. Wipe out skillet with a paper towel.

Prepare noodles by following directions on pasta box while making sauce. A quick note on the sauce before you get started, we are saucy people, I double the amount of sauce of this recipe every time I make it.

Reduce skillet heat to medium high. Melt 1 tablespoon of butter, then add minced onions and garlic. Cook until onion is tender but not browned, about 3-4 minutes. Increase heat to high, immediately add white wine and lemon juice, bring to a boil and cook for 3 minutes.

Reduce heat to low. Add 3 tablespoons of butter to the skillet, whisk and let it soften slowly into the sauce until melted. Add 3 more tablespoons of butter, continue to whisk until softened and melted; repeat until all 12 tablespoons are melted. Season with salt and white pepper to taste. Remove sauce from heat.

*Note you don't want to the butter to instantly melt, you want to make sure that it is softening into the emulsified sauce. Softening all the butter and building the sauce should take 3-5 minutes. Sauce can be stored up to 2 hours at room temp, to re-heat sauce, turn burner on low and whisk until it is warm. This sauce will separate if you do not use low heat. If it does happen no worries, it will still taste the same.

Once noodles are ready, add chicken to the sauce. Return sauce to low heat and add in basil, sun-dried tomatoes, and noodles. Mix together and season if you would like with additional salt and pepper.

Top with crumbled goat cheese. Serve immediately and enjoy!
Nutrition
Calories:
594
kcal
|
Carbohydrates:
35
g
|
Protein:
27
g
|
Fat:
37
g
|
Saturated Fat:
19
g
|
Cholesterol:
153
mg
|
Sodium:
412
mg
|
Potassium:
832
mg
|
Fiber:
2
g
|
Sugar:
5
g
|
Vitamin A:
1315
IU
|
Vitamin C:
10.1
mg
|
Calcium:
76
mg
|
Iron:
2.6
mg
Lemon Sauce Recipe from Carrabba's Italian Grill: Recipes from around Our Family Table Cook Book

Save