You're going to love this Skillet Cornbread Recipe. Slightly sweet & savory with a crunchy, buttery crust from baking it in a cast-iron skillet.
Fall season to me is all about the stunning colors in the Colorado mountains, looking forward to the Starbucks holiday drinks and planning my Thanksgiving and Christmas meals. It's my favorite time of the year.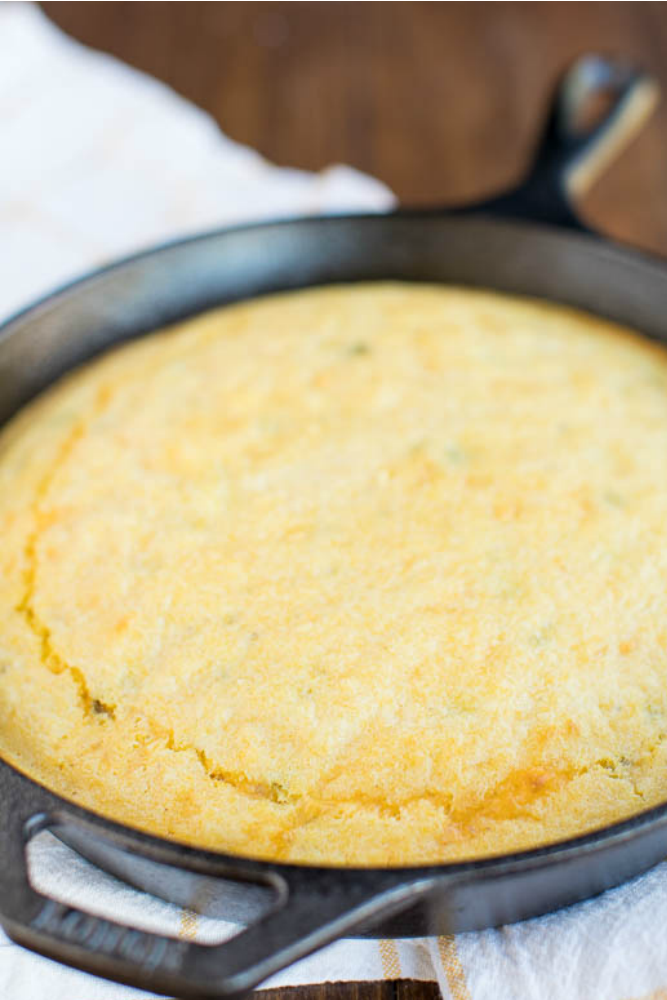 This post is written in collaboration with Iowa Corn. I'm excited to partner with them and give you the inside story to Iowa's farmers and a behind the scenes look into their lives.  
My favorite dish at both Thanksgiving and Christmas is stuffing. My husband isn't a fan, so he moans and groans when it comes to traditional meals, but I love them. I mean come on, we only have it twice a year. And my mom's Best Ever Italian Stuffing is literally the best! But I can't just have her stuffing; I love making cornbread stuffing as well, simply because I love cornbread. 
This Skillet Cornbread is literally the best cornbread you will make. Now you can choose whether or not to include the jalapenos and cheddar cheese. They are completely optional, but I love the extra punch of flavor. It isn't overwhelming or spicy, and it makes the best stuffing!
While fall to me is about the aspen leaves turning gold and the elk bugling up at Rocky Mountain National Park, in Iowa, it's all about harvesting. 
Harvesting corn that is.
For the third year in a row, I was able to visit Iowa during this busy yet fulfilling time of year. It's the time of year where farmers are not just working from sun up to sun down – like the days of their grandfathers – but with the advancements in technology, they can literally harvest as long as the weather will allow them.
I love partnering with Iowa Corn. Their goal with the Iowa Corn Quest Blogger Tour is to connect with consumers. Just like this trip is near and dear to my heart, it is to Iowa Corn's as well.  Why? Because each October they invite and open their hearts and farms to a group of bloggers to share their messages, their stories and their vision for America.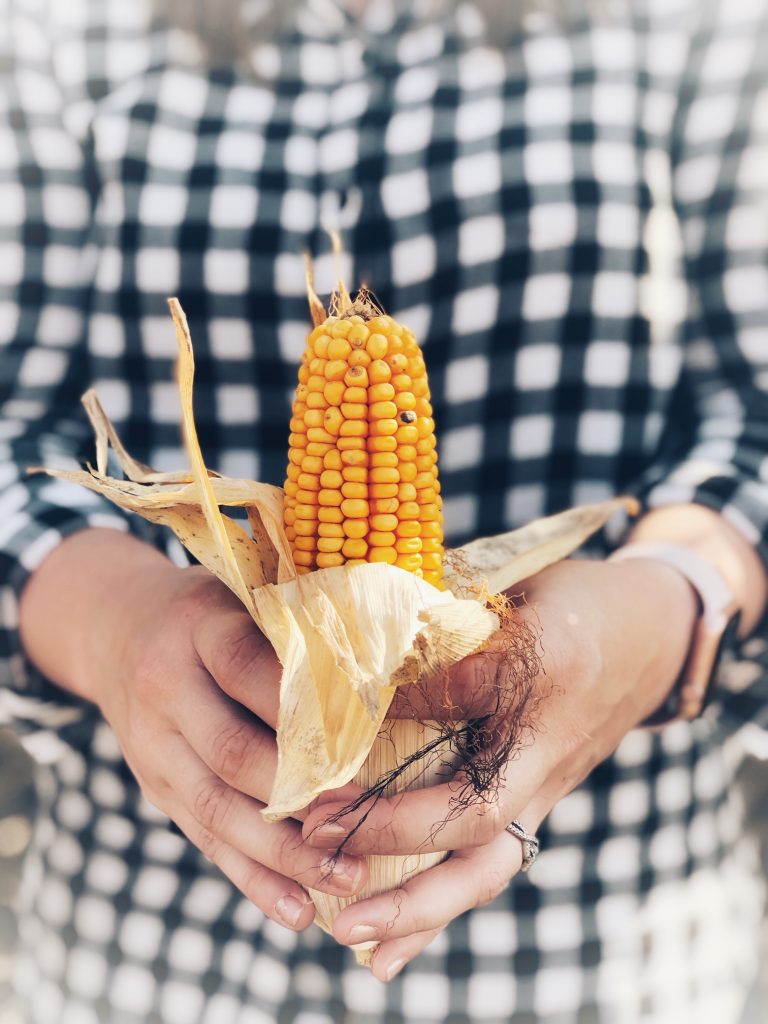 During the few days we were all together in Iowa, we tackled a number of topics from ethanol and GMOs to high fructose corn syrup and more. Every year I come away with something new and inspiring.
Our tour always starts at a distillery, and while that may surprise you, it shouldn't. Whiskey is made from corn. Corn has an amazing starch. Corn whiskey (American made) is 80% corn while bourbon is 51% corn. This still astonishes me. Read all about our distillery trip and get a fantastic recipe for Cinnamon Whiskey Sangria over at Wine & Glue. 
Then, we always visit a few farms along the way, which is my highlight – always.
We visited the Blair Farm again this year. I met Kelly on last year's tour and instantly loved her story. Running the farm with her husband and in-laws, it was refreshing to see a female farmer. I guess sometimes I get stuck in the traditionalist frame of mind, so it is always an honor to see these ladies rockin' it. Innovative, inspiring and working hours on end, these ladies go from their homes to the fields, hustling all day long. I guess this is partly the reason I love them so much… I see myself in them. 
The Blairs grow corn and soybeans, raise cattle and pigs and are constantly learning and growing to make their farm and the community around them better. Raising the bar, the standard if you will, to utilize every piece of the corn they harvest. Visiting the farms in Iowa is a reminder of sustainable living. 
Of course, you don't come away from Iowa Corn without some amazing food, and I am always inspired. But nothing says corn to me like cornbread.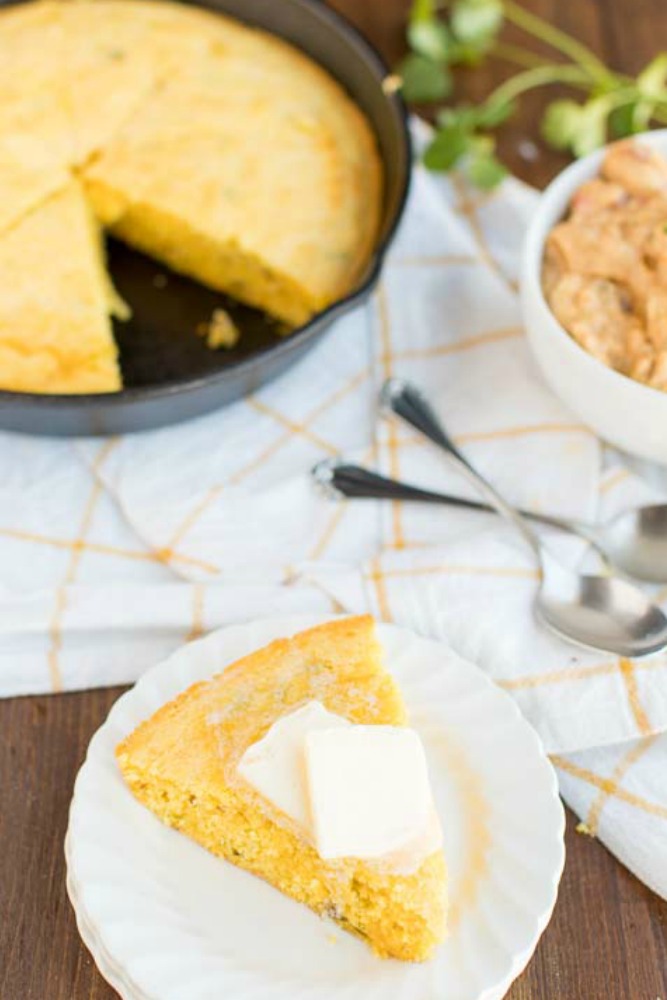 Again, this year we had the pleasure to meet with Dr. Ruth McDonald, a professor at Iowa State University. And there was a lot of talk about GMOs.  
Most of the bloggers prior to this trip thought that GMOs (genetically modified organisms) were bad for you. There wasn't a great understanding of why they thought that or why GMOs are used in general. I think that's part of the issue – that is people in general don't fully understand why GMO corn exists, and that it isn't harmful.
GMOs are essential for modern agriculture. Corn now has the ability to be less susceptible to pests and other harmful things, which means the farmers don't have to spray nearly as much pesticide on the actual plants if any at all.  Farmers also don't have to do as many passes of the field, which reduces their carbon footprints.
While GMOs are a hot-topic issue, I come away appreciating the fact I can rely on farmers to do what is best for my family, and I trust them. They feed their family with the same things you and I do from the store. They use the same products and same produce, only they're way more knowledgeable, something I am inspired by.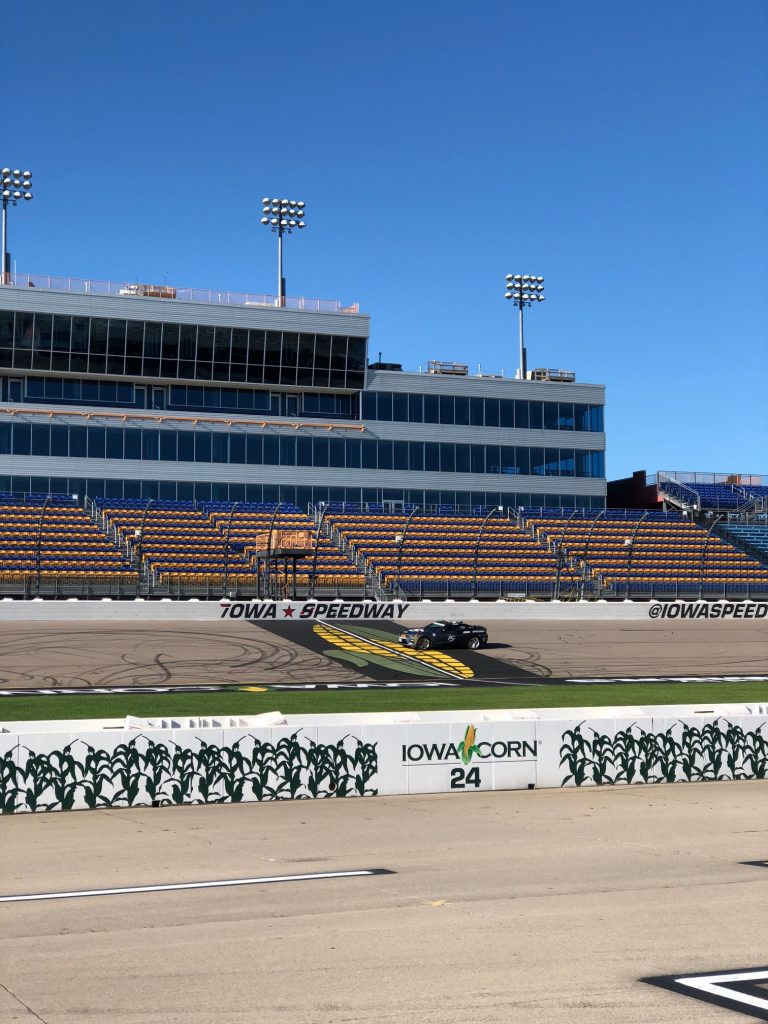 To end the trip, every year we head to the Iowa Speedway. Booyah! It is always so fun, and this year, we had the opportunity to hear from Iowa Corn and dug in deep about ethanol fuel. This was my favorite topic because I got a better understanding of ethanol fuel and its tie to corn, our country, and our planet's overall health. 
I summed up my experience here, and while you are there, check out my recipe for Mexican Corn Chowder which is great served with this Skillet Cornbread.
Each trip to Iowa, I leave a better person. I come home inspired by the community of farmers, the innovation and their care and concern for our country and footprint we're leaving on our planet. I feel blessed to be on the Iowa Corn CornQuest Tour, and I will continue to share my passion for the industry and their message for as long as I can. I am Iowa Corn proud!
How to make this Skillet Cornbread
Preheat your skillet in the oven while it is preheating. A hot skillet is a key to a crispy butter crust.
Let the milk and cornmeal sit mixed together for 10 minutes.
Sift together all of the other dry ingredients, then beat in the cornmeal mixture, eggs, and melted butter.
Remove skillet from oven and spray with cooking oil.
Pour batter into the hot skillet.
Bake in the preheated oven for 18 to 23 minutes or until a nice golden color and toothpick comes out clean when inserted into the cornbread.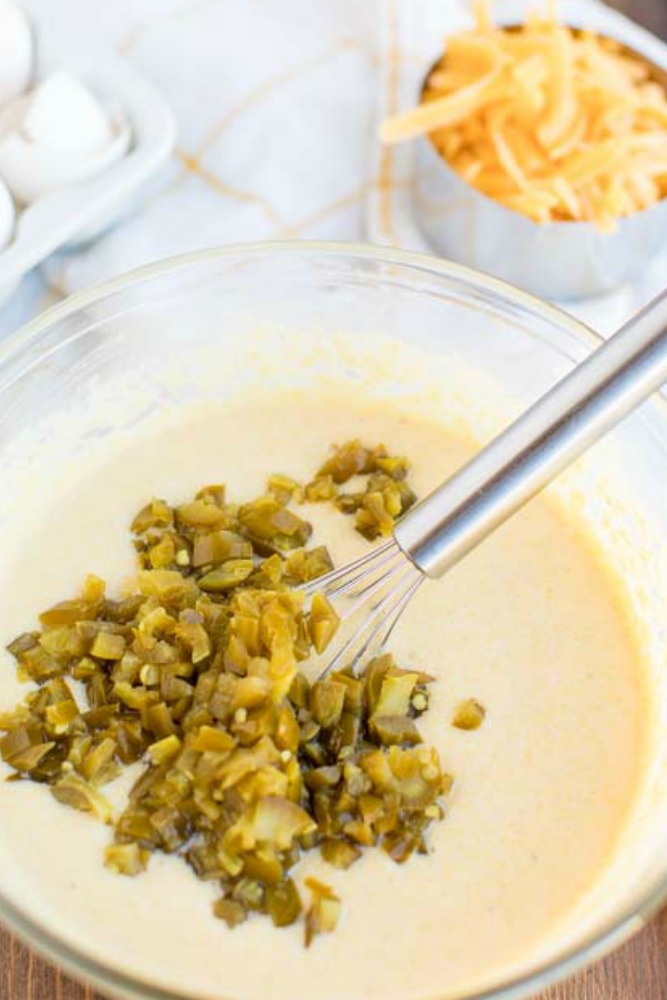 Yellow cornmeal vs White cornmeal
The only difference between the two types of cornmeal: yellow and white is simply just the color. Depending on the color of the corn when it was ground give you the color. So white corn gives white cornmeal and yellow corn gives you yellow cornmeal. They are interchangeable in recipes. I prefer yellow because of the richness in color, but you can use either one and the cornbread recipe will taste the same.
Don't forget to pin this recipe for Skillet Cornbread to your favorite Pinterest board for later.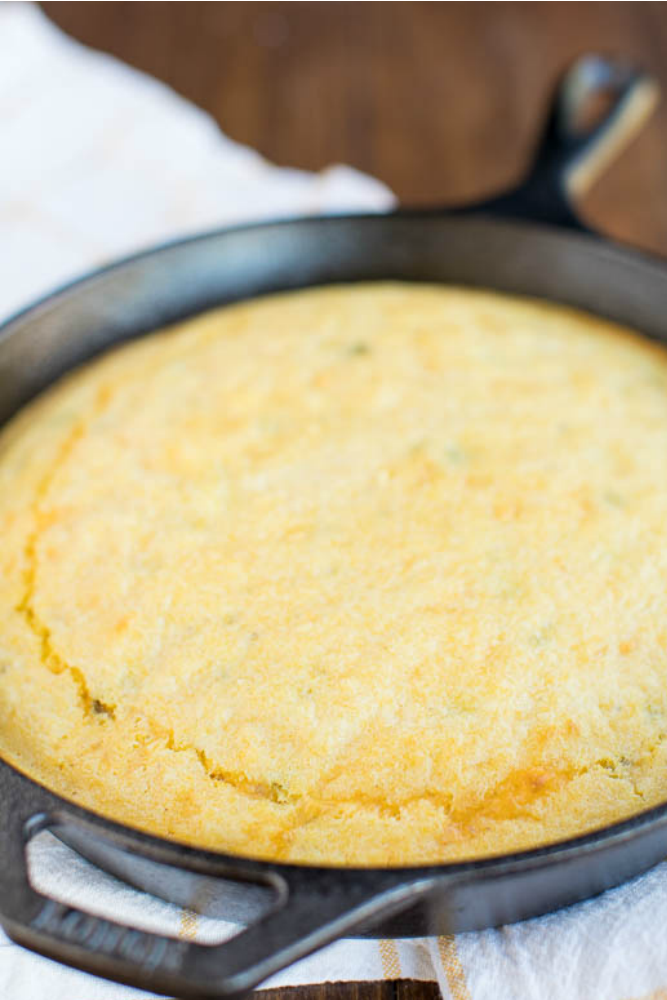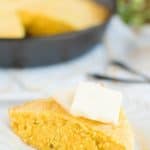 Print Recipe
Skillet Cornbread Recipe
You're going to love this Skillet Cornbread Recipe that's slightly sweet & savory, with a crunchy, buttery crust, from baking it in a cast iron skillet.
Ingredients
1 1/2

cups

milk

I use whole milk

1

cup

cornmeal

I use yellow cornmeal

1

cup

all-purpose flour

4

teaspoons

baking powder

1

teaspoon

salt

2

large eggs

beaten

1/4

cup

butter

unsalted is my preference, melted & cooled to room temperature

4

ounces

diced jalapenos

drained, optional

1

cup

sharp cheddar cheese

optional
Instructions
Preheat oven to 425 degrees F (220 degrees C). Place 9-inch cast-iron skillet in oven to warm it up while the oven is preheating.

In a small mixing bowl add the milk and cornmeal, mix together and let sit for 10 minutes.

Sift flour, baking powder, and salt together in a mixing bowl. Beat cornmeal mixture, eggs, and butter into the flour mixture until you have a smooth batter, about 1 minute.

Use cooking oil spray, coat the hot skillet before pouring in the batter.

Pour batter into the skillet.

Bake in the preheated oven until a toothpick inserted into the center comes out clean, 18 to 23 minutes. Cut into wedges to serve.
Nutrition
Calories:
191
kcal
|
Carbohydrates:
19
g
|
Protein:
6
g
|
Fat:
9
g
|
Saturated Fat:
5
g
|
Cholesterol:
50
mg
|
Sodium:
311
mg
|
Potassium:
248
mg
|
Fiber:
1
g
|
Sugar:
1
g
|
Vitamin A:
300
IU
|
Calcium:
167
mg
|
Iron:
1.2
mg

Save