Homemade Italian Meatballs is a traditional Italian meatball recipe that was handed down to my family from my grandma. They are so easy and beyond delicious.
These easy Italian meatballs are so simple to make with an unexpected cooking step. The final result is juicy and tender meatballs that are perfect with pasta.
Confession time friends. I used to use frozen meatballs all the time but then I made my grandma's Italian meatballs and I haven't bought the frozen ones since.
This easy recipe make the absolute BEST spaghetti and meatballs – every time I make them I am transported back to my childhood when my grandmother would make that classic pasta dish for me.
Grandma was known for her spaghetti and meatballs, and she always told us to marry an Italian because that was her dream until she met my German grandfather. I remember her teasing him all the time for not being Italian, and he would then pretend to be one, talking in an accent it would always make her laugh.
I love sharing this story with my kids now whenever I make a batch of her delicious classic Italian meatballs. If you think homemade meatballs are a big fuss, you are going to love this recipe.
Recipe Notes
The meatball recipe is simple with lean ground beef, egg, breadcrumbs, and cheese. It's the cooking method that really makes them special.
Instead of browning the meatballs in oil on the stove, my grandma microwaved them. This step par cooks the meatballs so they hold together before you add them to the sauce. It's also a lot easier than browning and makes less of a mess.
Once you've microwaved them, you can freeze them for later, bake them in the oven, or simmer them in marinara sauce on the stove. Once cooked, they're juicy and tender – the perfect batch of Italian meatballs.
We love spaghetti and meatballs, but meatball sandwiches are a close second!
I love, love, love these – they really are the best meatballs and I am so thrilled to share them with you.
So easy, literally 20 minutes to make these babies, then just let them simmer in the sauce for an hour and you are set.
Ingredients
Lean ground beef – I use 93% lean.
Large eggs
Grated Parmesan cheese
Italian bread crumbs
Chopped fresh parsley or dried parsley
Dried basil
Salt
Garlic powder
Onion powder
Black pepper
How do you make Easy Italian Meatballs?
In a large bowl combine all the ingredients and mix together using your hands until seasoning, bread crumbs and cheese are all very well mixed in.
Make meatballs using a cookie scoop, I found this makes a perfect size. My grandma always told us "golf ball" sized meatballs.
Place meatballs in a glass pie plate, per grandma's directions or 9×13 glass pan, which I find easiest.
Fill the pan 1/3 full of water. Cover plate or pan with wax paper and place in the microwave and heat on high for 3 minutes.
Then turn over the meatballs and cover again with wax paper and heat again on high for 3 minutes.
Two Ways to Cook Them
How to Bake Meatballs: Drain the water from the 9×13″ pan and cover meatballs with marinara sauce. Cover the baking dish with foil and bake the meatballs at 300°F for one hour.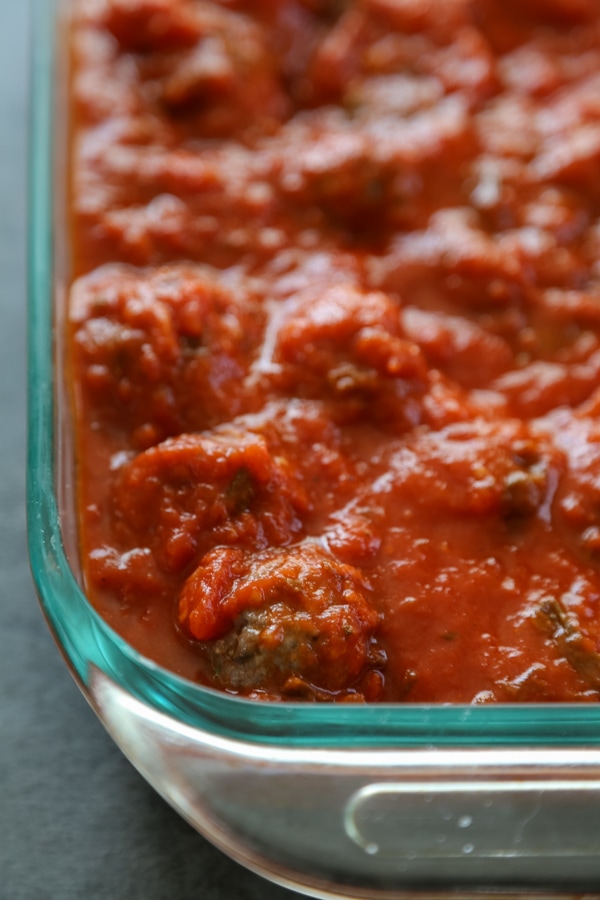 Stovetop Method: Transfer the meatballs to a large pan and cover them with marinara or tomato sauce. Bring the sauce to a simmer over medium heat and then adjust the heat to low. Cover and simmer the meatballs for an hour.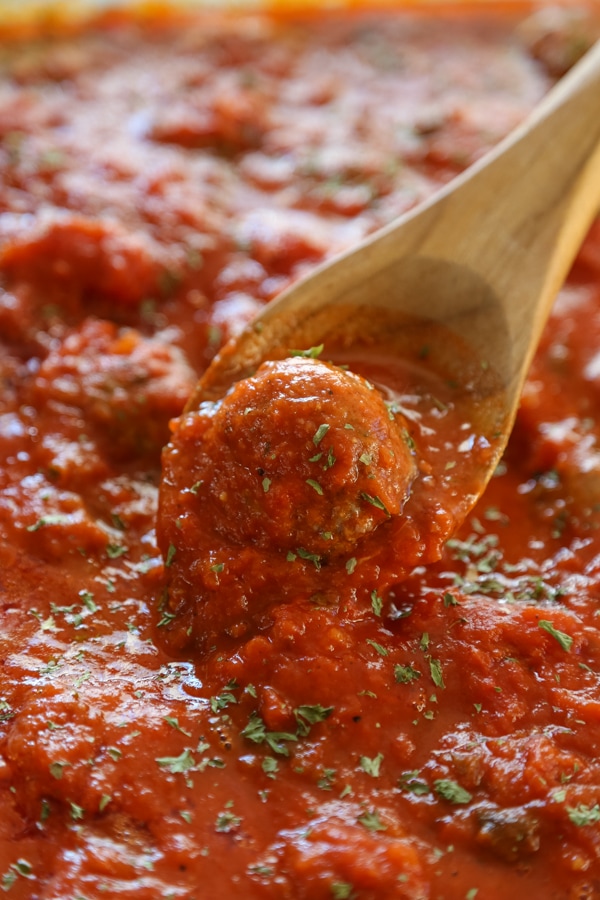 How to Freeze Italian Meatballs
I love that they're freezer-friendly! Once you microwave them, transfer them to a baking sheet lined with parchment paper.
Freeze them for about 30 minute to an hour. Once they are frozen, transfer them to a freezer bag or container. They will keep well for several months.
You can take them right out of the freezer and warm them up in marinara sauce on the stove or bake them in the oven with sauce.
Recipe Variations
I like to use lean ground beef, but you can use ground pork, Italian sausage, or ground turkey. You can also use a mix of ground meat.
You can add other fresh herbs to the meat mixture like basil, rosemary, parsley, or thyme.
We love these meatballs with spaghetti and pasta sauce, but you can also serve cooked meatballs on their own with a vegetable and garlic bread on the side.
Or, add them to soups, use them to make meatball subs, or slice them up to layer in a homemade lasagna. There really are so many ways to use them.
Really there is no reason not to try this recipe, DON'T buy frozen meatballs friends, just don't do it. Just say no. Make these Easy Italian Meatballs – they are so worth the little effort and they are beyond delicious.
Enjoy from my grandma's kitchen to your plate. XOXO San
Don't forget to pin this to your favorite Pinterest board to save for later!