Copycat Starbucks Devil's Food Donuts are insanely delicious. Covered in a vanilla-butter glaze, they're better that the real deal and healthier too!


My sisters and I had a tradition of running in the Firecracker 5k every 4th of July for a few years in our hometown of Fort Collins, CO. That was before we all had a few kids. Once we started families, this tradition became harder due to pool parties, pancake breakfasts, and neighborhood bike parades.
After the race, we would all gather at Starbucks to enjoy our favorite drinks, and for those who were starving, a donut. While the egg sandwiches would probably have been a better breakfast selection after that kind of workout, the donuts usually called my name every time. And why not, right? I just ran a 5k, and it's a holiday – double the reason to sugar up.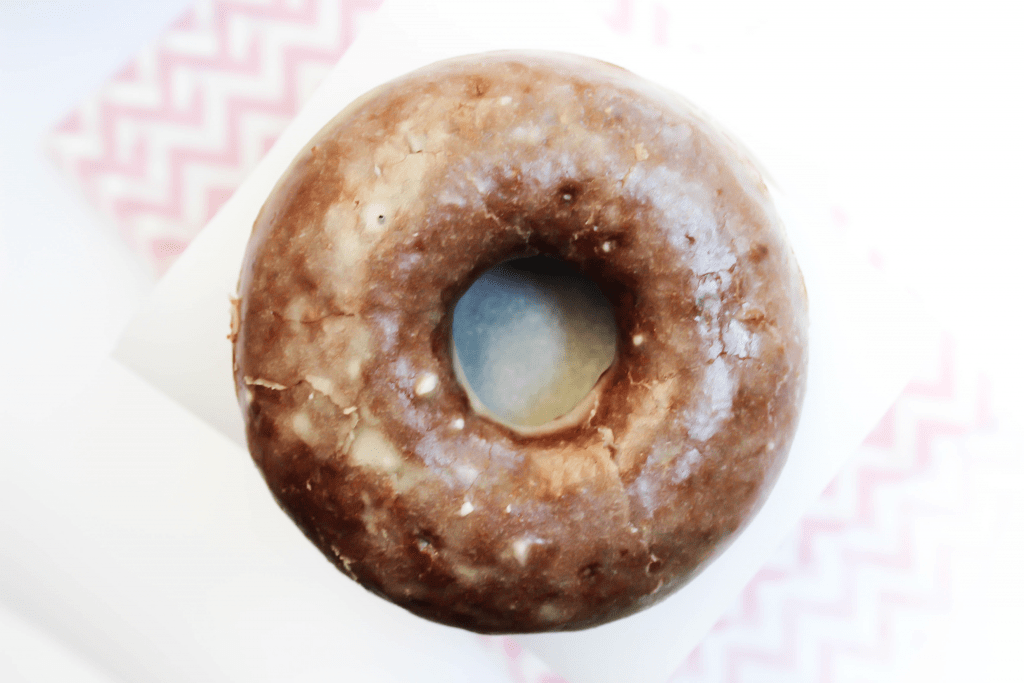 While we aren't even close to the 4th of July, I can reminisce about warm weather, Starbucks with my sisters, and of course, donuts. This recipe for my copycat recipe for Starbucks Devil's Food Donuts to be exact. They are so insanely delicious, especially for a baked donut recipe. Yes, you read that right. These donuts are baked not fried.
You're not only saving your money by making these at home, but you are also saving on calories! Bonus. If you already weren't convinced you needed to make these Devil's Food Donuts now you are. And who said that baked donuts aren't as tasty? They can be, especially when you add the vanilla-butter glaze.
My sister Tami, carried this donut tradition into her family's weekend routine. It is completely adorable that her two young kids get up on Saturday and Sunday mornings excited to head the store to pick out their freshly baked donut and of course, Tam grabs a Starbucks too!
My niece Kennedy loved Starbucks Vanilla Bean Scones for a few years. Of course, I had to whip her up a batch to take the lead in the "favorite aunt" contest. And while this phase of vanilla bean scone love is over, I still make them for her and she still loves me for doing that. She is not a donut fiend like my sister, so the next time I go down to visit them you bet I will be making these baked donuts and I am pretty sure my sister will approve.
Baked donut recipes don't have to complicated, in fact, they aren't. If you don't have a donut pan for your oven to bake up a batch, I would recommend getting one. Otherwise, you could always just bake these up in a mini-muffin tin, they still taste delicious but everyone loves donuts more.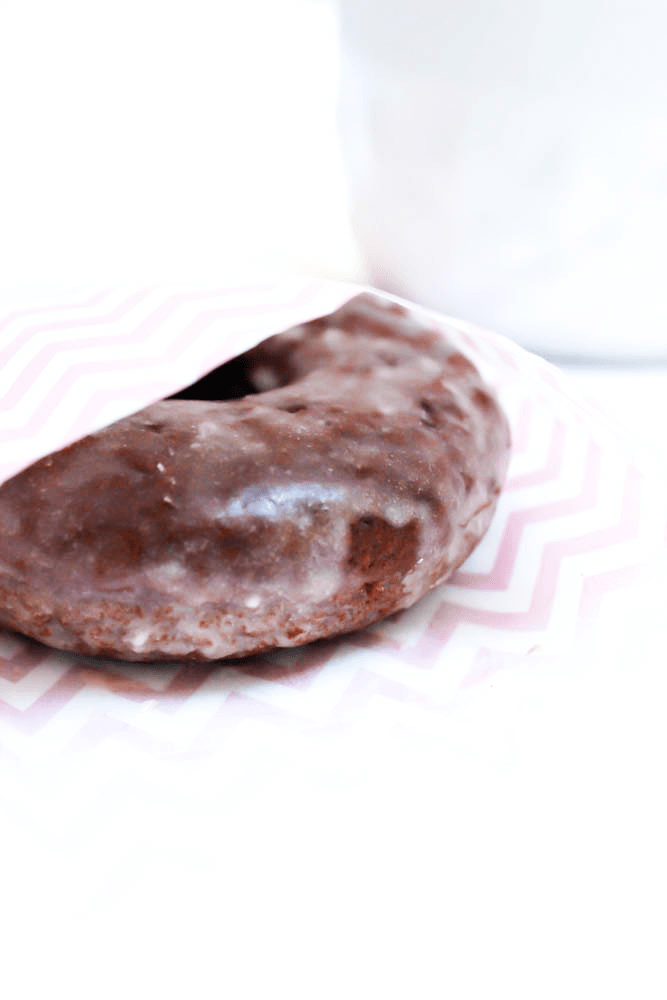 While it may not be the 4th of July yet, and we have a few more months until we see the hot weather, I can still enjoy these Copycat Starbucks Devil's Food Donuts until then.
And since you now know of my love for baked donut recipes I will share a few more that my family loves making throughout the year. Baked S'mores Donuts (huge summer hit), Triple Chocolate Baked Donuts, Nutella Donuts (okay, these are fried and so worth every calorie!) and Samoa Donuts (my husband's favorite!). Oh, a few recipes from my friends that are must bakes! Copycat Krispy Kreme Donuts and 2-Ingredient Bake Donut recipe (easy for the kids to make).
Enjoy! XOXO San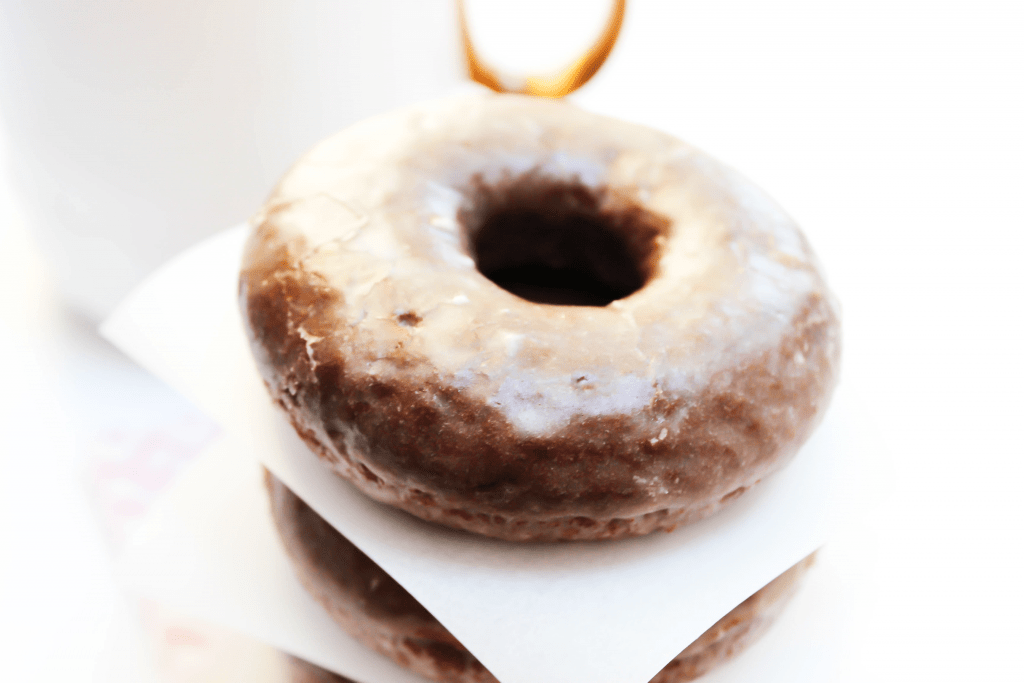 Don't forget to pin this recipe for Devil's Food Donuts to your favorite Pinterest board for later.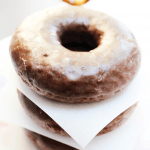 Print Recipe
Copycat Starbucks Devil's Food Donuts
Copycat Starbucks Devil's Food Donuts are insanely delicious. Covered in a vanilla-butter glaze, they're better that the real deal and healthier too
Ingredients
3/4

cup

flour

1/4

cup

brown sugar

packed

1/4

cup

cocoa powder

1/4

cup

sugar

1

teaspoon

baking powder

1/4

teaspoon

salt

2

tablespoons

canola or vegetable oil

1/2

cup

milk

1

tesapoon

vanilla

1

egg
Vanilla-Butter Glaze
3/4

cup

powdered sugar

2

tablespoons

milk

1/2

teaspoon

vanilla extract

1

tablespoon

butter

melted
Instructions
Prepare your donut pan by spraying with cooking spray, set aside.

Preheat oven to 350 degrees.

In a medium bowl, combine flour, brown and white sugar, cocoa powder, baking powder and salt until mixed together. In a separate large mixing bowl, whisk together milk, egg, canola oil, and vanilla.

Beat the dry ingredients with the milk mixture until the batter is well combined and smooth.

Pour batter into large Ziploc bag, snip off a tiny section of the corner, and "pipe" the batter abot 2/3 full into the donut pan. Place in preheated oven at 350 degrees for 9-11 minutes.

Remove donuts from oven and set on baking rack. After a few minutes remove donuts from pan and let them completely cool on the baking rack.
Glaze
Whisk all of the ingredients together in a small mixing bowl. Start off with 2 tablespoon of milk, add more if desired to get the consistency you like. Remember the glaze is NOT thick, not like a frosting.

Dip the entire donut into the glaze, let it the excess drip from the donut then place back on baking rack.

It is also easy to dip the bottom half first, then immediately turn donut over and dip the top. Repeat with remaining donuts and glaze.
Nutrition
Calories:
135
kcal
|
Carbohydrates:
23
g
|
Protein:
2
g
|
Fat:
4
g
|
Saturated Fat:
1
g
|
Cholesterol:
16
mg
|
Sodium:
61
mg
|
Potassium:
98
mg
|
Sugar:
16
g
|
Vitamin A:
75
IU
|
Calcium:
39
mg
|
Iron:
0.7
mg
Post updated from July 2015.
This shop has been compensated by Collective Bias, Inc. and Walmart Family Mobile. All opinions are mine alone. #Save4Summer #CollectiveBias

Save