It's game day! And that means it is time for the championship.
That's right, A Dash of Sanity's fans it's your last chance to vote and pick this year's winner for the Foodie Super Bowl.
We have had a great time working together, literally in the kitchen and all preparing our menus, appetizers and desserts. And are even more excited to announce this year's winner. Remember you can have a say in the loser's penalty, just give your suggestions in the comments below.
We are already looking forward to next year's Foodie Super Bowl and you can bet that we will be training all year long.
Thanks for joining our family and here are the last two dishes from our family to yours –
XOXO McCollum Family Jake, Sandra, Aiden, Jordan, Madden, Jersey and Cannon
Go Broncos!
 Round 3 Super Bowl: Desserts
Team Peyton Manning: White Chocolate Croissant Bread Pudding with Cinnamon Dulce Sauce
 https://dashofsanity.com/2014/01/white-chocolate-croissant-bread-pudding-with-cinnamon-dulce-sauce/
Team Champ Bailey: Dirty Blonde Brownies Ice-Cream Sandwiches
 https://dashofsanity.com/2014/01/dirty-blonde-brownie-ice-cream-sandwiches/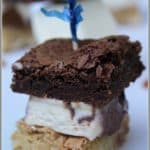 Create your free online surveys with SurveyMonkey , the world's leading questionnaire tool.

Save