Get the best of two worlds with this Queso Verde. Mild, cheesy, and brimming with flavor, it features green chiles and four types of cheese, everyone will love this easy slow cooker recipe!
It's doesn't get any easier than this crock pot queso and it's guaranteed to be a hit with kids and adults alike. No complicated steps with this recipe – the slow cooker does almost all the work.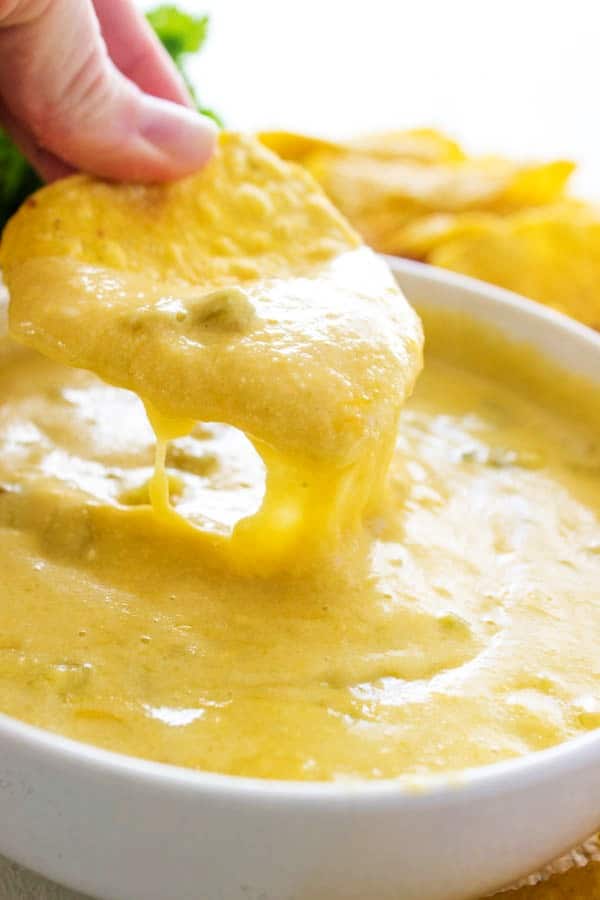 There is nothing more exciting to me about football game days than gathering our friends and family around a tasty spread of food and cheering on our favorite team.
Of course, if you have been following A Dash of Sanity – you know that I'm a Denver Bronco fan (born and raised here in CO, so naturally). I grew up with my mom making her classic Slow Cooker Queso Dip. You know, the one on the back of the Velveeta box – yes, that one. And I loved it. It's part of the reason I started to love football. Not kidding.
I remember growing up there being nachos and popcorn with M&M's. Well, my kids, of course, think that is a winning combination. So I have continued the tradition and amped it up just a notch.
Easy Queso Dip
The one thing I can always manage to make is this crock pot queso dip. It's the perfect snack for the game day if you're short on time. It combines three types of cheese and green chiles (basically the best combo ever), and no one can resist it – I always double up on the chips so every last cheesy drop can be enjoyed.
It's my mom's recipe with upgrades. Its deliciousness hasn't changed – it's one of my family's favorites, and it will soon be yours, too.
Ingredients for Queso Verde
Shredded Fontina cheese
Shredded Quesadilla cheese or Monterrey Jack cheese
Finely chopped American cheese
Canned diced roasted green chiles
Canned green enchilada sauce
Milk
Shredded cheddar cheese
The combination of cheese in this dip is the secret. Fontina and American cheese melt beautifully, so the queso has the best creamy texture. The cheddar cheese brings the flavor, so you get a dip with the right texture and the best flavor.
I am all about the food on game day and having this fantastic spread of treats, dips, and just flat-out deliciousness. But I'm all about simplicity, and this easy cheese dip, with its short ingredient list and easy prep steps, is always a winner. I wish I could say that about our beloved football team!
Use a Slow Cooker to Make the Best Queso
I own not just one but four crock pots – yes, you read that right 4! On an average week in our home, I use up to two slow cookers at a time, at least once a week.
I make dips, desserts (like cobblers and brownies), lasagnas, soups, and pasta dishes in my slow cookers. This not only makes my life more straightforward, but it also makes it a whole bunch tastier. And the same goes for game day.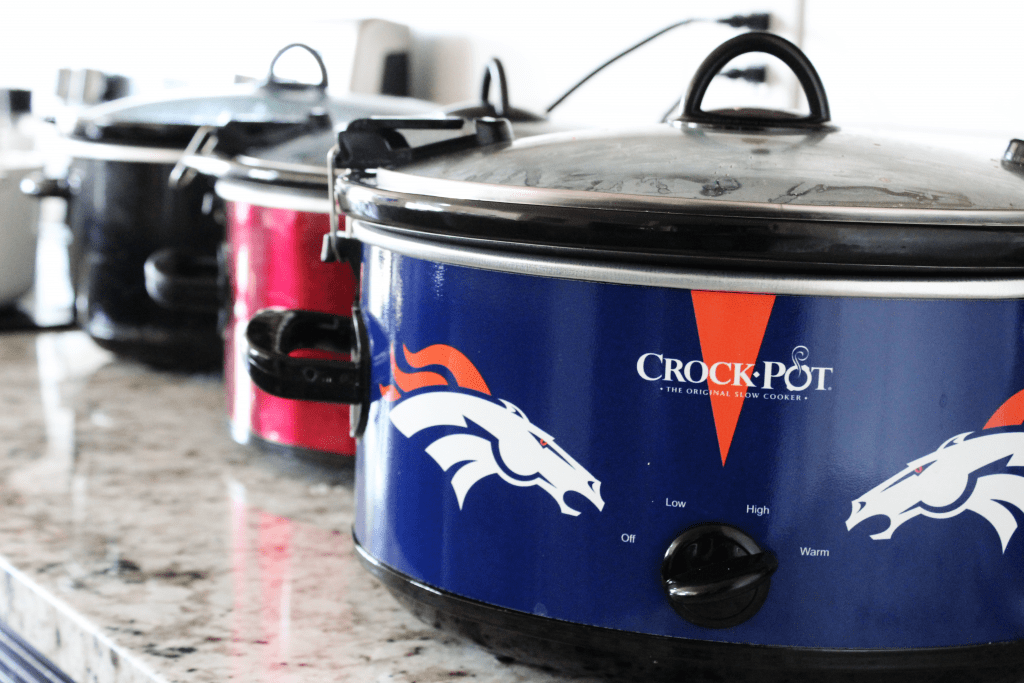 Did you know it's possible to whip up all your favorite game-day eats in the slow cooker? From creamy Queso Verde to wings and chili, toss everything together and let cook. There's no excuse not to get creative with a spread of delicious comfort food snacks this football season.
Your next game day needs to include this Queso Verde – not only is it just full of cheesy deliciousness, but it is a queso recipe everyone will love.
My kids are the pickiest queso eaters. And after the first taste – all 5 said this was the best queso ever! What is fantastic about this queso dip is that you can add additional heat if you want. I used mild chiles, but you can easily amp it up by using hot ones.
How do you make queso in the slow cooker?
In your Crock Pot, add Fontina, Quesadilla, and American cheeses.
Then add green chiles, green chili enchilada sauce, and milk. Stir to combine.
Place lid on crock-pot and cook on high for 2-3 hours. Stir occasionally so that the cheese doesn't get crusty on the sides.
Once completely cooked, add cheddar shredded cheese and stir in. Turn the slow cooker to warm and add any additional milk to get the consistency you want.
Serve with chips, tortillas, hot dogs, burritos, tacos, and burgers; the options are endless.
So while a game day party might seem overwhelming, don't overcomplicate it. Make it simple and tasty – use your Crock-Pot(s) to make the game-day classics like this easy Queso Verde dip and enjoy the big game and the company you have over. Enjoy friends! XOXO San
What else can you make in a crockpot?
Pretty much everything! You might have already figured out how much I love using my slow cooker, so check out my Best Slow Cooker Recipes. There are many main dishes, appetizers, soup, chili, and even a few dessert ideas.
I am sharing a few of our favorite recipes with this incredible queso recipe.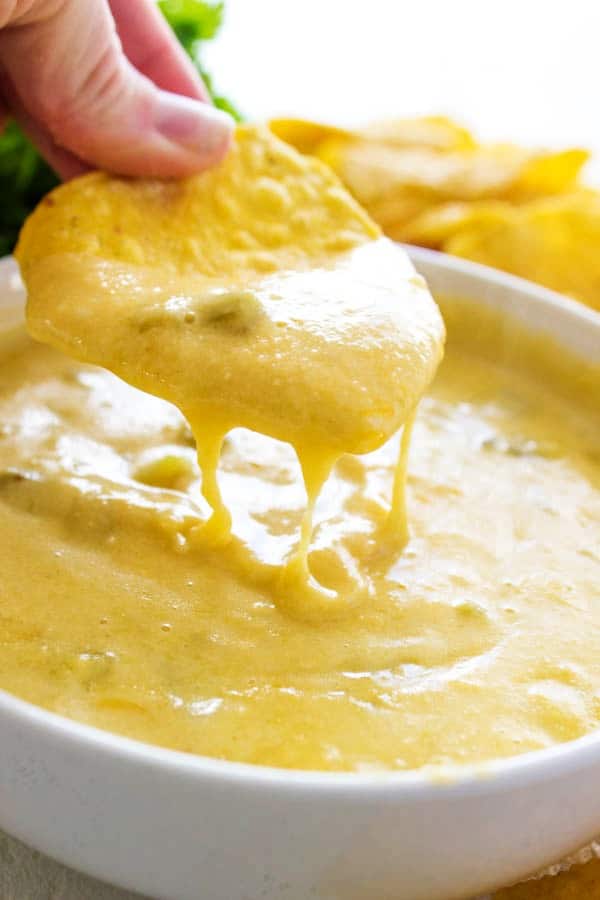 Don't forget to pin this recipe to your favorite Pinterest board for later!
Easy Queso Verde
Two classics collide in this easy Queso Verde. Mild & cheesy, it's filled with green chiles & 4 kinds of cheese, it makes game day delicious.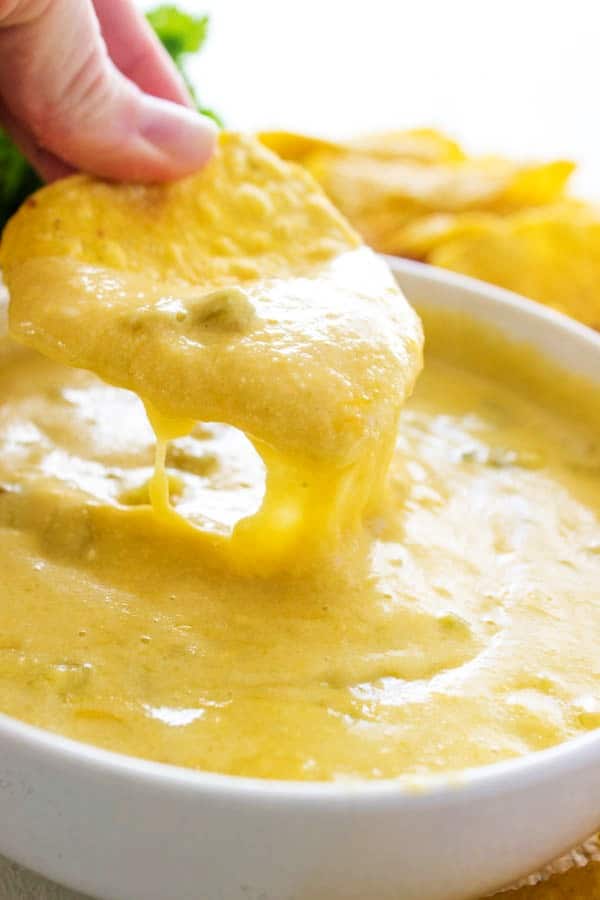 Ingredients
9

ounces

Fontina cheese

shredded

8

ounces

Quesadilla cheese

shredded, you can also use Monterrey Jack cheese

16

ounces

American cheese

finely chopped

2

4 ounce

cans diced roasted green chiles

2

15 ounce

cans green enchilada sauce

1 1/2

cups

milk

2

cups

shredded cheddar cheese
Instructions
Place lid on crock-pot and cook on high for 2-3 hours. Stir occasionally, so that the cheese doesn't get crusty on the sides.

Once completely, cooked add cheddar shredded cheese and stir in.

Turn slow cooker to warm and add any additional milk, if need to get the consistency you want. I always keep my lid on the slow cooker to keep it nice and warm.

Serve with chips, tortillas, hot dogs, burritos, tacos, burgers, really the options are endless.
Notes
If the dip starts to thicken, just add 1/4 cup of milk and stir it in. Keep adding 1/4 cup more, just one at a time, until you get the consistency you desire.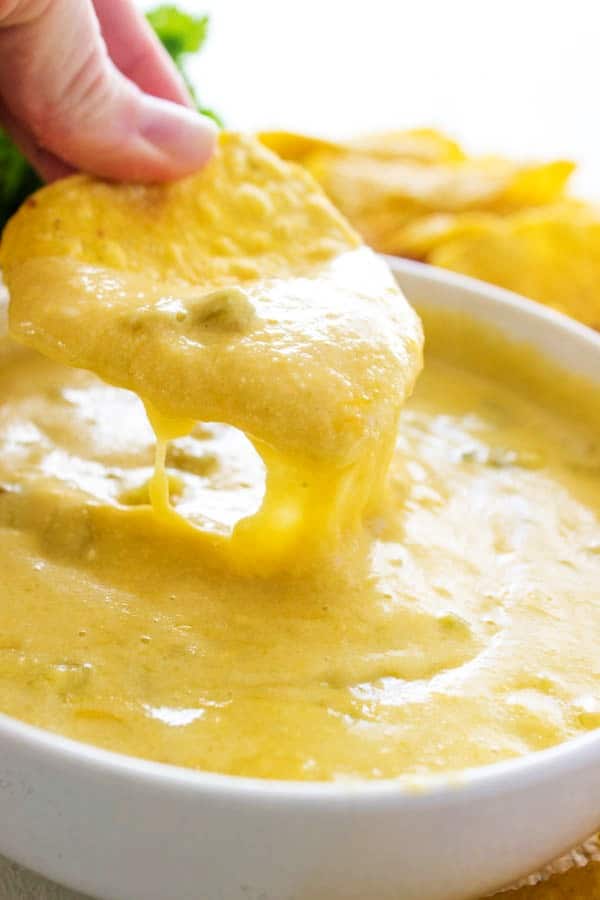 Tried this recipe?
Let us know what you think!