Ding Dongs aren't just for cupcakes anymore. These Ding Dong Cookies take the cake, literally. Soft, chewy, and decadent chocolate cookies filled with vanilla cream then covered in ganache. These cookies are better than my favorite childhood lunch box treat.

I love recipes that come by inspiration through family and friends. These Ding Dong Cookies are a result of a text convo with my cousin (& friend) Julie. LOL. You see, it was her birthday this week and I wanted to make her a birthday cake. So I asked what kind of cake she likes and here was her reply… "umm." I was so confused, how could anyone respond that way when asked what kind of birthday cake they want. I know exactly what I would want – my Best Ever Chocolate Cake. I told her I needed more than "umm". I replied that if she doesn't give it to me I would make her Ding Dong Cookies.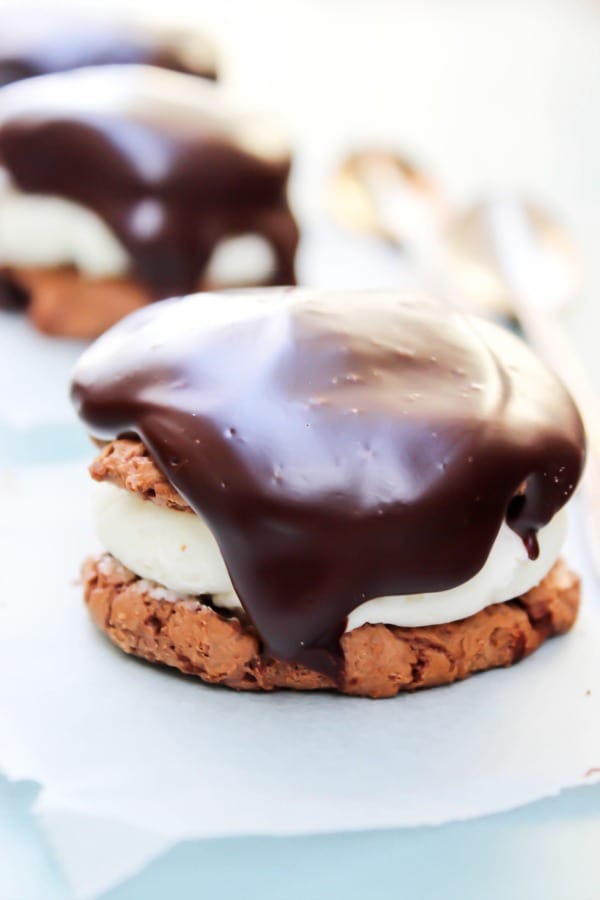 Really, I was calling her a ding dong, but that is how these Ding Dong Cookies came about. Eventually, she did reply with what she wanted, but by that point, I was already working on these cookies and there was no turning back. I love this girl. The fact is, I married into an amazing family. The moment I met Jake's cousins, aunts, and uncles I knew I had hit the jackpot. Julie is just an extension of the amazingness and well, I couldn't ask for a better person to search through the snow with (inside story). So, Happy Birthday Jules, I love ya.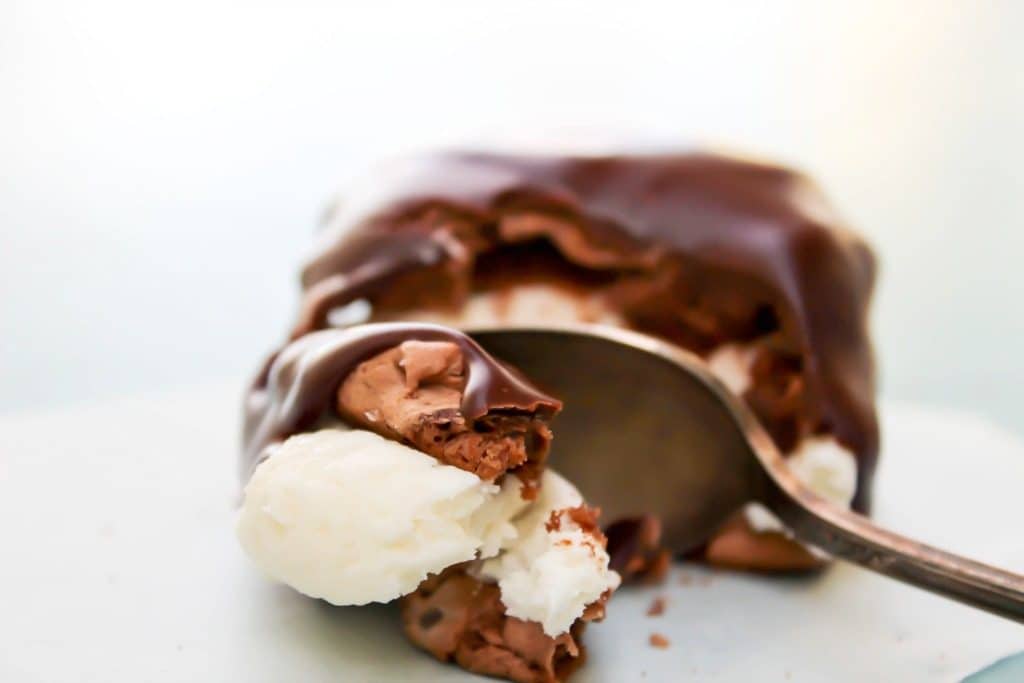 These cookies are better than the real deal cupcake version. This cupcake is rich, creamy and the ganache topping just completes this delicious dessert.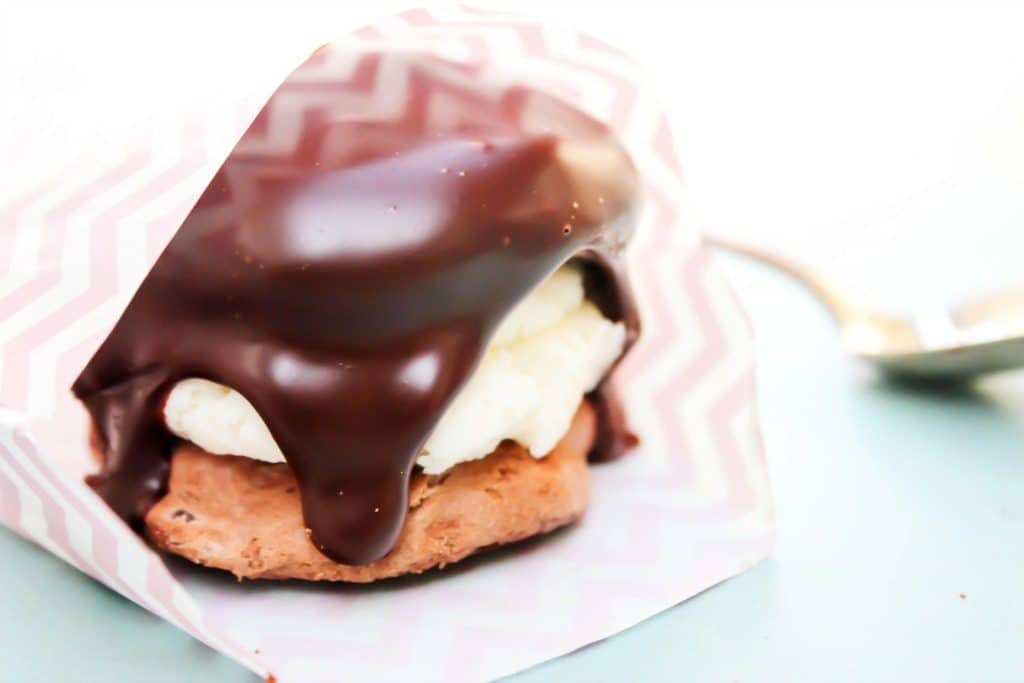 While my kids have never had a traditional Hostess Ding Dong, they love these. And I am left with the best memories of those very special and rare days where a Ding Dong would end up in my lunch. Now tomorrow I get to surprise my kids in their lunch with one of these Ding Dong Cookies and I am sure the memories will be even more special. Enjoy! XOXO San
Looking for some more Hostess inspired treats? Be sure to check out these Homemade Twinkies, Ding Dong Cake and of course, Ding Dong Cupcakes.
Don't forget to pin these Ding Dong Cookies to your favorite Pinterest board for later!
Print Recipe
Ding Dong Cookies
Ingredients
Cookies
8

ounces

semisweet chocolate

roughly chopped

4

tablespoons

unsalted butter

2/3

cup

all-purpose flour

1/2

teaspoon

baking powder

1/2

teaspoon

salt

2

large eggs

3/4

cup

packed light-brown sugar

1

teaspoon

pure vanilla extract

1

package

10-12 ounces semisweet chocolate chunks/chips
Filling
5

tablespoons

all-purpose flour

1

cup

milk

2

teaspoons

clear vanilla extract

1

cup

butter

1

cup

granulated sugar
Ganache
1

cup

whipping cream

8

ounces

semisweet chocolate chips
Instructions
Cookies
Preheat the oven to 350 degrees.

In a small microwavable-safe bowl add chocolate and butter, and heat for 30 seconds, stir and heat again for 30 seconds. Stir until chocolate is completely melted. If needed, heat once more for 15 seconds. Make sure not to overheat the chocolate.

In another small mixing bowl sift together flour, baking powder, and salt.

In a medium mixing bowl with electric beaters or stand mixer beat eggs, brown sugar, and vanilla on high speed until light and fluffy; about 3-4 minutes.

Reduce the mixing speed to low and add in melted chocolate while continuing to beat together until well combined. Add flour mixture and beat until just combined. Once combined stir in the chocolate chunks.

Line a baking pan with parchment paper and add a heaping tablespoon of dough, I used a small cookie dough scoop. Bake for 10-12 minutes, larger cookies 12-15 minutes or until cookies are shiny & crackly yet still soft and chewy in the center. Cool the cookies on baking sheets for 5-10 minutes, then transfer to a wire rack to cool completely.
Filling
Add milk into a small sauce pan over medium-low heat, immediately whisk in flour until no lumps are left. Cook and stir until mixture is thick cold milk into a small saucepan, like a pudding or gravy. Yes, you are making a roux for a dessert.

Remove from heat, stir in the vanilla, set it aside and let it completely cool.

Once cooled, cream together butter and sugar using an electric or stand mixer. Beat on medium-high speed, until light and fluffy, about 7-8 minutes.

Add in the cooled milk mixture and beat again until mixture is creamy and looks like whipped cream.
Ganache
In a small saucepan add the whipping cream and bring to a boil, remove from heat and add in chocolate chips. Do not mix or stir them in, let the chocolate sit for 5 minutes. Stir until smooth. Let it cool for about 15 minutes while filling the cookies.
Assembly
In a frosting piping bag or Ziploc with the corner snipped off and add the filling into the bag.

Pipe some frosting on top of one cookie, add filling, and top with another cookie. You can also just spread a thick layer of frosting, no need for a piping bag. Keep it simple, just like a sandwich.

Repeat this step with remaining cookies and frosting.

Spoon slightly cooled ganache over each cookie. Place in fridge until the ganache is set, and then serve.
THIS POST WAS ORIGINALLY POSTED IN JANUARY 2016 AND SINCE BEEN UPDATED.


Save