Foodie Tour: Beaches Negril Resort & Spa – Highlighting all the must-haves, to-go-tos and places that can't be missed.
My husband and I recently had a romantic get-away to Beaches Negril Jamaica with Social Media on the Sand. While I can't wait to share our entire unforgettable all-inclusive getaway with you, today, I'm sharing with you the must-haves, the to-go-tos, and the most entertaining dinners.
The part of this Foodie Tour I was most impressed by is that Beaches thought of everything from traditional kid favorites to really unique flares – enough of a variety where everyone in your family will find something they love.
This trip to Beaches Negril was a little bit heaven on earth, and we can't wait to head back with our 5 kids in tow.
Don't forget to pin this to your favorite Pinterest board for later.

THE "FAVORITE" – CAFE DE PARIS
Dress Code: None – Reservation: Not required – Open:6:30 am – 10:30 pm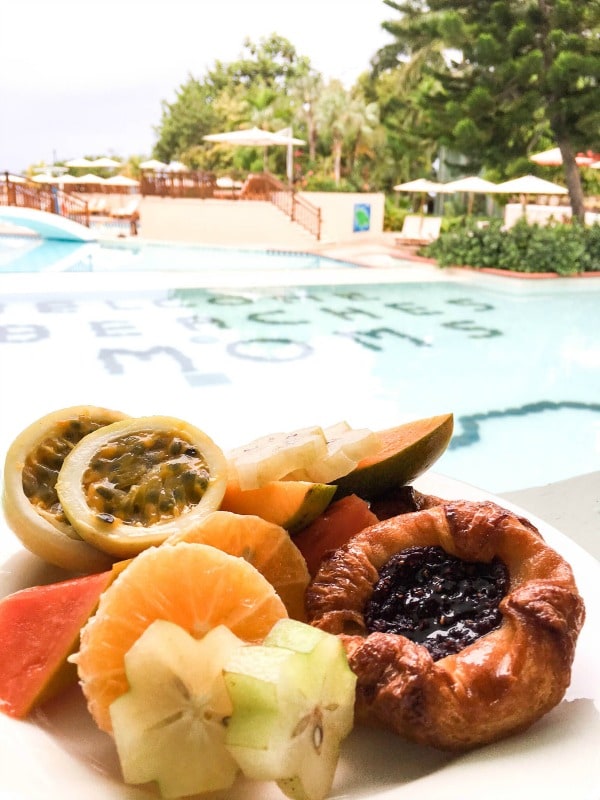 Cafe de Paris had everything my heart desires – from hot chocolate (or espresso for you coffee lovers) to steamers, crepes, ice cream, and pastries. I could have spent every morning, afternoon and evening here eating my heart's content. Oh wait… I did. I frequented there at least 3 times a day.
When we first arrived and caught sight of this cute little cafe, I knew I had to check it out. I wanted to know if my morning routine could continue, even though I wasn't near a Starbucks. And I am happy to report, it could.
We made instant friends with the ladies who worked there, and they knew as soon as we walked in, my husband would be ordering 3-4 different kinds of crepes. When you visit, the Nutella Banana Crepe is amazing, a must-order.
Had my kids been with us on this trip, this would've been their favorite place to go. They love crepes, like seriously obsess over crepes. And the beach and beautiful scenery would've only been a mere distraction to this all-you-can-eat French decadence.
Impressed by the selection of everything at Beaches Negril, Cafe de Paris stood out to me as the favorite because of everything they offered. From drinks to food, the service was the best on the resort, and the fact is that I felt they put this place there just for me.
THE "MUST HAVE" – SOY
Dress Code: Resort Casual – Reservation: Required – Dinner: 5:30 pm – 9:30 pm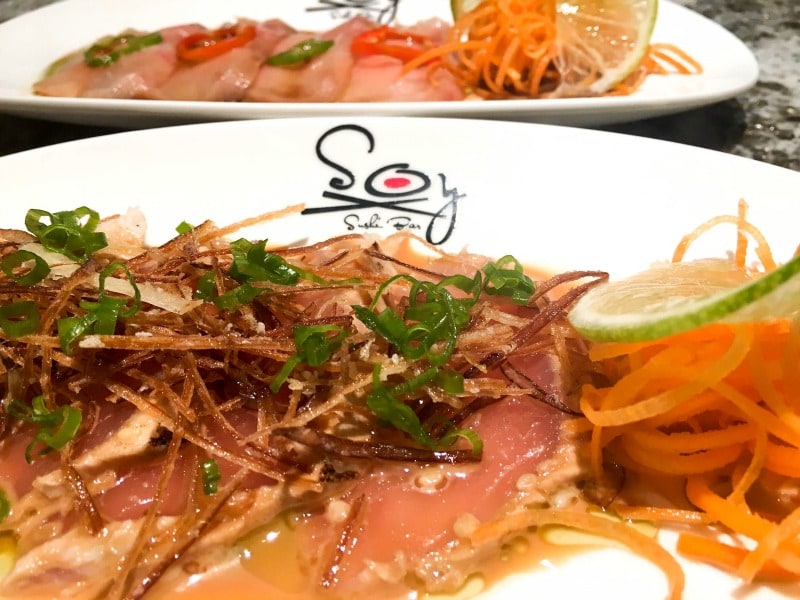 Soy is your classic sushi place, and while the setting is quaint, the flavor is big. I wanted to eat here the first night, but my husband was super excited to head over the Venetian for the steak. So I conceded. We actually were not able to get over to Soy until our last night and did my husband ever regret that.
Our favorite dish by far at Soy was Albacore Tataki with sesame dressing and crispy leeks. And when I say favorite, I mean we ordered 5 more after the first bite (in the same sitting). It was unreal. My husband kept congratulating the chef on this creation, and he just couldn't get enough.
I, on the other hand, loved all the rolls we ordered. They had the classics like spicy tuna, my personal favorite, and some other daily specials the chefs created. Had we visited the Soy the first night, I'm not so sure we would've eaten anywhere else the rest of the time. It is that good.
We can't wait to take our kids back here; they love sushi, and Soy is sure to be the family favorite.
THE "CLASSIC" – THE VENETIAN
Dress Code: Resort Evening Attire – Reservation: Required – Dinner: 5:30 pm – 9:30 pm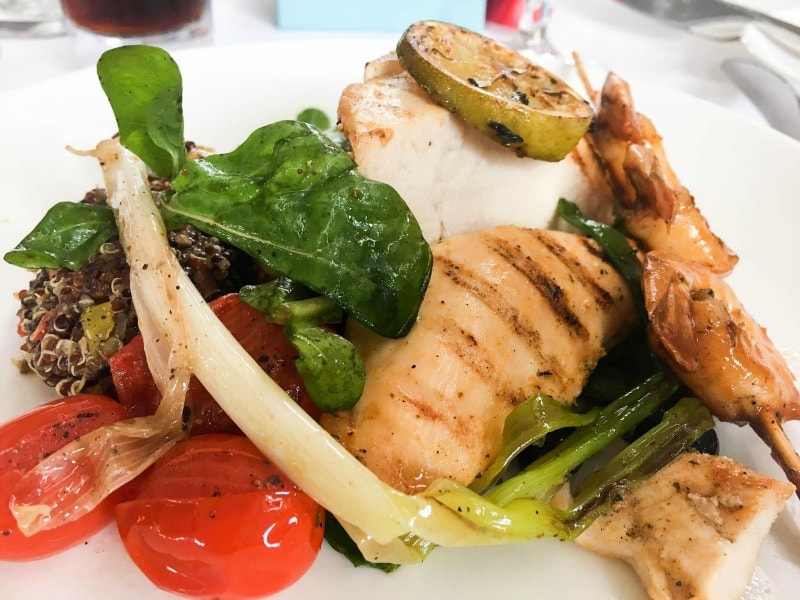 This is your classic Italian restaurant. A warm, cozy and welcoming setting at the top of one of the villas, The Venetian is everything you'd expect from a Northern Italian restaurant. The menu is pleasing for the entire family from Spaghetti Bolognese to Costolette D'Agnello Allo Scottadito (Grilled Rack of Lamb with Roasted Tomato, Black Olive, and Red Wine Reduction). Kids and adults can all find something they'll love.
I was excited when I looked at the menu and saw they had my favorite Italian appetizer: Arnachini. I couldn't wait for them to arrive at our table, and I loved the red sauce that they were served with. We sat with another couple for dinner that night, and it was the perfect setting for small intimate conversation. I would suggest you make reservations either before you arrive at the resort or right when you check-in, as they fill up fast.
THE "KIDS CHOICE" – DINOS PIZZERIA ITALIA
Dress Code: None – Reservation: Not required – Open: 12:00 pm – 6:00 pm

Since we have 5 kids all under the age of 13, we obviously love pizza in our home; it is on our weekly menu. So naturally, Dinos Pizzeria would be the pool-side restaurant we'd frequent.
Not only was this pizza good, but the location was the best. It is nestled right next to one of the pools with a swim-up bar and only 10 steps from the beach.
This brick oven pizza was made fresh to order. It's thin crust, homemade tomato sauce, fresh mozzarella cheese and tasty toppings made for an excellent afternoon meal. My favorite pizza was the Four Cheese pizza. It wasn't your typical four-cheese as it included Gorgonzola. Holy yum! And since this pizzeria is beach-side, of course they had seafood options.
Several of my friends would order a pizza right before they closed for a late-night snack. I enjoyed one right on the beach while I watched my hubby swim. It could not have been more perfect. Both the beach and the pizza were picturesque.
"FAMILY FUN NIGHT" – KIMONOS
Dress Code: Resort Casual – Reservation: Required – Dinner: 5:30 pm – 9:30 pm
I love taking my family out to eat for meals that are also entertaining. And I don't mean that my kids are the entertainment.
Kimonos is an Asian-inspired hibachi grill where the chefs cook up your selected menu right in front of you in an unforgettable interactive dining experience. We went as a group of 10 and not only enjoyed eggs being tossed up, spun and precariously balanced on the edge of spatulas, but also catching (or attempting to catch) bites of shrimp in your mouth and collectively singing (or attempting to sing) Bob Marley songs along with your chef. This dinner is guaranteed to leave you with a full stomach and even fuller smile.
This will be a dining experience that your family will not want to miss, so be sure to make reservations upon your arrival as it also fills up quickly.
THE "BEST" TACOS – MARIACHI
Dress Code: Resort Casual – Reservation: Not Required – Grill: 11:00 am – 3:00 pm – Dinner: 5:30 pm – 9:30 pm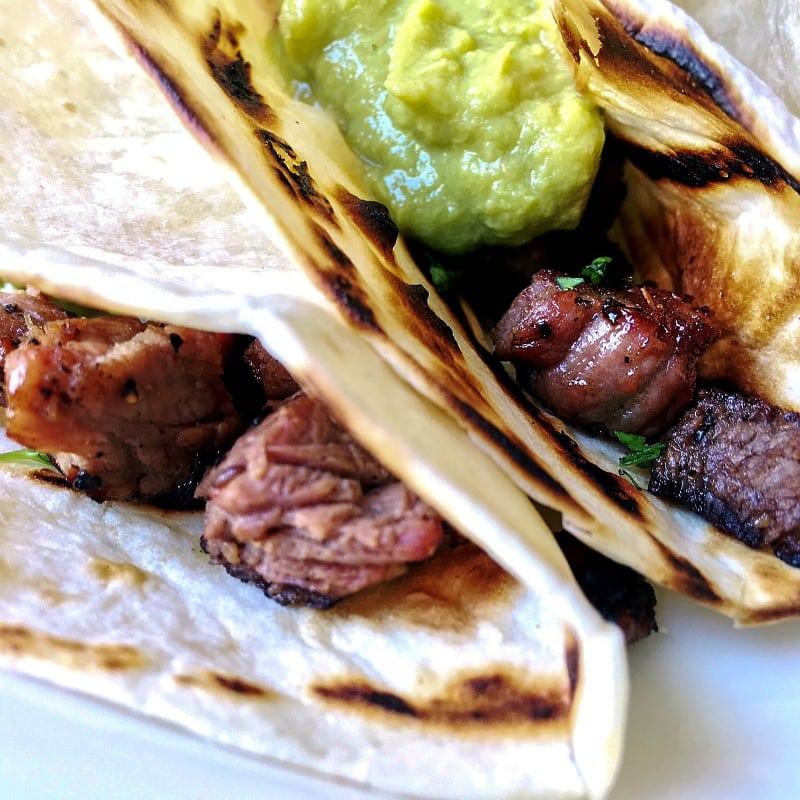 On my Foodie Tours, I don't normally offer a category for best tacos. But I literally could not explain Mariachi any other way. I loved their steak tacos. I ate them 3 times during our stay, and I literally could have had them for every meal. In addition, at lunch, they always had a nacho bar that hit the spot right after a morning on the beach.
Mariachi was always busy at lunch, and their dinner menu was top notch. Offering unique selections like the Baja Snapper Wrap, which was cornmeal-crusted snapper, shredded Cabbage, diced tomato, diced onion, shredded cheddar, guacamole and ranch sauce wrapped in a tortilla wrapped for those who wanted something a little different to classics like chicken enchilada tomato and chipotle braised chicken.
I live in Colorado, and there is a lot of Mexican food restaurants, so of course, Mariachi's hit home with me. This is a place where the whole family can feel like they're at home.
"GRAB & GO" – BAR B.Q
Dress Code: Resort Casual – Reservation: Not Required – Open: 11:00 am – 3:00 pm & Anytime Grill Snacks 3:00pm – 3:00am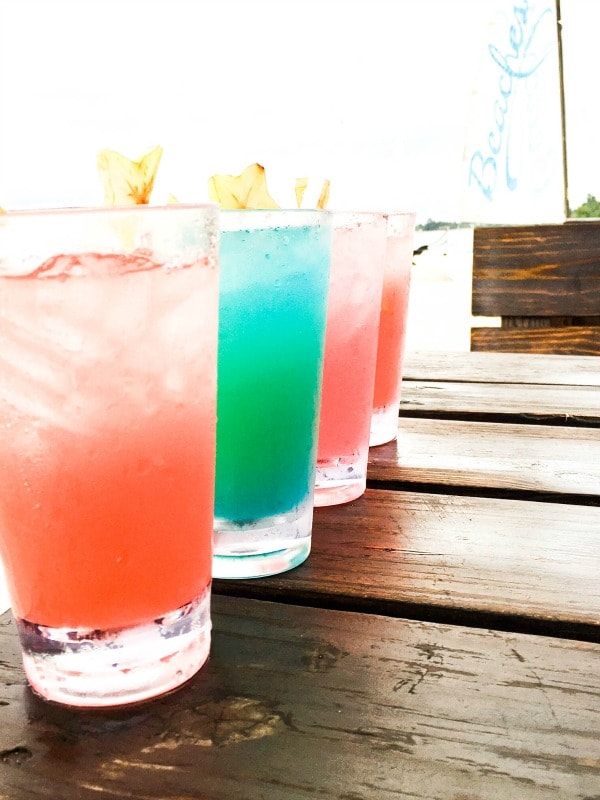 This pool-side grill will quickly catch your kids' eyes. Here they offered grill favorites like burgers, hot dogs and fries along with barbecue selections, available at lunch, including BBQ Chicken, BBQ Short Ribs, BBQ Brisket, and their signature dish, the BBQ Pulled Pork Sandwich.
What is great about Bar B.Q is that you can walk up, grab what you want and take off to your beach adventure or whatever awaits. If you want to sit and eat, there is a small, shaded courtyard area, perfect to refuel for a few minutes before heading back out to snorkel, swim, sail or scuba dive.
The last night we were there, I got the late-night munchies, and Bar B.Q french fries hit the spot.
When visiting Beaches Negril, if you can't find your kids, check Bar B.Q – I am sure you'll find them filling up with soda, grabbing a burger or getting yet another ice cream cone.
"TRADITIONAL" – THE MILL
Dress Code: Resort Casual – Reservation: Not Required – Breakfast 7:00 am – 10:15 am Lunch 12:30 pm – 2:15 pm Dinner 5:30 pm – 9:30 pm
I put The Mill under traditional because this is the kind of place you traditionally see at all-inclusive resorts. But the view is hardly traditional. Located pool-side, not only is it in the center of the resort so you can see most of everything, but you can also see the ocean. The Mill is inspired by Jamaica's colonial period sugar mills. My favorite feature is the sloped roof and open porch feel.
The Mill is buffet style. But we're not talking about your traditional buffet. While they do have some of those classics like salads, fruit, rolls and pasta dishes, the Mill also offers fresh-off-the-knife meat carvings, rib eye, exotic local cuisine, including Jerk Chicken, and delectable desserts.
The atmosphere of The Mill isn't a hurry and go flare. It feels relaxing and the wait-staff is there to take care of your every need.
Have picky eaters in your family? The Mill has you covered offering a plentiful range for every meal occasion. Trust me no one will go hungry.
"SORRY TO HAVE MISSED" – STEW FISH
Dress Code: Resort Casual – Reservation: Not Required – Breakfast 7:30 am – 11:00 am – Dinner 5:30pm – 9:30 pm
There were so many great offerings while at our stay at Beaches Negril, we were sorry that we didn't get the chance to eat at Stew Fish, a seafood-inspired restaurant on the beach with a more traditional Jamaican flare. But we're looking forward to checking it out on our return.
The cotton candy below was not at any of the restaurants but at a character party on the beach. Had my kids been there they never would have left this place.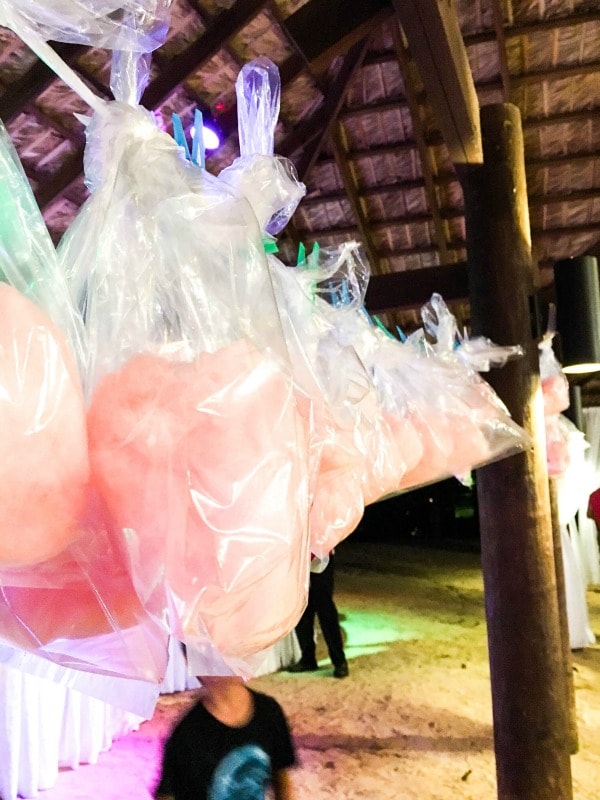 Save