Alaskan Cruise Port Excursions- all the information you need to know to make the most out of your Alaskan cruise and what to do at each port.
Recently I visited Alaska, a dream destination of mine since I was a teen. I sailed with Princess Cruises to discover the beauty of Alaska myself. I do not regret one-bit visiting Alaska my first time on a cruise ship, this helped me see much of it without having the huge expense of several hotels, ferry rides and puddle jumpers to different locations.
It was an unbelievable experience to partner with Princess Cruises for this post. All opinions expressed are my own.
I will always cherish my week there, along with my sister, creating memories with my friends & co-workers. While there I decided to take a few notes at each port so that I could share some tips on how to best utilize each port. This is based solely on my sister and I experience and hope that these pointers will help you, in turn, make the most out of your trip.
So let's get into the ports that I visited. With that said, there are several different ways you can cruise Alaska, on the cruise I took we had three ports that we stopped at, not including Anchorage. I will share details at the following ports: Icy Strait Point, Juneau, and Skagway. We disembarked in Anchorage, we did do an excursion there since we had time before we departed so I will share that excursion experience as well, tomorrow.
Want to know what to pack? Check out the Ultimate Alaskan Cruise Packing List.
Don't forget to pin this to your favorite Pinterest board for later.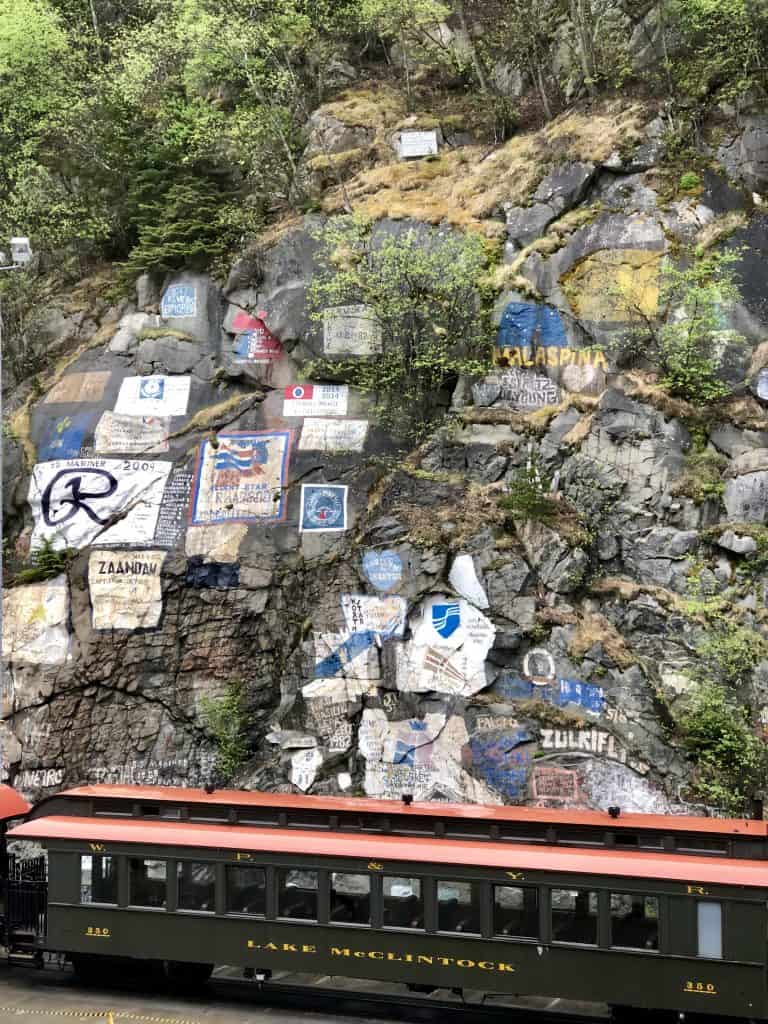 Port 1: Icy Strait Point
Weather conditions: high 74F, sunny
Note on the weather. This was unusual for them, we had three days of sunshine while cruising and that is not the norm. We had some people in Juneau say that more than 1 day of sunshine and no rain they considered them to be an in a drought.
This port is privately owned, in fact, it is the only port in Alaska that is privately owned. Which I loved but also I felt that the souvenirs were a bit more pricey than the other ports. What I did love about it being privately owned was the food.
Our friends April and Wes ate at the little cafe right off of the ship. It was adorable and they let us try a slice of the salmon pizza which was to die for! The fish & chips were top notch. Don't grab the homemade donuts though, as tempted as you will be. They are soggy and really are not donut-like. So save your money and just grab a pastry from the ship, Princess Cruises has the best pasty selection!
Walk around the port. Making sure to walk the Nature Trail which is located directly when you get off the ship. You can't miss it. Also, bring your binoculars. There were so many bald eagles here.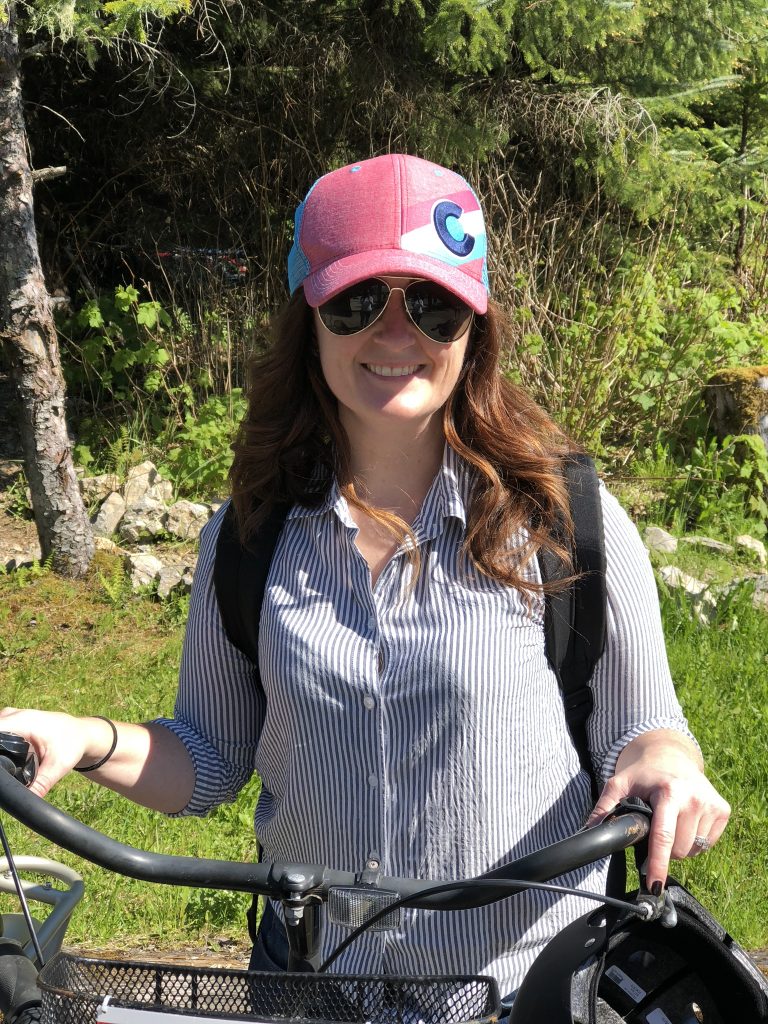 Immediately upon arrival at Icy Strait Point, we saw whales. I couldn't believe it! I was incredibly giddy over this, as was my sister who traveled with me.
We had a few hours before our excursion; we booked the PS2-610| WHALES, WILDLIFE & BROWN BEAR SEARCH. So we walked the port, which was nice and then rented bikes.
Renting the bikes was literally one of our favorite things from the cruise. A huge highlight for sure! It was $15 for an hour or $30 for the day. An hour is enough to ride into town and back, plus about 20 minutes to walk the town. There isn't much to see in the town and it was closed down for the most part. But the biking along the ocean and around this quaint little town with majestic views was insanely incredible. We had the perfect weather for it as well.
Now you could walk the path, but I would highly recommend the bikes. Walking would take so much of your time and the town really isn't worth the jaunt. But if you need to stretch your legs or want a little exercise than it is perfect. You can also take a shuttle into town for $5.
As for the WHALES, WILDLIFE & BROWN BEAR SEARCH we loved this. It wasn't high adventure and it was very low key but we got to see several bears, whales, and sea otters. This did not disappoint. Here are a few tips and highlights from this excursion.
It is not a hard hike, I would say more like easy walking. There was even a path, nothing hard or unstable.
For the bear viewing, there are two stop and see points. Our guide said that so far in the season they saw bears at this point 5 out of 8 times, so it isn't a guarantee but we were fortunate enough to see them. I will say that binoculars are a must. The bears are on the other side of the river so to get a really detailed look having binoculars would be ideal.
If you take a nice camera make sure to take a telescope lens, this will allow for even more detailed pictures. I had my iPhone which was actually really great but my sister was able to get more details because of the camera she brought.
Make sure to bring a snack & water!
Have a jacket, rain poncho, winter hat and light gloves so that you are ready if the weather changes. These are all a must for the boat ride.
The whale search is cold! So make sure to have a pack with the items above.
The captain will do all he can to get you to see whales! If you want to see the sea otters make sure to become friends with the captain he is the only one who can make this happen. When we went he originally was not going to take us but my sister was nice to him and he changed his mind, she quickly hugged him and screamed and he smiled the rest of the trip.
On the boat, they sell snacks and drinks, but we preferred packing our own. We did end up buy some M&M's and water because we were starving and didn't pack enough snacks.
Did I mention topack warm clothes? We had a nice weather the entire day, yet on the boat, we were still freezing!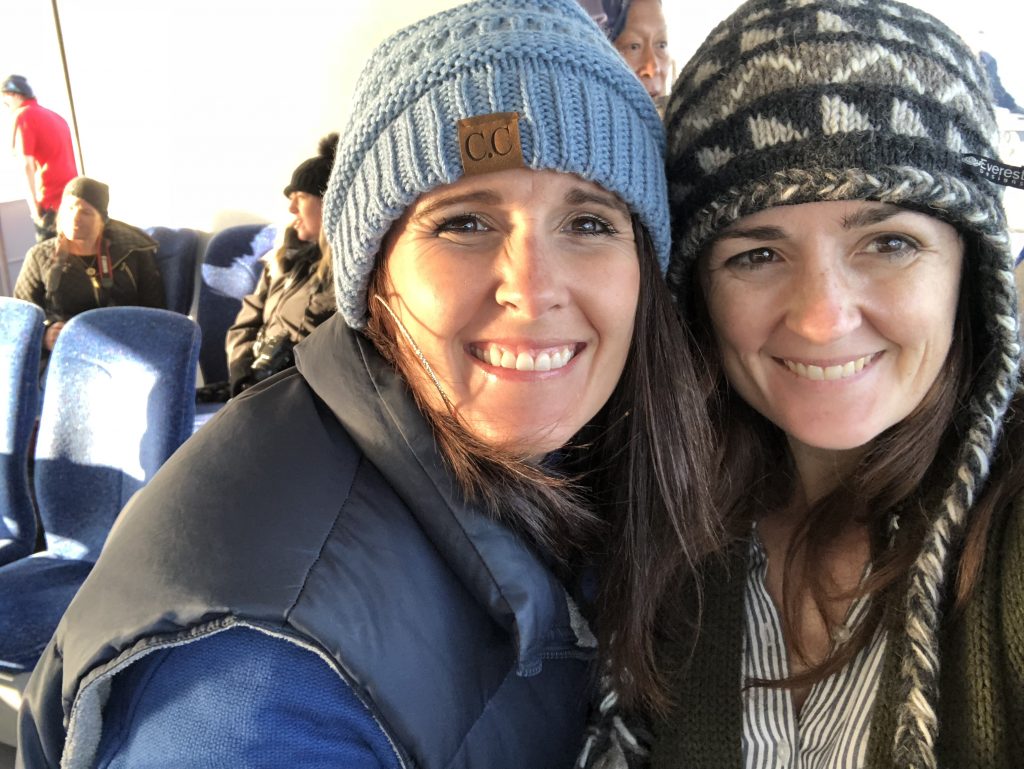 Port 2: Juneau
Weather conditions: Juneau high 76F, partly cloudy & sunny
I loved, loved, loved Juneau. For two reasons the town and the excursion we selected. I honestly could not have dreamed up a more amazing day than what we experienced in Juneau. Gorgeous weather, breathtaking views within 40 feet of a bear and the best fish tacos I had ever had in my life.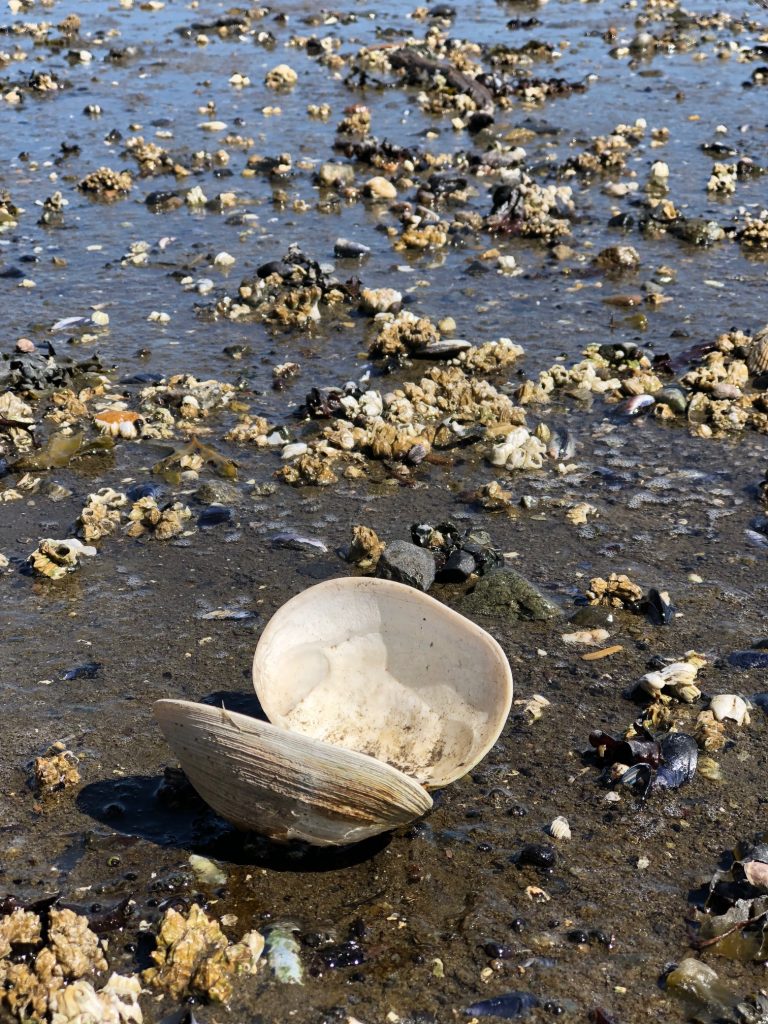 Let's talk about the food. Fish tacos and halibut cakes – two things every person should have from Deckhand Dave's Wild Alaskan Fish Tacos food truck. Find where he is at and try everything there! You will love it. We were excited to meet Dave and I could not rave more about a taco in my life than his fish tacos. I can't wait to go back and take my husband, although I know he won't want to leave.
Juneau is the largest town with lots of shopping, places to eat and grab a drink. A few of my friends hit up some breweries and they were all impressed and very happy with their choice selections of beer. And this is one port that you could actually spend the entire day at just walking around, going on nature hikes. If you wanted to skip on an excursion, this would be the place to do it. With that said, I would highly, highly recommend our excursion selection of JNU-880| PACK CREEK BEAR VIEWING.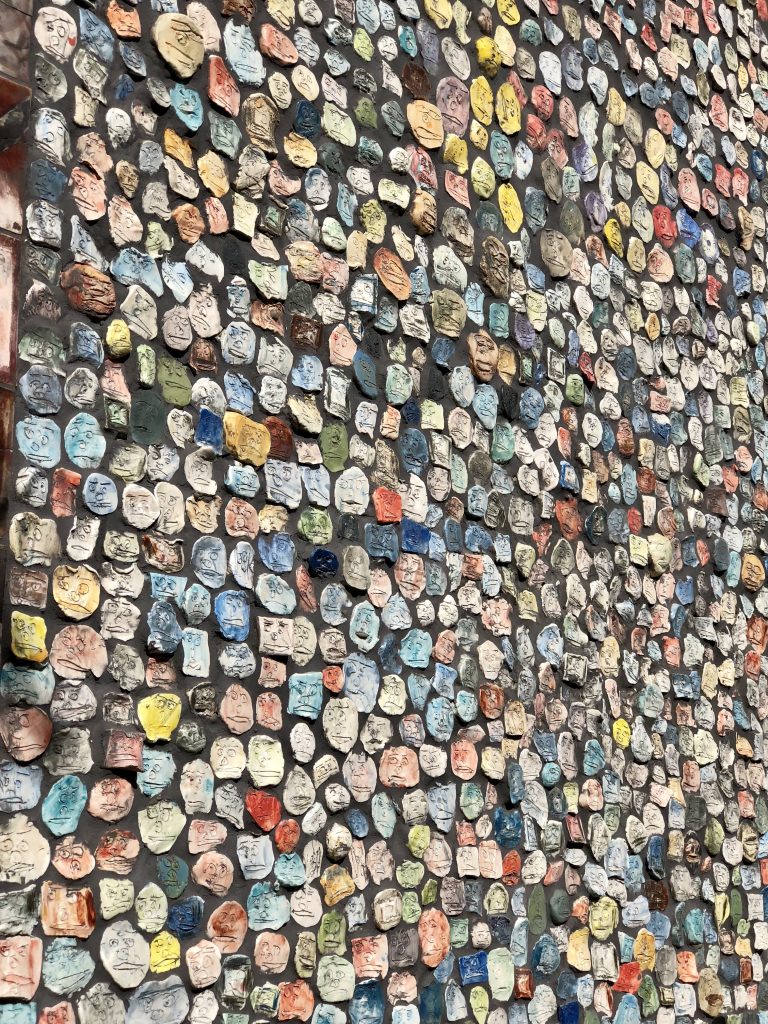 To break this down easy for you here are some tips and highlights from our Pack Creek Bear Viewing.
Pack layers of clothes including gloves, a winter hat, and a poncho. We had zero rain which was nice, but if there was rain you would totally need a poncho and an umbrella would even be nice.
Binoculars would be amazing as well, especially if you didn't have a close-up bear encounter like we did. We were blessed to have a close encounter, within 30-40 feet of a brown bear. My sister and I loved it! We were a little nervous when our guide aka "mountain boy" said that he would give instructions if the bear would get within 20 feet. Eek! 20-feet? Thankful that didn't happen.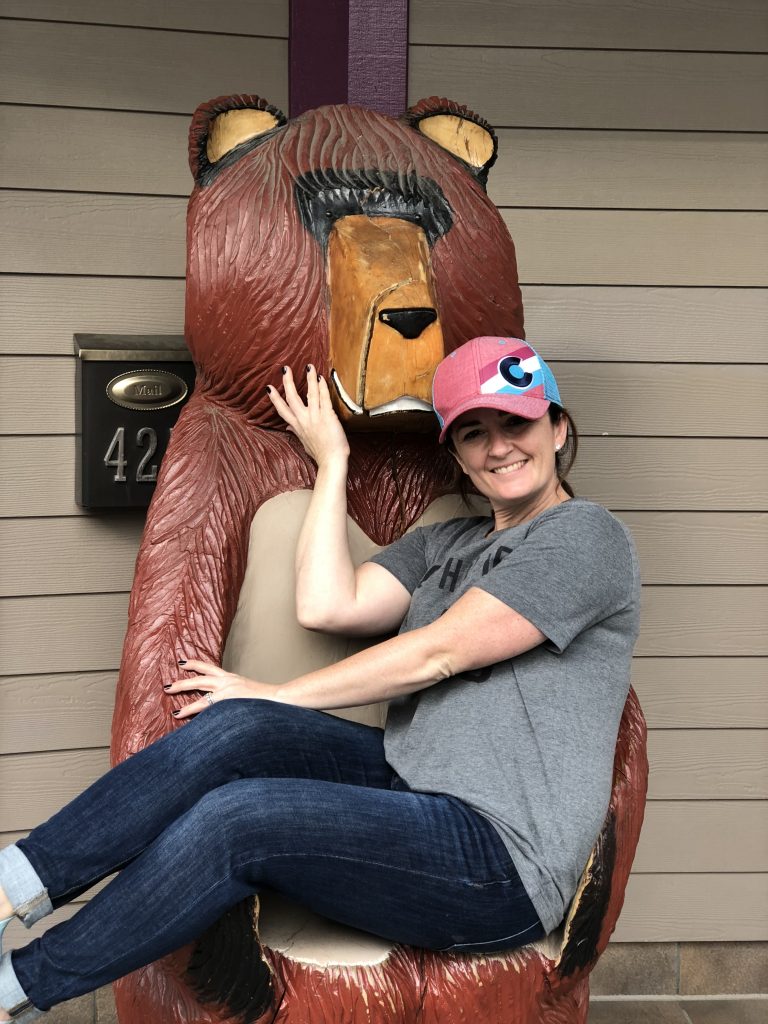 They have earplugs for the seaplane ride, you will need these. Ask for them if you don't see them.
Pack a light snack, they provide only a granola bar (sugary kind) on this, so if you need something more than that fuel up before.
Take videos on the plane of the scenery this is one thing I do not regret!
Plan to sit for a few hours. If you are looking for adventure or something high energy this is not the excursion for you. We sat at watched the eagles and bears for 2+ hours. We were fortunate enough to see 20+ bears some from the air and some on the ground. Like the close encounter video below. We were also blessed to see a mama bear with two cubs. It was amazing to watch them play together and see her nurse them. All of this happening in the wild.
Take a blanket if you can to sit on. This would've been so nice to have.
Wear thick socks so that you don't get blisters from the boots and this helps you stay warm as well.
Tip your guide! Our was young and grew up in Alaska he was so proud of his state. All he wants to be is a mountain man, he was more of a mountain boy but we still loved and appreciated him.
Take a nice camera. I had my iPhone 8+ which worked out wonderfully and I used the portrait mode most of the time. It took great videos too!
Port 3: Skagway
Weather conditions: high 70F, cloudy with light rain
I loved Skagway. It is what I pictured Alaska to be like. The town was an old mining town that a woman pretty much owned. She has a local brothel and well, you can imagine her sway there. This was a cute little mountain town and so fun to walk. We at some fish and chips that were literally accompanied with the best ever tartar sauce. Bought fudge, taffy, warm drinks and souvenirs for all our kids. This was a great place to shop as well, just like Juneau.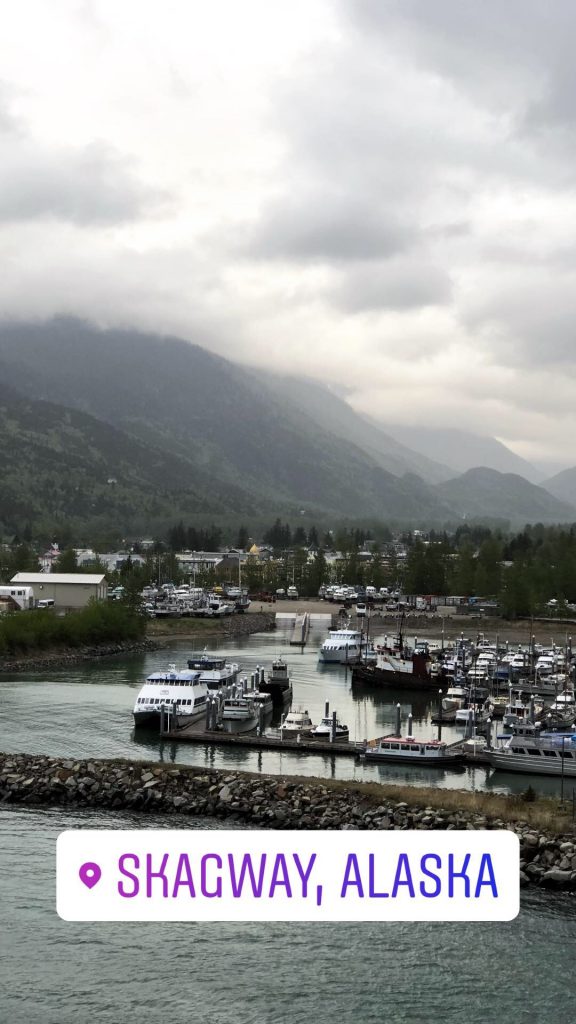 There were so many fun pictures to be taken and we had so much fun making little Boomerang videos and laughing. We strolled with our friends for a bit before heading off to our excursion of SGY-840| DOG SLEDDING & GLACIER FLIGHTSEEING. We were sad when we arrived that it was canceled due to the low hanging clouds. We were incredibly disappointed because they rescheduled us for a later time, only to be canceled again and then again. In the end, we ended up meeting a woman who said they had a few spots left open in their dog-sledding adventure and so we grabbed them. Skagway can be done in 2-3 hours, 1 hour if you are not much of a shopper, so we needed to have something else to do.
I am not really sure what our excursion was called but the shuttle bus ride alone was stunning and we got to see all the beautiful sites while in the car and out of the rain! Bonus.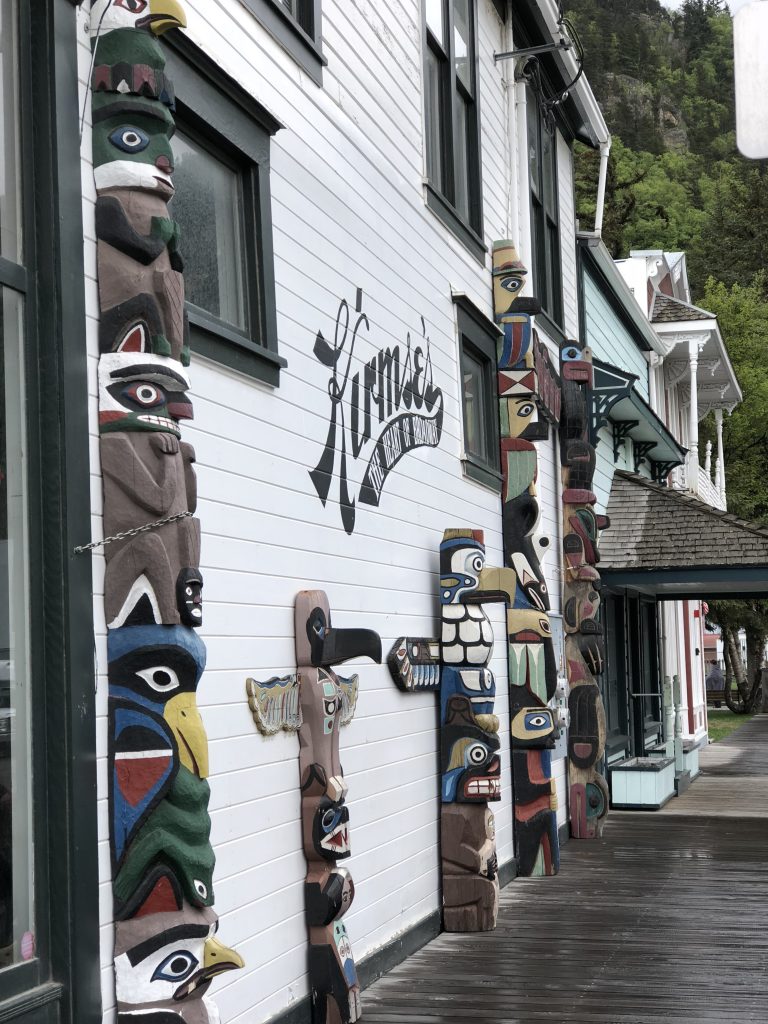 There is a train ride, I wish we would have booked but we wanted more of an adventure on the glacier. We tried to get on the train last minute but it was completely booked – we heard great things about this excursion though.
Here are few tips for Skagway and dog sledding if you do that while you are there.
" src="https://dashofsanity.com/wp-content/uploads/2018/07/IMG_1004-e1532630422343-768×1024.jpg" alt="
" width="768″ height="1024″>
Pack a backpack with a rain poncho, umbrella, warm hat, and gloves.
If you are a coffee drinker or like hot chocolate make sure to visit the little "shack" right when you get off the ship, we loved the chocolate sauce they used!
Make sure to buy taffy! It was some of my favorite. The candy shop also had some fun popcorn flavors, we sample all that we could and filled our selves to the brim. This is locally owned like everything else there and Nicole and I love talking with the people.
Make sure to have the fish & chips from Skagway Brewing Company. The halibut and tartar sauce is the best you will ever have! EVER! The fries are fresh, but I like mine a little crispier so make sure to request this.
Visit the Red Onion Brother Museum. This is something we didn't have time to do and we wish we would have. The ladies were so fun and it is truly a part of their history.
I'm excited to continue to share my Alaskan experiences with you, in hopes that my insight will help you make the most of yours. XOXO San

Save