Caribbean Cruise Packing List For Kids – from the must-haves to little things you don't need but may want, we have it covered in this cruise packing list.
Get all the Caribbean cruise essentials to pack you and your kids.
Jojo and I recently went on a Western Caribbean cruise, and it was everything we thought it was going to be and more (if you count the cheesy fries). The relaxing, rejuvenating, and adventure-seeking parts of ourselves were completely fulfilled. From tubing in caves, ziplining in the jungle, laying out on the beach, and snorkeling, we really did everything and anything we wanted.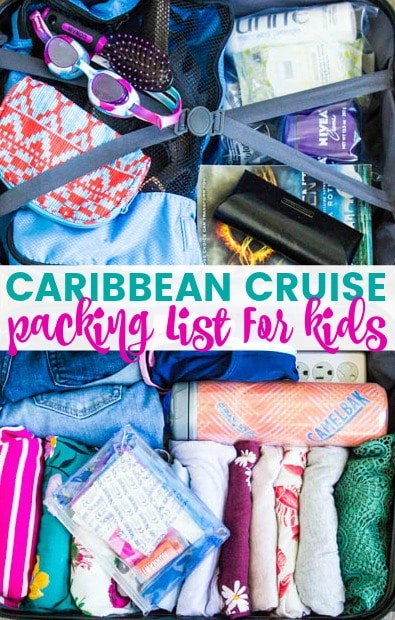 However, being prepared was just as important to our overall fun as the activities themselves. And this started with making sure we had everything we needed. For my family, packing is easier whenever we go on vacation if everyone has a packing list. They love to cross things off and it keeps them focused.
Regardless if it was all seven of us heading to the high seas or just Jojo and me, it was a dream to just give her a cruise packing list, glance over it once, and have it all done.
There are a few things I want to share from our experience though, hoping it will make the packing for a cruise experience for kids a breeze and consequently, your cruise much more enjoyable.
WHAT KIND OF SUITCASE SHOULD I BRING ON A CRUISE?
Suitcases are important.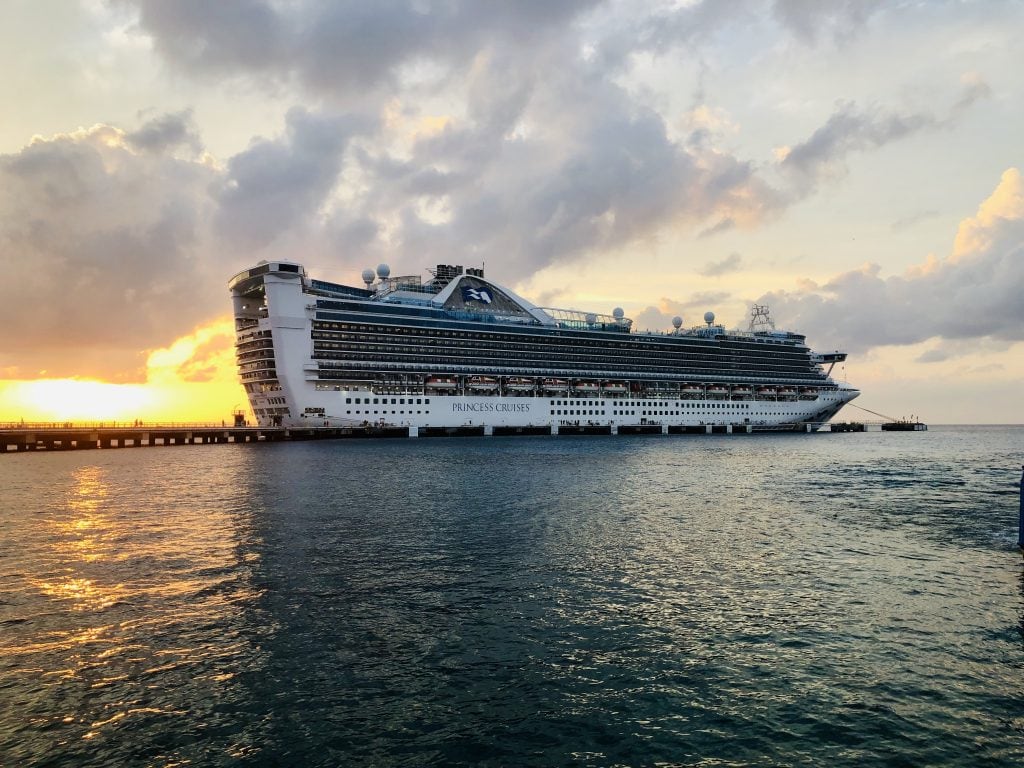 I used to be all about packing my kids in duffle bags like I did when I was little. But that always ended up with Jake and I carrying most of the weight – literally.
But then I discovered these Merax 3 Pcs Luggage Set Expandable Hardside Lightweight Spinner Suitcases: A parent's dream.
They are sturdy, easy to push around and no hassle, and I love that they are hard-shelled. I didn't worry about the rain, it getting wet going through a puddle or think twice about it surviving luggage handling. It was easy to pack in as well. With both sides being able to zip up and close shut, I didn't have to worry about anything falling out and can easily split space between two people.
A bonus is that it comes in 3 sizes for our 3 sizes of humans – moms, teens and little ones (or husbands who pride themselves in packing as little as humanly possible). With just one set, we have 3 to 5 of us covered. So the price tag is worth it.
I ordered one set in bright orange (my personal fav) and another set in red. It is so nice to be able to instantly spot your suitcase.
Tips on packing kids for a Caribbean cruise.
Have them pack and check off everything on the list. You double check and then help them fold and put stuff in the suitcase. This helps them to know what they have, options they can wear, and we have seen this cause less tension when getting ready. I think them knowing what is in their bag eases a bit of the anxiety of the unknown for the little ones, and for your teens, it's nice to allow them to pick and choose so they can feel good about what they're bringing.
Pack a couple of days in advance. This helps the stress of the night before and allows you time to gather the things you didn't remember – it's bound to happen.
Plan out your excursions so you know what specifics to add to the list. For instance, if you and a few of your kids are going snorkeling or scuba diving, you might want to pack a water-proof camera/case or GoPro. You can add this to their note/reminder section.
Make sure to download movies on their iPad/phones before you leave home!
Make sure to include an emergency tag to put in their purse or on their backpacks. This could include allergies and information to contact you or someone else in case of an emergency.
Make sure to include any stuffies (i.e. stuffed animals) or blankets – put this in the note/reminder section of the checklist.
Pack all liquids in a gallon sized Ziplock bag, including the toothpaste.
Use travel bags for shoes! This will be so great to keep dirty soles off your clothes.
Make sure to bring an extra Ziplock bag or empty trash bag with you. This is for wet swimsuits and swim covers on the way home. Don't worry about towels friends, the boat will have those for you.
Buy sand buckets on the beach! Don't worry about packing toys; your kids will get enough toys and fun along the way!
Bring door decorations if you want. We aren't a huge fan of this for our own door, but we sure like watching others go all out. If you want to make your door fun and inviting, bring some decorations. People tend to include items where they are from and their names –  super fun!
Now that you have a few pointers, it's time to pack.
Check out the printable below to make this fun and easy!
For the littles, don't forget to add notes like swim diapers, stuffed animals or special blankets.
For the teens, make notes on their cruise packing list, including downloading movies, bringing bands for braces, packing retainers or anything else they need that will allow you an extra dash of sanity.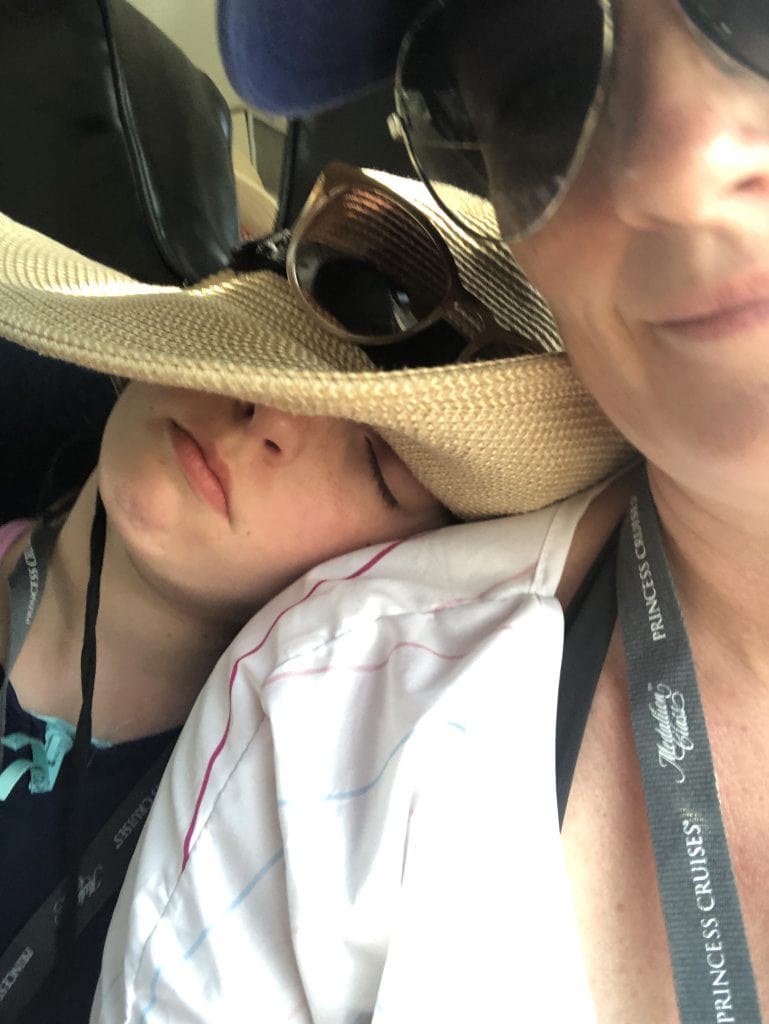 What I love about cruising on the Caribbean Princess was the ease of finding anything if we left something behind. Need aloe lotion? You can order it right to your room or wherever you are sitting. Remember those awesome On-Demand Services I've mentioned previously in my Best Cruises Tips or Ocean Medallion Cruise: Best Family Cruise Experience.
While packing your kids or booking the cruise, make sure to check out the Best Western Caribbean Shore Excursions for families. These are all the excursions we love with our kids, ages ranging from 8-16.
WHAT DO I PACK FOR A CRUISE?
Caribbean Cruise Packing List For Kids: Boys & Girls
1 pair of sandals – Great for walking to and from the pool and to wear to breakfast and lunch.
1 pair of walking shoes – They are great for excursions or dance parties at night.
1 pair of nice shoes – This may be required for dinner dining; be sure to check the required list of attire for your choice of dining.
1 beach bag or backpack – We used a bag. We loved having this for excursions to carry our sunscreen, sunglasses, money, water bottles and snacks. Depending on the size or your party or the needs of your kids, you may need more than one bag!
Money for souvenirs at the ports – Don't forget this! You can't use your Princess Medallion or cruise card at stores at the ports most of the time.
6 pairs of socks/underwear – Or at least one per day!
2 pairs of walking/athletic shorts – These are comfortable. Make sure to wear ones that won't chafe. If you get chafed, make sure to carry along a chaffing stick, especially for the littles.
2 pairs of dress shorts/jean shorts – These are to wear at night for all occasions, from cruise ship parties to dinner. Our boys were always in these.
6 t-shirts/tank tops – My boys all wore shirts, and my girls wore tank tops, so this really varies on your kids. For our youngest son, Cannon, we brought two extra shirts as he gets messy at dinner!
3 nice shirts, boys – These were great, and they wore each twice!
1 dress pants (optional, boys) – I make the boys pack these always meaning for them to wear them on a formal night, and it never happens. Lol – they take after their dad!
3 sundresses, girls – These are great for excursions, just walking on the ship or for dinners.
1 "fancy" dress (optional, girls) – This is solely for formal night, and my girls loved this night!
pajamas – My boys just brought shorts.
2 swimsuits – We always grab two. It's nice to have if one is soaking, they have burn lines or one gets too messy from the beach.
Swim cover (optional) – For these, we loved them for the girls, and for the boys, we just ordered swim shirts.
Headphones/splitter – We never use ears buds – only headphones – but these are nice for the plane ride or for watching the iPad while others are sleeping. And cheap splitter allows two people to listen/watch from one device.
Sunglasses – We bring 2 cheap ones each as someone always ends up losing one or two pair – I wish I were kidding.
Goggles – The kids cry if we forget these. They love them for the ocean and pool!
Hanging hooks – These I use to hang up swim covers, purses and bags.
Extension cord/surge protector (1 per room) – This is a must for all those phones and iPads to plug in.
Jewelry (optional) – My girls love changing up their necklaces and earrings.
Hairbrush & accessories – Don't forget the conditioner spray for when the kids get out of the pool; this helps with the tangles and their hair drying out.
Sunscreen & Aloe – A must friends! Of course, these are available on the ship as well, but I am picky about my sunscreen, so I prefer to have on board. Plus, I love Nivea lotion for my kids faces at night. This is very creamy and moisturizing.
iPad/phone – Travel entertainment and means to take pictures, just make sure you've agreed to ground rules ahead of time.
Books to read – My kids love to read. Need some book suggestions? Comment below, and I will share our favorites!
Hat (baseball or sun) – I love wearing baseball hats! My daughter Jojo wore a sun hat, and she looked incredibly adorable.
Water bottle – I loved having these so we weren't constantly buying water, and it was easy to fill up in the dining hall before we left for an excursion.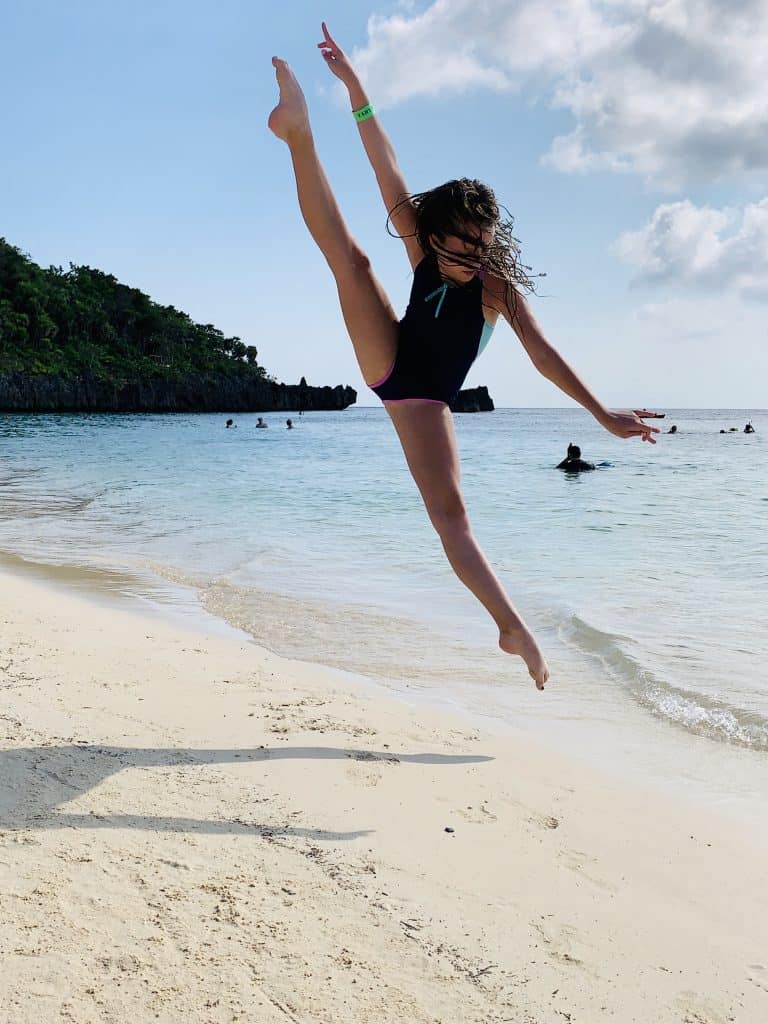 Passports
I know it goes without saying, but this is something you will want to check for a few times, and then once more. You don't want to leave home without it.
E-Tickets & Luggage Tags 
Make sure you have completed your pre-cruise details (including credit card info in case you choose to purchase any boutique items, visit the casino, etc.) online via the Cruise Personalizer or Ocean Medallion. Once you complete, you can print off your boarding passes and luggage tags. Bring your boarding passes with you for check-in onboard Island Princess. I also recommend you attach your luggage tags the day the cruise departs, so they are securely fastened to your bags.
Ocean Medallion
To make your cruise sailing experience the best, make sure to find an Ocean Medallion cruise. This allows for easy traveling for the entire family, especially mom & dad!
Don't forget to pin this to your favorite Pinterest board for later.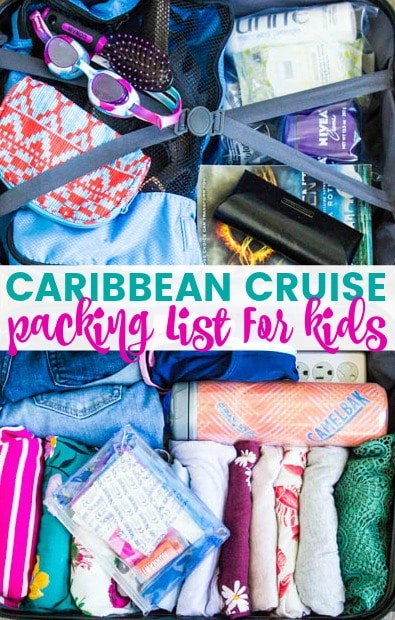 Save