Ocean Medallion Cruise: Relaxing environment, easy boarding, quality food & luxury at your fingertips. This is the ultimate family vacation experience.
Let's just be real for a moment. With kids in tow, sometimes getting a relaxing vacation can be more of a challenge, especially when they're little. Now that my kids are between the ages of 8-16, I feel like I have a little more freedom to not carry as many bags with me on vacation. However, late nights, settling arguments and pleasing all is still the same at 16 as it was at 2!
A Princess Cruise with the Ocean Medallion creates a relaxing & stress-free environment, easy boarding, quality food & luxury at your fingertips. A Princess cruise makes for an unforgettable vacation.
My daughter Jordan (Jojo) and I just had the chance to cruise the Western Caribbean aboard the Ocean Medallion Princess Cruise. It was truly an experience neither one of us will forget. That one-on-one time with Jojo is something I will always cherish.
Now whether we are traveling with just 1 of our five kids or all five, I still have the same concerns and worries – maybe not as amplified with one child, but all the same concerns are present.
Many of my concerns were addressed and eased with the Ocean Medallion. That's why I can't wait to share all the benefits of cruising with your family on an Ocean Medallion ship.
Preparing for a trip? Check out my Best Cruise Tips. Looking for the best way to celebrate your upcoming birthday? I celebrated mine on the cruise. Check out all the details of my 40th Birthday with the best recipe of Double Chocolate Nutella Cake.
Already booked a cruise for you & your family? Check out the Best Western Caribbean Shore Excursions for Families.
It was an unbelievable experience to partner with Princess Cruises for this post. All opinions expressed our my own.
How to prepare for a cruise?
Once our Ocean Medallion cruise was booked, I gave a sigh of relief. From the initial email, I knew all the little details would be taken care of in advance, making our arrival seamless.
When we received our Ocean Medallions in the mail and filled out our online and app information, the cruise literally became easy sailing. Every step of the way, Princess updated me – whether it was shipping out my medallion or notifying me of my boarding time, I never was left unsure of where I was to be or what was happening on the boat.
Not only did I receive updates in the mail, but after following the instructions that were sent to me via mail and email, I was able to step-by-step fill out our cruise paperwork online, book everything we needed and download all the apps, so that once on board, things would be available at our fingertips.
One piece of advice – download your apps before you get on board! This makes it painless, and there will be no issues or hiccups when downloading all of the apps. Now, of course, you can pick and choose what you download. With that said, I say download them all; better to be safe than sorry. For my daughter, the only thing that we didn't download was the Ocean Casino app.
For ideas of what to pack and bring, check out my Carribean Cruise Packing List for kids.
How to board a cruise ship
The one thing that is hard about cruising is the lines upon arrival. With a sea of people in front of you, it can be a bit overwhelming, creating not the most relaxing atmosphere.
I remember my first cruise experience. We were in waiting group 8, and I started to get nervous as to what my experience would be like – would I have to wait like this the whole time? Would the restaurants be this packed? Would I feel like just part of a herd? The short answer was no. I didn't have to wait in lines everywhere, and I had my own personalized cruise experience. But let me tell you, the Ocean Medallion makes you feel like a celebrity the instant you walk in to board.
Make sure before you arrive you set up your OceanReady Pass. Simple things like entering your passport information, giving emergency contact details and things like this allow all of your information to be readily available without having to fill out all the information last minute. You can even link your credit card to your stateroom(s).
From the moment upon arrival, you feel like someone special. The Ocean Medallion Cruise Terminal has no lines, literally and sported a special entry point. Jojo felt like she was a celebrity, and that's how the rest of her cruise experience felt as well.
The smile on this little one was priceless! Had we gone with our entire family, all five of my kids and hubby, this entry point would have made our boarding process such a pleasant experience. We walked up and placed our Medallion on the podium. They confirmed our info, and we were set to board and start our vacation. This was the only time they verified anything. From that point on, our embarkation and disembarkment was seamless.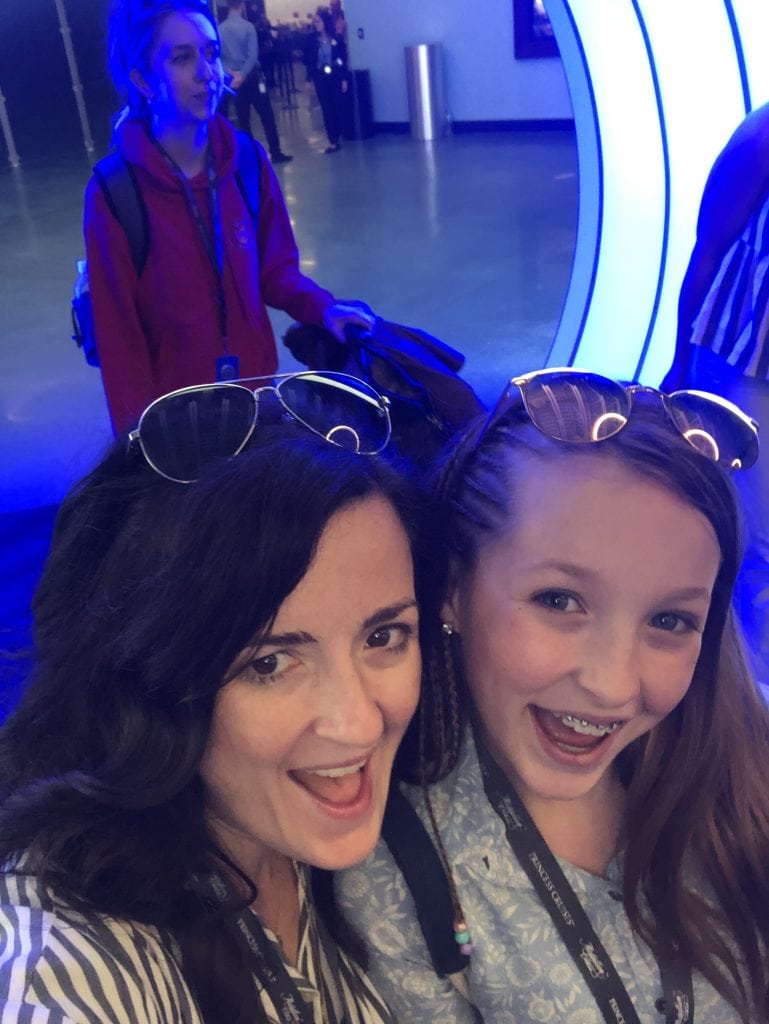 Keyless Room Entry
If you ask my husband or any of my friends, I have issues with my keys. I can rarely find them if they aren't in my purse. So on a cruise, having to worry about a key was not a good thing for me. I constantly left it in my room, in a pocket or down on a table somewhere, and friends, there is no way to track those card keys. Once you lose it, it's pretty much bye-bye. I can't even tell you how many new keys I would have to get.
Because I could wear it at all times – whether in a necklace (my favorite choice), bracelet (very popular) or on a lanyard, which is what I used for excursions, I could always have the Ocean Medallion on me. The Ocean Medallion comes with a waterproof case, so you can even take it in the pool – or better yet, the ocean.
If by some chance you happen to "misplace" your medallion, it is trackable. And from personal experience, I can say it is pretty easy to track down. Check out the videos below.
Did I lose my medallion, you ask? No, I simply put it down somewhere and forgot about it. But thanks to the OceanNow app, I could track that baby down.
Wait for it.
On-Demand Services
This hands down makes for a luxurious vacation. Now, if we were to go with our entire family, I would make sure my husband and I were the only ones that could mobile order our beverages and food as I can just see my kids sitting poolside ordering a Coke, drinking one sip and then ordering another just to see how quickly it would get there.
And the amount of food they would try and potentially waste – I just couldn't. But since it was just Jojo and me on the cruise, we went gangbusters and enjoyed the mobile ordering. We pretty much ordered the same things the entire time: Coke, Diet Coke, chili cheese fries, ice cream, and pizza.
I loved that we could see the progress of our order and when it was out for delivery. This makes it fun and relaxing, especially no having to wait in line.
Probably the best time we ordered was late at night room service because we were exhausted from the heat and a little dehydrated, having food and drinks delivered without a phone call was amazing!
Family and Friends Locator
As I mentioned before, you can easily find your medallion if you are to ever misplace it. But that isn't the best part of the whole locator app called Ocean Compass. You can easily find your friends and family too. This is one of the things about the medallion that put this little mama's heart to rest.
There were times Jojo and I were not together – mainly when one of us was at the spa or I was with my friends in the adult-only Sanctuary, a huge must for all parties that can go.
In fact, one time we were supposed to meet and I hadn't heard from her. I messaged her through the app and received no reply. I freaked out and then remembered my app… phew. She was shockingly in the spa getting a pedicure. I took her some ice cream and decided to get a pedi myself. I told you we were literally living the dream.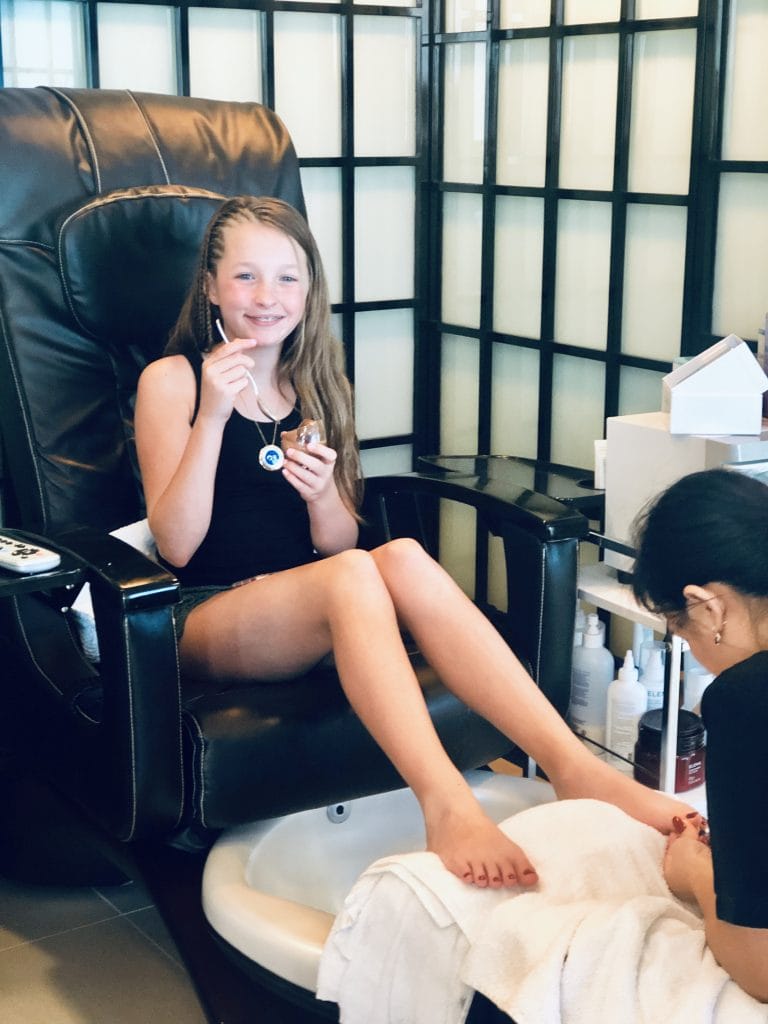 There's only one small snag. To locate your family and friends, they need to have their medallion on them- so you could be knocking at their bedroom door for a while and they might be at the pool. That's only if they don't have their medallion with them.
This is why I highly advise getting an accessory you like so you wear it all the time. The Ocean Compass app really makes it a worry-free vacation for parents.
Interactive voyage timeline
This was available on the ship portals and our JourneyView™ app. It is an interactive timeline that allows every guest to scroll through all of the events available on board during their voyage. We used this to find the games and movies. Now for those planner types, this is amazing. For those that like to know what's happening, like me, it's fantastic.
And if you just want to check out options you have for later, all the information is available on the JourneyView app.
Best Wifi on the sea with MedallionNet
With my job, it is important for me to have wifi – like crucial for sanity. But for this trip, it wasn't just important for me but my daughter as well. Having the OceanMedallion and using the MedallionNet allowed her to get her class work done, message friends while she was at the grown-up dinners and watch movies in the hot tub when there wasn't one on the jumbotron.
The best part of the MedallionNet is you don't have to worry about logging on and off. That's right, there is no eating away your minutes for nothing. I had access the instant I logged in. If this is something that is important to you like it is me, I would make sure to take advantage of the embarkation day special where you can receive a 50% savings!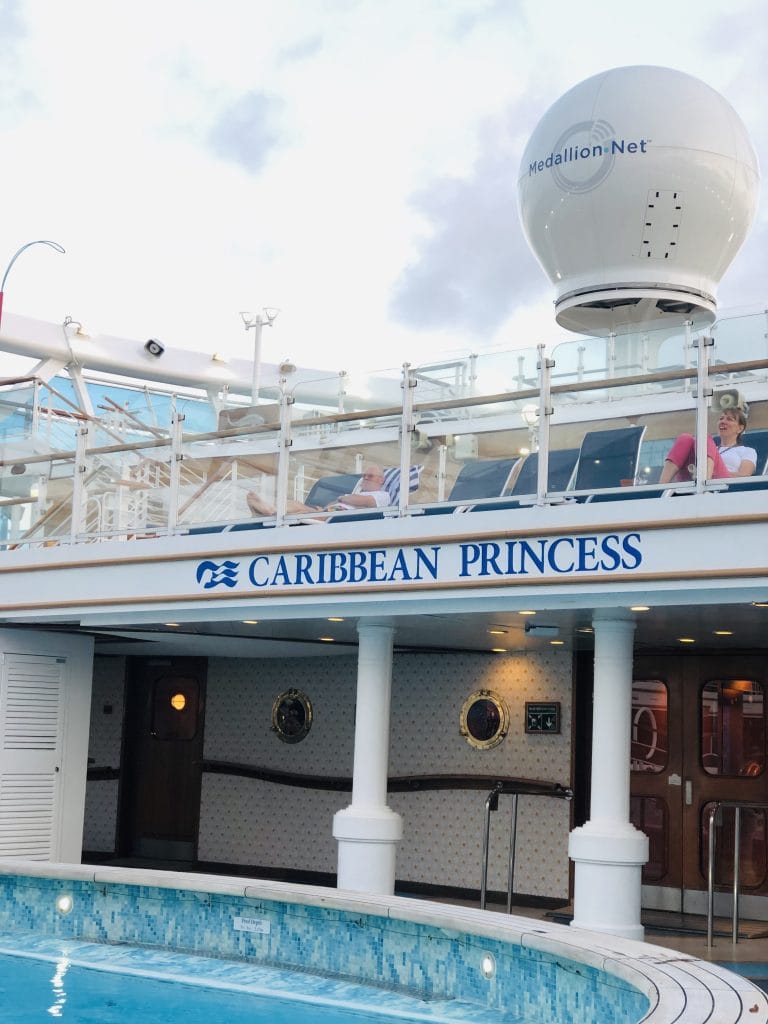 Interactive Games & Fun
My family is all about games, whether it be board games on the weekend, puzzles in the summer, one-on-one backyard basketball or watching Golden State dominate, we love playing & watching games together.
So naturally, Jojo and I loved the interactive games on the portals located throughout the ship. We played them while in line for excursions, laying poolside or waiting for an elevator. These games weren't just available on our OceanPlay app but in portals throughout the ship. Jojo loved making her avatar. Okay, so did I, but the best part was the interactive games on the jumbotron. We love the racing ones and only once did Jojo beat me! This app and the games throughout the ship allowed for a whole new level of fun!
The Ocean Medallion experience was amazing to interact with other guests, not just at Trivia night or at the shows, but really anywhere on board.
Embarkation/Disembarkation
Now, this is where the keyless entry thing really is amazing! Literally, you walk by just as you did with your room cards and tap your Medallion on the pad. Why is this easier? I don't have to search for the card in my bag, I just tap my wrist on the pad and we were set. Since Jojo had her necklace she did take it off and tap it that way, but this is so much easier. Since you are wearing your medallion and they make it so easy to do so, you never have to think about your key. There is no verifying who you are and everything is uploaded already on their end, like your picture and passport info. Basically, this is a breeze.

Save