Easy-to-make Pumpkin Bread – it's soft and moist with the perfect balance of fall spices.
This simple pumpkin bread recipe is one I turn to again and again. It's so easy to make, turns out amazing every time, and is great for gifting.
It's my favorite quick bread recipe to kick of the fall season and an old family favorite that your family will love, too.
My most favorite recipes are ones handed down from family and this easy pumpkin bread recipe is at the top of the list. Every fall, I pull out the stained recipe card written in my grandmother's hand and make several batches through the season. It's not my only pumpkin bread recipe, but it's the one that tugs most at my heartstrings.
The recipe is from my Grandma and Grandpa Gillian and I grew up watching my mom make batches of it once we turned the calendar to October.
She'd make loaves for everyone and always made sure we had a few stashed away for us, too. One of my favorite memories is of us driving around to drop off loaves to people working during the holidays.
Now I make this bread with my kids and they say it's a fall and winter must. They rank this recipe higher than the pumpkin bread at Great Harvest, so I would say it is a rave review.
I am totally biased, of course, but I don't think you can get much better than this recipe. I look forward to the first slice every year.
Recipe Highlights
Like other recipes from my grandparent's generation, it's incredibly simple. No-fuss, no complexity but it makes the most wonderful pumpkin spice loaf.
You don't need a mixer – the batter can be easily mixed by hand.
Because it's simple, it's easy to adapt with mix-ins. I often make it plain, but sometimes I mix in things like chocolate chips and nuts. More on that later in the post – I have several ideas to share.
The batch makes three smaller loaves or two larger ones. They're freezer-friendly or I keep one for us and pass the other to a neighbor, family, or a friend.
If you want a basic pumpkin bread recipe that works every time, this is post is for you.
Ingredients
All-purpose flour
Baking soda
Salt
Ground cinnamon, nutmeg, cloves
Eggs
Water
Pumpkin puree
Sugar
Vegetable oil or canola oil
Recipe Instructions
In a mixing bowl, whisk the flour, baking soda, salt, and spices. In a separate large bowl, mix the eggs, water, pumpkin puree, sugar, and oil.
Add the dry ingredients to the wet ingredients and mix until the batter comes together.
Divide the batter among the prepared loaf pans and bake the loaves for 45 minutes to one hour at 350°F.
The baking time will vary based on the size of your loaves, so check them early. Once a toothpick or cake tester comes out clean they're done. Cool them on a wire rack.
Mix-In Ideas
Want to dress it up? For this recipe, you can add one cup of mix-ins. Here are some suggestions you might like to try.
Chocolate chips – any that you like will work. Milk, dark, semisweet chocolate chips or try some white chocolate chips.
Chopped nuts – walnuts, pecans, and almonds are wonderful in this bread. I recommend finely chopping them and, if you have time, toasting the nuts first. Save a few to sprinkle over the top, too.
Dried fruit – I think dried cranberries or raisins would work well in this recipe.
My mom always mixed in Grape Nuts cereal, something I don't do now. It does add a nutty texture to the bread and is a creative add-in I don't think I've ever seen before beyond my mom's kitchen.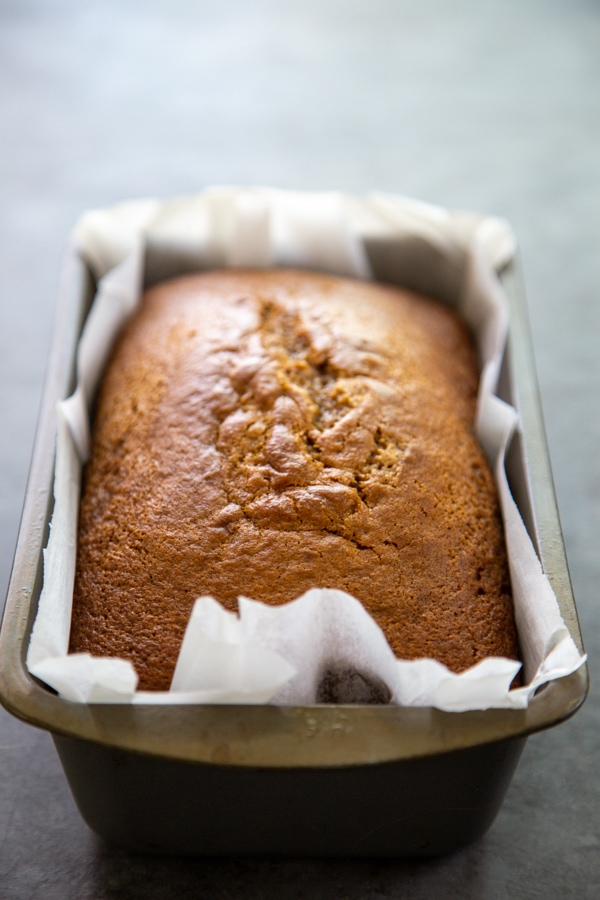 Tips for the Best Pumpkin Bread
Don't overmix the batter. Mixing the flour mixture and pumpkin mixture separately makes it easy to thoroughly mix both before adding them together. Once you do add the dry to the wet ingredients, you will only need to stir until the flour is absorbed. Overmixing can make the bread chewy and dense, so use a light hand.
Cool the loaves to room temperature before wrapping and storing them.
If you want to store them at room temperature, wrap the cooled loaves with plastic wrap. They will keep for two to three days. I think this pumpkin bread tastes even better the day after it's made, it allows time for all of the flavors to develop.
If you would like to freeze them, wrap them in plastic first and then with aluminum foil. Just to be safe, I place them in a freezer bag, too. They will keep in the freezer for up to two months or even longer as long as they are stored properly.
There's no reason you can make muffins with this recipe. Just be aware that they will need less time to bake.
Serving Tips
Of course, a simple slice of homemade pumpkin bread with a pat of butter is amazing, but there are a few other ways I serve it, too…
Warm the bread or toast it and add a smear of butter along with a drizzle of honey or maple syrup.
Toast it, sprinkle some cinnamon sugar over the top, and pop the slice under the broiler just long enough to caramelize the topping.
It's not just for breakfast – this makes a wonderful dessert when you serve warm slices topped with vanilla ice cream, a sprinkle of pumpkin pie spice, a few chopped nuts, and a drizzle of caramel sauce.
So, from my heart to yours – happy fall baking! Be sure to give this one a try – it's just the best pumpkin bread recipe. Enjoy! XOXO San
More Easy Quick Bread Recipes
Favorite Kitchen Tools
This post may contain affiliate links. See my Full Disclosure for further details.
Don't forget to pin this to your favorite Pinterest board to save for later!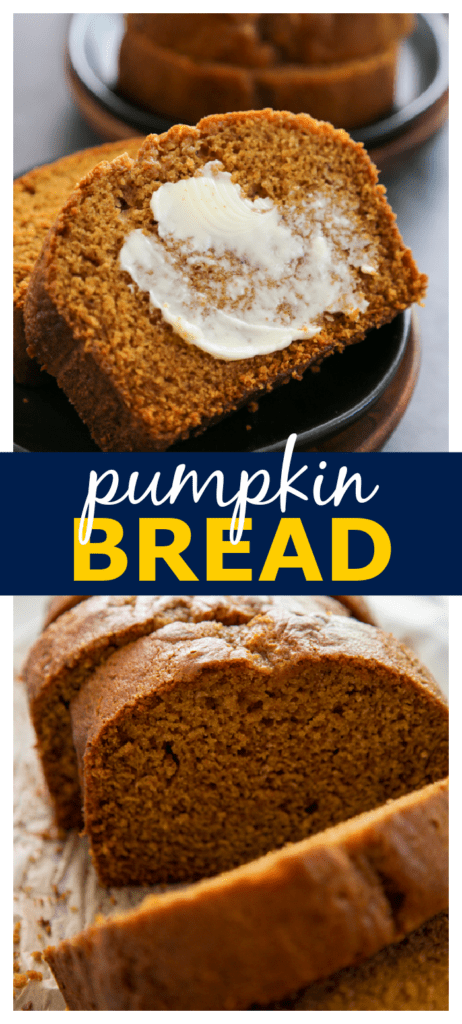 Simple Pumpkin Bread Recipe
This simple pumpkin bread recipe is one I turn to again and again. It's so easy to make, turns out amazing every time, and is perfect for gifting. It's my favorite quick bread recipe to kick of the fall season and an old family favorite that your family will love, too.
Ingredients
3 1/2

cups

flour

2

teaspoon

baking soda

1/2

teaspoon

salt

1

teaspoon

cinnamon,

nutmeg, cloves

4

eggs

2/3

cup

water

2

cups

pumpkin puree

3

cups

sugar

1

cup

oil

Optional: 1 cup grapenuts

(my mom always added these, I don't)
Instructions
Preheat oven to 350; grease 3 bread loaf pans or 2 larger loaf pans.

Mix all dry ingredients together and set aside. Add remaining ingredients and mix together until well combined.

Mix in the flour mixture. When well combined pour into 2- 3 bread pans and bake at 350 for 45 minutes to 1 hour. Time may vary depending on oven; insert a toothpick to make sure bread is done.
Notes
Feel free to mix in up to one cup of mix-ins like chopped nuts or chocolate chips.
This bread will keep well at room temperature for two to three days. Or you can freeze it for a few months. 
Tried this recipe?
Let us know what you think!