This is personal. More personal than just a recipe or shared memory. I know this isn't my typical daily post but I share so much with you, that I wanted to share just a bit more of my thoughts and feelings. XO San
What my grandma's spoons taught me.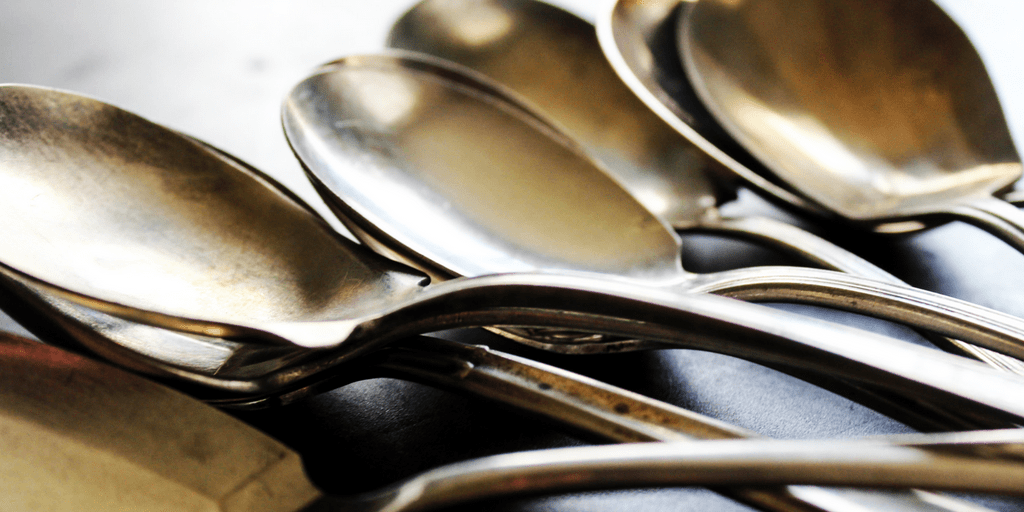 My grandma, 92 years young, recently "retired" from her home. The home where she raised her 8 children, grew old with my grandpa and made the best mac & cheese ever. The home where we learned to play pool, where haircuts were given in the kitchen and where her cupboards held small plastic cups etched with our initials. And let's not forget the infamous living room décor of the big eyed portraits.
My grandma was a collector of "treasures". Other people's memories became her keepsakes, and I don't just mean their china. She kept every thank you note and every engagement, wedding and birth announcement. Obituaries and anniversary cards were stacked high, and while others moved on from one stage of life to another, my grandma watched and held every second dear.
When she moved from her home to her new residence, her keepsakes, treasures, and memories were shared with family, including her children, grandchildren and great-grandchildren. I was given a box of old butter knives and spoons. And I just love them all. I initially thought they'd be great to use for my blog pictures. They're the kind of spoons they just don't make anymore.
But they turned out to be more than just props. They were Gorgeous. Beautiful. They make quite a collection. Each was different, unique.
Memorable. Old. Worn. Looking at these spoons, I was brought to tears. Each one uniquely, beautifully crafted. Aged, yet with a little gloss, they shined. They reminded me.
I am unique.
Old, yet beautifully crafted.
Worn, yet with a little gloss, I shine.
I am different. I am memorable.
I am apart of quite a collection.
I am breathtaking.
Sometimes seeing another's treasure, we realize we are one too.
My Grandma Gillan at our family reunion this summer, August 2016.
Grandkids (not all are pictured)
Great-Grandkids (there are many missing).