Here are 50 easy DIY Halloween decorations to make your living space spooktacular! These cute ideas are all homemade and will save you money.
Do you want some Halloween inspiration? You'll love these Halloween decoration ideas if you need some spooky inspiration. I'm going to share a slew of inside and outside home decorating ideas, but the most difficult part is selecting which of these adorable ideas to execute!
If I'm being honest, Halloween is not my forte. I just don't have the drive to do much more than put up a few paper bats or buy a scarecrow from Hobby Lobby (which wasn't even that scary, more like happy/creepy).
I was blown away by the creativity and talent of these people. Their Halloween decorations are the best I've seen, and I'm definitely planning on using some of their ideas myself. Be sure to check them all out!
I've decided that this is the year for change. So I asked my sister, Nicole, who's a Pinterest guru to share some of her favorite Halloween pins with me. Then I went on a search myself.
Let me know if there are any that you just love or if I missed one of your favorites be sure to comment below, I totally want to check it out.
Looking for some more Halloween inspirations? Check out these other great ideas for treats & more!
50 of the BEST Halloween Treats
Quick & Easy Halloween Candied Apples
Halloween Rolo Bats
20+ Spooktacular Halloween Treats
Halloween Cornbread
Cinnamon Sugar Pumpkin Seeds
Best Collection for Halloween
Don't forget to pin this to your favorite Pinterest board for later.
The Floating Witch Hat Luminaries are my favorite Halloween decoration, and if I'm feeling motivated enough to make any of these decorations, it will be this one.
These Friendly Ghosts are perfect for your yard and not too scary for the little ones!
Chic Pumpkins With only two ways to do it, these chic pumpkins are easy and adorable! I can totally make these! I love that they're a fancier take on classic jack-o-lanterns.
Our Illuminated Ghost Garland features a variety of colorful, sparkling flowers to make your house the spookiest possible. The perfect centerpiece for any skull-themed party! Elegant and timeless, these gorgeous lights look fantastic on almost every bar or dining table.
The Boo Doormat is an easy and simple way to decorate your home. With its unique design, this doormat is a great way to add personality to your doorstep.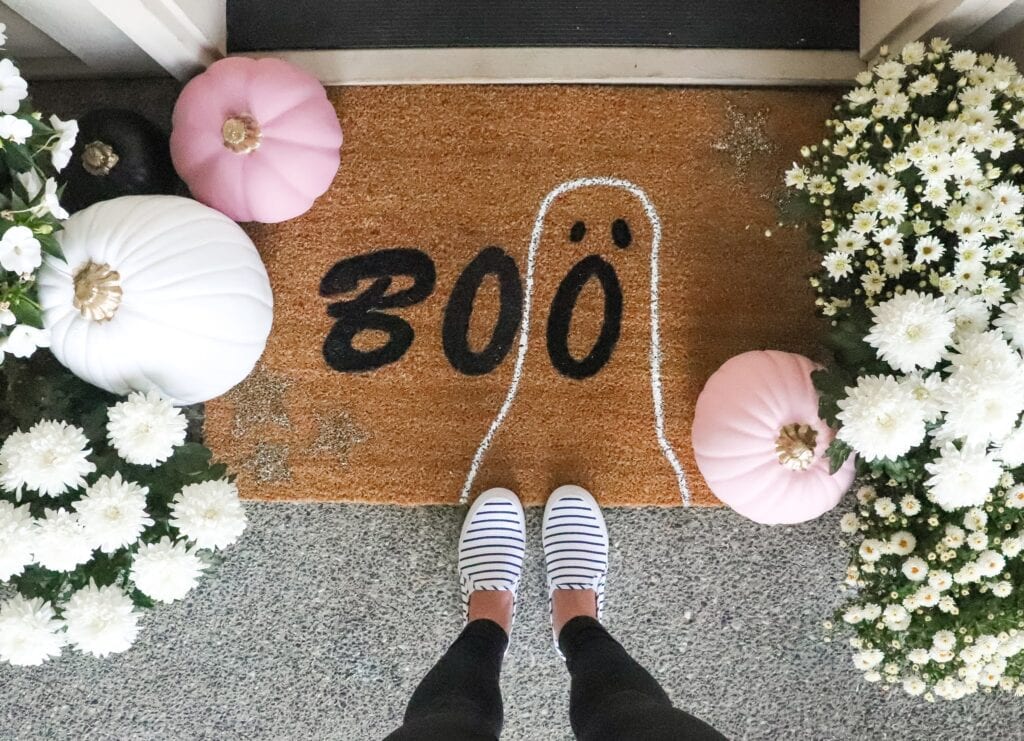 Witch Legs – I know my grandma would love these. Maybe something we will have to go and do for her.
The Mummy Door – this is a simple transformation of your front door that I adore. Cannon, my little one, really wants to do it.
Sidewalk Skulls from Hello! Lucky – line your driveway with these skulls for a festive and fun decoration that won't frighten the children. It's easy, colorful, and fun to decorate with.
I love these bats door! I already have a lame sticker on my front door, but I will switch to one of these fun bats. What do you think?
These cheesecloth ghosts are an easy and adorable way to decorate your home for Halloween!
Bakers Twine Pumpkins – so cute and easy to make. I'd keep these up through Thanksgiving.
Spooky Spider Cutouts are simple to make and only require a few items. They're ideal for a school party decor or activity.
Vinyl Door Decorations – I like that you can dress your front door into a fun, easy, and festive Halloween décor with nothing more than a vinyl tablecloth. Here are some black vinyl tablecloths for you to purchase.
Floating Ghosts were the only Halloween decoration I had when I was a kid. They're so simple to make and enjoyable that they'll last for years if properly stored. Here's a link to some cheese-cloth, if you need it.
These DIY pumpkin candle holders are super adorable, and I know my sister will want to make them as soon as she sees them.
Crystal ball candle sticks are eerie, and I would love to find them at Home Goods or Target. But it is most likely cheaper to make them on my own. Impress your friends with these homemade Candle Sticks. You can get the clear Christmas bulbs here.
Pacman Halloween Garland – I love this retro garland. I love that you could easily reuse this for a birthday party too. Best. Garland. Idea.
The itsy-bitsy spider went up the front door… I think this might be my favorite spider decoration yet!
The Hanging Mummy Ghost is the scariest ghost! This would be a reason for me to avoid that home with my children. Granted, I would immediately run up to it with my kids, but trust me when I say that I would fight hard against them… lol.
The Halloween Pom Pom Garland (Wreath) is an annual favorite that's cleverly made out of felt- meaning it can be used year after year.
You don't have to go out and spend loads of money on a Halloween wreath when you can just use things around your house! This will save you at least $60.
It's a wonderful idea for a Halloween Wreath. The front of your door may be a little frightening.
Candy corn garland – I love this idea! There are two drawbacks though: one, I think my daughter Jersey would eat them; and two, I wonder if your hands get sticky?
The whole point of spooky spider eggs is their creepiness, right?
Vinyl Halloween Door Decorations – I love that you may make these simple door decorations from a few vinyl table cloths.
The Boneyard Lantern would make a great gift for any teacher! These mini skulls are Freddy's favorite.
You'll need a simple glass jar and a few spooky, crawling plastic animals to assemble your own haunted terrarium.
This Jack Skellington door printable from TwinDragonFlyDesigns.com is so cute!
If you're looking for a spookier wreath this Halloween, try making a Snake Wreath! My boys would love to do this craft, but my girls not so much.
These Ghost Candles are possibly the easiest candles you could ever make, and they're absolutely adorable! Get the candles here.
I cannot get enough of this Creepy Candy Corn Jar! It is just too cute for words and I guarantee it will be a hit in our home.
If you want to get into the Halloween spirit, then you should try making mummy jars! My sister is Miss Crafty when it comes to making Halloween decorations and she loves Pinterest. You can pick up some mason jars here.
Find out all there is to know about Halloween in one place with these great party and decoration suggestions.
These Halloween Broom Bags would make a great decoration and thoughtful treat for friends who drop by your home.
If you're looking for a fun and easy project that upcycles items you probably already have lying around the house, look no further than Ghost Lanterns (Jugs)!
I know my boys will love this DIY Bloody Hand Print Cling activity.
These Boo Pumpkins are adorable, my sister, Nicole said they are easy to make and look amazing!
4 Luminaries Ideas – Use your favorite brown paper lunch bags and transform them into the bright light with these ideas.
Bats – I've attempted something similar previously and hung them on our dining room wall and in our front walkway entry. I believe this to be the most elaborate Halloween decoration I've ever made. And I'm still delighted with it today.
Halloween Candle Light Cups – this is a fantastic idea for any type of plastic cup. These classics are also useful at your party.
My kids would get a kick making a tombstone for everyone in the family out of Cardboard Tombstones. I'm not sure what they'd inscribe on my marker.
Who doesn't love finding a good deal? I am always on the lookout for cheap ideas, and this post on "How to Transform $1 Store Pumpkins" is just what I need.
I have never seen anything like it before: Black Cat-O-Lanterns. This is really creative! This is for all you cat people out there.
Just in time for Halloween – easily make your bushes spookier without needing anyone to stand outside and jump out of them!
Decorating your trees with eyeballs is an easy and fun way to add some personality to your yard all year long.
There are many different ways to go about creating a carved pumpkin. The possibilities are endless. Carve pumpkins are one of the most popular decorations for Halloween, and there's no shortage of designs or methods to do so! But try no-carve pumpkins this year and then bake your pumpkins for pie after.
DIY Fresh Gourd Garland – I adore this because it's so simple. You could even keep this up all of fall and Thanksgiving if you wanted to.
Glow in the Dark Jars – every idea in this post is fantastic, and I could make all of them.
These Halloween floating frames are an incredibly cute idea. I love that you can put them anywhere; they're not overly gaudy.