With only 3 simple ingredients, this Spider-Man Punch is a fun & refreshing drink for movie nights or get-togethers, making it the ultimate party punch. 
This layered punch is so incredibly easy to make, my teens even made it with their friends! This week, my teens were thrilled when I picked up one of their favorite movies – Spider-Man: Far From Home. Adding buttery popcorn created a memorable movie afternoon.
This post is sponsored by Conagra.
It was a fun afternoon watching a movie, snuggled up on the couch with my older kids. You take these kinds of moments when you can because they are far and few between the busier they get. From sports, friends and driving their own cars to practices and events, I miss that one-on-one time with them.
People told me all the time that as my kids get older, the fast time goes. I didn't really understand what that meant until mine hit middle school. The days go by… then weeks, and then all of a sudden they are a junior in high school, getting their driver's license, and you're left thinking: What just happened?
So I try and create moments for each of the kids. From one-on-one time to family or kid dates, creating and setting aside time for this is crucial in keeping those connections.
So when I saw Spider-Man: Far From Home was out, I knew I had a way to get an afternoon with my kids.
And because we're juggling so much, I just added the movie to my on-line order at Walmart.com along with Jojo's favorite popcorn and the ingredients to make this fun Spider-Man Punch. It's so easy getting everything just by the click of a button and picking it up at the store all ready for me and my family.
Jojo, my 14-year-old, loves, loves, loves popcorn. She literally eats it every afternoon before heading to dance. Now this girl, like with everything else, is particular about her popcorn; it needs to be buttery, and the only butter popcorn she loves is Act II Extreme Butter Microwave Popcorn. She insists that it's the best because of the amount of butter and salt. I'm 100% onboard – one, because she is right, and two, I feel good that it's 100% whole grain popcorn, gluten-free (a must because her best friend who I take to dance every day has a gluten allergy) and it has 0 grams trans fat per serving. It's a perfect snack before dance class, for movie night or any afternoon you have the munchies.
–> CLICK HERE for $0.75 off a 12 pack box of ACT II popcorn from Walmart! Get our favorite ACT II Xtreme Butter Popcorn or you can also grab the Butter Popcorn, 94% Fat-Free Butter Popcorn or Butter Lovers Microwave Popcorn.
To step up my cool mom game, I also grabbed a Spider-Man costume. You may laugh, but this was fun. Madden, 12, was less than impressed, but when his older sister got into it, all of the sudden it was cool. I just wasn't allowed to take pictures of him in it, like any teeny-bopper boy would say.
Jojo's only issue was that she didn't want to smell like a boy after wearing it, so she insisted she put it on before her brothers. This became fun, and it was nice to see them loosen up a bit and have fun like little kids again.
Of course, they made a mess with the popcorn as Spider-Man tried to conquer and eat an entire bag while someone poured it into his mouth. I can report that probably only 8 to 12 pieces made it into his mouth. And well, Jojo had more fun than Spider-Man since she got to dump it in his mouth, face and floor.
What this afternoon together taught me is that you don't have to have elaborate things to have fun with your teens. You can literally buy a silly costume, pop some popcorn and make a fun drink to create memories, laughter and time with each other.
All of this took very little time to prepare since I got everything at Walmart.com and did the online grocer pick up. The additional bonus was this fun Spider-Man Punch took minutes to throw together but was a nice additional touch to the whole movie party.
What's also great about this punch recipe is it would be great for this upcoming Halloween! I will definitely be making it, plastic spiders and all.
xo San
How to make a layered party punch.
Fill serving glasses with ice.
Add the red soda, in this case, Fanta Strawberry.
Slowly pour in the grape Gatorade.
Add as much or as little as you would like, this will determine how layered your drink looks. Lastly, add the Lemon Vitamin Water, this will give it a nice clear finish at the top of the cup.
TIP: I LIKE TO TOP THE DRINK WITH BLACK PLASTIC SPIDERS SINCE I AM SERVING THIS TO TEENS. THEY KNOW NOT TO EAT THEM. IF I WERE SERVING TO LITTLE KIDS, I WOULD PUT THE SPIDERS ON THE SIDE.
And don't forget to grab the Spider-Man costume at Walmart too; this made my day watching my kids have fun with it. I may or may not have partook in the fun.
Don't forget to pin this recipe for Spider-Man Punch or Halloween Punch to your favorite Pinterest board for later.
Print Recipe
Spider-Man Punch
You're 3 ingredients away from an easy party punch. This layered Spider-Man will impress all of your superhero friends.
Ingredients
2

cups

Fanta Strawberry Soda

1 1/3

cups

Grape Fierce Gatorade

3/4

cup

Lemon Vitamin Water
Instructions
Fill serving glasses with ice.

Add the red soda, in this case, Fanta Strawberry.

Slow pour in the grape Gatorade. Add as much or as little as you would like, this will determine how layered your drink looks.

Lastly, add the Lemon Vitamin Water, this will give it a nice clear finish at the top of the cup.

TIP: I like to top the drink with black plastic spiders since I am serving this to teens they know not to eat them. If I were serving with little kids I would put the spiders on the side.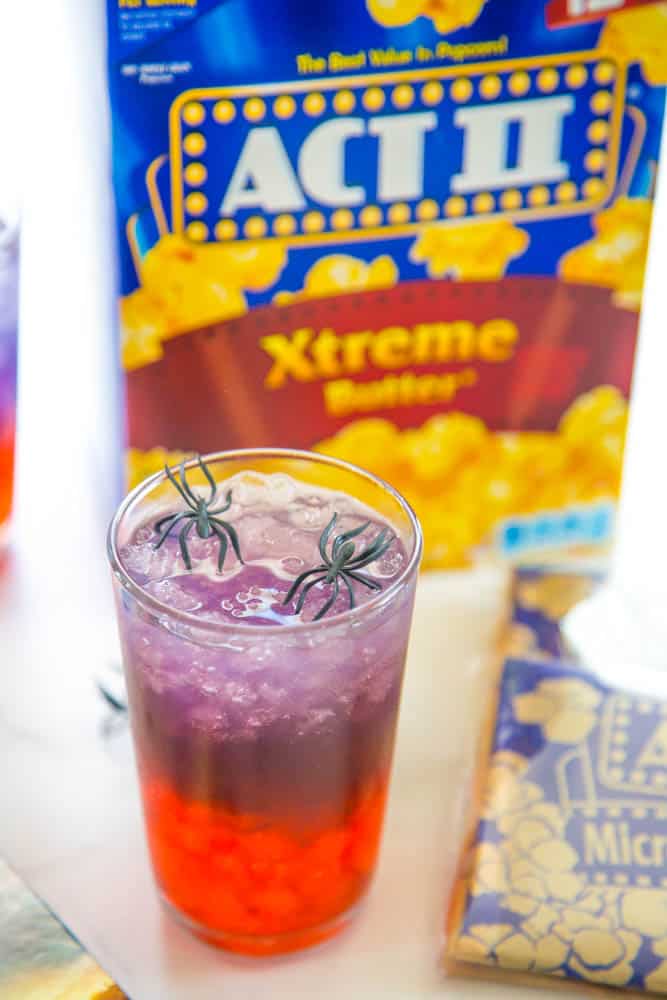 Save