A favorite takeout dish made easy in your slow cooker. You will love this orange chicken.
This Slow Cooker Orange Chicken is so easy to make you'll toss the takeout menus. The sauce is bright and loaded with flavor and everything cooks in the slow cooker for an easy weeknight dinner. A few pantry ingredients plus some chicken thighs are all you need to make it.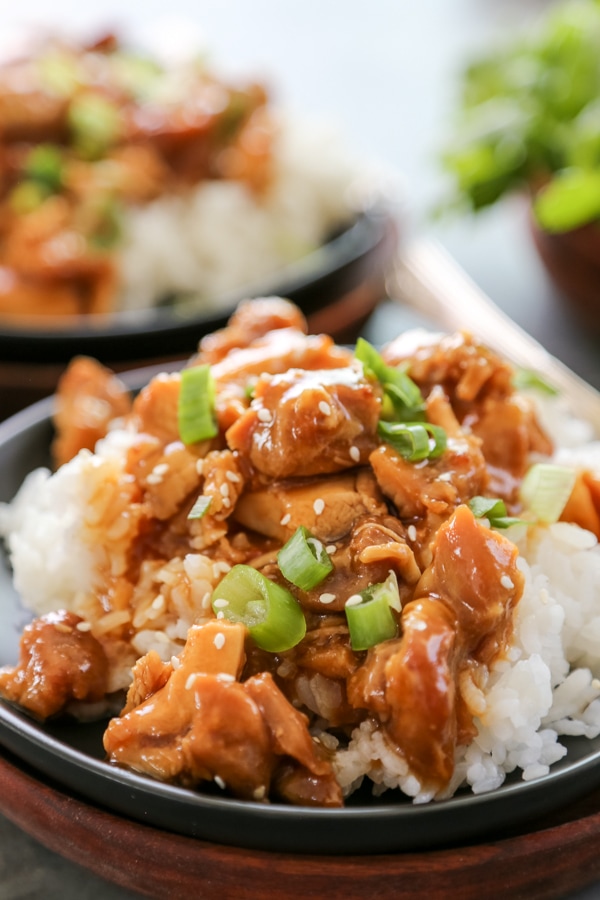 We love to eat out, but let's be honest – taking five kids to a restaurant on a crazy busy school night is just more work than I'm ready for most nights. And take-out? It's can really add up, so I love to come up with some restaurant favorites at home. This slow cooker orange chicken is one of my favorites.
But, it wasn't always one of my favorites – I first shared this recipe years ago and it was fine, but not perfect. It was missing a velvety, thick sauce that tastes like a restaurant version. I used to use chicken breasts that would end up a little dry. In short, it fell a little short.
So, here we have a new and improved slow cooker orange chicken. I've been tweaking and changing it up and I'm so happy to share it with you now. It's a keeper.
Recipe Highlights
First, it's simple. You don't need to do any chopping or dicing – I use a handful of pantry ingredients plus chicken to make it. The prep time is seriously easy.
I use chicken thighs to make it. They have more flavor and enough fat to keep the meat juicy and flavorful even after simmering in the slow cooker for hours. Oh, and you don't have to brown it first – everything goes into the slow cooker and you're done.
This crock pot version is healthier than take-out because you don't need any vegetable oil to cook or fry the ingredients. So, it's less greasy and lighter.
One easy step takes the sauce in this dish from basic to velvety orange sauce heaven.
You can use any fresh vegetable as a garnish for this dish. It adds a pop of color plus some veggie goodness that makes my mom heart happy. I usually use whatever vegetables I have on hand in the refrigerator.
Don't forget the rice – we love to pile this tangy bright orange chicken over white or brown rice for the easiest dinner ever.
I love a great slow cooker recipe and can now say this orange chicken is the best. It's in heavy rotation at our house and it will be at yours, too.
Ingredients
Boneless, skinless chicken thighs
Soy sauce
Honey
Orange marmalade
Granulated garlic
Sesame oil
Sriracha
Cornstarch
What makes the sauce so easy and delicious is the sweet orange marmalade. You don't have to squeeze a bunch of oranges – the marmalade has all the flavor magic.
We love ours with a touch of heat from the sriracha, but you can also use a few pinches of red pepper flakes in its place. Or, omit the spice if you prefer your orange chicken without any heat.
I go light on the sesame oil in this recipe, but my hubby loves the stuff so he drizzles a little more over the top of his serving. If you love it as he does, feel free to increase the amount.
If you don't like chicken thighs, you can use boneless skinless chicken breasts. I just prefer the thighs in this dish.
Recipe Steps
Place the whole chicken thighs in the slow cooker.
Whisk the soy sauce, honey, marmalade, garlic, sesame oil, and sriracha in a small bowl. Pour the sauce over the chicken.
Cook it all on low for three to four hours or high for one and a half to two hours.
Take the chicken out of the slow cooker, roughly chop it and set it aside in a large bowl.
Transfer the sauce from the slow cooker to a pan on the stove. Whisk the cornstarch into the sauce and bring it to a boil over medium-high heat. The sauce will thicken in just a few minutes.
Once it's thickened, pour the sauce over the chopped chicken. Stir to coat and it's ready to serve.
Serving Tips
Here are a few ways to serve it!
Add some cooked rice on the side. Or add your favorite Asian-style noodles.
I love to add some steamed veggies like carrots, broccoli, or bell peppers.
Garnish the dish with some sliced green onions. a sprinkle of sesame seeds, and an extra drizzle of sesame oil.
For a special treat, I heat up some frozen eggrolls or crab rangoons – the kids love them!
Storage Tips
This slow cooker orange chicken recipe is great if you like to meal prep. You can prepare the recipe and store it in an airtight container for easy lunches and dinners. The leftovers are just as delicious as when you first made it.
I've made this meal for friends and family, too. I pick up some cute Chinese to-go boxes, fill them with rice, cooked veggies, and the orange chicken and deliver them when someone needs a hot meal. They can pop them in their fridge and reheat the meal later for an easy dinner.
There won't be a single bite left when you make this easy orange chicken. So, get that slow cooker out and make a batch soon – you'll love how easy and how delicious it is. Enjoy! XOXO San
More Takeout Favorites Made Easy
Don't forget to pin this recipe for later to your favorite Pinterest board.
Print Recipe
Slow Cooker Honey Orange Chicken
Slow Cooker Honey Orange Chicken is an easy way to make your favorite take-out orange chicken at home. This chicken is so tender and delicious.
Ingredients
2

lbs.

boneless-skinless chicken thighs

1/2

cup

soy sauce

3

tablespoons

honey

3

tablespoons

orange marmalade

plus more to taste if you desire

1

teaspoon

granulated garlic

1

teaspoon

sesame oil

if you love sesame oil, feel free to add a few more teaspoons.

1

teaspoon

sriracha

2

tablespoons

cornstarch
Instructions
Add chicken to the slow cooker. Pour sauce ingredients on top and stir together.

Cook on low for 3-4 hours or high for 1 1/2 -2 hours.

Once the chicken is cooked, removed from the slow cooker and chop into bite size pieces. Place in a serving dish.

Pour sauce into a pot on the stove and whisk in the cornstarch. Bring to a boil, then remove from heat. Taste and add additional orange marmalade if you want more orange flavor.

Stir sauce and chicken together until coated, then serve over rice or with fresh vegetables.
Notes
Add rice and steamed vegetables as side dishes. I love to add broccoli, peppers, or carrots.
You can also garnish it with sliced green onions, sesame seeds, and a little more sesame oil if you like.
Nutrition
Calories:
399
kcal
|
Carbohydrates:
29
g
|
Protein:
47
g
|
Fat:
10
g
|
Saturated Fat:
2
g
|
Trans Fat:
1
g
|
Cholesterol:
215
mg
|
Sodium:
1858
mg
|
Potassium:
641
mg
|
Fiber:
1
g
|
Sugar:
22
g
|
Vitamin A:
65
IU
|
Vitamin C:
2
mg
|
Calcium:
34
mg
|
Iron:
3
mg

Save