Sweet & Sour Pork is a healthy twist on a popular take-out recipe. Made into kabobs with red peppers and onions, your family will love this easy grill recipe.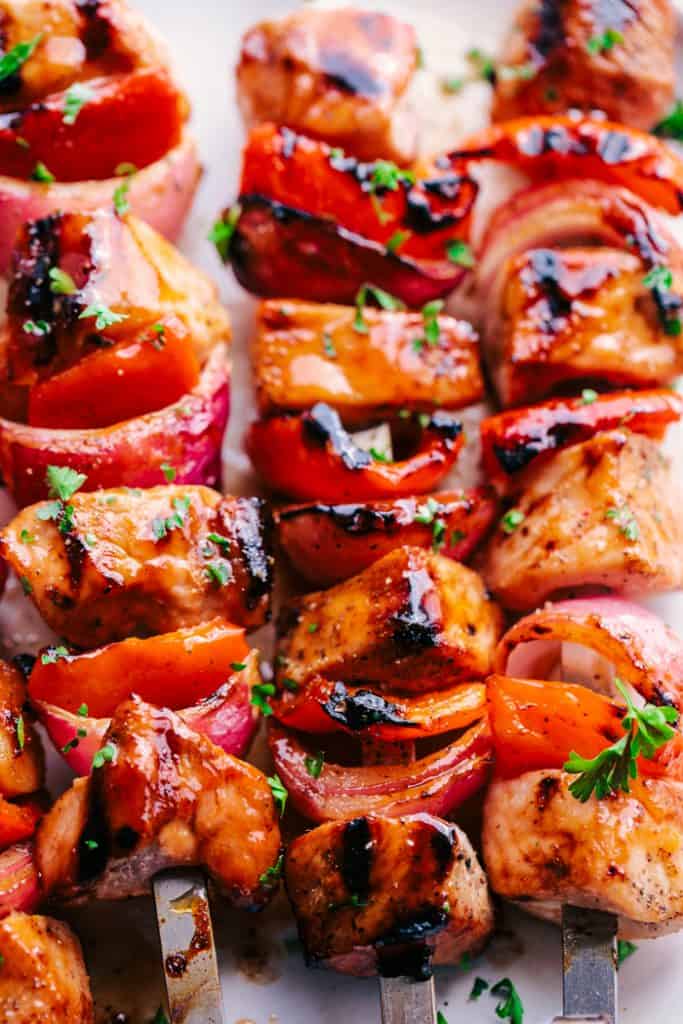 This grilled Sweet & Sour Pork is incredibly delicious, and I love that it's healthier while still maintaining the authentic taste of the classic and favorite Chinese take-out dish.
If you have been following A Dash of Sanity for a while, then you know of my love for pork. This hasn't been a lifetime love affair, but it is one that has developed in recent years after visiting a few pig farms in Iowa. Oh, beautiful Iowa, how I love this part of the country and everything it offers.
You see, I grew up on those classic Shake & Bake Pork Chops where my mom baked them in the oven about 30-40 minutes longer than they needed to be. Dry, bland and almost impossible for a child to cut through, I thought this was all pork had to offer. It wasn't until I had a mind-blowing (not an exaggeration) and mouthwateringly delicious experience in Iowa a couple of years back that my pork world expanded.
I was invited to visit a few farms, meet the farmers and the pigs. Not only did I get to see the actual behind the scene process of raising pigs and everything that goes with it (so much more than I realized), but I got up close and personal with a few pigs, including delivering 2 little babies – an experience I never thought I'd do that was incredibly fun.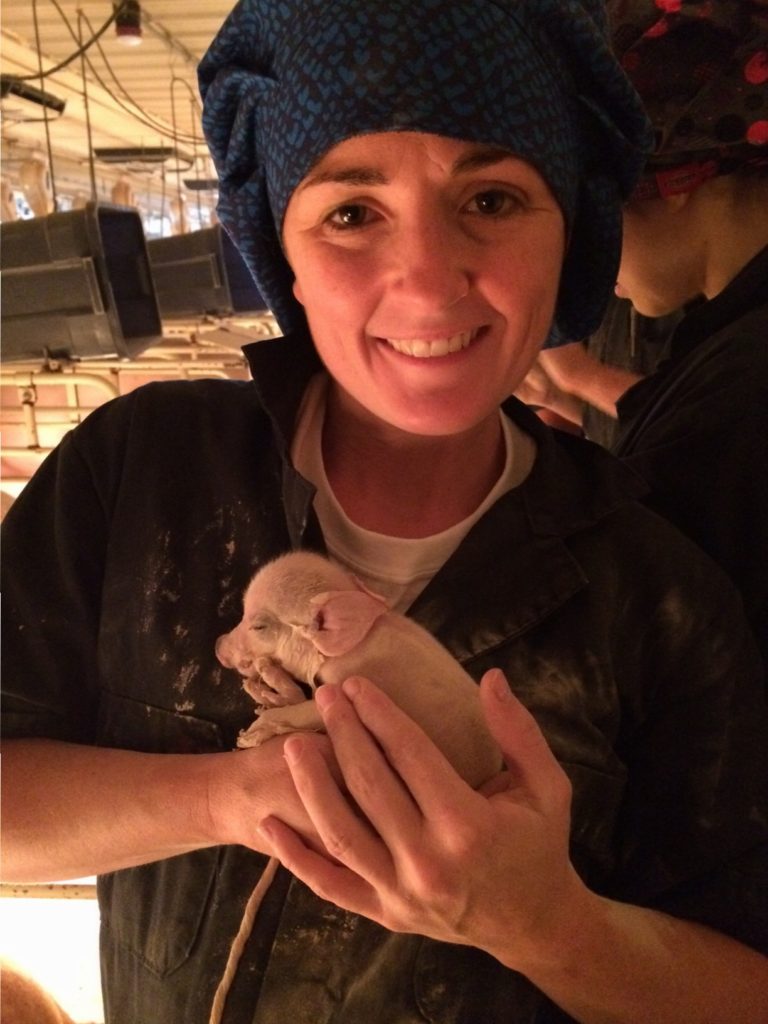 I was intrigued when I found out about 1/3 of the pork raised in the US comes from Iowa and most of this pork raised is consumed here in the US. This fact is a piece of Iowan pride. And it makes me want to buy even more pork to support these amazing people.
Not only did I learn all that goes into this process, but I got to meet these amazing Iowa farmers, who genuinely love what they do, are proud of what they provide and love on those pigs like I didn't think they would.
While learning how pigs are raised, what goes into the process and how our pork is sold and put on our shelves, I also learned how to prepare pork in the most delicious ways. This recipe for Sweet & Sour Pork became so much more delicious once I knew how to properly cook our kabobs.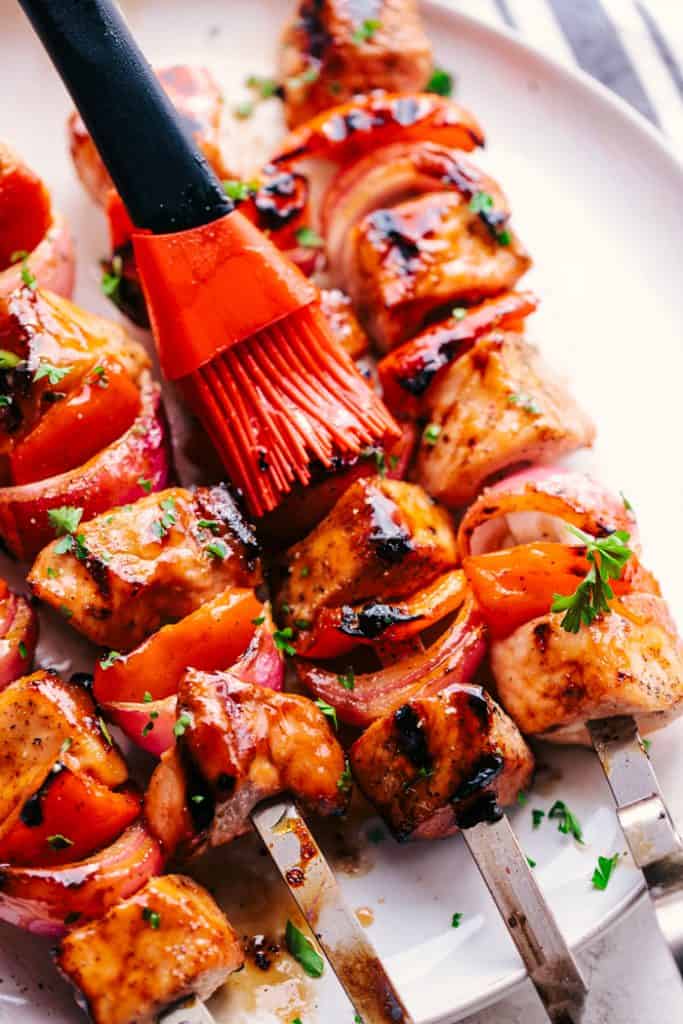 You see my friends, most people probably still overcook those little ol' pork chops. And guess what? Pork chops should be juicy, moist and delicious.
Ever since I came back from that first trip to Iowa, we now order pork in restaurants and request how we want it cooked. No more overdone pork chops for us. Fresh cuts of pork only need to be cooked to an internal temperature of 145 degrees F.
At home, we check this with a digital cooking thermometer by inserting it into the thickest part of the cut without touching any bone. Our digital thermometer is my husband's favorite kitchen gadget.
The two things vital for perfectly grilled kabobs are taking it off the heat once it reaches 145 degrees and let it sit at room temperature for a few minutes and making sure the pieces are uniformly cut so they all cook evenly.
I love meals that are easy, delicious and something the entire family loves. These Sweet & Sour Pork kebabs fit the bill. But with this recipe, I love these kabobs all because of the sauce.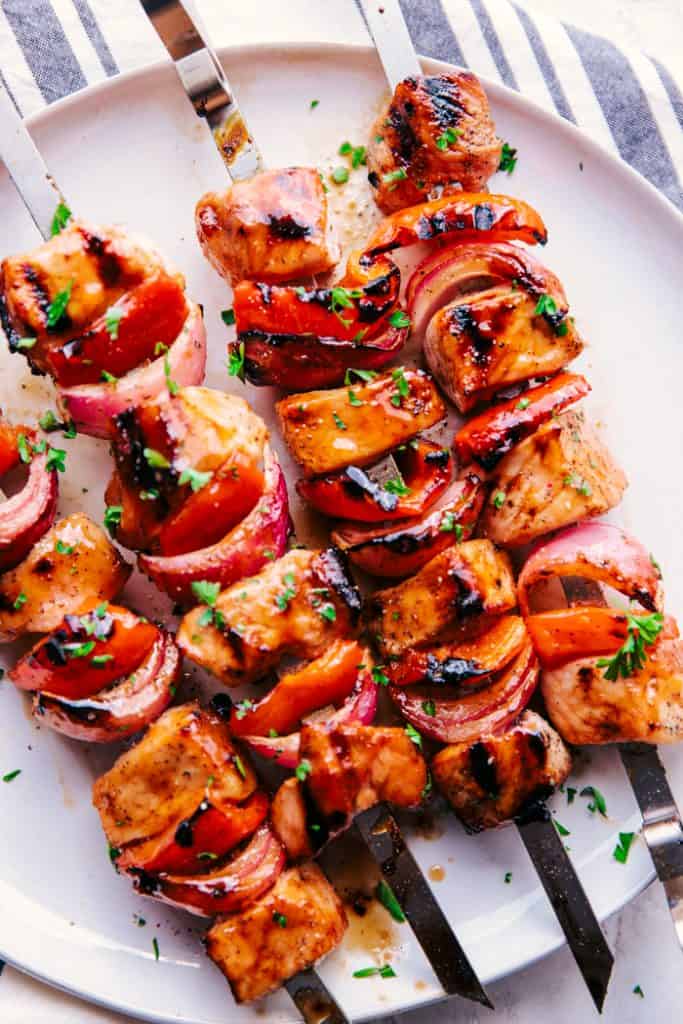 The pieces of pork to vegetable ratio is just perfect, and what's fun about these kabobs is you can play with this vegetable medley. I love adding pineapple to this mix.
Dinner doesn't need to be complicated and neither does cooking pork. Summer is the ideal time to try out a few recipes, especially with pork on the grill.
What's also fantastic about this recipe for Sweet & Sour Pork is you don't have to cut the chops into kabobs. You can prepare it as sweet and sour pork chops the same way with the same sauce – saving the time of dicing them up (however, my kids love kabobs).
What l love about these pork kabobs is that you can serve traditionally with rice and noodles or you can throw it over a green or Asian Chopped salad. Yum!
Delicious and mouthwatering, I love this recipe for Sweet & Sour Pork. It highlights pork while sticking with some of those classic favorite flavors. And who doesn't love supporting farmers that raise pork just for us, who work hard in bringing the best quality to our table with not only their family in mind but ours too.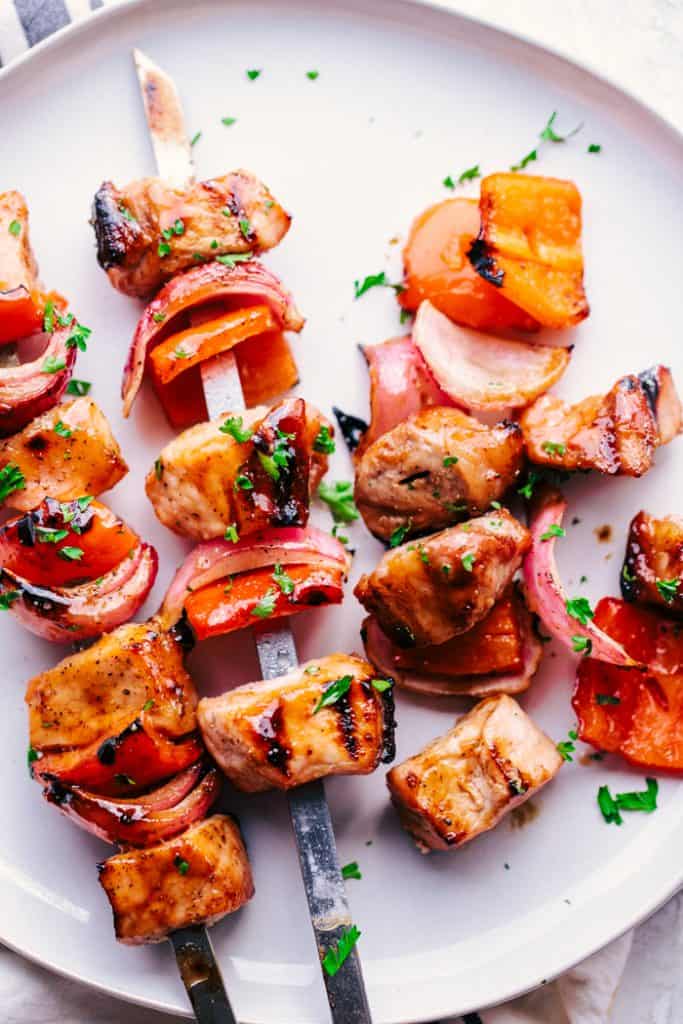 Looking for some more pork inspired recipes? Check out our favorite Pork Tenderloin Sandwiches or insanely delicious Cashew Oven Fried Pork Chops or this easy slow cooker recipe for Sesame Pulled Pork.
Enjoy friends! XOXO San
Be sure to check out just how easy this recipe is.
Don't forget to pin this to your favorite Pinterest board for later.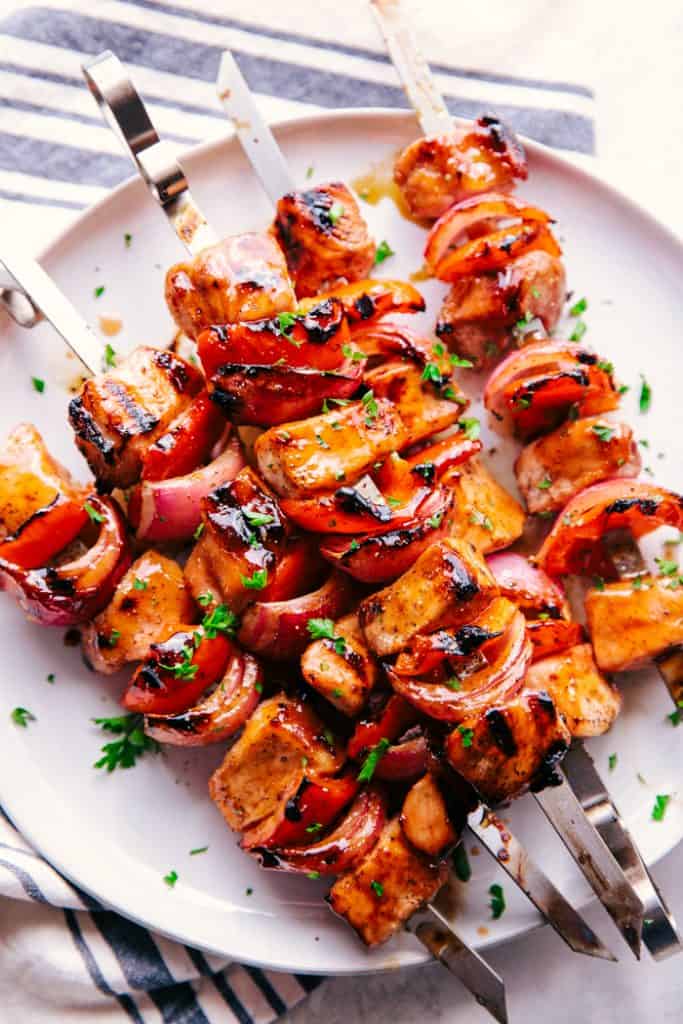 Print Recipe
Sweet & Sour Pork
Sweet & Sour Pork a healthy twist on a popular take-out recipe. Made into kabobs with red peppers and onions, your family will love this easy grill recipe.
Ingredients
2

lbs

pork chop

boneless, cut into 1 inch chunks

1

tablespoon

rice vinegar

2

tablespoons

soy sauce

3/4

cup

sugar

6

tablespoons

ketchup

1/2

cup

apple cider vinegar

1/2

teaspoon

granulated garlic

salt and pepper

to taste

1

purple onion

cut into chunks

2

red peppers

cut into chunks
Instructions
Sweet & Sour Sauce/Marinade
Mix rice vinegar, soy sauce, sugar, ketchup and apple cider vinegar in a medium mixing bowl and stir together until well combined. Place pork chop pieces in marinade, cover and let it marinate in the fridge for 1-2 hours. I make it in the morning and let the pork sit in a Ziplock bag with the marinade until dinner.

Sweet & Sour Pork Kabobs
Remove the pork chops from the fridge, and one piece at a time, place them on the skewers.

After adding one piece of pork, add 2 pieces of purple onion, and 1-2 red pepper pieces, add another piece of pork and repeat process until skewer is full. You can even place two pieces of pork together - you get to decide.

Set kabob on a plate and repeat with the remaining pork, onions, and peppers. Keep the remaining marinade for basting the pork on the grill while it is cooking.

Heat gas or charcoal grill. Place pork on grill over medium heat. Cover grill and cook 3 minutes, then turn over the kabob, baste with remaining marinade and cook another 3 minutes.

At this point check the pork with your digital thermometer. To know if the pork is done, the juices should be clear and the center of thickest part is cut (145°F).

If not done, continue to cook. At this point, I leave the lid open and just turn the kabobs so they are cooked evenly on both sides.
Nutrition
Calories:
376
kcal
|
Carbohydrates:
33
g
|
Protein:
34
g
|
Fat:
10
g
|
Saturated Fat:
3
g
|
Cholesterol:
101
mg
|
Sodium:
547
mg
|
Potassium:
748
mg
|
Fiber:
1
g
|
Sugar:
30
g
|
Vitamin A:
1320
IU
|
Vitamin C:
52.6
mg
|
Calcium:
20
mg
|
Iron:
1.2
mg

Save