This Easy Fettuccine Alfredo recipe is simply delicious. Cheesy, creamy and made from scratch, this sauce is the perfect comfort food made at home.
This easy Fettuccine Alfredo is a household staple. I became addicted to any sort of cheese sauce once I married my husband. He loves cheese more than the average person and we have raised 5 little cheese lovers to boot. So you can imagine the amount of alfredo sauce we make in our home.
It was an unbelievable experience to partner with Princess Cruises for this post. All opinions expressed are my own.
I decided to share this recipe, one which has been a long time coming. My friend Amanda who I went on the cruise with as well suggested one of us share a fettuccine alfredo sauce recipe because  Princess Cruises has the best ever alfredo sauce. I immediately volunteered because I seriously ordered it for every meal. Not kidding. The group actually made fun of me and joked about my cheese sauce issue.
I not only ordered this alfredo sauce for every meal but I even ordered their nacho cheese sauce to eat my fries with. This became my thing after sailing through the Panama Canal last year with  Princess Cruises and I had it one afternoon for a snack and continued to order it for lunch – every single day thereafter.
The point of this whole story is that you can never go wrong with cheese sauce.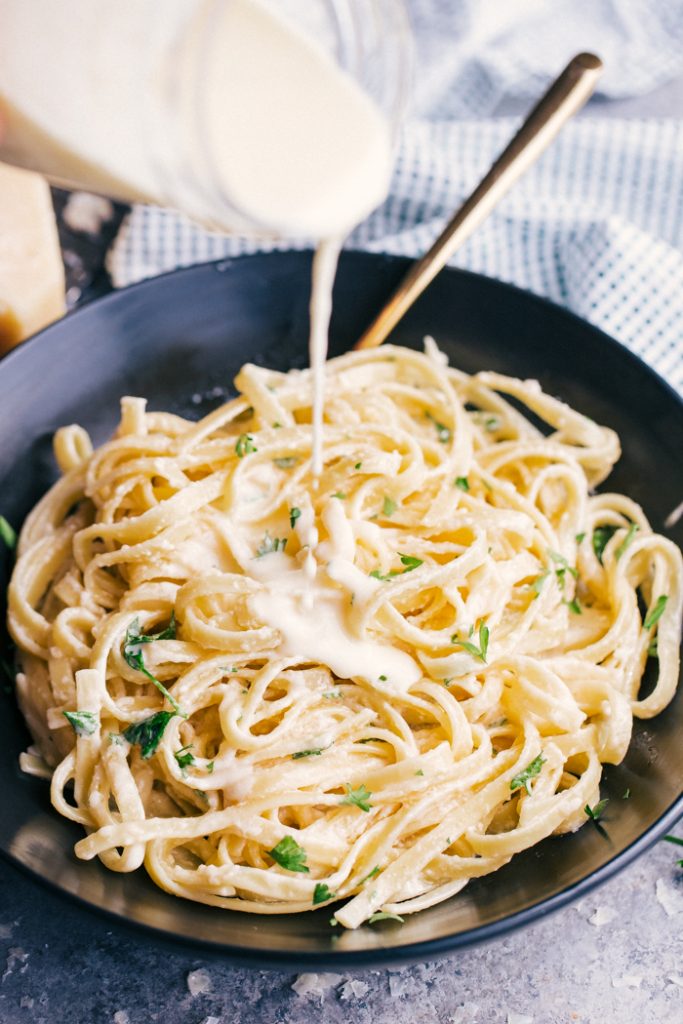 The past few days I have been all about sharing about my experience in Alaska aboard Princess Cruises. From sharing the ultimate Alaskan cruise packing list, Alaskan cruise port excursions and a few recipes along the way including Coconut Knots, Island Blue Cocktail, and Mango Salsa.
Today I want to summarize this with not only sharing my favorite recipe aboard any Princess Cruises, this Fettuccine Alfredo but also a few mouth-watering pictures of their other delicious cuisines and then talk a bit about Anchorage.
What I love most about this alfredo sauce recipe is easy of making it. Just a few simple ingredients, about 20 minutes and you are ready to devour the best ever homemade Fettuccine Alfredo. Don't wait to sail away with Princess to have fettuccine alfredo, you can make it from scratch at home not only impressing your guests but yourself included.
So I love pastries and cheese sauce, it really is surprising I didn't gain 50 lbs on the cruise! Remember though I did utilize their gym facility, yoga class, and TRX plus was good for lunch and just made a protein shake in my room.
But here are a few mouthwatering pictures of some of the other foods we ate while cruising Alaska.
Fresh homemade bread and pretzels. Enough said.
Chocolates & candies – all made fresh daily!
Homemade pizza. You can order this in at two different places when sailing to Alaska. The first is Alfredo's Pizzeria, open poolside. I love this as a late afternoon snack since we didn't eat dinner until almost 8 PM every night.
Then you could also get pizza at Sabatini's for a special lunch deal. This was the best pizza.
Then don't forget all the port food. Delicious tacos, fudge, fish n' chips and off course hot cocoa and coffee.
Oh, wait and you can't forget the steak! I am not a big steak fan, but the seasoning salt and the way they cook it I just love. So happy I stepped out on a limb my first cruise with them because I look forward to this steak every single time.
Enough on the food? Do I have you convinced to try this homemade alfredo sauce? Or even head over and book your cruise? LOL!
Overall I love Alaska and I would highly recommend for anyone to see Alaska this way, especially the first time you go to find the places you love and maybe would want to spend more time at.
While I didn't really get the overall feel of Anchorage we did have about 6 hours to spend before our plane took off and so Princess recommended taking a little tour. It was a glacier and scenic tour and honestly, there were two highlights. One our tour guide, the sweetest elderly lady who was probably the funniest person I have ever met. She was also an on the edge driver which made me stay awake the entire time, let's just say there was never a dull moment and I loved that.
The second was the animal sanctuary we visited which had the most amazing bear with the biggest personality, he literally belongs in Hollywood. I am not joking he posed for the cameras and moved around so gracefully, well at least for a bear. I swear every movement was a pose.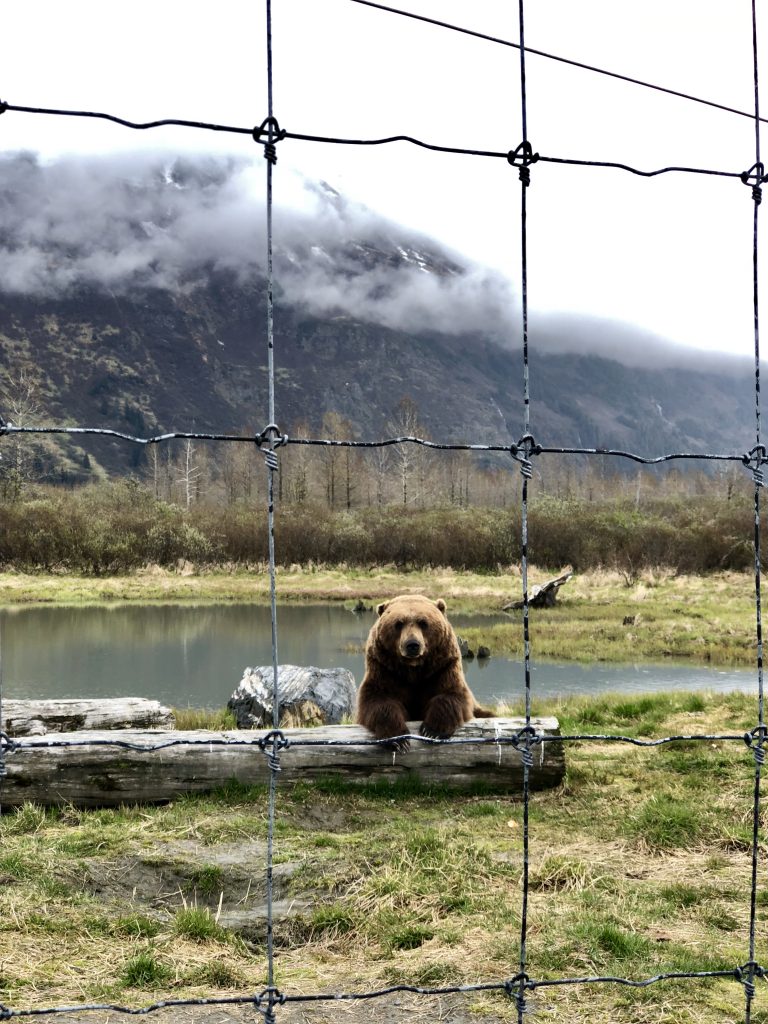 If you have time, this was fun to do, at least it was better than sitting in the airport for 6 hours. When you fly out of Anchorage remember it is a small airport. Even with short lines at security, still give yourself at least an hour and a half because I think everyone in the airport moves at a more relaxed pace.
So while you may not be heading to Alaska anytime soon, there is really no reason not to go ahead and make this Fettuccine Alfredo recipe. It will become one of your favorites go-to meals.
Enjoy friends from our tabletop to yours. XOXO San
How do you make fettuccine alfredo?
Melt butter in the cream over low-medium low heat.
Then simmer for 5 minutes.
Whisk in garlic and cheese.
Constantly whisk until cheese is melted and the sauce is creamy and smooth, add in noodles or pour over pasta.
Top with parsley and serve.
Don't forget to pin this to your favorite Pinterest board for later.
Print Recipe
Fettucine Alfredo
This easy Fettucine Alfredo recipe is simply delicious. Cheesy, creamy and made from scratch, this sauce is the perfect comfort food made at home.
Ingredients
1

cup

butter

salted

3/4

cup

heavy cream

Upto 1 cup & half and half would work too!

1

cup

Parmesan

You can use all Parmesan if you don't have any Romano cheese

3/4

cup

Romano cheese

1/2

teaspoon

granulated garlic

1/4

teaspoon

salt

pepper

to taste

chopped parsley

optional

pasta noodles

cooked per package directions
Instructions
Melt butter in the cream over low-medium low heat. Then simmer for 5 minutes. Whisk in garlic and cheese. Constantly whisk until cheese is melted and the sauce is creamy and smooth, add in noodles or pour over pasta. Top with parsley and serve.

Save