This hearty bread recipe is an old family favorite and so easy to make. Slather a piece with warm butter – it's delicious.
Boston Brown Bread is a classic bread recipe that's so simple. It's a type of quick bread that's easy to mix up and bake whenever you get a craving for homemade bread. This recipe has been passed around my family for years – we can't get enough of it!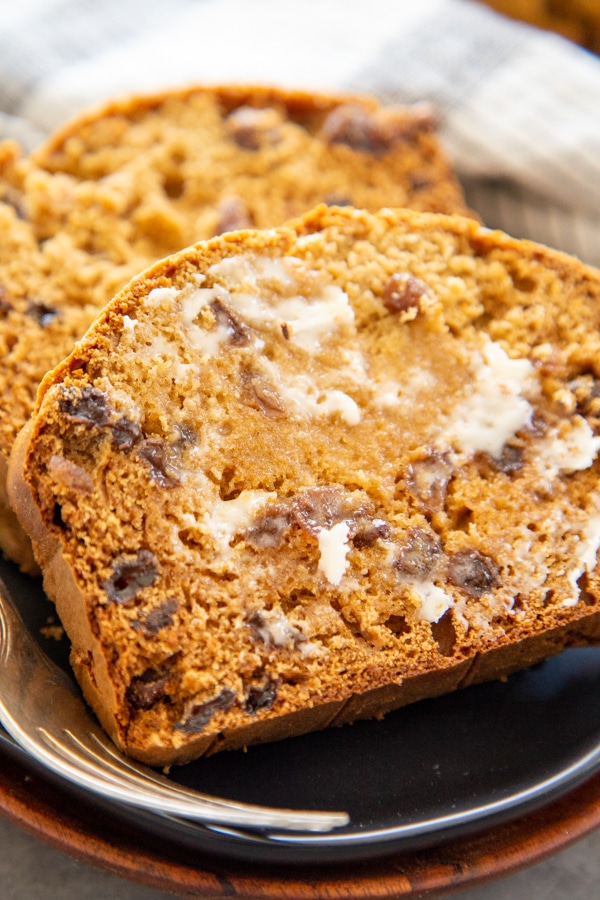 Traditional Boston Brown Bread from New England is made with different kinds of flour including rye flour and whole wheat flour along with cornmeal – this recipe I'm sharing is a bit different.
It's easier to make with just all-purpose flour but with the same great flavor from brown sugar and molasses and, of course, it's studded with juicy raisins.
It's the recipe I grew up with and I imagine it was adapted to be a bit more economical and easy. So many old family recipes are like that – our grandmothers and mothers using what they had on hand and I appreciate it! With a busy family of seven, easy is my mantra.
These treasured recipes like my grandma's oatmeal bread and ginger cookies and now this brown bread recipe are priceless to me. I get so much joy sharing them with you!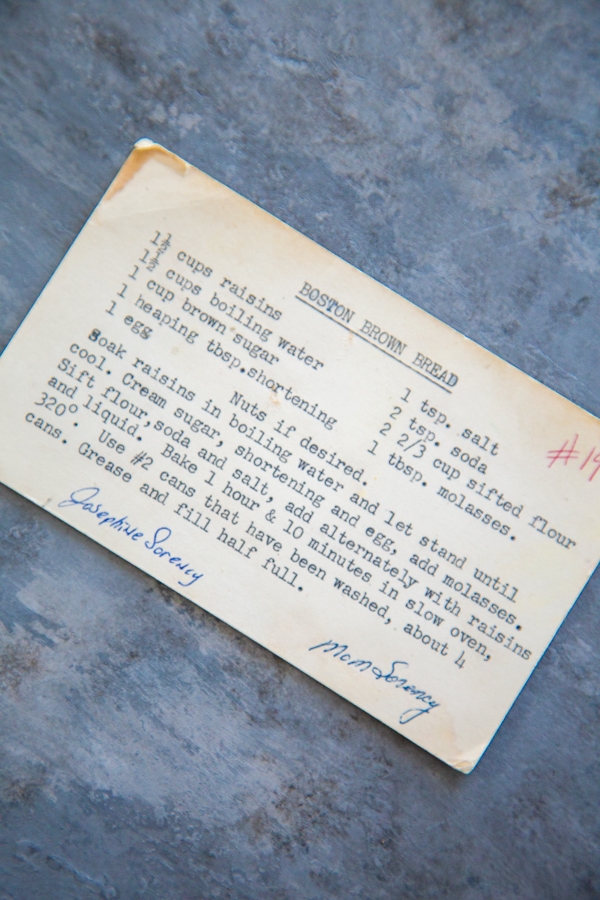 Easy Brown Bread Recipe
What I love best about this recipe is that it's hearty like yeast bread, but without the yeast. It's a quick bread that is so simple to make.
I soak the raisins so they plump up – it really does make a difference! Instead of really chewy raisins in the bread, you get little juicy bursts of raisins in every bite.
Like a lot of my old family recipes, this bread has shortening. I love what it does to baked goods – they have a softer and lighter texture. The bread also puffs up more when you use shortening.
This is a special one, friends, and there's nothing better than pulling a loaf of warm homemade bread out of the oven. You will love it!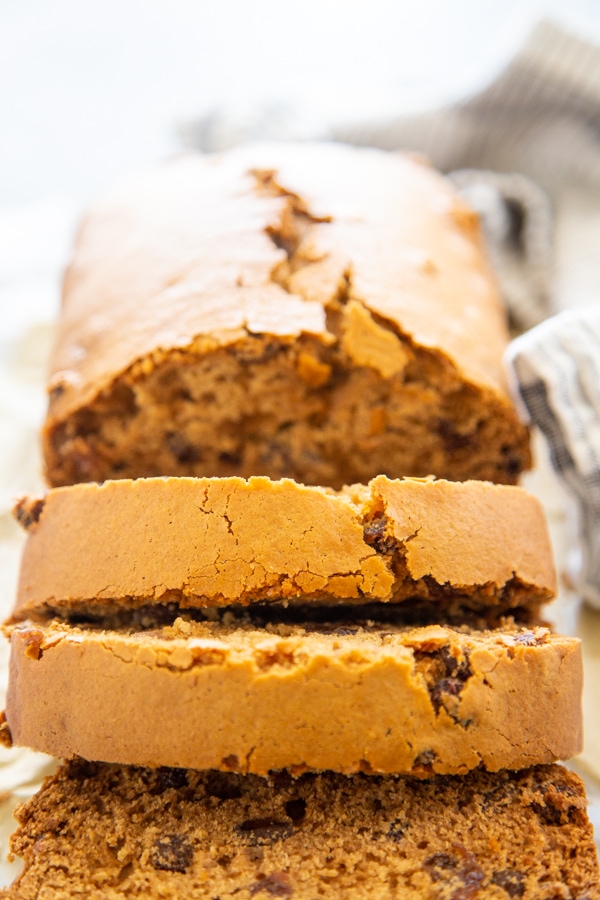 Ingredients
Raisins
Boiling water
Brown sugar
Shortening
Large egg
Salt
Baking soda
All-purpose flour
Molasses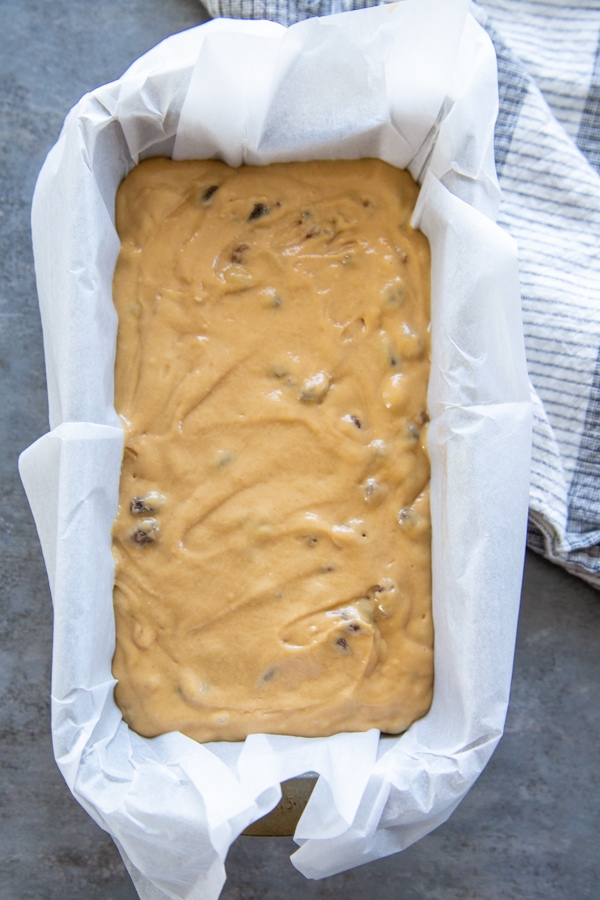 How to Make the Bread
I like to line the loaf pan with parchment paper so it's easy to remove the bread once it's baked. If you don't have parchment you can grease the pan with butter or nonstick spray.
First, soak the raisins in boiling water. This softens and rehydrates them. Let them sit in the water for about 20 minutes or until the water has cooled.
While the raisins soak, start the bread batter by creaming the sugar, shortening, egg, and molasses in a large bowl. You can do this with a hand mixer or in a stand mixer fitted with a paddle attachment.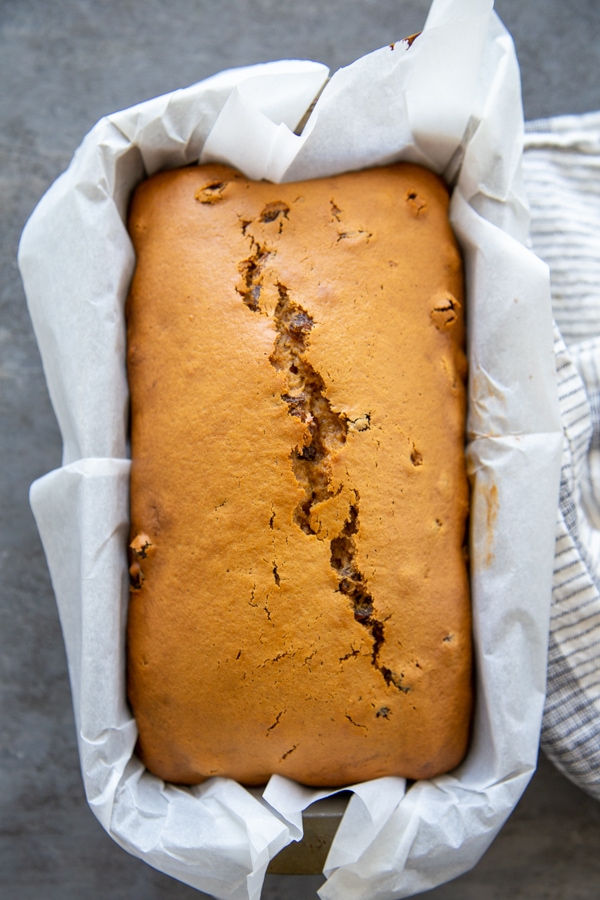 Whisk the flour, baking soda, and salt in a separate mixing bowl.
Alternately add the dry ingredients and raisins to the wet ingredients until combined.
Pour the batter into the prepared loaf pan and bake the brown bread for an hour to an hour and 15 minutes or until a toothpick comes out clean.
Cool the bread on a wire rack before slicing.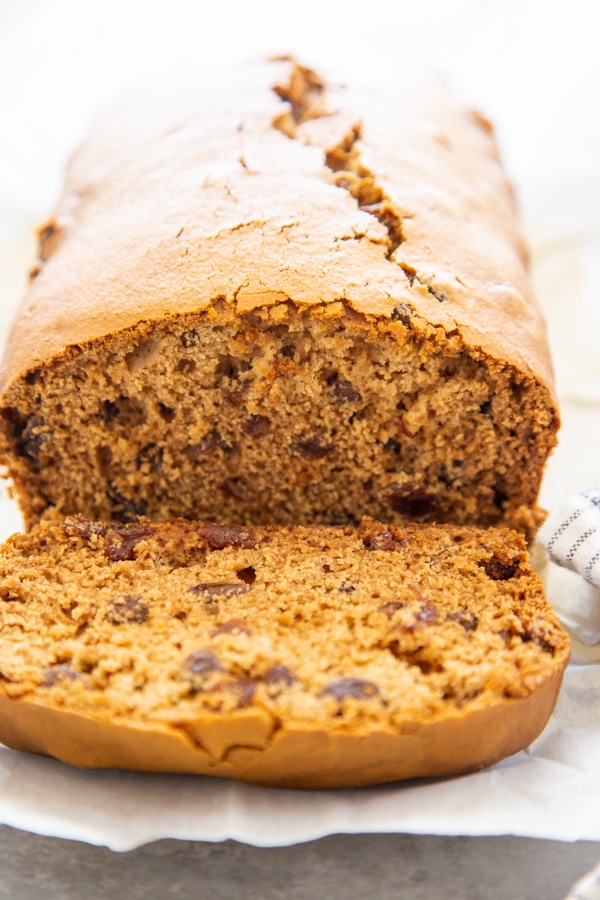 What does this bread taste like?
It's lightly sweetened from the brown sugar with a hint of molasses. It's not as sweet as other quick breads like pumpkin bread and is denser. It's also very moist so it keeps well for several days if you keep it tightly wrapped.
If you don't like raisins, you can swap them out for chopped nuts instead.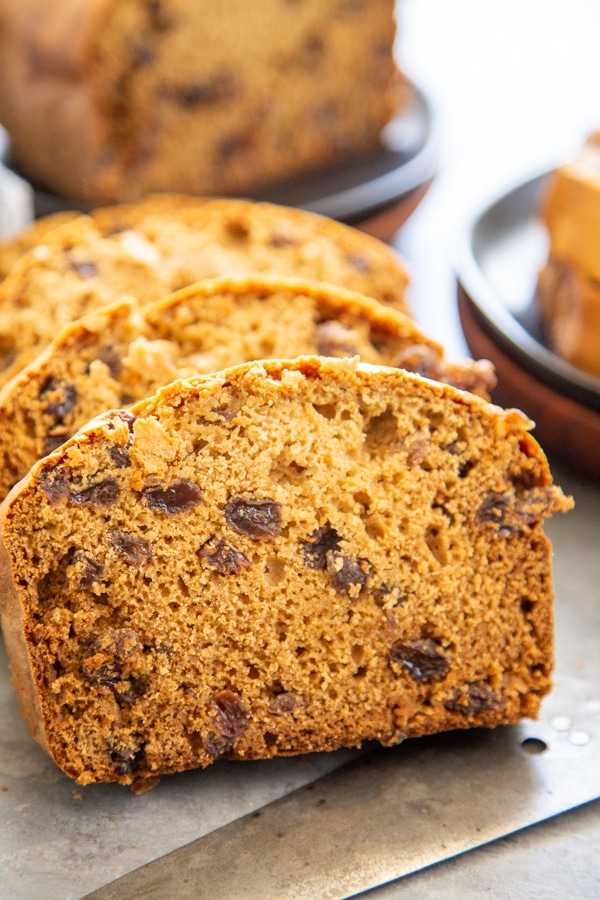 Why is it called Boston Brown Bread?
This type of bread originates from New England and wasn't always a baked bread in a loaf pan. Originally, people steamed the bread in empty coffee cans! It was often served with baked beans for dinner.
Can you freeze it?
Yes, it's freezer-friendly! Once the bread is completely cooled, wrap it tightly in plastic wrap. It will keep in the freezer for several months.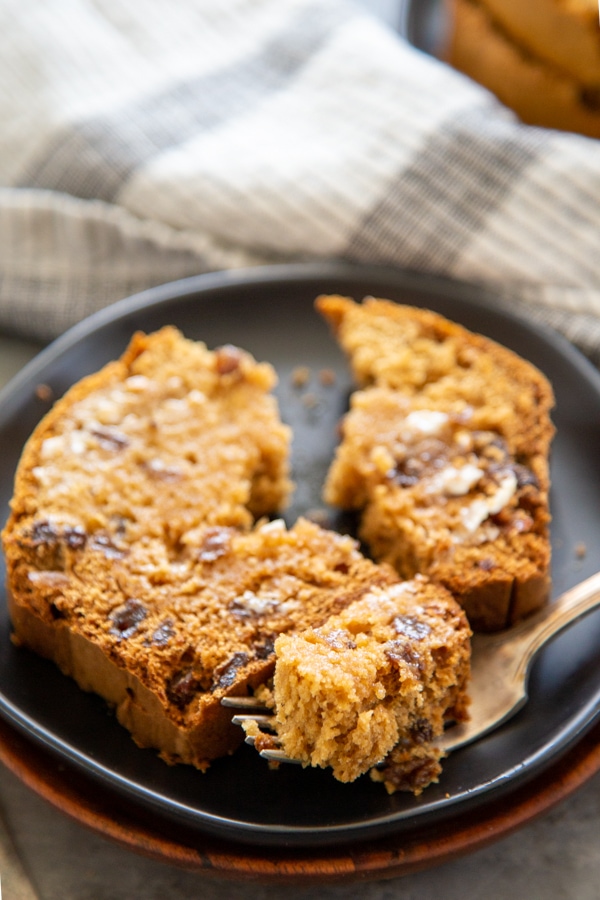 This Boston brown bread recipe is a great one to try if you love homemade bread but don't have the time to make a loaf of yeast bread. It's quick, easy, and delicious! Give it a try soon, won't you? Enjoy! XOXO San
More Homemade Bread Recipes
Don't forget to pin this recipe to your favorite Pinterest board for later.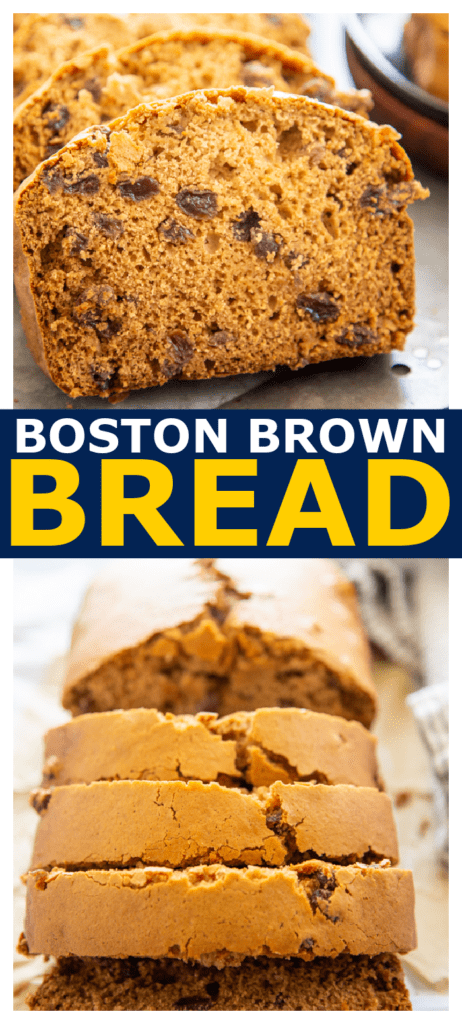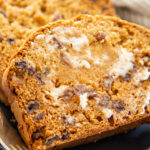 Print Recipe
Boston Brown Bread
This hearty bread recipe is an old family favorite and so easy to make. Slather a piece with warm butter – it's delicious.
Ingredients
1 1/2

cups

raisins

1 1/2

cups

boiling water

1

cup

brown sugar

1

heaping tablespoon

shortening

1

egg

1

teaspoon

salt

2

teaspoons

baking soda

2 2/3

cups

all-purpose flour

1

tablespoon

molasses
Instructions
Preheat oven to 320°F. Grease a 4×9" loaf pan or line with parchment paper (I do this to easily remove from the pan after baking)

Soak raisins in boiling water and let stand until cool, about 20 minutes.

Cream sugar, shortening, egg, and molasses with an electric mixer.

In another bowl, whisk flour, baking soda, and salt.

Alternately add flour and raisins to the sugar mixture until combined.

Pour into the loaf pan and bake for 1 hour and 15 minutes. Remove to a cooling rack to cool before serving.

Save