Oatmeal Bread is an old family favorite bread recipe made with rolled oats and molasses. It's soft and hearty and so easy you'll want to make it every weekend.
This oatmeal bread is an old-fashioned bread recipe passed to me by my great-grandmother.  
Now I make it for my family and it's always a family favorite. Soft and hearty – it's the perfect homemade bread recipe.
My absolute favorite recipes are family ones and this amazing oatmeal bread is from my great-grandmother. My Gigi recently passed away and as my mom was clearing out her closet that she discovered an old shot box full of family recipes, and this is one of the ones in there.
My Gigi was one the best hostesses at parties and she loved making food for people, yes, she is where I get it from. So finding these stained and creased recipe cards just fill me with such joy. I consider these found recipes heirlooms and I am thrilled to have them so I can keep the traditions alive with my family.
Soft Oatmeal Bread Recipe
And this homemade oatmeal bread? It's a winner, friends. Simple and easy to make with the most amazing texture. Yes, it's yeast bread and that's what makes it so wonderful.
I've had oatmeal quick bread and they're often dense – oatmeal bread with yeast is a whole other wonderful thing. It's soft, smells wonderful while it's baking, and has the best flavor.
This oatmeal bread isn't sweet but has a wonderful flavor from the molasses and a hint of ginger for warmth. I love to use it to make sandwiches and toast, but a slice with some jam and butter is great, too.
The only thing you need is a little time and a few ingredients. You can make it by hand or use a bread machine to prepare the dough. I've included instructions for both!
It's a great weekend baking project and the recipe makes two loaves – one to enjoy right away and another to freeze for later. Or gift it to a friend as a special treat. I know it will be a hit.
Ingredients
Quick-cooking rolled oats
Scalded milk
Active dry yeast
Warm water
Molasses
Salt
Ground ginger
All-purpose flour
How to Make Oatmeal Bread
Place the oats in a large bowl and cover them with the hot milk. Stir to combine and let the oats soak until the mixture is lukewarm.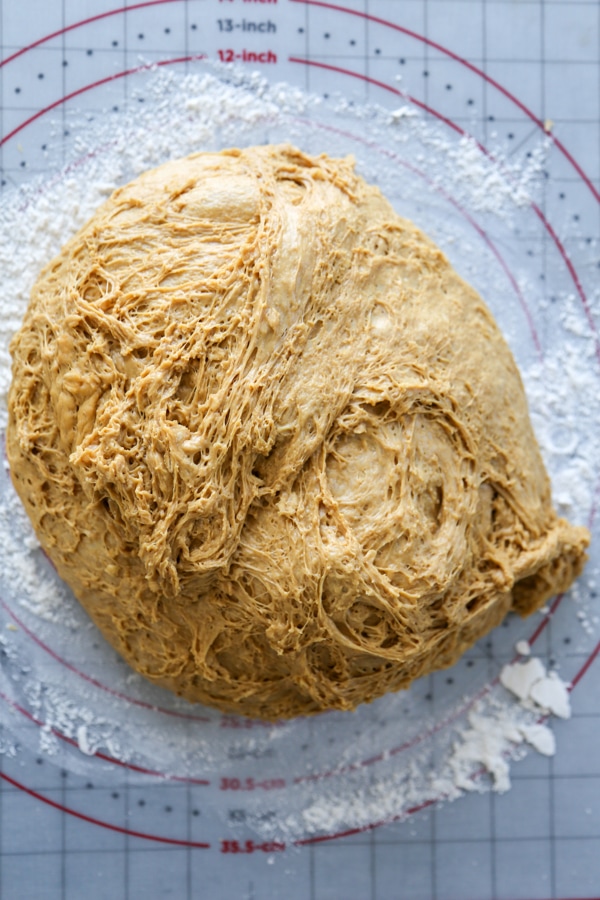 Combine the yeast with the warm water in a large mixing bowl. Add the molasses, salt, and ginger to the yeast mixture. Stir in the flour and, once combined, cover the bowl with plastic wrap.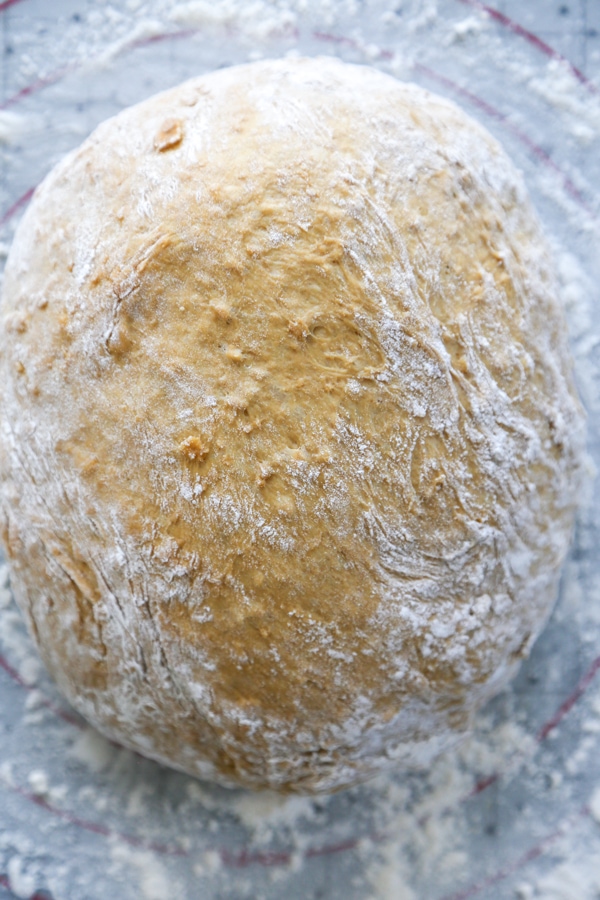 Leave the dough to rise in a warm spot for an hour or until it's doubled in size.
Transfer the bread dough to a floured work surface knead it, and divide it in half.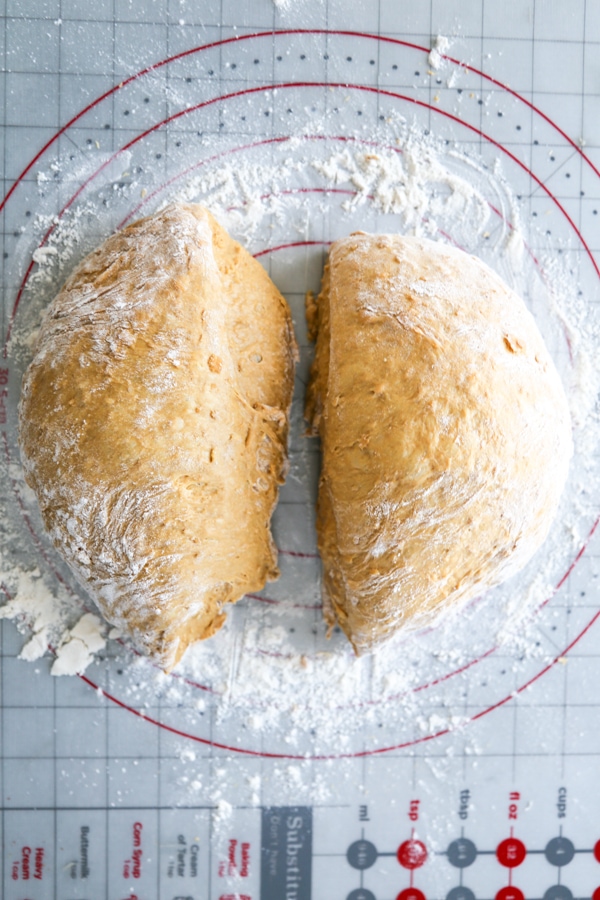 Place the two parts of dough in two greased 9×5″ loaf pans. Cover the pans and let the loaves rise for about 45 minutes.
Bake the oatmeal loaves at 350°F for 45 to 50 minutes.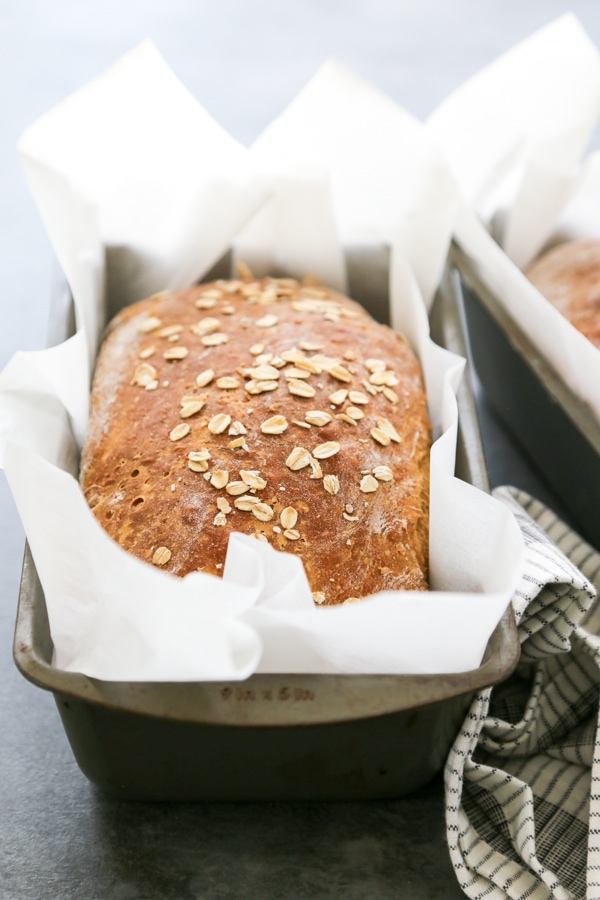 Bread Machine Steps
If you have you a bread machine you can use it to make and knead the dough.
Soak the oats in the hot milk.
Place the bread ingredients in your bread machine in the following order: Water, molasses, soaked oats and milk, flour, salt, ginger, and yeast.
Turn on the dough setting (on mine it's setting 8) and leave it to mix and rise. For my machine it takes about an hour and half.
Once the dough is done, knead it a few times and place it in the prepared pans and bake it.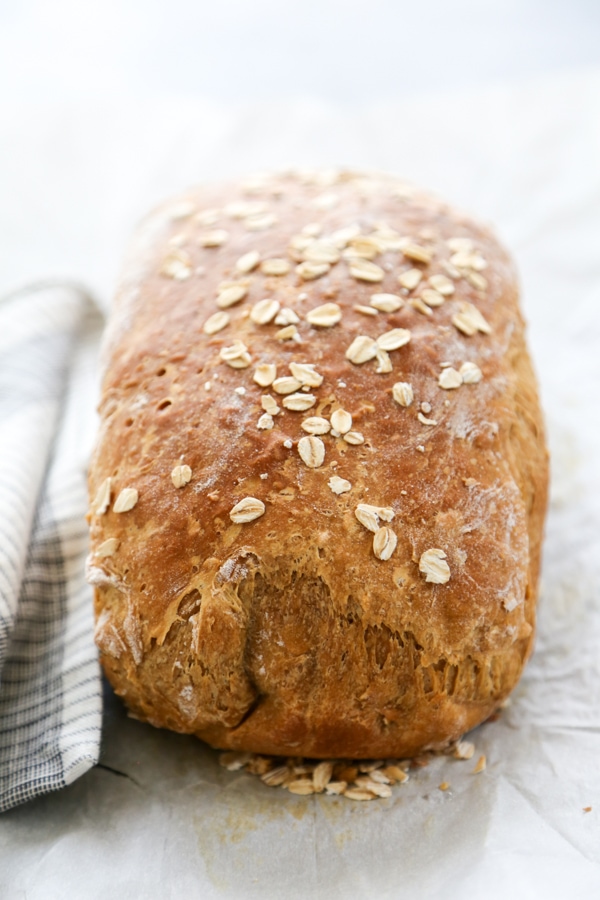 Tips for the Best Bread
Be sure to use quick-cooking rolled oats which are also called old-fashioned oats. Don't use instant oats or quick oats.
The first time I made this oatmeal bread I didn't soak the oats. I just combined everything together and it came out fine. It has a chewier texture when you do it this way so for a softer loaf of bread, be sure to soak the oatmeal first.
Allow the bread to cool before slicing it. For serving, sometimes I warm it in the oven or the microwave.
Keep the bread tightly wrapped and it will keep for a few days at room temperature. You can also it freeze it for several months!
Make a batch of this soft oatmeal bread and I promise you won't regret it. It's so simple, so delicious, and a winner every time. Enjoy! XOXO San
More Easy Bread Recipes
Don't forget to pin this to your favorite Pinterest board to save for later!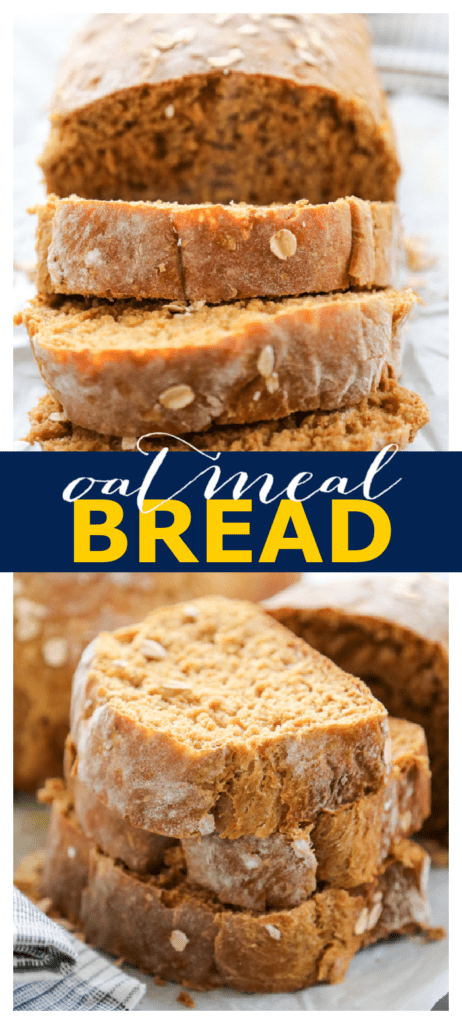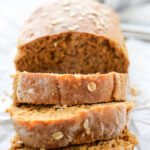 Print Recipe
Oatmeal Bread
This Oatmeal Bread is an easy yeast bread with simple ingredients. The oats are soaked in hot milk which gives the bread a wonderfully soft texture. It's hearty and delicious – the perfect slice of bread with some warm butter.
Ingredients
1

cup

quick-cooking rolled oats

not instant

2

cups

milk

scalded

1

package

active dry yeast

1/2

cup

warm water

1/2

cup

molasses

2

teaspoons

salt

1/4

teaspoon

ground ginger

4 1/2

cups

all-purpose flour
Instructions
Regular Instructions (no bread machine)
Put oats in a large bowl and cover with hot milk. Stir and let stand until lukewarm.

Soften yeast in the warm water and stir to dissolve. Add with the molasses, salt, and ginger to the oat mixture. Stir in flour.

Cover with plastic wrap and let rise in a warm place for 1 hour or until doubled.

Knead dough on a well floured surface, divide in half and put in 2 greased 9×5" loaf pans. Cover and rise for about 45 minutes.

Bake in a preheated 350°F oven for 45-50 minutes.
Bread Machine Instructions
Put oats in a large bowl and cover with hot milk. Stir and let stand until lukewarm, 10-15 minutes.

In the following order, add ingredients to bread machine: Water, molasses, soaked oats and milk, flour, salt, ginger, and yeast. Set to dough setting and let it run, this is setting 8 for mine and takes an hour and a half total to mix and rise.

Knead dough on a well floured surface, divide in half and put in 2 greased 9×5" loaf pans. Sprinkle tops of loaves with rolled oats. Cover and rise for another 45 minutes.

Bake in a preheated 350°F oven for 40
Nutrition
Calories:
129
kcal
|
Carbohydrates:
26
g
|
Protein:
4
g
|
Fat:
1
g
|
Saturated Fat:
1
g
|
Trans Fat:
1
g
|
Cholesterol:
2
mg
|
Sodium:
207
mg
|
Potassium:
170
mg
|
Fiber:
1
g
|
Sugar:
6
g
|
Vitamin A:
20
IU
|
Vitamin C:
1
mg
|
Calcium:
43
mg
|
Iron:
2
mg

Save