This recipe for a Classic Cheese Ball is just perfect for any sort of gathering.
Simple to make ahead of time and incredibly delicious, it is always a real crowd-pleaser.
I love to entertain, and having simple, easy recipes I can make before my friends and family come over, is a sanity saver for me. I love everyone gathering in my kitchen while preparing dinner or a party spread with drinks and appetizers.
While I typically do some sort of meat and cheese board, I love to add cheese balls to the platter. Cheese balls go great with all finger foods like chips, crackers, veggies, and even baguettes.
What is a cheese ball made of?
A cheese ball is a mixture of cream cheese and grated cheese, whip until well combined. They can be mixed with ingredients like bacon, green onions, and peppers, and then shaped into a ball and usually rolled in nuts.
What goes well with a cheese ball?
Pretzels we prefer pretzel chips, but really, rods or the classic pretzel will work.
Crackers like Triscuits, Pita Triangles, or Wheathins are our favorite.
Veggies like carrot or celery sticks
Chips like pretzel or pita chips, you can also do your classic corn tortilla chip.
Fruit like apple and pear slices, both work for savory cheese balls, but if you go sweet then you can use strawberries as well.

Check out these other savory cheese ball recipes:
French Onion & Bacon Cheese Ball
The Ultimate Bacon Ranch Cheese Ball Recipe
Jalapeño Popper Cheese Ball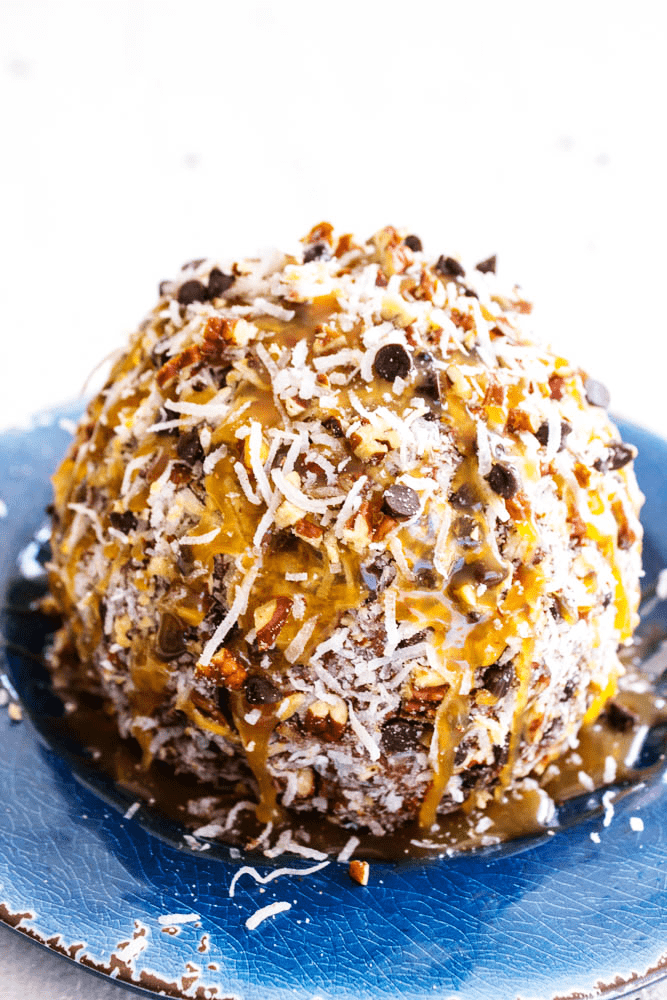 Have a sweet tooth? Check out these sweet treat recipes.
German Chocolate Cheesecake Ball
Peanut Butter Cheese Ball Dip
Chocolate Chip Cheese Ball Recipe
Pin this easy appetizer to your favorite Pinterest board for later.