Homemade Tagalongs are made with a buttery cookie base, peanut butter center and covered in milk chocolate, they're better than the originals.
These Copycat Girl Scouts Tagalongs Cookies have become one of my favorite cookies to make and devour. Adding yet another cookies to my cookie addiction repertoire.
While I completely love those the original tagalongs cookies from the Girl Scouts and could literally eat an entire box on my own, there is still nothing like homemade.
I honestly feel those cute little girl scouts see me coming from a mile away with a sign on my head that says, "sucker for cookies". I know I am not the only one who falls for the cookies and their cute little smiles. I always feel for the mom's standing out there in the cold with them at the grocery store trying to push cookies like there is no tomorrow.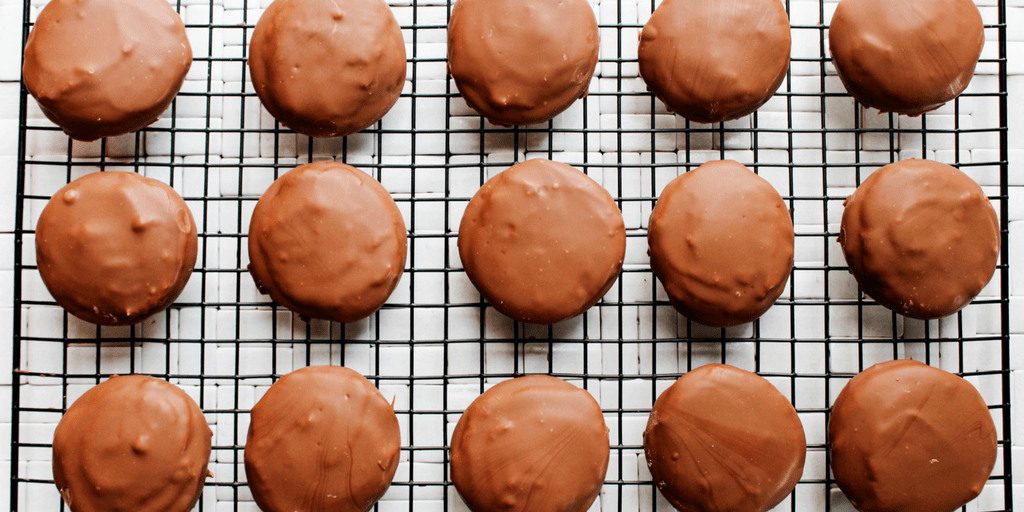 So even though I much prefer these homemade tagalongs cookies I simply can't resist their ever-so-cute sales pitches and delicious bites of heaven.
It really comes down to I love sponsoring them, helping them earn badges, raise money for their troop, and go camping. But let's be real people these cookies are only available once a year. So what do we do after March?
A few years ago, this desperate girl had to make a batch of her own tagalongs cookies. I love the peanut butter center. There really is not a better combination than that of peanut butter and chocolate.
TAGALONGS BAKING TIPS
Can you freeze homemade Tagalongs?
Yes! All cookies can be frozen, but it is best to wrap them individually to freeze them and only do this once they have cooled completely. Another way to freeze then is to stack them in layers in a Ziplock bag or container, separating the layers using parchment paper. I personally love individually wrapping them as I feel they taste better. Also, sometimes cookies taste better frozen. Let them sit out on the counter to come to room temperature before eating.
How long will Tagalongs stay fresh in an airtight container?
If properly stored, these cookies will last upto to a few days at a normal room temperature and stored in an airtight container. If you freeze or put in the refrigerator they will last longer. I like storying them in the fridge.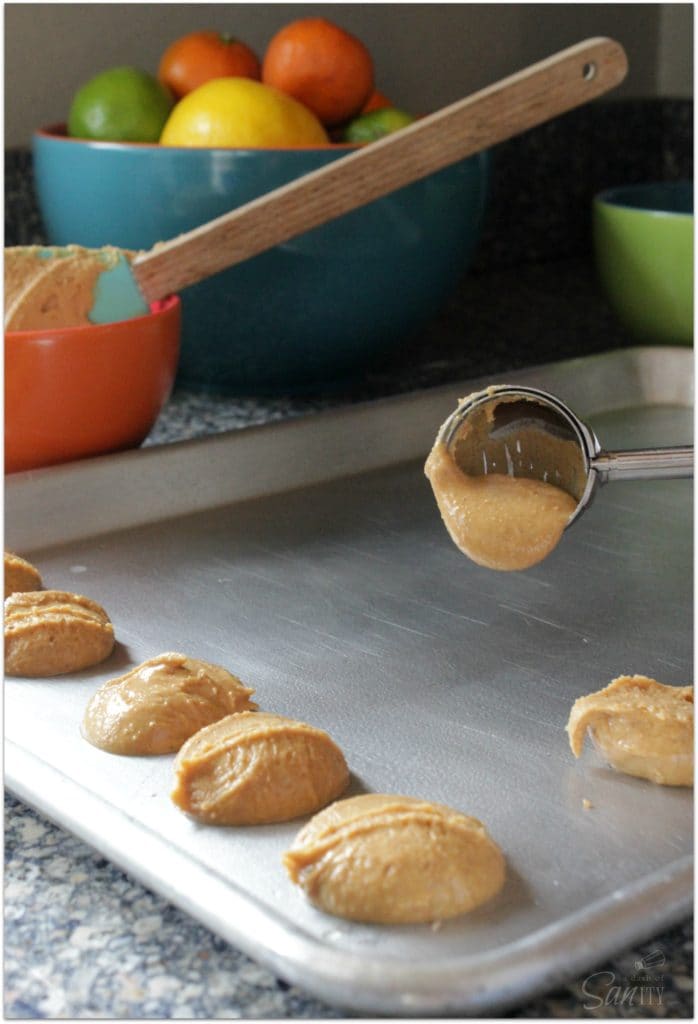 For the past few years though I will say that I didn't buy the tagalong cookies. Mainly because I wanted to save myself from the self-inflicted torture of debating on whether to eat the whole box in one hour or draw it out a few.
A few years I have lied to myself by thinking, I will buy the ones the kids like and not eat any. Well, that's a joke. It always happens that on a busy afternoon, I find myself have eaten a ½ row of Thin Mints. Then I find myself consequently cursing the cute little girl from Jordan's dance class that sold it to me.
I decided last year that if I am to eat cookies, I'm going to eat my favorite! That's when I decided to pull it together and come up with my own Tagalong cookie. So I got my little helper, Jersey Cake and whipped up a batch.

The result is essentially identical, if not better. The butter cookie tastes fresh, making a complete difference. So while you may be tempted to just buy a box don't. Try out these Copycat Girl Scout Tagalong Cookies from scratch, they won't disappoint, I promise. Want to try some of your other Girls Scout favorites?
Try these Girl Scout inpsired treats! Samoa Truffles, Homemade Thin Mints, Peanut Butter Sandwich Cookies, and Samoa Magic Bars.
Enjoy the cookies friends, life is too short not to enjoy a little sugar. XOXO San
Don't forget to pin this recipe for COPYCAT GIRL SCOUT TAGALONG COOKIES to your favorite Pinterest board for later.
Print Recipe
Tagalongs Cookies
Copycat Girl Scout Tagalong Cookies - Made with a butter cookie base, peanut butter center and covered in milk chocolate, they're better than the originals.
Ingredients
Peanut Butter Filling
1 ¼

cup

all natural peanut butter

like Adam's All-Natural Peanut Butter

1

cup

powder sugar

sifted
Shortbread Cookies
3/4

pound

salted butter

at room temperature

1

cup

sugar

1

tablespoon

pure vanilla extract

3 1/2

cups

all-purpose flour

Salt

to taste, if wanted
Chocolate Coating
1

lb.

Milk Chocolate dipping candy

I like Chocomaker
Instructions
Peanut Butter Filling
In a small mixing bowl, mix together peanut butter and powder sugar until it's completely blended and no sugar can be seen.

On a cooking sheet, lay wax paper or grease the pan with cooking spray. Place ½ tablespoon of the peanut butter mixture on the prepared pan. I use my cookie dough scooper and use only ½ of scooper full of the peanut butter (I just eye ball it). Set in the refrigerator while making the cookies.
Shortbread Cookie
Preheat the oven to 350 degrees F.

In the bowl of an electric mixer fitted with a paddle attachment, mix together the butter and 1 cup of sugar until they are just combined. Add the vanilla. In a medium bowl, sift together the flour and salt if wanted, then add them to the butter-and-sugar mixture. Mix on low speed until the dough starts to come together. Dump onto a surface dusted with flour and shape into a flat disk. Wrap in plastic and chill for 30 minutes.

Roll the dough 1/2-inch thick and cut with a 3 by 1-inch finger-shaped cutter. Place the cookies on an ungreased baking sheet.

Bake for 14-16 minutes, until the edges begin to brown. Allow to cool to room temperature.

Once cool, take out peanut butter balls from the fridge. Using a spatula, remove the peanut butter from the pan. Place 1 ball in the middle of the shortbread cookie and use a butter knife to spread the peanut butter around the cookie. Repeat with remaining peanut butter balls and cookies. You will have some left over cookies (8-10) - just dip those in the left over chocolate.
Chocolate Coating
Melt chocolate per directions of the package. Once melted, place the cookie on a fork and dip into the chocolate. Remove the cookie from the chocolate once it is fully covered while still on the fork. Let the excess chocolate drip off and transfer on to wax paper to cool or greased cooling rack to harden.
Nutrition
Calories:
221
kcal
|
Carbohydrates:
27
g
|
Protein:
2
g
|
Fat:
11
g
|
Saturated Fat:
7
g
|
Cholesterol:
30
mg
|
Sodium:
101
mg
|
Potassium:
22
mg
|
Sugar:
13
g
|
Vitamin A:
355
IU
|
Calcium:
6
mg
|
Iron:
0.8
mg
This recipe was recently updated from it's original posting date February 2014.


Save