Highlights of 2015: A Dash of Sanity
The breakdown of our highlights for recipes at A Dash of Sanity recipes in 2015 including some of our favorites. And while I have many other memories that are unforgettable like making some new dear friends (through blogging), delivering my first baby pig and achieving the goals that I never dreamed of. What I have truly loved most about A Dash of Sanity in 2015 is the journey to discovering more of who I am as a person, wife, mother, and daughter of God. I have grown in ways personally that I never knew possible all while I am making delicious food and sharing it. I get to connect with people I never would have the chance to meet. I have corresponded with readers, hearing their stories, about their life and becoming friends. That is truly a blessing. I have loved spending this last year with you and creating foodie memories with you and your loved ones.
Most Viewed: German Chocolate Cake Cookies
My grandpa if still here would be super proud of this. He loved German Chocolate Cake and anything and everything that I make in regards to German Chocolate Cake are inspired by him and his constant encouragement of my cooking, even when it was terrible. I should mention this is my husband's favorite dessert!
2015 Post Most Viewed: Chicken Pot Pie Soup
I love this soup. Hate the photos in this post, well hate is a strong word, but really dislike. But viewers love the recipe. Need something for a cold day or craving some comfort food this one is a must-try. This recipe was inspired by a dear friend Zora. She shared her secret ingredient with me that makes this soup so amazing, come over and check out what it is.
Most Featured on Social Media: Fudge Brownie No-Bake Cheesecake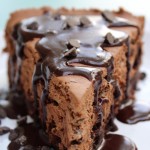 Okay, okay now this is one of my top posts, ever. And also the post I get the most comments on. Why? Well, you have to bake the brownie. So when I named this recipe, I was meaning the cheesecake part is no-bake, not that the entire thing was no-bake. But I could see how the name was misleading and lesson learned. I then revised my post, when my friend Sarah from High Heels and Grills suggested I tell them to buy and a brownie to make this dessert. I did and since then no rude or mean comments. Phew. Thanks, Sarah!
Favorite Starbucks Inspired Post: Copycat Starbucks Flourless Chocolate Chewy Cookies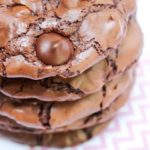 If you know even just a little bit then you know I love Starbucks. I pretty much live there every morning for an hour or two working on my blog and relaxing, it is my "me" time. I go during the wee hours of the morning. And I love the time I spend there drinking a warm drink, having no one to answer to and occasional indulging on a breakfast sandwich or vanilla bean scone.
My kids' favorite posts from 2015:
Aiden, 12 years loves my Kale Caesar Salad. Not only does he love this salad, but it was also inspired by him. He is a little chef in the making.
Madden, 8 years always requests my Baked Red Velvet Donut Holes. And I am not kidding, anytime I ask what they want me to make whether it is for breakfast, lunch, dinner, or dessert he says "those red donut holes."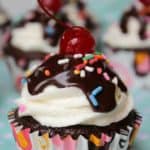 Jordan, 10 years, & Jersey, 7 years, love and constantly request an old favorite, my Banana Split Cupcakes – they love those and while they are super cute and delicious. I just hate making them, don't ask me why. Honestly, I don't know, but it must have been something from that day that causes the resistance….so these are a real treat when I do make them. And maybe that is why they are so special.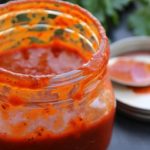 Special Mention, Hubby's Favorite Post from 2015: Colorado Chile Sauce
While my hubby would pick several recipes to be his favorite, this is the one he requests the most besides the German Chocolate Cake Cookies or Sicilian Chicken Soup.
My favorite post from 2015: Italian Kale Salad
Fresh, delicious, healthier and make with my favorite new dressing Lemon Vinaigrette. While I could make a list 20 recipes long, this is one I crave and well when starts the New Year and of course making a resolution to eat healthier, this recipe stands out.
So now there it all is – A Dash of Sanity Reflections of 2015. Now it is time to get personal. Every year my husband writes our holiday letter. I call it the holiday letter because I never get it out in time for Christmas. I laugh and cry (a good kinda cry) reflecting back on the amazing and blessed year we have had. And this year I thought why not share it with my readers. It will give you a glimpse into the family behind a Dash of Sanity. Let me warn you, it is a bit long. But there are 7 of us, so he made it as brief as possible.
So cheers to a fantastic 2015 – and looking forward to the year and recipes to come.
XOXO San
The 2015 McCollum Christmas Pop Quiz (Let's see how well you know us):
1. Which one of us had their entire arm inside a pig's uterus?
2. Which member of our family is in therapy?
3. Who could swim all day in butterbeer?
4. Who tirelessly works to improve their basketball game?
5. Who is our only four-sport athlete?
6. Which of us had a lead in The Nutcracker ballet?
7. Which member of our family is advanced in math and reading?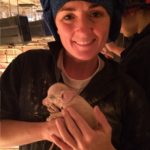 #1. Sandra delivered a piglet at Brenneman Pork, a farm in Iowa. The success of her website – a dashofsanity.com – has allowed her to travel all over the United States this year, including Iowa, Chicago, Oregon, and Utah. She even met and cooked with "the bachelor" (Although I'm pretty sure he was the lucky one). At one point, she literally blew up her hosting company's server as her hard work and stars aligned, causing her website to receive the same number of hits she usually receives in a year in just 24 hours. She loves the creativity of cooking and photography and enjoys being able to communicate with mature adults (unless it's me leaving risqué comments on her threads). The Food Network even sought her out, interviewing her for one their seasonal TV shows. She was a finalist but ultimately was placed in their queue for future productions. When she wasn't baking, Facebooking, or checking out her boyfriend (a.k.a. her iPhone), she ran the Colfax ½ Marathon and helped guide a week-long backpacking trip for middle schoolers in June. No longer relief society president for our church, she now gets her kicks by serving as PTA president, being an involved dance-mom volunteer, and still running her daycare. She's started to accept her age as our children told her one evening to shower so she could get all the "glitter" out of her hair… Hmmmmm… "glitter". And yes, most of the "glitter is due to still being married to me (11 years now), which isn't easy and ultimately elevates her to angel status.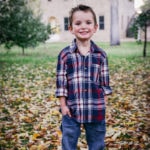 #2. So, most may have guessed Sandra on this one, but actually, Cannon takes speech therapy at his preschool. That's what happens when you've got 4 loud, energetic older siblings who've always talked for you. However, he's grrr, grrr, grrreat! Now in his 2nd year of preschool, Cannon loves it, especially his teachers, two of the best. A few weeks in, I picked him up from school, and his teacher said he'd earned his snack that day. I replied, "Awesome," not knowing there was something behind that. She repeated it, and I got the hint asking what he did to earn it. After a second of blushing, she replied, "For not going commando all day." He's all boy – and a big one now with all the expectations of underwear, socks, and lifting the seat and such. And along with age comes opportunity, and after sitting through 5 years of watching, wriggling in our laps, and psychotically screaming like Jersey from the sideline, he can now start doing – something he's been waiting for (Sandra & I too). Cannon played soccer this year, scoring just as many goals for the other team as his own, and he's looking forward to every other activity he's watched for half a decade. He even learned to ride his bike. He also loves working with San, rolling out dough or adding ingredients. And just about every night, he prays for his friends Emmit and Jace, swimming, and to go bye-bye (to where we know not). Despite his prayers, he's still a bit nuts – you can occasionally catch him staring at you wide-eyed or obsessing over sharp knives, which we've found in his backpack, under his pillow, in his drawers, his pockets, etc. His double cowlicks in the front of his hairline are affectionately referred to by everyone as his devil horns. How true…

#3. Aiden went with his cousins, uncle, brother, and Grandma Jeanne to Orlando, which included stops in the everglades, the beach, Kennedy Space Center, and Universal Studios. We gave the boys $70 for souvenirs, and it wasn't until Aiden hit Harry Potter Land that he called home and said, "I don't want any souvenirs. I just want to buy a cart of Butter Beer." And in his mother's footsteps, when he returned, he whipped up his own recipe. He's also really taken to the cello this year, practicing until his fingers go numb and his hands cramp. It's paid off as he's 1st chair in his middle school's intermediate orchestra. He even took his cello to downtown Fort Collins and played on the sidewalk, earning money for a new electric cello. He made state for Science Olympiad but is probably more proud of playing offensive and defensive line for his 7th-grade football team – from which stemmed his new goal of playing college football. He also attended his 1st Broncos game. In the summer, he backpacked with me and 10 teenage girls (which he described as mostly awkward) and shot his first goose with Papa Ray last month. He has now dedicated his life to writing algorithms, solving Rubik's cubes, and reminding Sandra and me how much more he knows about the world than us – which is probably true.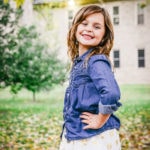 #4. Jersey, 7, recently declared she is done with dance and now wants to sing, and play volleyball and basketball. She participated in her first basketball camp this winter, and when we go to the go to the gym together, she transforms into a gym rat, working on everything from passing to pivoting, to jump stops. She is going to be a stud. I have waited so long for this – seriously. She participated in the swim team this summer, her coach's favorite, spending just as much time talking and hanging on them than swimming. She also played baseball, and in her first season of kinder basketball – she had to be asked several times to stop playing defense in order to give some of the other girls a chance. She's destined to be one of those kids other parents ask about a birth certificate, not as much for her skill as for her aggressiveness. Jersey was also a marzipan dancer in The Nutcracker. She can't wait to grow up and join in all the big adventures (even though she's already bigger than Jojo, 10, & Madden, 8). She's turned into Cannon's BFF. They love to wrestle til they get yelled at to go to bed. She's as large as life & has a personality that rivals any 16-year-old's.

#5. Madden participated in soccer, baseball, swimming, and basketball this last year. He played basketball on his cousin Ryan's team, making his cheering section easily the largest and loudest. His siblings are his biggest fans, and he made me smile every time he touched the ball, always selflessly looking for his teammates to score. He went to Florida with Aiden and Grandma Jeanne, returning with memories of kayaking among alligators and finally being tall enough to experience scary theme park rides. He attended a teenager-only 25-mile backpacking trip in Southern Utah in June with his mom and me, keeping up with and even leading through many of the slot canyons and desert hills. He's excelling in math, is a budding artist, and his stuffed animal collection continues to grow. He may be the most humble, nurturing, and smart 8-year-old boy I know, who'll also punch you in the gut if you're not paying attention. Thankfully, he still gives far more hugs and kisses to Sandra and I than anyone else – a momma's boy to the end.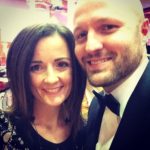 #6. The highlight of the year may have just taken place on stage for all to see. Sandra, Jojo, Jersey and I all took part in the girls' dance studio's production of The Nutcracker. Sandra managed the backstage, Jojo was a party girl and Arabian dancer, Jersey was a marzipan dancer, and I was a party dad and the Rat King. As the only non-classically trained ballet dancer in the production (surprising, I know), I even got to throw in a ninja kick and slow-motion scene from The Matrix. Seriously though, what a blessing to spend quality time like this with my girls, including two holy-crap-how-do-they-do-this pre-show ballet bar classes that Jojo breezed through, but left me with a partially torn everything (and a deeper respect for ballet). And yes, I wore a full-body unitard that required multiple treatments of professionally concentrated Febreeze. I also accepted a new and slightly less sweaty role at my middle school as an assistant principal – a job I adore and look forward to every day. I also started an organization called COPACK – Colorado Promotes Achievement, Character, & Kindness – which provides opportunities for all kids to get individualized academic help, character programming, service-learning, & outdoor challenge. We took 50 teens into the Utah desert in June over 4 weeks. Plus, San, Aiden, and Madden joined me in exploring Escalante, Calf Creek, & Capitol Reef, while surviving teenage coed camping.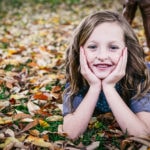 #7. Jojo is bound to be an engineer, doctor or anything else she wants to be. She shines in math and especially reading. That is, when she has time to squeeze it in between dance practices. She is excelling as a dancer at Contemporary Dance Academy, where she is in the fast-track program with girls 1-3 years older than she is – I think she likes being the "baby" of the group. Dancing makes her super happy as every time I pick her up, she's all giggles and it quickly turns into who can burp first or make the most evil sounding laugh – imagine a My Little Pony trying to be evil. She got braces, which inspired Jersey and Madden to prematurely rip out their top two front teeth in order to get braces faster too, so they'll be toothless for a while. And she and Jersey were the stars of their talent show with Jojo choreographing a Sugar Plum Fairy dance with a slightly different ending, consisting of the most graceful full-court running chest bump… yes, in pink tutus. Those are my girls. Jojo reclaimed her spot as July 4th champion of the Chuck-Your-Kid contest and spends much of her time with her nose in a book or designing dresses. She is a girly-girl, everybody's friend, and may have the kindest, most sensitive heart of anyone I know. Every day I walk in the door, she plies into my arms.
One of my favorite highlights this year is getting to see my mother-in-law every morning. In August, we sold our home in about 3 minutes – pretty slow considering Colorado's housing market – leaving us homeless. But not for long. Sandra's parents, Ray and Debbie, graciously have taken us in while our new home is being built in east Fort Collins – all 10 of us, including Bruiser (the dog), Jett (the tortoise), Grover (the guinea pig), and all the noise, mess, smells and laughs any grandparent could ever want. Our house will be ready in April, and we're destined for doggy Prozac as Bruiser and her sister haven't separated since their reunion. Aiden loves getting rides to school from Nana or Papa, and we all get to experience Ray's cooking when Sandra's not attempting to improve her marriage security by making me as deliciously chubby as possible. Let's just say my "maintain, don't gain" holiday weight management goals are toast. Needless to say, we are festively plump & loving it. Merry Christmas everyone! We love you all.
The Rat King, Pig Whisperer, Weak-Side Tackle, the Ballerina, Mr. Kisses, B-baller, & Devil Horns

Don't forget to pin the highlights of 2015 for later – trust me you will want those cookies!