Slow Cooker Sloppy Joes are always a family favorite. Tangy-sweet ground beef in a delicious sauce served on hamburger buns is sure to please your family, too.
If there is one dinner my kids clamor for it is sloppy joes. They can't get enough of these classic hot sandwiches and I've been making the same recipe for years. It's a slow cooker sloppy joe recipe handed down to me from my grandmother and it's an easy dinner the whole family will love.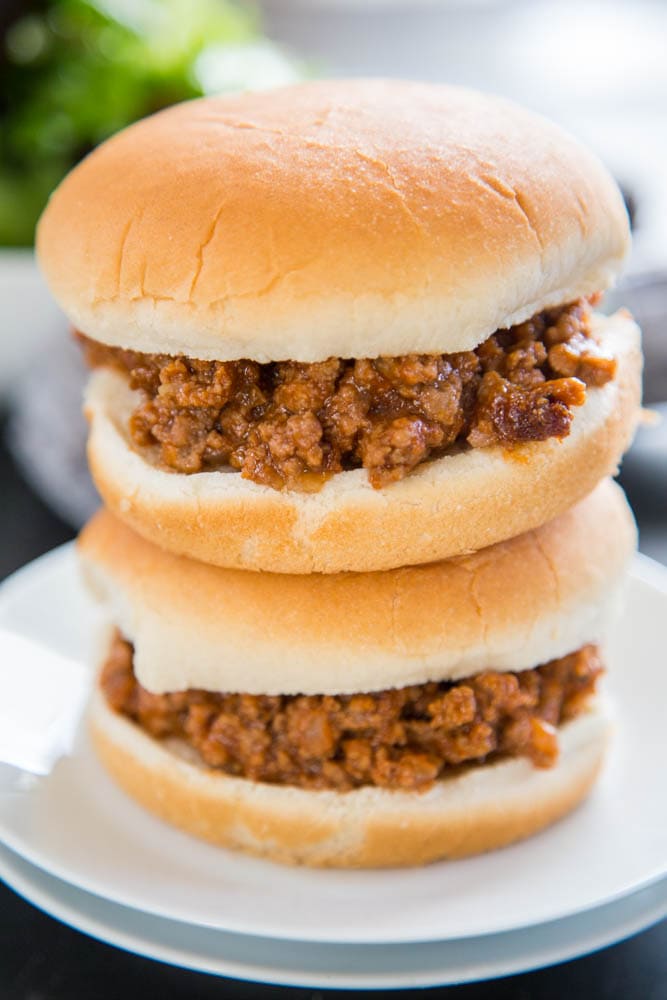 When it comes to homemade sloppy joes these are the only ones my family will eat. It's been tested time and time again, first by my grandmother and then by me after she shared the recipe. It's the perfect balance of sweet and tangy and it couldn't be easier to make.
I've adjusted the original recipe over time, but not too much because it really is perfect. The original recipe did not include brown sugar but it's an ingredient I've added. My grandmother's brown sugar meatloaf is another family favorite, so I was inspired by that recipe to add brown sugar to the sloppy joes.
I also omit some spices in the original that instructed wrapping whole cloves and allspice in cheesecloth that you later pluck out. I've tried it with and without and we can't tell the difference. So it's just a tad less fussy without losing anything.
I love this recipe because it calls for simple ingredients I always have on hand. It's comforting and filling and one thing the whole family can agree is amazing – they can't get enough of it. I make it for weeknight dinners and I've also made it for camping trips.
It also makes a big batch so it's perfect for a crowd or you can save the leftovers which keep really well for several days in the refrigerator. It's delicious served warm on hamburger buns, but I also like it cold on sandwich bread with lettuce and pickles.
It really is the best sloppy joe recipe and I am so happy to share it with you. Old family recipes are always the best, don't you think?
Ingredients You'll Need for Slow Cooker Sloppy Joes
Ground beef
Diced yellow onions
Ketchup
Water
White vinegar
Brown sugar
Flour
Salt and pepper
Garlic powder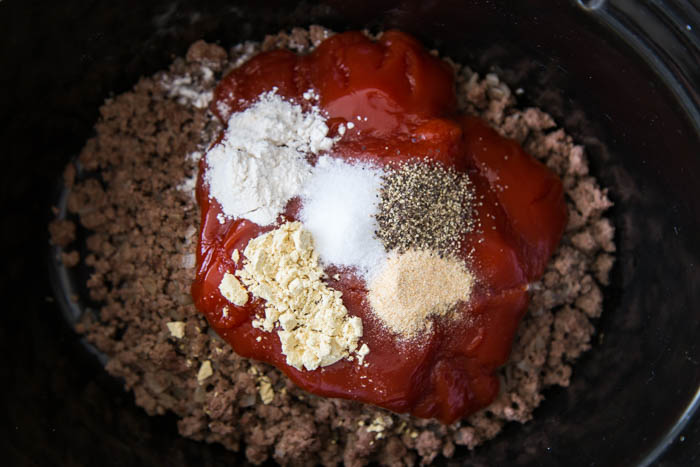 Recipe Steps
Brown the ground beef first on the stove in a large skillet. Then, transfer it to the slow cooker and add all of the other ingredients. Stir to combine them.
Set the slow cooker to low and simmer the beef for eight hours. Or, you can cook the mixture on high for four hours.
Once it's done cooking, take off the lid and give it all a good stir before serving.
Just taking the lid off the slow cooker is enough to draw my kids to the kitchen. They hover as I get everything ready and they can hardly wait to dig in.
Different Ways to Serve Sloppy Joes
The classic way to save up all that savory beef and sauce is on soft hamburger buns.
You can also use regular sandwich bread and add a few toppings like crispy lettuce leaves, sliced pickles and a slice of tomato. This works either hot or cold.
Sometimes, I mix in some shredded cheddar cheese and once it's melted serve the sloppy joe mixture with tortilla chips or corn chips. Everyone just dips in and enjoys.
Can I Make this Recipe on the Stove?
Yes, you can easily make it on the stove instead of the slow cooker. Here are the simple steps:
You will need a large skillet to brown the beef. Cook it until it's no longer pink.
Add all of the other ingredients and turn the heat up to bring it to a simmer. Lower the heat, cover the pan and simmer the beef for about an hour.
Wherever we go my kids have never met another sloppy joe that is better than this recipe. I can't imagine even trying another recipe – my grandmother's is all we need. I hope you love it as much as we do. Enjoy! XOXO San
More Family-Favorite Dinners
Don't forget to pin this to your favorite Pinterest board for later.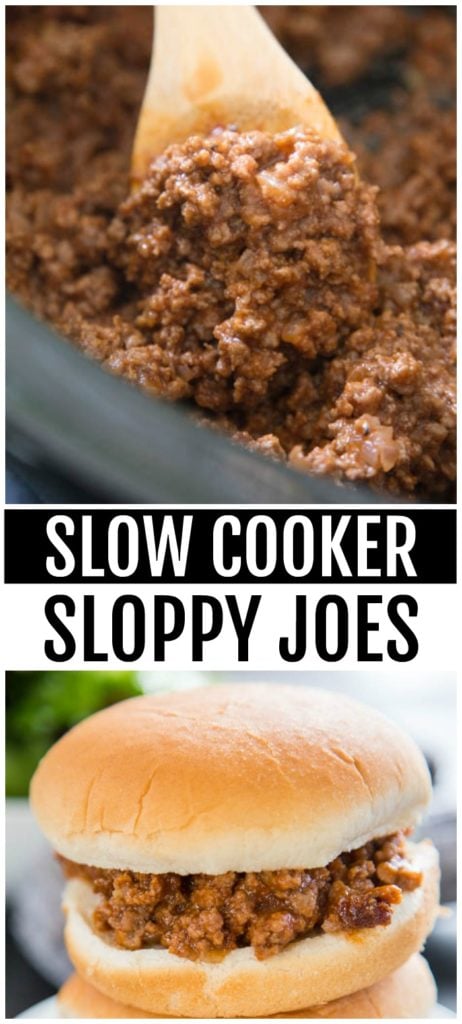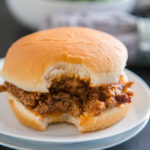 Print Recipe
Slow Cooker Sloppy Joes
I've been making this sloppy joe recipe for years after my grandmother handed it down to me. Its an easy dinner you can make in your slow cooker with simple ingredients you might already have on hand.
Ingredients
4

pounds

hamburger

2

small

yellow onions

diced

18

ounces

ketchup

1

cup

water

3

tablespoons

white vinegar

4

tablespoons

brown sugar

1

tablespoon

flour

2

teaspoons

salt

1

teaspoon

black pepper

1

teaspoon

garlic powder
Instructions
Slow Cooker Directions
Brown the beef in a large skillet on the stove until it's no longer pink. Transfer it to the slow cooker.

Add all of the other ingredients and stir to combine. Cover the slow cooker and cook the beef on high for 1 hour or on low for 2 hours.

Remove the lid and stir the sloppy joes. Serve on hamburger buns.
Stove Top Directions
Brown the beef in a large skillet on the stove until it's no longer pink. Add all of the other ingredients and stir to combine. Cover the skillet and cook over low heat for 1 hour.
Nutrition
Calories:
308
kcal
|
Carbohydrates:
5
g
|
Protein:
20
g
|
Fat:
23
g
|
Saturated Fat:
9
g
|
Cholesterol:
81
mg
|
Sodium:
385
mg
|
Potassium:
331
mg
|
Fiber:
1
g
|
Sugar:
4
g
|
Vitamin A:
9
IU
|
Vitamin C:
1
mg
|
Calcium:
25
mg
|
Iron:
2
mg

Save