Looking for that classic Velveeta mac and cheese taste? You've come to the right place! My grandma's Velveeta mac and cheese recipe is creamy, cheesy and incredibly delicious. So go ahead and indulge in a little bit of nostalgia – your taste buds will thank you!
Looking for a delicious and easy-to-make dish? Try velveeta mac and cheese! This classic recipe is perfect for any occasion, and it's sure to please even the pickiest of eaters.
I grew up eating my grandma's mac and cheese; I have the best memories from our family holidays, family camp trips and trips to Water World with my cousins. Heading out to our grandparent's RV at lunch was always a special treat because we knew we would get to devour grandma's delicious mac and cheese.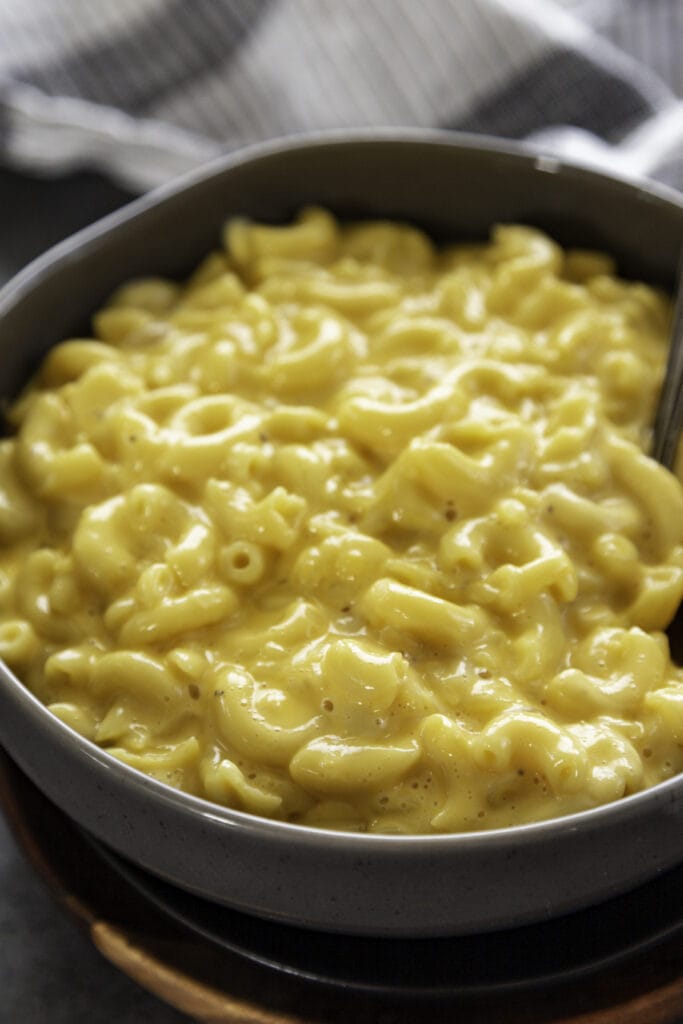 It wasn't until my grandma got into her late 80's, or early 90's that she stopped making this for the family picnic. And so some of my aunts stepped in and made it instead. My grandmother passed away this year and I was sad to have never gotten the recipe from her. Whenever I asked her for it, she would say I just throw it together.
At our family reunion this past summer, I decided to try my hand at making grandma's famous mac and cheese dish. All I knew was that it contained American cheese and pepper, but I went ahead and made a recipe with those ingredients. Imagine my surprise when everyone at the picnic told me it wasn't quite like grandma's!
Turns out, she used Velveeta instead of regular American cheese. Who would have thought? My aunt told me the simple ingredient list: milk, velveeeta, salt and pepper. Evidently, grandma just eyeballed the amounts for each ingredient.
I was in disbelief when my grandma told me she used Velveeta in her cooking. The woman who prepared all of our family meals from scratch loved a processed cheese? My dad and Aunt Ditta nodded along, telling me how much grandma and grandpa both loved Velveeta.
Needless to say, this recipe is super easy– you just throw all the ingredients together. Even though it's so straightforward, I have to write it down so future generations will know about it. After all, my grandmother didn't create this dish– but she made it better than anyone else could.
Ingredients for Velveeta Mac and Cheese
Elbow macaroni
Velveeta cheese
Milk
Salt & pepper
How to make Velveeta Mac and Cheese
Cook the pasta according to the package instructions and then drain it.
Cut the velveeta into cubes.
After you've cooked your pasta, mix in the cubed velveeta and add salt and pepper to taste.
Pour the milk over the cheese and pasta.
Cook the sauce on low to medium heat, stirring it frequently, until the cheese has melted.
Serve immediately.
Why grandma loved Velveeta cheese?
Velveeta is the cheese that makes an amazing sauce because it's so smooth. If you're looking for gooey, cheesy mac and cheese that will make you happy, then Velveeta mac and cheese is what you want.
How to reheat Velveeta mac and cheese
If you're short on time, nuke it in the microwave covered for a few minutes. You might need to loosen it with some milk once heated through.
If you have more time, warm it in a sauce pan covered with a lid until warm, around 8-10 minutes. You need to constantly stir and check the noodles, making sure they aren't sticking to the bottom of the pan and add milk, as needed, to make it a bit creamier.
How to store leftover mac and cheese?
You can store this in the fridge for up to a week, or freeze it in an airtight container for 1-2 months.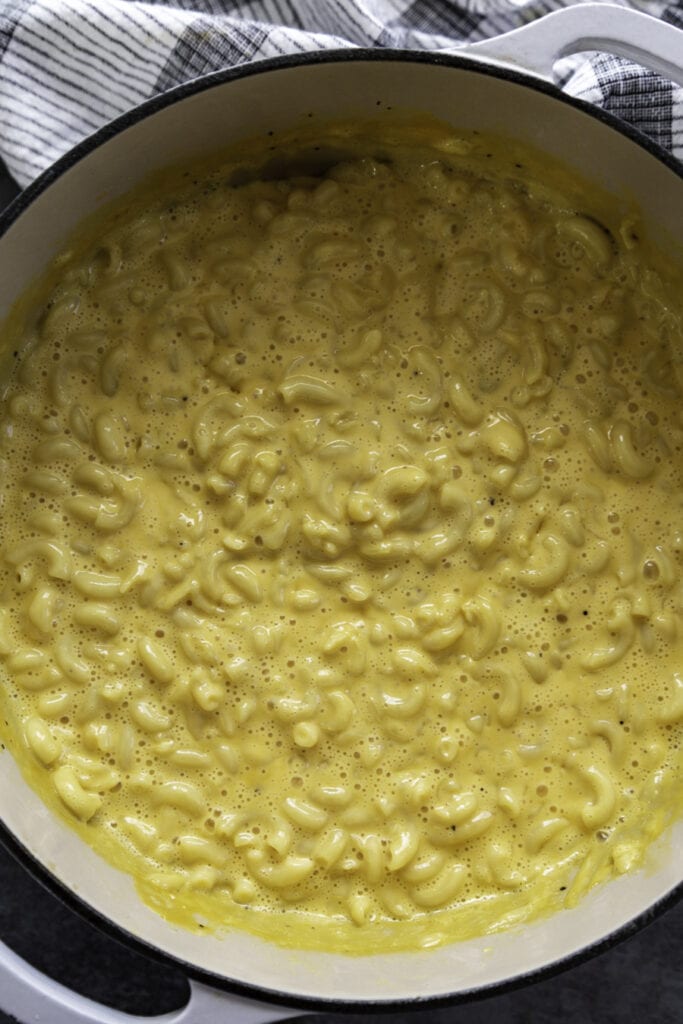 Check out some of my other grandma's recipes; they are the best on my blog.
Don't forget to pin this to your favorite Pinterest board to save for later!
Print Recipe
Velveeta Mac and Cheese
Looking for that classic Velveeta mac and cheese? My grandma's recipe is creamy, cheesy and incredibly delicious.
Ingredients
3

cups

elbow macaroni

16

ounces

Velveeta cheese

3/4

cup

milk

salt & pepper
Instructions
Cook pasta according to directions on packaging and drain.

Cut Velveeta into cubes and mix into cooked pasta.

Stir over low to medium heat until cheese has melted.

Season with salt and pepper as desired.
Nutrition
Calories:
442
kcal
|
Carbohydrates:
63
g
|
Protein:
25
g
|
Fat:
10
g
|
Saturated Fat:
6
g
|
Polyunsaturated Fat:
0.4
g
|
Monounsaturated Fat:
0.3
g
|
Trans Fat:
0.02
g
|
Cholesterol:
34
mg
|
Sodium:
1217
mg
|
Potassium:
458
mg
|
Fiber:
2
g
|
Sugar:
10
g
|
Vitamin A:
772
IU
|
Vitamin C:
0.1
mg
|
Calcium:
484
mg
|
Iron:
1
mg

Save