These Best Mashed Potatoes are light and fluffy, while still rich and creamy; making these the perfect mashed potatoes for any meal or holiday.
What makes this mashed potato recipe the best ever? Well today, I am going to share my tips and secrets to making mashed potatoes. And guess what friends, it's easy!
Now if you didn't already know my kids are quite the little foodies. I would like to say they are picky, but it is not the kind of picky you would think, it is more like they have high expectations for food. This makes my husband and I smile but as a mom cooking for these 5 foodies can be intimidating. So when I make these mashed potatoes I was a little nervous to hear their opinions mainly because I thought they were the best mashed potatoes I had ever had…ever!
I was pleased when Aiden, my oldest grinned and said excitedly, "mom these are the best ever mashed potatoes!" Life made. Madden quickly followed, then by the youngest two. Sadly, my little Jojo is down with strep throat and hasn't been able to really eat much, but she will surely have these over the holidays. As I can't imagine making any other potato recipe from this day forward.
I think with mashed potatoes these are two things that typically go wrong. They can either be too dry or way too salty. Both are taste bud killers and make for sad faces all around. Because really mashed potatoes are a holiday staple. Think about all the major holidays, Thanksgiving, Christmas, and Easter all involve mashed potatoes.
There is a key secret ingredient to this recipe and it is all thanks for my friend Holly over at Spending with Pennies. We recently went on a blogger retreat in Breckenridge and she made scrambled eggs one morning. Now I am not a big egg fan unless they are covered in cheese. I told her this and she said grab some cheese from the fridge. So I did and grabbed some chive Boursin cheese and she added that in. Oh…my…goodness these were the most creamy, rich eggs I had ever had, oh so good! I loved them. And I knew it was all about that cheese and the fact that Holly cooked them perfectly.
From that morning on I knew that the next time I would make mashed potatoes I would be using that cheese. And I am so thrilled with the results, just like the eggs, this mashed potato recipe resulted in silky smooth taters.
Your mashed potato questions answered.
How long do you cook potatoes for mashed potatoes?
Cook for 15 to 20 minutes, or until you can easily poke through them with a fork.
What are the best potatoes for mashed potatoes?
Per Google, "Higher starch potatoes (like Russets or Yukon golds) for the fluffiest, smoothest mash. They also absorb flavorings more easily. Waxy potatoes (such as red or white varieties) require more mashing to become creamy, which could lead to the dreaded "potato paste."
Now, my personal favorite is red potatoes. Just be careful not to overcook! And I wouldn't mash them, but use a stand or hand mixer to get the texture you desire.
What can I put on my mashed potatoes?
Once again this is a personal preference, but some traditional favorites include hot milk, salt and pepper, bacon, garlic, cheese, butter, and other herbs.
What can I serve with mashed potatoes?
Tips for making mashed potatoes? To me, it is all about the ingredients.
butter
Boursin Garlic & Herb Gourmet Cheese
salt!!!
garlic
heavy cream
Whip it all together, whip it real good. 😉
Mashed Potatoes aren't supposed to be low calorie, my friend. Remember, the more cheese the merrier.
I am excited to share this recipe with you today friends and even more excited to make these Best Mashed Potatoes for my family over the holidays. Enjoy! XOXO San
Don't forget to pin this recipe for Best Mashed Potatoes to your favorite Pinterest board for later.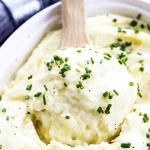 Print Recipe
Best Mashed Potatoes
These Best Mashed Potatoes are light and fluffy, while still rich and creamy; making these the perfect mashed potatoes for any meal or holiday.
Ingredients
5

lbs

red potatoes

1/2

cube

butter

I used salted

5

ounces

Boursin Garlic & Herb Gourmet Cheese

2/3

cup

heavy cream or half and half

whole milk will work as well

1 1/2

teaspoons

sea salt

1

teaspoon

freshly chopped garlic

1/4

cup

finely chopped chives

ground pepper
Instructions
Place potatoes in large saucepan; add enough water to cover. Add 3/4 teaspoon of the salt. Bring to a boil. Reduce heat to medium-low; and boil gently for 15 to 20 minutes or until potatoes break apart when pierced with fork.

* Time may vary depending on the size you cut the potatoes.

In a large mixing bowl or stand mixer add potatoes, butter, heavy cream and cheese. Beat until nice and creamy with no lumps present. Stir in salt, garlic and pepper, if desired.

Place potatoes in serving dish and top with chopped chives and ground black pepper. Serve immediately or cover with tin foil until ready to serve.

If you are making this a day in advance or hours before. Allow potatoes to come to room temp, cover with foil and place in the refrigerator until ready to use. Be sure to heat back up before serving.

Save