Green bean casserole is a beloved holiday favorite, bringing together classic flavors and comforting textures for a truly delightful dish!
This is the best recipe for Green Bean Casserole. Made with cream of mushroom soup, shallots, garlic, white cheddar cheese, and crispy fried onions, this recipe is full of flavor and takes the traditional recipe up a few notches.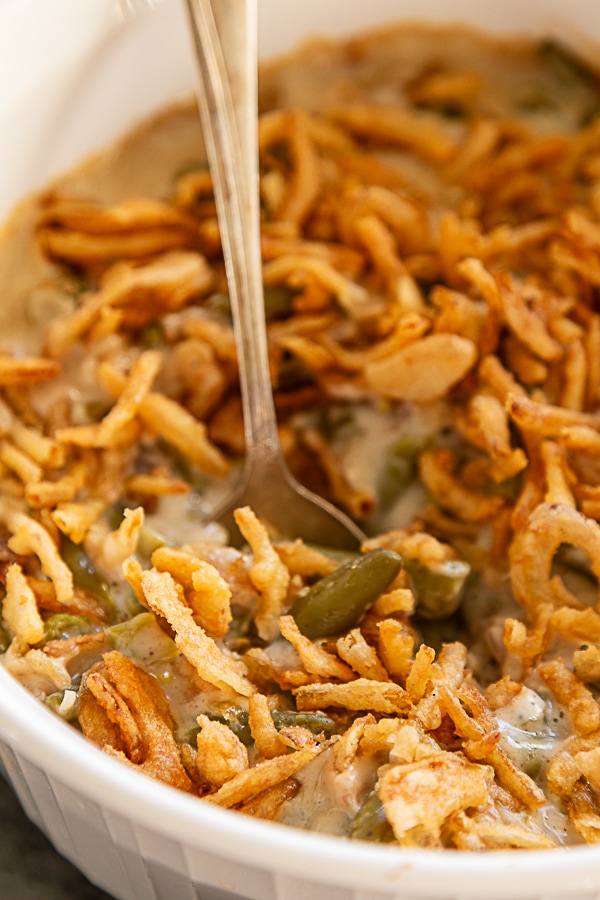 I love green bean casserole solely because of the crispy fried onions; honestly, I can quickly put down an entire container in a day. And they are the only ones I eat green bean casserole over the holidays.
It's been a tradition for about eight years now for me to host Thanksgiving. And I love it. I try to make as many dishes as my family will let me, but they love contributing. Giving up all the dishes I love creating is hard for me. And this casserole is one of them.
I wanted to make the green bean casserole a dish; I didn't just eat the topping. Therefore, I tried to make the gravy a little more flavorful, and after a few tries and variations, I found shallots and garlic do just that.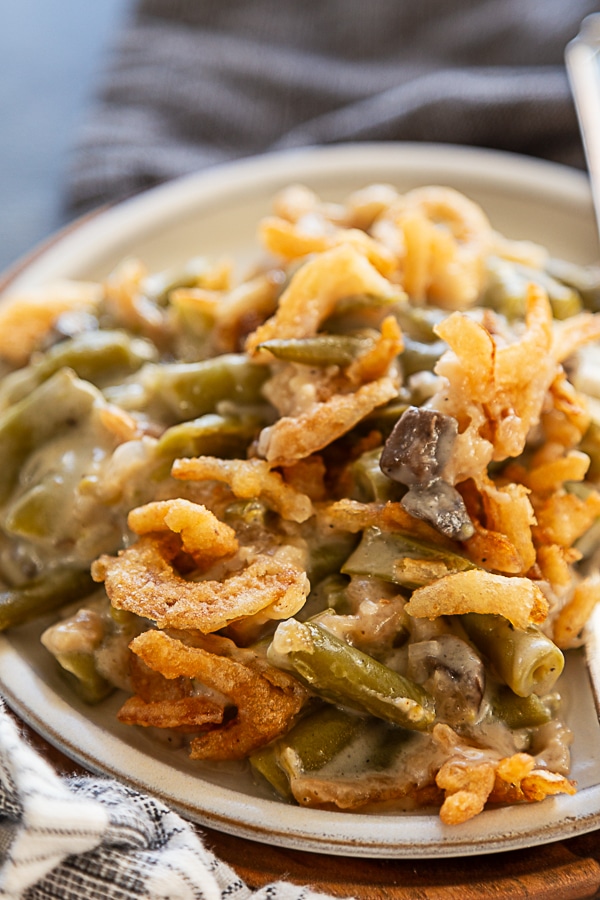 Green Bean Casserole Tips
Ingredients & Substitutions
French's Fried Onions
2 cans cut green beans: You can also use frozen or fresh. Fresh green beans work best when blanched beforehand, so they fully cook in the oven in the creamy sauce. Also, I love adding an extra can of green beans! If you add an extra can, there is no need to add extra baking time.
Cream of Mushroom Soup: you can use any creamy soup, cream of chicken, cream of potato, cream of celery, or broccoli. Use heavy cream if you don't have any of those on hand!
Milk
Shallots: Fresh is best; you could also use dried onions or one teaspoon of onion powder.
Garlic: fresh is best, but you can substitute with one teaspoon of garlic powder.
Worcestershire sauce: soy sauce is another option here; I would bump it up to 1/2 teaspoon if you use soy.
Black Pepper
All-purpose seasoning or just salt!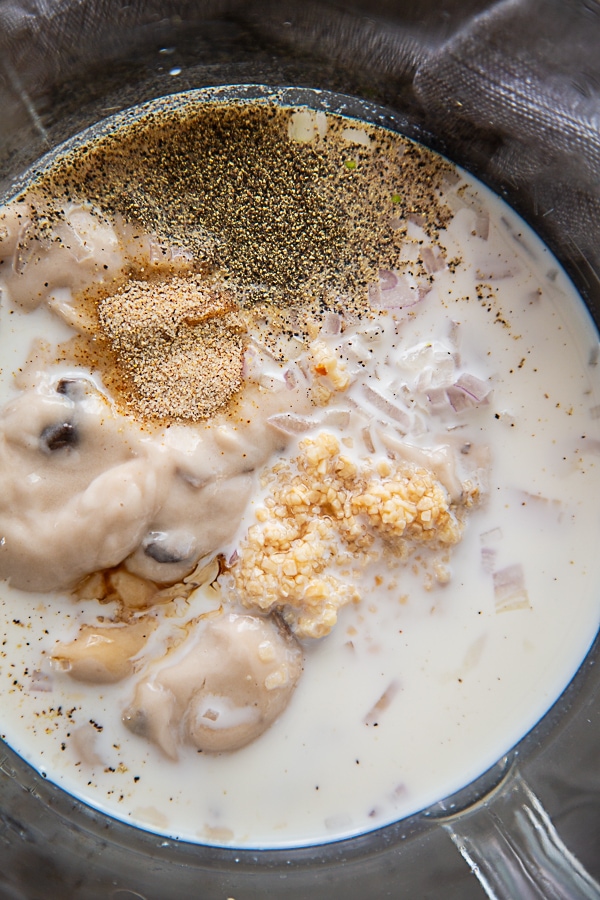 Why is Green Bean Casserole a Traditional holiday favorite?
What makes green bean casserole particularly appealing during holiday gatherings is its versatility.
Whether it's Thanksgiving, Christmas, or any other festive occasion, this dish effortlessly complements a variety of main courses. The creamy, savory goodness of the casserole pairs well with roasted turkey, ham, or even a hearty vegetarian centerpiece, making it a versatile and accommodating side dish that brings people together around the holiday table.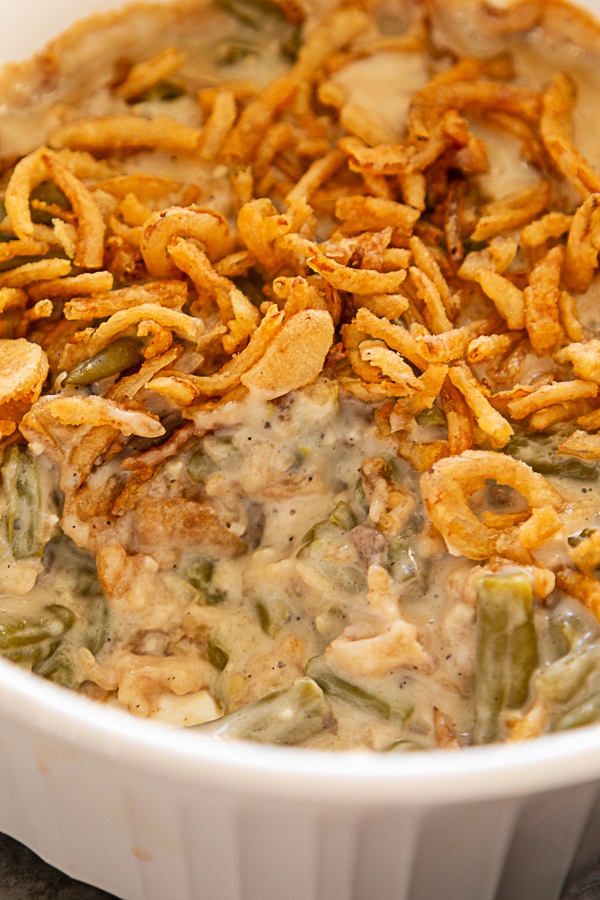 Pin This Recipe To Your Favorite Pinterest Board For Later.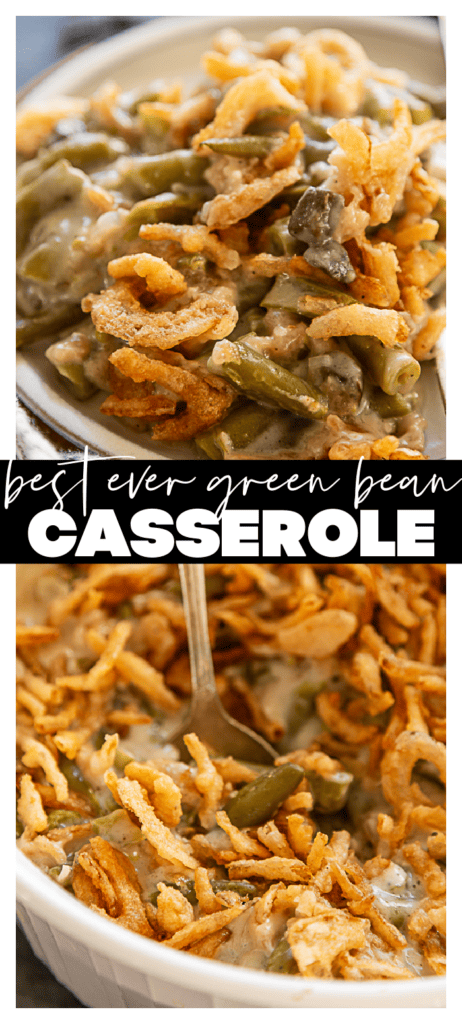 My Favorite Kitchen Tools To Make This Recipe
From trusty pots and pans to handy gadgets, I've curated a list of products I use and love.
Green Bean Casserole
Green bean casserole is a beloved holiday favorite, bringing together classic flavors and comforting textures for a truly delightful dish!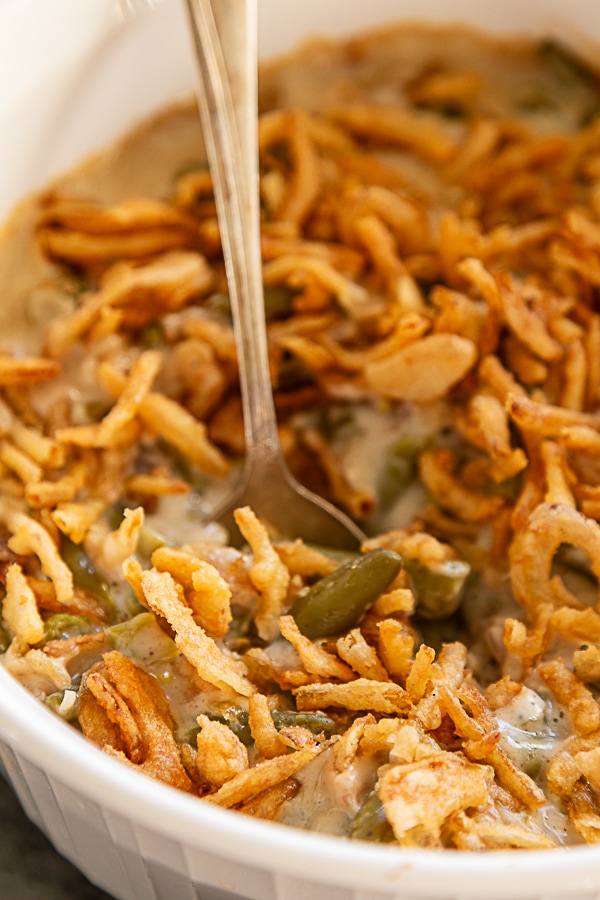 Ingredients
2

cups

French's Fried Onions

10.5

ounces

cream of mushroom soup

1/2

cup

milk

2

tablespoons

finely diced shallots

t

tablespoon

freshly minced garlic

1

cup

shredded white cheddar chees

1/4

teaspoon

Worcestershire sauce

1/2

teaspoon

black pepper

1/2

teaspoon

all-purpose seasoning

2

can

cut green beans (14.5 ounce cans)
Instructions
Heat the oven to 350°F. 

In a medium mixing bowl, stir soup, milk, Worcestershire sauce, seasoning, pepper, shallots, and garlic until well combined.

Add beans and 1 cup of crispy fried onions mix together.

Place in a 1 1/2-quart oven-safe casserole.

Bake in preheated oven (uncovered) for 30 minutes.

Remove from oven and stir the bean mixture. Then top with the remaining cup of crispy fried onions.

Place in the oven and bake another 10 or until the onions are golden brown.  Remove from the oven and let the casserole rest for 5 minutes before serving.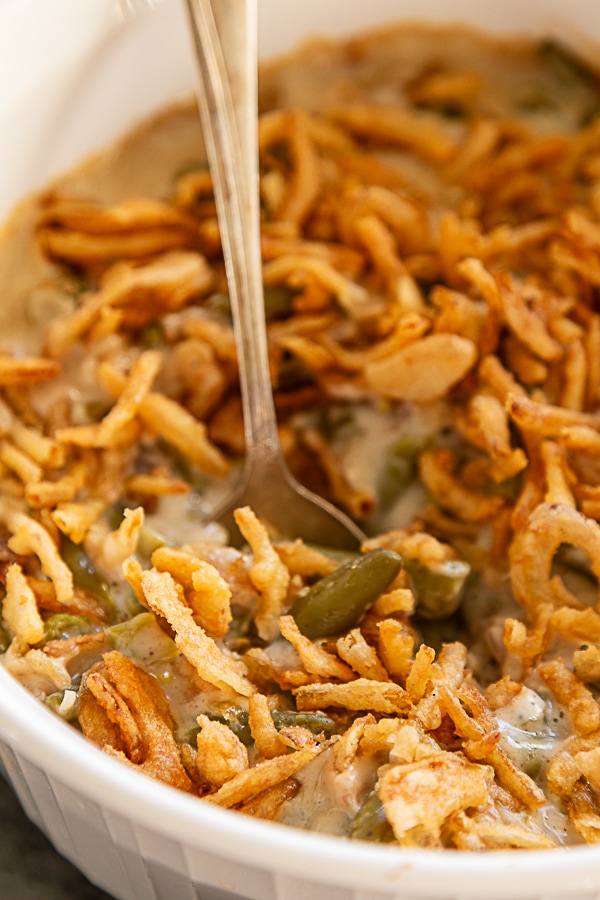 Tried this recipe?
Let us know what you think!