This Classic Chocolate Chip Cookie Recipe is a traditional favorite in every household.

Anytime I think of chocolate chip cookies I think of the Friends episode where Monica tries to recreate Phoebe's grandmother's chocolate chip cookies recipe. Do you know which one I am talking about? It is seriously one of my favorite episodes. After Monica spent all day in the kitchen, trying several recipes and many failed attempts – Phoebe walks in and Monica is asking Phoebe if anyone in their family might still have the recipe. Phoebe explains that someone in France might still have it and goes on to explain that the recipe comes from her grandmother's grandmother Nestley Toulhouse. Monica asked, "what's her name?" And then it turns out that the recipe is Nestle Tollhouse – chocolate chip cookie recipe. And that the recipe has been on the back of the chocolate chip bag the entire time.
I can't stop smiling even thinking about this episode.
A week ago, a few girls came over to help me get ready for Girl's Camp. That's right this week I am actually gone cooking for 160 girls between the ages of 12-18 up at Camp Batel in Wyoming. Exhausting as it is preparing for it and cooking at it – I love every second.
While these girls were over helping me organize the food and clean up my garage from the food assortment mess they asked if they could make some cookies and be featured on my blog. And how could I say no? They specifically wanted to make chocolate chip cookies and while I have a few recipes on my blog already like – Best Ever Chewy Chocolate Chip Cookies, Cafe Gluten Free Chocolate Chip Cookies, and Copycat Starbucks Chocolate Chip Cookies.
I couldn't say no and well I didn't have time to be in the kitchen with them helping them come up with a recipe. So I thought hey, I will just have them make the recipe that everyone has made in their house at least once and Phoebe's grandma's famous recipe – Nestle Tollhouse Chocolate Chip Cookies. The only thing I told them to change was the amount of vanilla flavoring, of course, I add extra.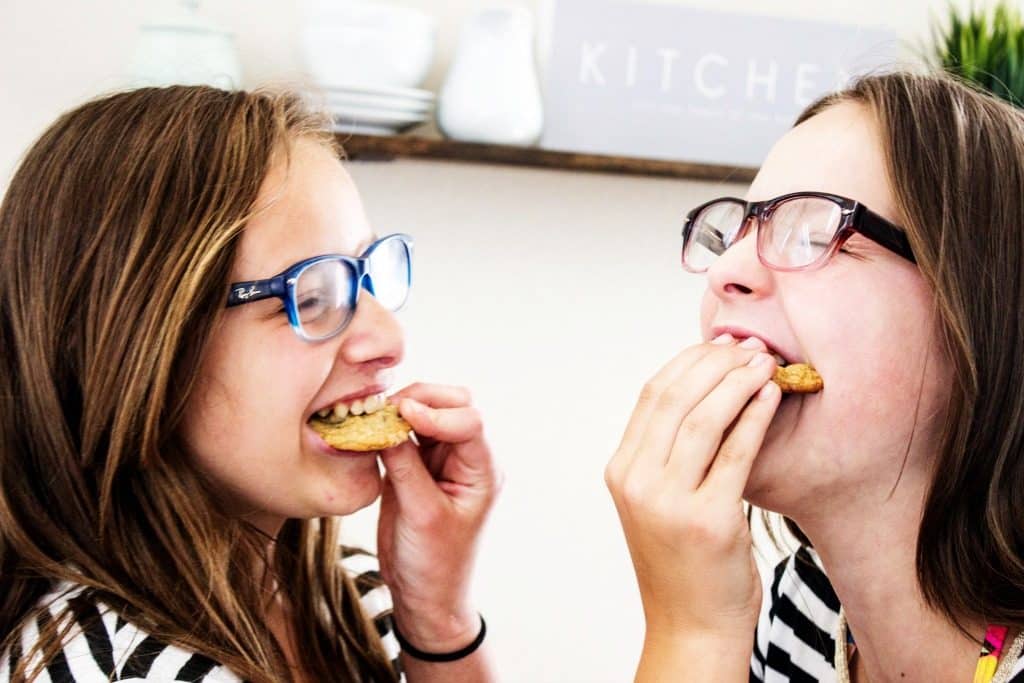 These two, Taundra and Kaiya – are best friends. When they asked if they could post the cookies on IG and write the caption, I said yes. This is what they came up with "when life hands you cookies you always have to take them because you they are from the heart." I love this oh so much! Because it is true for me. I show people I love them with food and it is completely obvious that the girls know this because they wanted to cook in my kitchen, with me and make something to put on my blog. They know I love them and I do. XOXO San
Don't forget to pin this Classic Chocolate Chip Cookie Recipe to your favorite Pinterest board for later.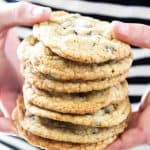 Print Recipe
Classic Chocolate Chip Cookie Recipe
Ingredients
2 1/4

cups

all-purpose flour

1

teaspoon

baking soda

1

teaspoon

salt

1

cup

butter

softened to room temp

3/4

cup

white granulated sugar

3/4

cup

brown sugar

2

teaspoons

vanilla extract

2

large eggs

12-

ounce

package semi-sweet chocolate chips
Instructions
Preheat oven to 375 degrees.

In a small mixing bowl combine flour, salt and baking soda. Stir together and set aside.

In a large mixing bowl and using an electric beaters or a stand mixer beat together butter, sugar and brown sugar until light and creamy. Beat in vanilla and eggs.

Stir in flour mixture into sugar mixture, add in chocolate chips and combine.

Drop 12 - tablespoons rounds of cookie dough on your baking sheet. We used a cookie dough scooper.

Bake for 9-11 minutes. Remove from oven and cool on cooking rack for 3-4 minutes. Remove and devour or you can save for later but I doubt they make it that long.
Nutrition
Calories:
1195
kcal
|
Carbohydrates:
141
g
|
Protein:
12
g
|
Fat:
65
g
|
Saturated Fat:
38
g
|
Cholesterol:
167
mg
|
Sodium:
1050
mg
|
Potassium:
525
mg
|
Fiber:
6
g
|
Sugar:
87
g
|
Vitamin A:
1265
IU
|
Calcium:
99
mg
|
Iron:
7.5
mg

Save