Copycat Starbucks Chocolate Chip Cookies – Classic chocolate chip cookies with crisp buttery edges, chewy center, and dark chocolate chips.
I love Starbucks chocolate chip cookies and I have always wanted to know what made these different than other chocolate chip cookies. Today I am sharing Starbucks' secret… shhh. Friends, they use whole wheat & white flour!
Who knew, right? And despite the fact of the whole wheat flour, my kids still loved these. A win for me! So pour a cup of milk or grab your favorite Starbucks drink, because you will want to sit down and savor every bite of these crispy buttery cookies.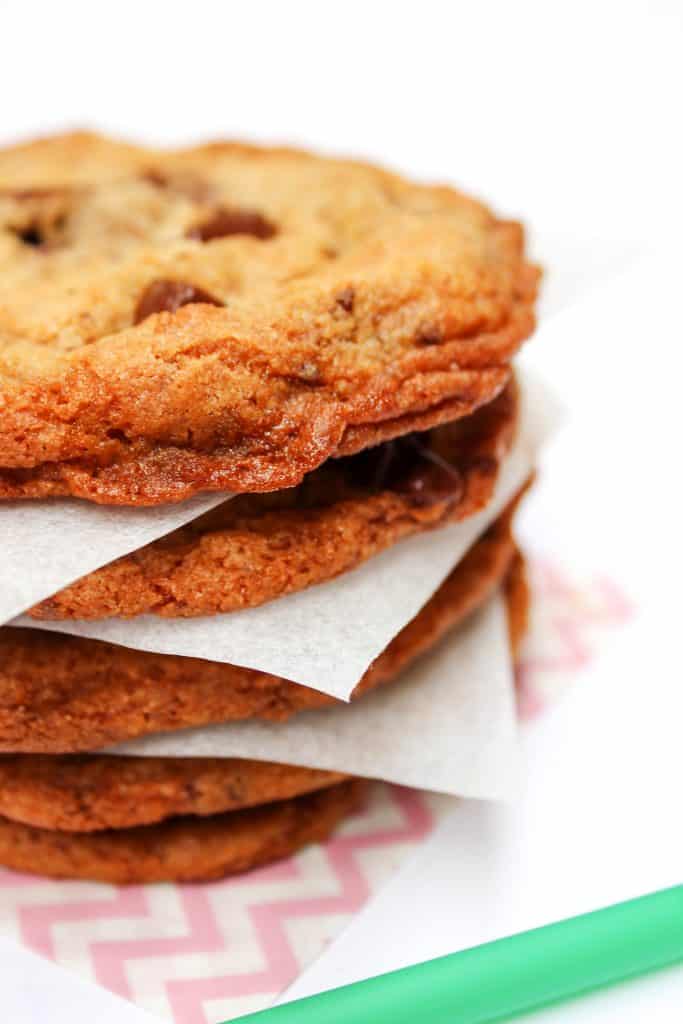 I pretty much will take a cookie over a cupcake any day. I make cookies at least once a week, just kidding, err, not kidding. If I miss a week, my kids notice and think that I am sick or something.
The truth be told I actually make cookies because of the cookie dough, I love cookie dough. My favorite cookie dough is from my Best Ever Monster Cookies recipe, seriously I would eat the entire batch if I could without making myself sick.
I made some Chocolate Chip Cookie Dough Bites and this paused me making cookies for a bit.  Just a bit though.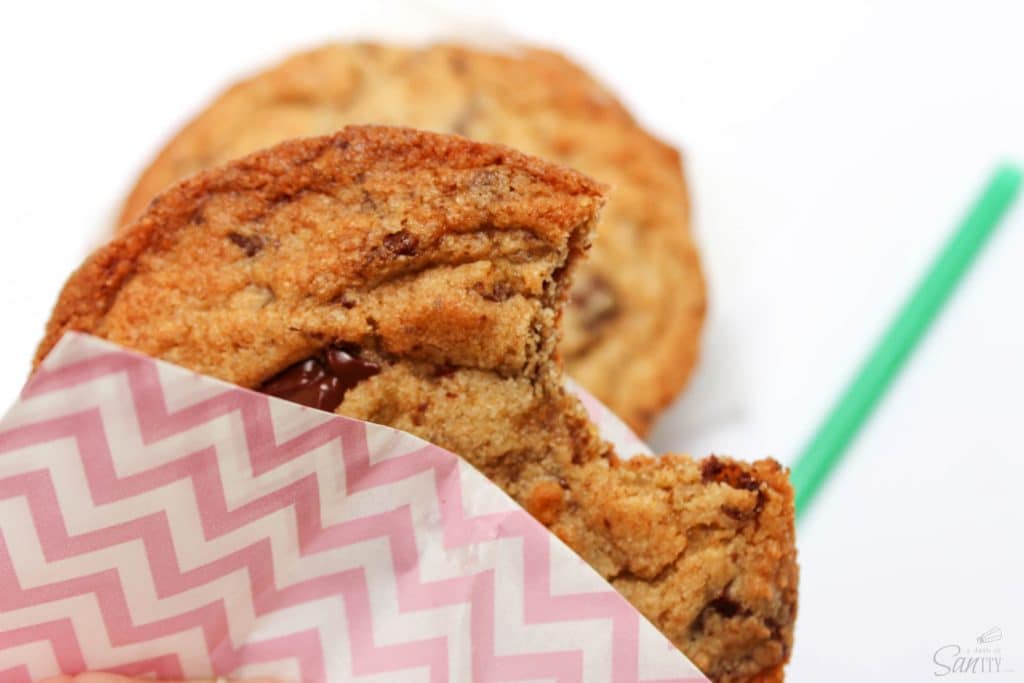 These Copycat Starbucks Chocolate Chip Cookies became my to-go-to comfort food 2 years ago while we were in the process of selling the home most of our babies were born in and building a new home to create even more amazing memories.
If someone ever tells you that getting a home ready to list and sell with 5 little kids under the age of 11 is easy, well then they are crazy. It is insanely hard to keep everything clean and organized. We were lucky in the fact that our home sold very quickly, almost too quick to where our new home wasn't ready.
My parents were very accommodating and let us move in with them. All 5 kids, Jake and I, our dog, Bruiser, a turtle, and a guinea pig.  Eventually, the guinea pig was rehomed due to the smell and size of the room the girls were in. I thought Jojo would have a hard time with it, but our guinea pig wasn't the most loving, so it was easier for her than I thought it would be.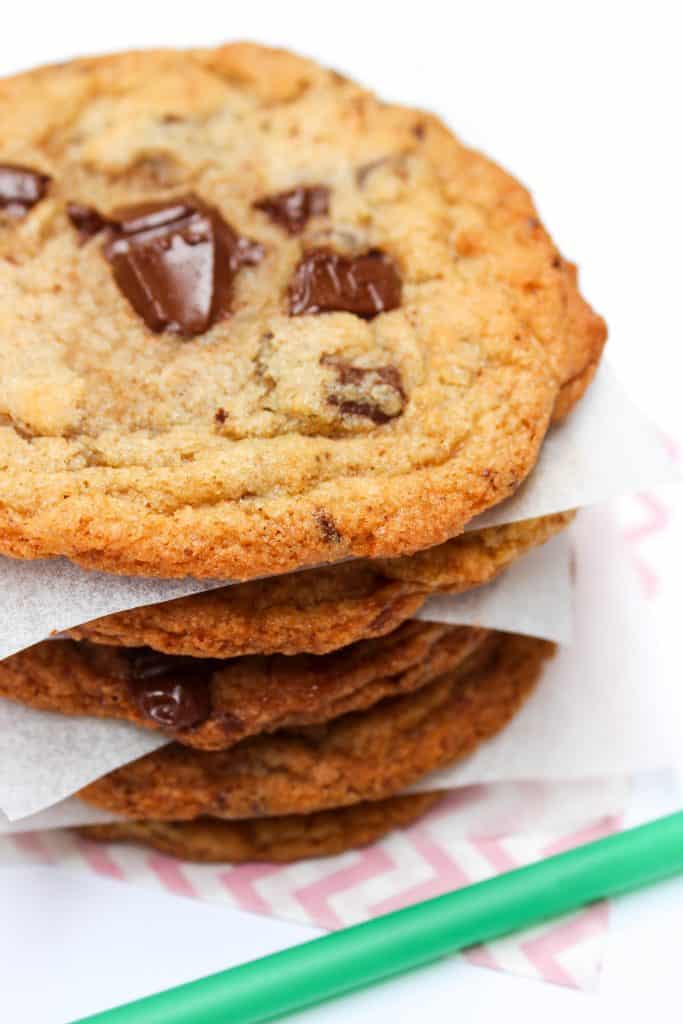 When we originally moved in with my parents we thought it was only to be a few short months and it turned into 10! Yes, 10 months. Luckily it went so well and my parents were amazing. But with all the stress I began to stress eat, my comfort. And these cookies were easy to make, irresistible and comforting. I now only make this recipe Copycat Starbucks Chocolate Chip Cookies every other month or so but I enjoy them every time I do.
What I love most about these Copycat Starbucks Chocolate Chip Cookies is that I can make the entire batch for the same cost of buying 2 cookies at Starbucks. Saving money, baking deliciousness, and creating smiles. Enjoy this recipe friends, we sure do. XOXO San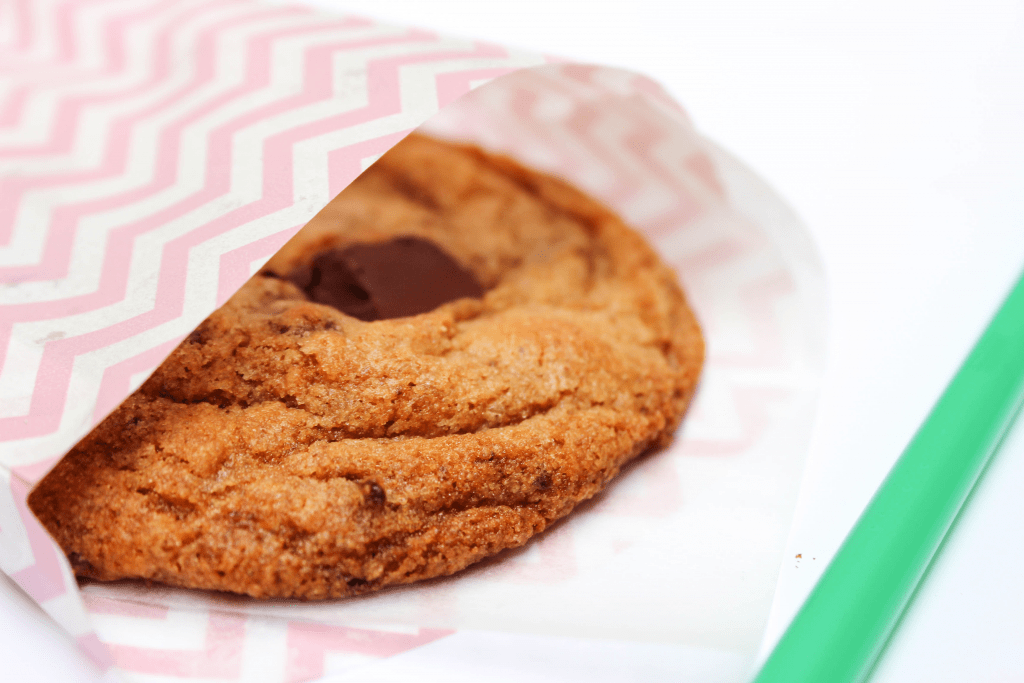 Pin this recipe for Copycat Starbucks Chocolate Chip Cookies to your favorite Pinterest board for later.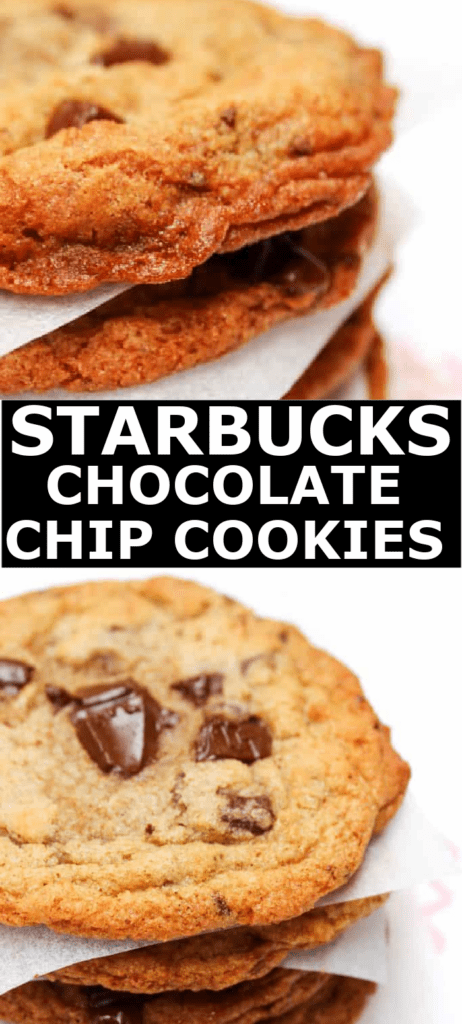 Love Copycat Starbucks recipes?
Be sure to check out these delicious mouthwatering treats that are just like the ones you love at your favorite coffee place. Copycat Starbucks Michigan Cherry Oat Bars, Copycat Starbucks Devil's Food Donuts, Copycat Starbucks Flourless Chocolate Cookies, Copycat Starbucks Blueberry Muffins, and Starbucks Lemon Loaf Copycat.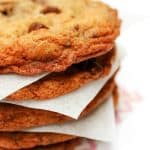 Print Recipe
Copycat Starbucks Chocolate Chip Cookies
Copycat Starbucks Chocolate Chip Cookies - Classic chocolate chip cookies with crisp buttery edges, chewy center and dark chocolate chips.
Ingredients
1

cup

butter

softened

1

cup

sugar

1

cup

brown sugar

2

eggs

1

teaspoon

vanilla

1

cup

whole wheat flour

1 ½

cup

all-purpose flour

1

teaspoon

baking soda

1

teaspoon

baking powder

1 3/4

cups

dark chocolate chips
Instructions
In a large mixer, I used my KitchenAid, cream together the butter, sugar and brown sugar until light and fluffy.

Mix in the vanilla and eggs.

In a small bowl stir together all of the dry ingredients; whole wheat flour, all-purpose flour baking soda and baking powder.

Gently mix in the dry ingredients to the wet ingredients, making sure to mix well.

Stir in 1 ½ cups of the chocolate chunks.

Scoop dough with a 1/3 cup measuring cup. Divide the 1/3 cup of dough in half, roll each half into balls, and place on the cookie sheet. Press in a few of the remaining chocolate chunks into the dough. Repeat with remaining dough and chocolate chunks, placing 6 cookies per sheet.

Bake for 8-10 minutes or until edges are a golden brown. Remove from oven and place on a wire rack to cool. Enjoy!
Nutrition
Calories:
257
kcal
|
Carbohydrates:
34
g
|
Protein:
3
g
|
Fat:
12
g
|
Saturated Fat:
8
g
|
Cholesterol:
34
mg
|
Sodium:
135
mg
|
Potassium:
145
mg
|
Fiber:
1
g
|
Sugar:
21
g
|
Vitamin A:
255
IU
|
Vitamin C:
0.1
mg
|
Calcium:
62
mg
|
Iron:
0.8
mg
This post was recently updated from its original posting date of August 2015.

Save