This recipe for Crock Pot Ham is my favorite holiday dish – it's delicious! Serve it up sliced and enjoy a classic on this special day.
This Crock Pot Ham recipe is my favorite because it only requires a few ingredients and can be prepared in 10 minutes. Plus, after just a couple of hours cook time, you'll have the most delicious holiday dinner ever!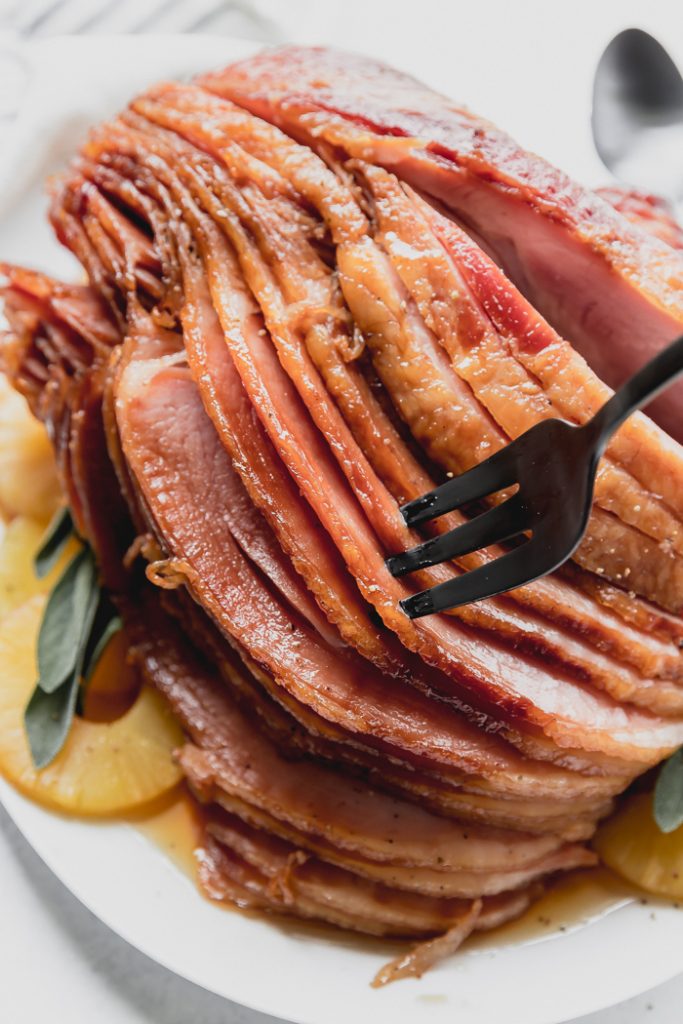 Coated with brown sugar and maple syrup, forget the seasoning packages that come with the ham, toss it, and coat it up with sugar and a little more sugar, and you have holiday ham perfection.
I've overcooked ham before. It was three Thanksgivings ago and I was following the directions on the sauce package without checking the temperature or monitoring it closely. Big mistake.
As much as we all love ham, it's very easy to overcook it. This happens especially during the holidays when no one wants a dry and wrinkled piece of meat. Am I right?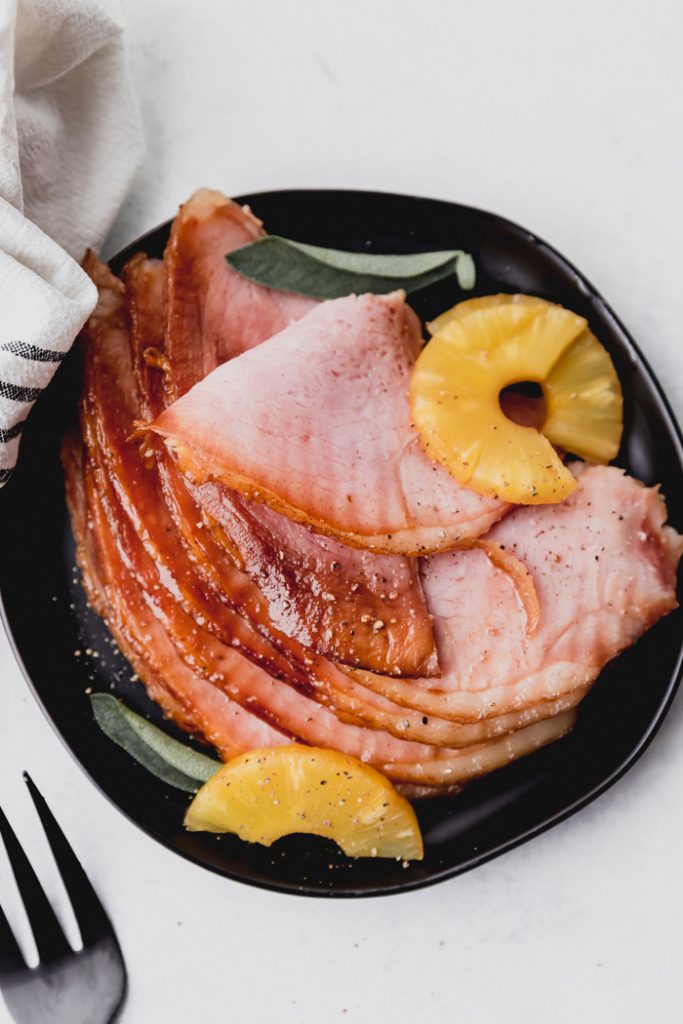 So let's start with the basics of cooking ham and pork overall.
As a visual person, let me share with you how easy it is to know how your pork should be cooked and look like depending on how you like it. And, friends, just like beef the cooking temperature varies depending on the cut of the pig. So let's talk about that too.
What Temperature to Cook Pork?
Medium-Rare: 145 – 150°F
Medium: 150 -155°F – this is how we prefer it cooked
Medium-Well: 155-160°F
Well: 160°F – how my mom cooked it.
160°+ how my grandma cooked it; remember those good ole' Bake N' Shake recipes? My grandma and mom made them crispy and tender.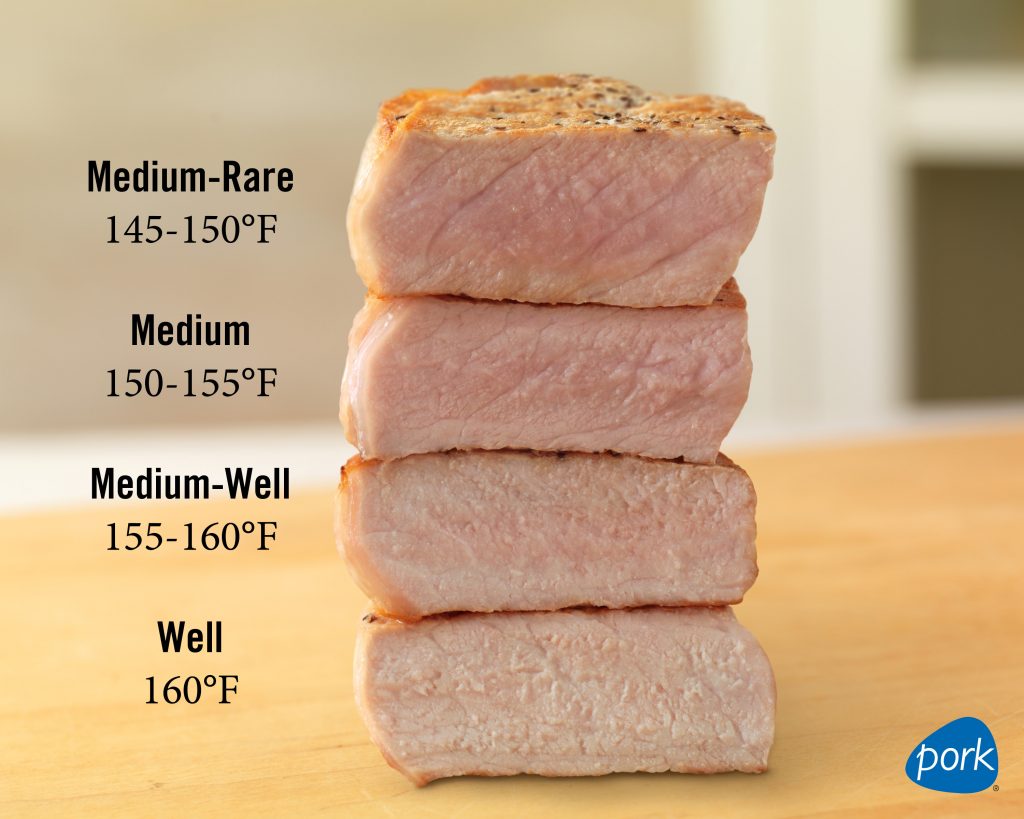 Pork Cooking Temperatures for Various Cuts
Pork Loin/Tenderloin: 145 – 160°F
Pork Chop: 145 – 160°F
Ham: 140°F
Ribs: Until tender
Ground Pork: 160°F
Pork Shoulder: Until tender
Cutlets: Until tender
What does tender mean when cooking meat?
When cooking meat and it says to cook until tender, it means that it is done when you can easily pull it apart with a fork or knife, meaning very little resistance.
It should cut like butter meaning smooth and easy. You should be able to easily tear a piece away from the rest of the meat.
So while the cooking temperatures are fantastic, you cannot measure the cooking temperature of ham by using your eyes. Trust me, I know this to be accurate. You need to use a meat thermometer. You need one friend to get a juicy, tender ham for the holidays.
So hop on Amazon and buy a meat thermometer and let me walk you through how to use one. It will take all the guesswork out of making a delicious, juicy ham every time.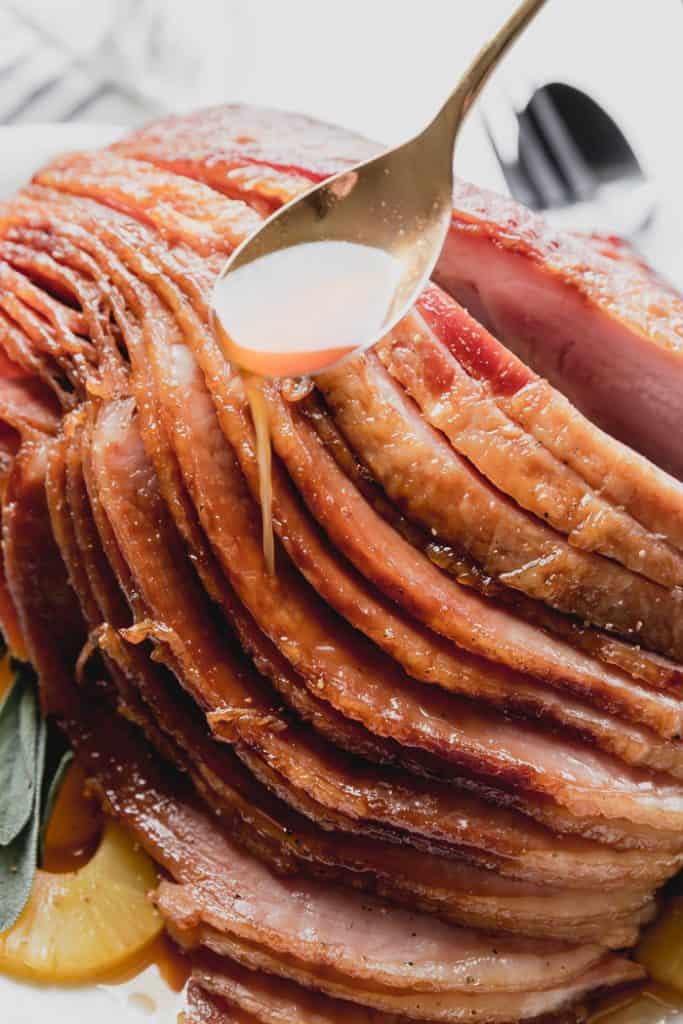 How to Use a Meat Thermometer
Insert the thermometer into the thickest part of the meat, making sure not to touch any bone. I like to use an instant-read thermometer because the temperature should register within a few seconds.
Make sure not to leave your instant-read thermometer in the meat while cooking, use it to check the temperature periodically while cooking.
If you want to leave it in the thermometer while cooking, make sure to buy one designed for that. My oven came with a probe that measures the meat while cooking, but I prefer to use my instant-read thermometer.
Your ham should have directions on what temperature to cook it to, but I cook mine to 145° and then allow it to rest for 3-5 minutes before slicing.
These are the basics, but you can get more tips on using your meat thermometer here.
Easy Holiday Ham Recipe
This Crock Pot Ham recipe will become a tradition in your household. It's the perfect addition to any holiday table, and you'll never have to worry about overcooked ham again.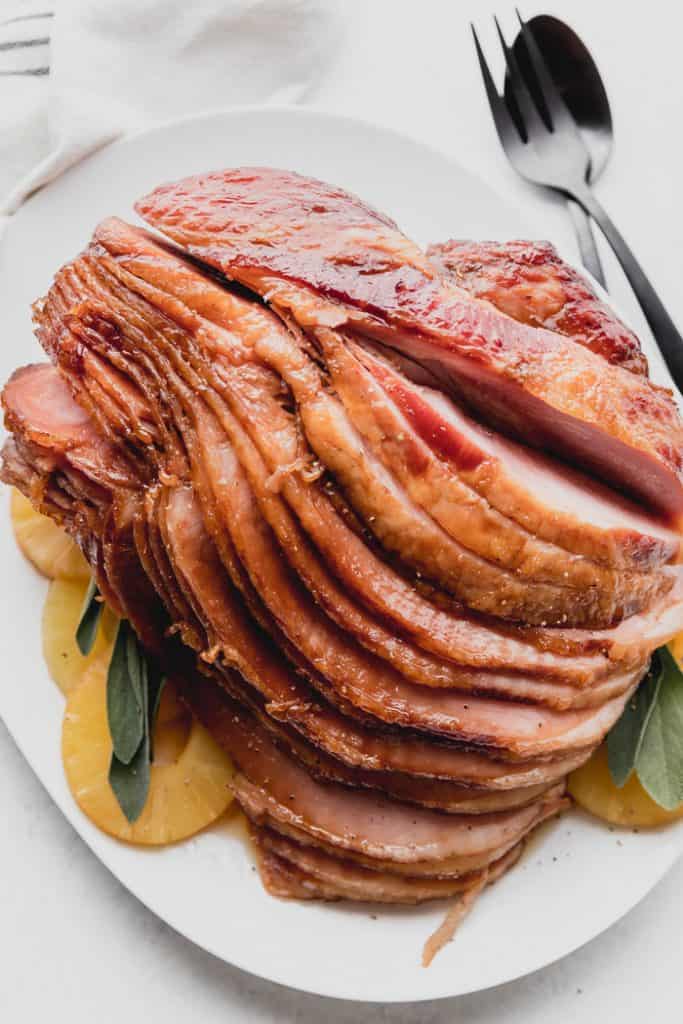 Ingredients
Spiral-Cut Ham
Brown sugar
Maple syrup
Pineapple juice
How to Make Ham in a Crock Pot
Take the ham out of its packaging and discard the flavoring packet that comes with it – you won't need it.
Place the crock pot on a flat surface and sit down. Make sure that it is at least 7 quarts so that you have enough space to work with.
Rub the brown sugar into the top and sides of the meat, then pour over the maple syrup and pineapple juice.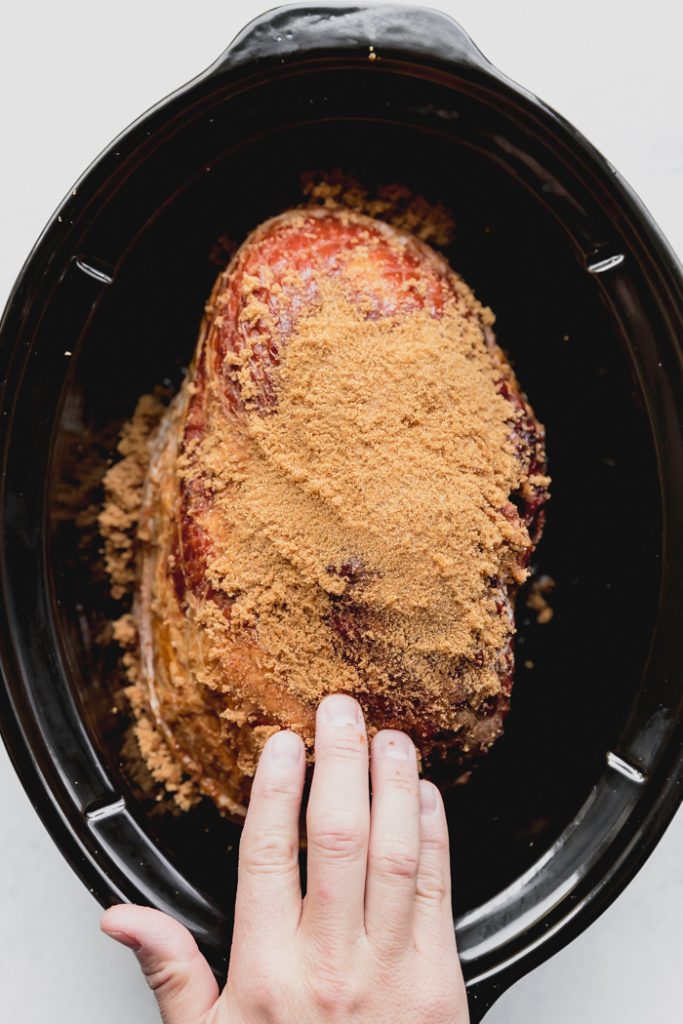 Set your crockpot to low heat, put the lid on, and let cook for 2-3 hours.
I advise checking the temperature after two hours. Once it reaches 140°F on low heat, pour juices from the can over the meat, add pineapple slices or chunks, and cook for an additional 30 minutes until the ham is 145° F.
Remove it from slow cooker, let it rest for 3-5 minutes then slice and serve!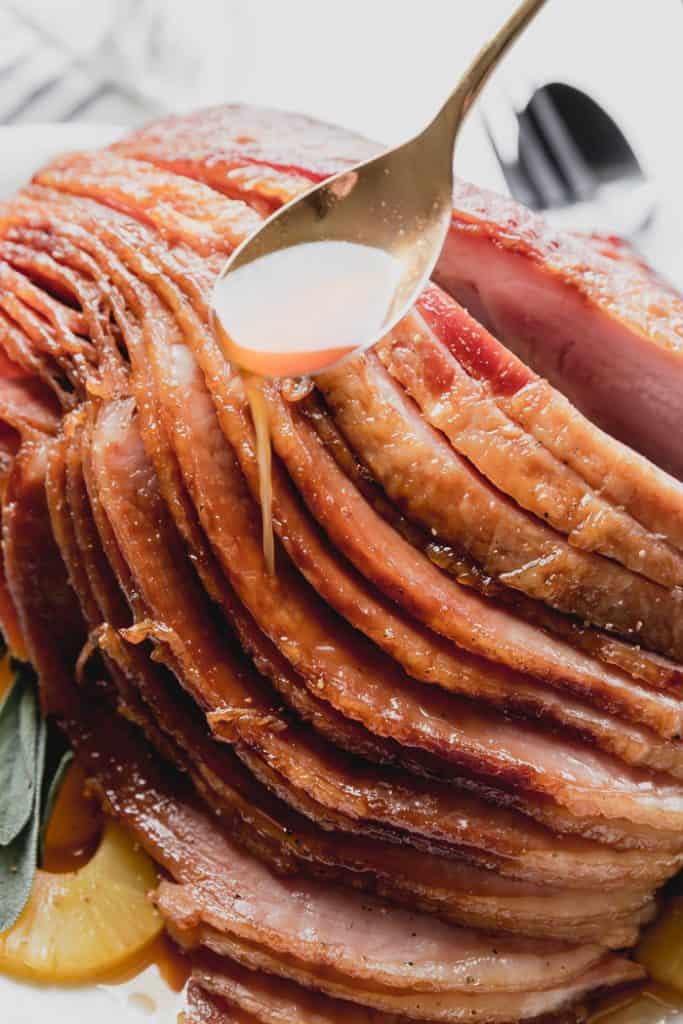 What to serve with Ham
Sweet Dinner Rolls – Dinner rolls have never tasted so sweet, soft, and light. Add them to any meal for a touch of perfection.
Best Mashed Potatoes – This easy mashed potato recipe yields the creamiest, most flavorful mashed potatoes you'll ever make.
Oven Roasted Garlic Asparagus – You can easily roast garlic asparagus in less than 20 minutes with this delicious recipe!
Baked Mac and Cheese – This recipe for Baked Mac and Cheese is easy to follow and delicious. It's a staple at our holiday gatherings, where it's always a hit with young and old alike.
Don't forget to pin this recipe to your favorite Pinterest board for later.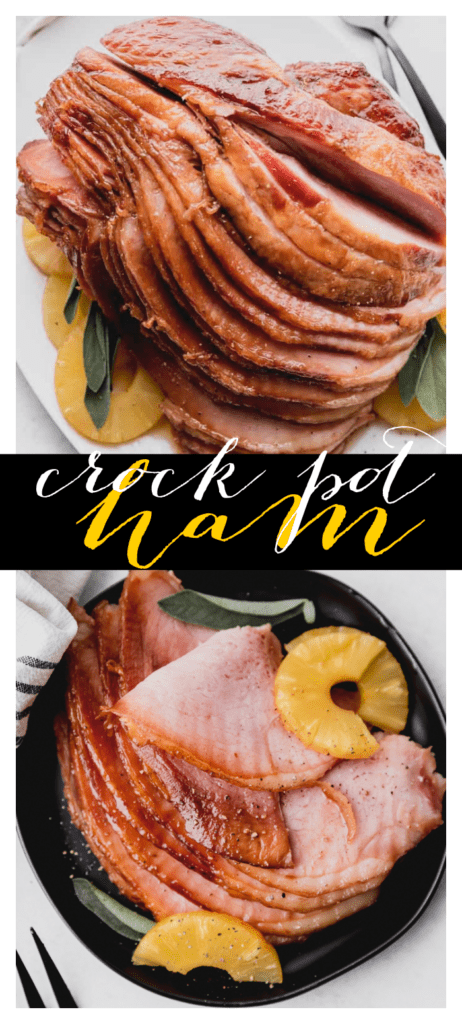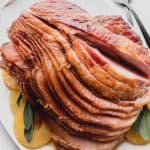 Print Recipe
Crock Pot Ham
My favorite way to make a holiday ham is in the crock pot. It comes out juicy and tender every time! It has a simple brown-sugar pineapple glaze that is simple to make for an effortless holiday ham.
Ingredients
8-10

lbs.

spiral-cut ham

1 1/2

cups

brown sugar

1

cup

maple syrup

1

cup

pineapple juice

place pineapple chunks or slices around the ham, last 30 minutes
Instructions
Remove ham from its packaging. Discard flavoring package if it comes with one, you don't need it.

Place ham flat-sit down in a 7+ quart crock pot/slow cooker.

Rub and press in the brown sugar all of the top and side of the ham.

Then pour the maple syrup and pineapple juice over the top of the ham.

Turn on the crock pot to low, place lid on and cook for 2-3 hour. I suggest checking the temperature at 2 hours. Once it has reached 140° F hours on low heat spoon juices over the ham, add pineapple slices or chunks from the can and cook on low for an additional 30 minutes or until ham reaches 145° F.

Remove ham from slow cooker, let it rest for 3-5 minutes then slice and serve!
Nutrition
Calories:
187
kcal
|
Carbohydrates:
47
g
|
Sodium:
10
mg
|
Potassium:
122
mg
|
Sugar:
44
g
|
Vitamin C:
2
mg
|
Calcium:
55
mg
|
Iron:
0.3
mg

Save