With just a few wholesome ingredients you can make delicious overnight oats for easy on-the-go breakfasts during the week.
These easy overnight oats are the best breakfast for busy weekday mornings. I'm showing you how to make basic overnight oats that you can dress up with your favorite toppings like fruit, granola, and cereal.
This no-cook breakfast can be made ahead and keeps well for up to five days. Make a batch and say good-bye to weekday morning stress!
As much as I would love for my family to sit and enjoy breakfast together every day of the week, I live in the real world where school, work, and weekday morning busyness is just a fact of life.
So, we can't always gather together at the table, but I still want to make my family a wholesome breakfast that will start their day off right.
Hello, easy overnight oats.
An Easy Make-Ahead No-Cook Breakfast
If you've never tried them, overnight oats are just what they sound like – oatmeal that you assemble ahead with a few simple ingredients and then refrigerate overnight.
The next day, the oats will have absorbed the milk so they are nice and soft. Add your favorite toppings like fruit and granola and breakfast is ready in no time at all.
There are lots of ways to make them and my family loves overnight oats with yogurt. Open Nature Icelandic Style Nonfat Yogurt is our favorite and the vanilla flavor is perfect with the oatmeal. I stock up on it every week at our local Safeway store so we always have it on hand for breakfast and easy snacks.
How to Make Overnight Oats
What I love about this recipe is that you can prep a batch ahead of time – I usually do this on Sunday nights – and divide it into individual containers.
They will keep for up to five days in the refrigerator making it an easy breakfast for everyone to help themselves to. It's portable, easy, and delicious.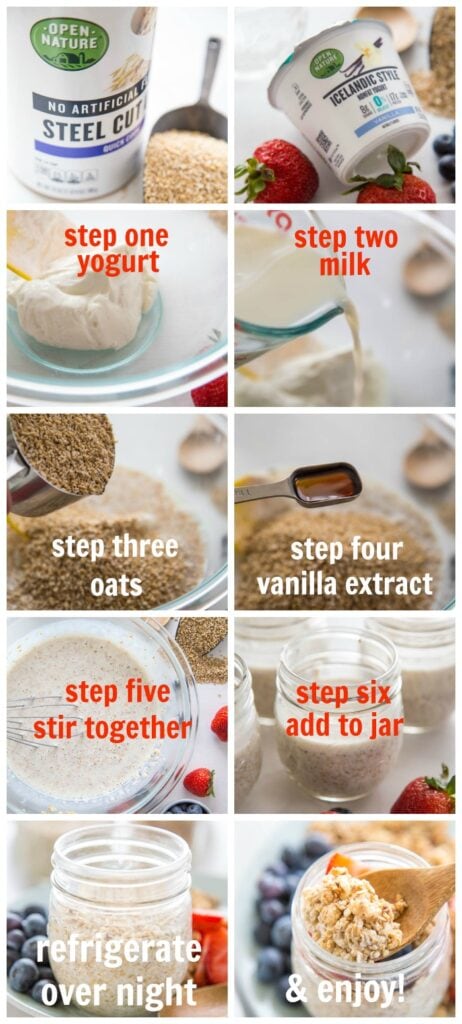 Start by adding the yogurt to a large bowl followed by the oats.
I like to add some vanilla extract, but you can also use almond extract.
Add milk and stir well to combine. I prefer to use skim milk, but you can use your favorite including non-dairy milk.
Spoon the mixture into mason jars or small single-serving containers. I like to portion it out to make it really easy for the kids to grab one for themselves.
The oats need at least four hours in the fridge but it's best to let them sit overnight. The milk and yogurt will soften the oats so they are nice and creamy the next day.
Variations
The nice thing about overnight oats is that you don't have to spend time warming them up the next day. The are meant to be enjoyed cold.
You can eat them plain, but adding toppings makes them even better. Fresh fruit, granola, and crunchy cereal are just some of the options.
We love to make a strawberries and cream overnight oats with fresh strawberries and Open Nature Granola with a dollop of vanilla yogurt and toasted coconut on top.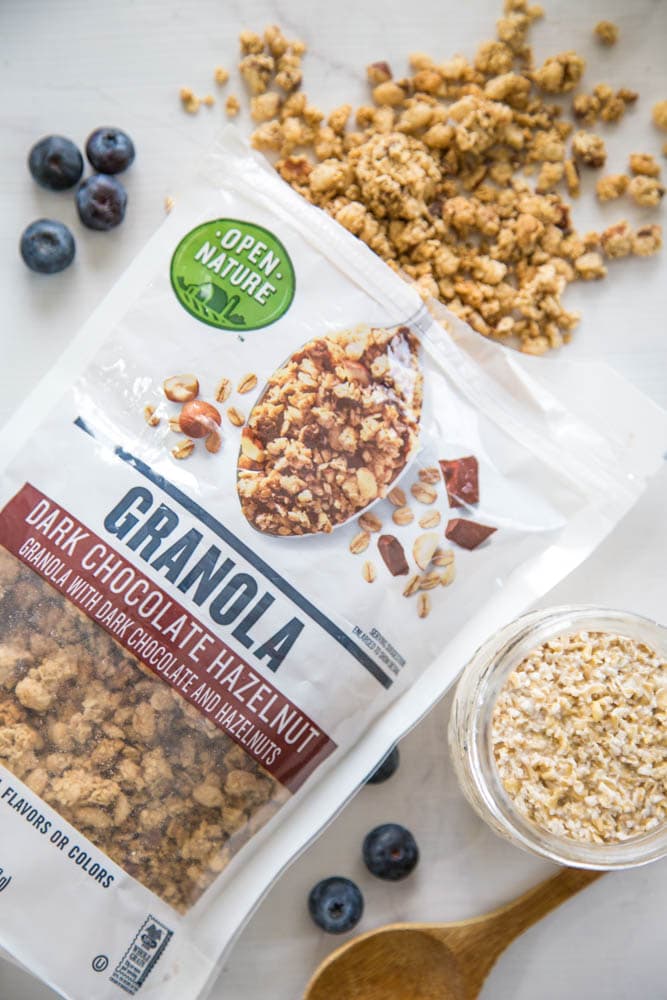 Another twist we love is blueberry crisp overnight oats. Sweet and creamy oats paired with crunchy cereal and fresh berries are a delicious combination, too.
For the cereal, I absolutely love Open Nature Pecans & Maple Syrup Flakes & Clusters. It's lightly sweet, crunchy and perfect with the oats.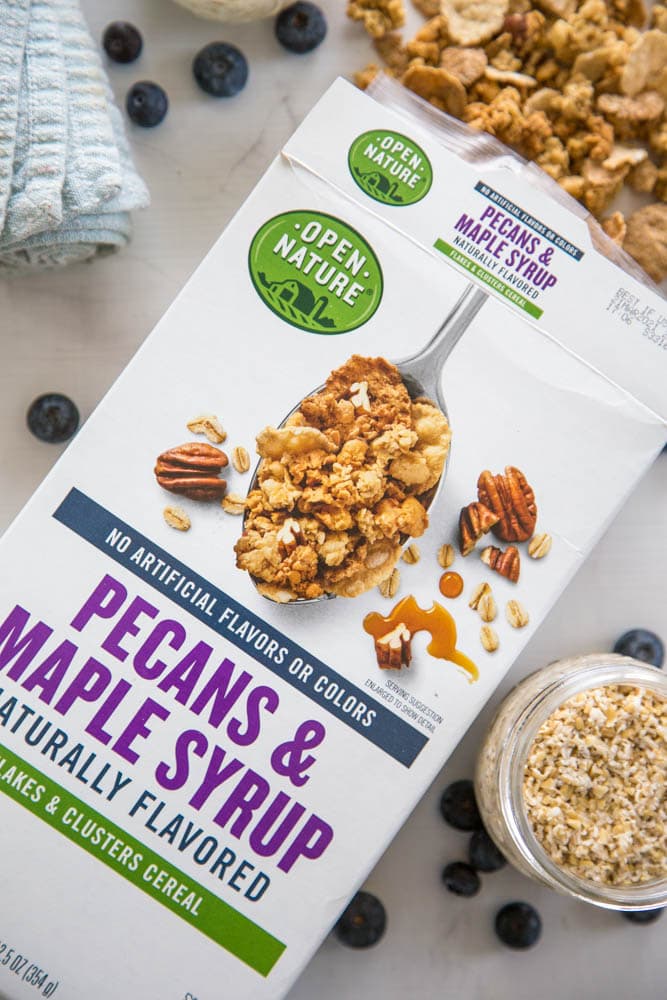 I love that in about 15 minutes I can have breakfast prepped and ready for my family. My kids love picking out their own toppings and making each serving their own! Not to mention that eating oats for breakfast is a great way to fuel the start of your day – they are filling, healthy, and delicious!
This is a breakfast you need to try – I know you will love how easy it is! Once you know how to make basic overnight oats the flavor combinations are endless.
Enjoy! XOXO San
Don't forget to pin this to your favorite Pinterest board for later.
More Easy Breakfast Recipes
Print Recipe
Easy Overnight Oats
Overnight oats with yogurt is an easy make-ahead breakfast that is perfect for busy weekday mornings. You can make a big batch and keep them in the refrigerator for up to five days. Top each serving with fresh fruit, crunchy cereal or granola for a filling and delicious breakfast.
Ingredients
2

cups plus 2 tablespoons

old fashioned oats

1 1/3

cups

skim milk

5

ounces

Open Nature Icelandic-Style Nonfat Vanilla Yogurt

1 1/4

teaspoon

vanilla extract

(see note)

1

pinch

ground cinnamon

optional
Instructions
Combine all of the ingredients in a large bowl. Divide the mixture evenly among mason jars or other containers with lids (about 1/2 cup each).

Cover and refrigerate the overnight oats for at least four hours, ideally overnight for best results. They will keep well for up to five days in the refrigerator.

For serving, top with fresh fruit and Open Nature Pecans & Maple Syrup Flakes & Clusters Cereal.
Notes
You can substitute the vanilla extract for maple or almond extract to change the flavor.
The nutrition estimate does not include toppings.
Nutrition
Serving:
1
container
|
Calories:
229
kcal
|
Carbohydrates:
40
g
|
Protein:
10
g
|
Fat:
3
g
|
Saturated Fat:
1
g
|
Cholesterol:
2
mg
|
Sodium:
58
mg
|
Potassium:
352
mg
|
Fiber:
4
g
|
Sugar:
11
g
|
Vitamin A:
167
IU
|
Vitamin C:
1
mg
|
Calcium:
176
mg
|
Iron:
2
mg

Save