These Easy School Lunch Ideas are all kid-approved. In fact, your kids can even help put these combinations together. Simple, easy & delicious.
With the help of Dino Buddies, your kids will not only have a nutritious lunch to eat, but also a fun one!
I love all things back-to-school. Don't get me wrong, the kids going back always tugs on my mama heartstrings, but with 5 kids, I love having a routine. Even though our routine is a busy one between Jojo's dance, Cannon's football, Madden and Aiden's cross country and Jersey's volleyball, it is one I thrive in. We all do.

Really, the only thing that's hard for me going back to school – besides the fact I'm getting older – is lunch and dinner time. If I don't plan and prep, then we eat out or grab the cereal box.
So, I love planning and preparing ahead, ensuring my kids are getting meals that give them the fuel they require. Dinner comes easy to me; it's lunch that always has me stumped. Then this year, I came up with meal prep boxes that have Cannon's favorite chicken – Dino Buddies. The combinations are endless. Not only did he love these lunch ideas, so did Jersey, and of course my nieces and nephews. Jojo even loved a chicken salad, so another mom-win over here.
And guess what? Yummy Dino Buddies come in a variety of kid-approved shapes:
Dinosaur-Shaped Chicken Breast Nuggets
Alphabet-Shaped Chicken Breast Nuggets
Chicken Breast Mini Nuggets
Chicken Breast Mini Fries
There are a few staples I use to make Easy School Lunch Ideas. 
First, I always have Dino Buddies. Why? Well, my kids have loved them since preschool. Even my middle schoolers don't mind them.  Today after school, Jojo grabbed one of the lunches out of the fridge and ate just the Dino Buddies out of it… busted! Besides the fact it is still a win for all ages, I love that they are packed with protein and Omega-3. Like a traditional nugget, they are boneless, skinless white chicken breast meat nuggets. They are lightly breaded – not overly done, allowing you to taste the quality.
Second, I always make sure to have their favorite fruits and veggies available so I know they won't have an issue picking them. Cannon always wants strawberries & peaches, Jersey always wants broccoli and Madden, if he has to eat a vegetable, will choose a salad with ranch.
Last, while I'd love to stick in a cookie or two, they typically get those when they get home. We love homemade peanut butter, chocolate chip or monster cookies. All three rotate as a staple in our home during the school year.
Check out how to make lunchtime easy with Dino Buddies. Remember to pick up Dino Buddies at your local grocer – just use the product finder on their site to find where they are sold closest to you!
Check out how easy these lunch ideas are to make.
Step 1
Prep all of the ingredient options you want to give the kids for lunch – everything from fruits, vegetables, cheese, crackers, Dino Buddies and anything else you want to leave as an option.
Prep ranges from rinsing fruits and vegetables, cooking the Dino Buddies or choice protein, cutting up cheese sticks and slicing up anything. Once you have prepared all the options, place them in separate bowls, making it easy for kids to see their options.
I used Tupperware that I could easily seal up with a lid afterward with any extras.
School Lunch Preparation Tips
When packing sauces in the lunch box, make sure to either put them on the side or eat those lunches first. You don't want sauce making the noodles nasty or having the pasta go bad.
Put condiments in a separate container, so they don't run all over everything.
Step 2
Get out all of the lunch containers you will use. I love using reusable ones that my kids can use in the microwave. That way, if they want to heat up their nuggets the next day, that can easily be done.
Step 3
Assemble the table with ingredients & food containers/lunchboxes.
Step 4
Bring in the kids, making sure each child washes their hands beforehand, helping to prevent those back-to-school germs.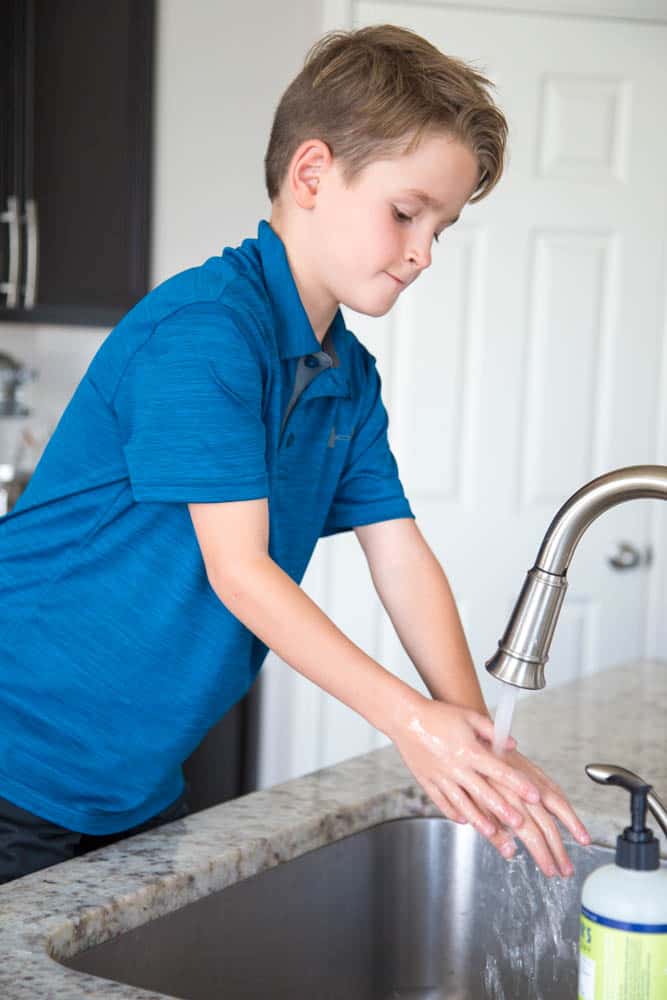 Step 5
Show the kids how to put a lunch together, making sure to show a spot for the protein – Dino Buddies, vegetables & fruits, crackers or roll, and cheese if desired. Some of my kids love ketchup, barbeque sauce or ranch, so I have little containers they can pack these in.
Step 6
Let the kids create their favorite combinations.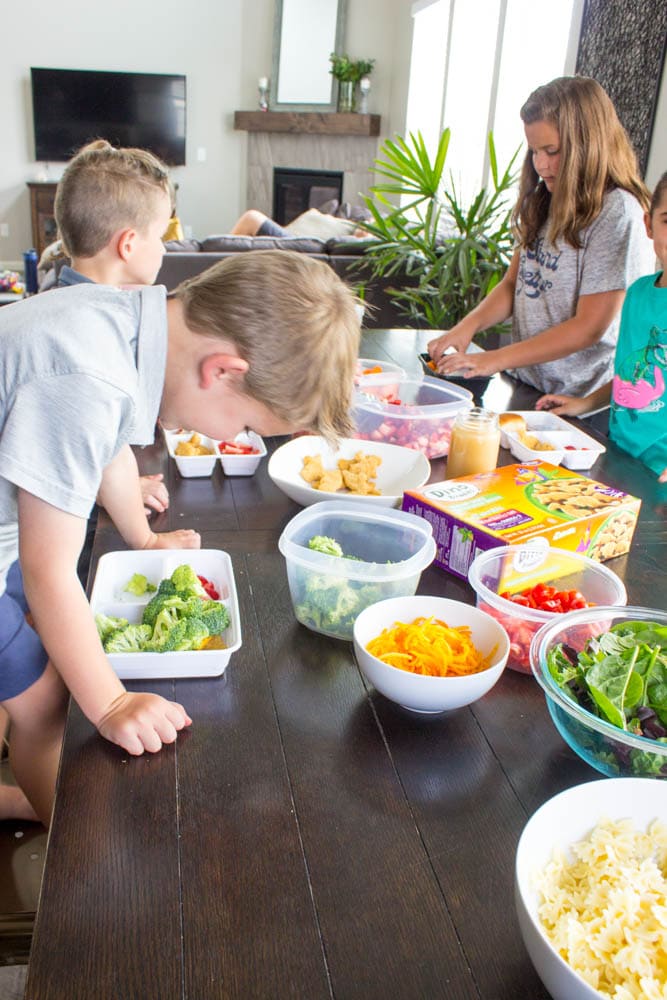 Step 7
Seal up lunchboxes and/or containers and place in the fridge. If needed, you can have the kids label them, but if your kids are like mine, they know which is theirs. It's like they have some sort of radar or alarm if someone even thinks about touching their lunch.
Step 8
The next day, grab the lunch and go. These are even fantastic for dinner on the run on those busy sports or activity nights.
Below are a few ideas to get you started, but remember the possibilities are endless! Make them your own and share in the comments below what your favorite Easy School Lunch Ideas combinations are.
Combination 1 – Easy Chicken Parm
4-5 Dino Buddies prepared and cooked, Bow Tie pasta, marinara sauce & fresh broccoli.
Combination 2 – Chicken Sandwiches
4 Dino Buddies prepared and cooked, quartered strawberries, fresh broccoli stems, 3-4 slices cheddar cheese and roll or naan.
Combination 3 – Pesto Chicken Pasta
4-5 Dino Buddies prepared and cooked, Bow Tie pasta mixed with pesto & fresh greens.
Combination 4 – BBQ Chicken Sandwiches
4 Dino Buddies prepared and cooked, cheddar cheese, roll, BBQ sauce, and fresh broccoli stems and carrot sticks. 
Combination 5 – Chicken Salad
Spring Mix with fresh tomatoes, carrots and broccoli, topped with  4-5 Dino Buddies prepared and cooked with a side of ranch.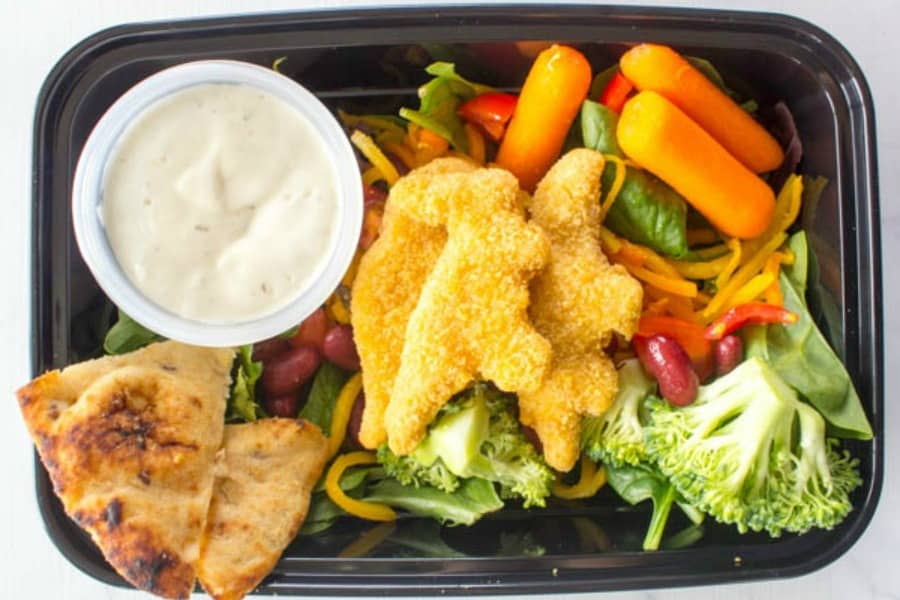 Don't forget to pin these EASY SCHOOL LUNCH IDEAS to your favorite Pinterest board for later.

Easy School Lunch Ideas
These Easy School Lunch Ideas are all kid-approved. In fact, your kids can even help put these combinations together. Simple, easy & delicious.
Ingredients
25

Yummy Dino Buddies

1 1/4

cups

fresh vegetables

1 1/4

cups

fresh fruit

1 1/4

cups

crackers

5

cheese sticks

5

tablespoons

dipping sauce: ketchup, ranch or bbq sauce
Instructions
Bake Dino Buddies according to package directions.

Prepare fruits & vegetables by washing, cutting into slices.

Grab lunch boxes, and divide out each serving as follows:

5 Yummy Dino Buddies

1/4 cup fresh vegetables

1/4 cup fresh fruit
1/4 cup crackers/chips


1 tablespoon of dipping sauce: ketchup, ranch or bbq sauce

Seal lunch boxes and place in fridge until you're ready to pack your lunch!

I get my containers off of Amazon, they are microwaveable for the kids that want to heat up their lunch.
Tried this recipe?
Let us know what you think!