It was an unbelievable experience to partner with Princess Cruises for this post. All opinions expressed are my own.
Foodie Tour: Ruby Princess – Highlighting all the must-haves, to-go-to's and places that can't be missed.
I recently spent a week onboard the Princess Ruby for a luxurious Mexican Riveria Cruise. It was enchanting, relaxing and a perfect mini-get-away. Eating, drinking and visiting with some friends always fills the tank.
Today I am not going to focus on the sandy beaches, endless drinks, and the gorgeous ship. Instead, I am taking you on a Foodie Tour. Sharing all my favorite food highlights from the Ruby Princess. This tour will make you drool and envy every Ruby Princess traveler.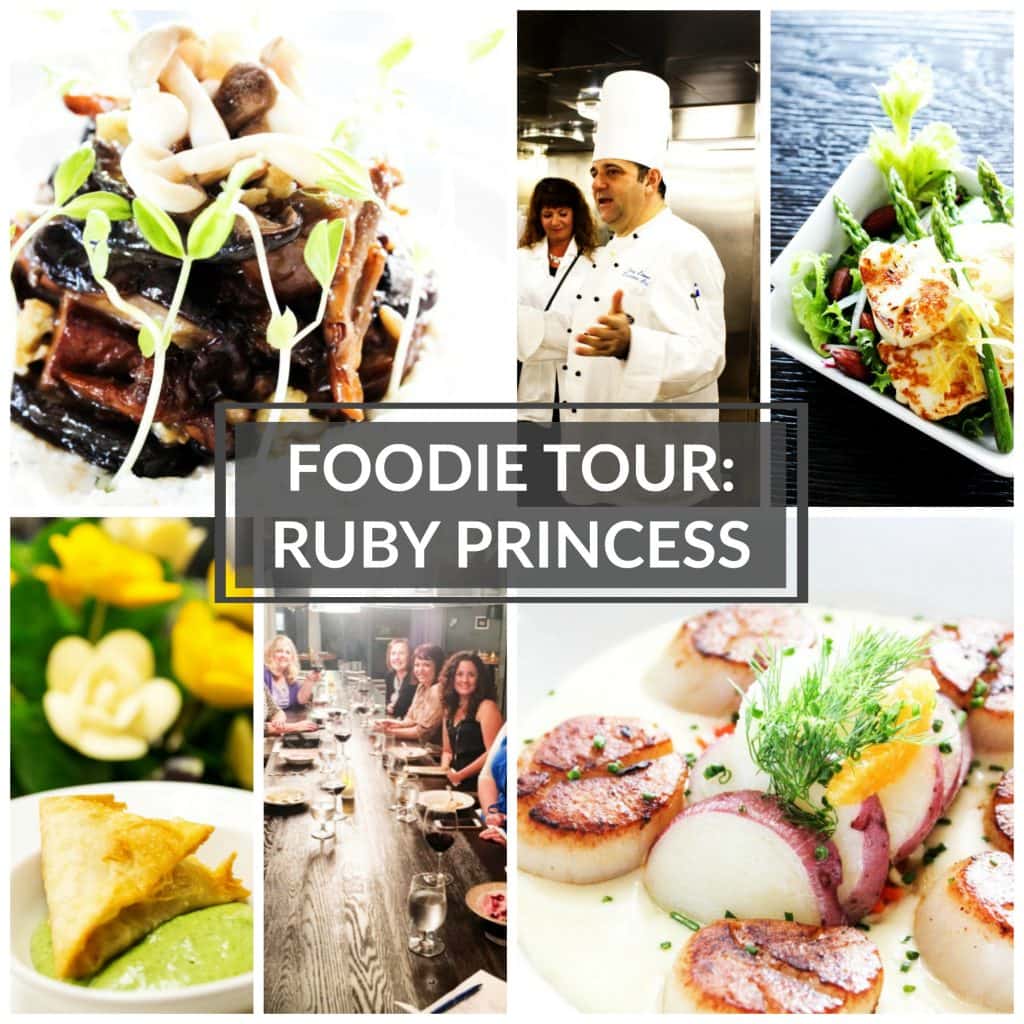 Don't forget to pin this to your favorite Pinterest board for later.
THE "FAVORITE" THE SALTY DOG GASTROPUB
The Salty Dog was my personal favorite on the Ruby Princess. All because of one thing CHEESE. Cheese fondue, fried cheese, cheese on salad, cheese dip, cheese, cheese, and MORE cheese. I am drooling just thinking about the fondue and the beauty of a salad below. While I normally wouldn't order something like salad at a pub, I had a bite of a friend's and had to have it. Not only did I eat this right off her plate, but I ordered 2 more! For me to repeat, you know it had to be good.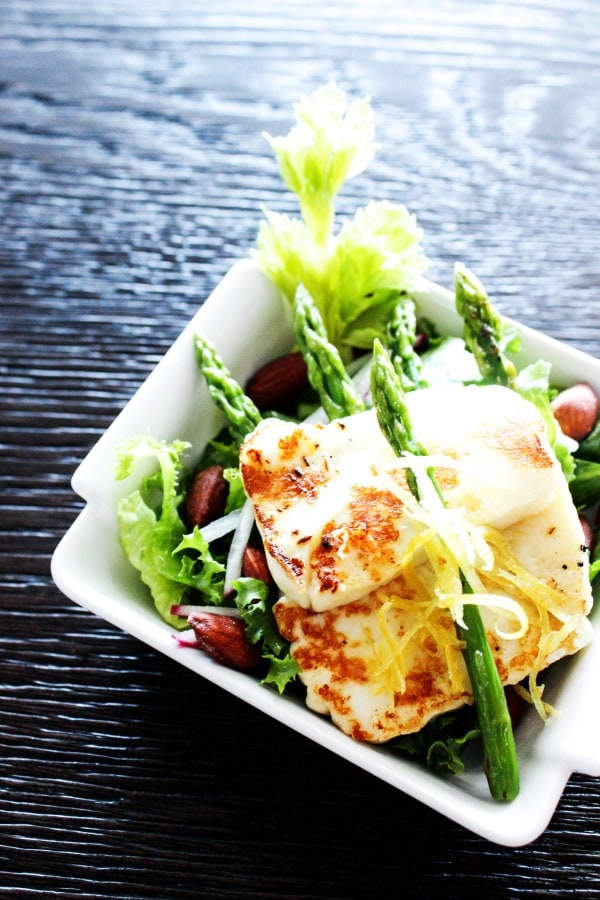 My husband was super jealous before I even left, because the first thing he did was Google the menus of the restaurants on the Ruby Princess. This burger caught his eye.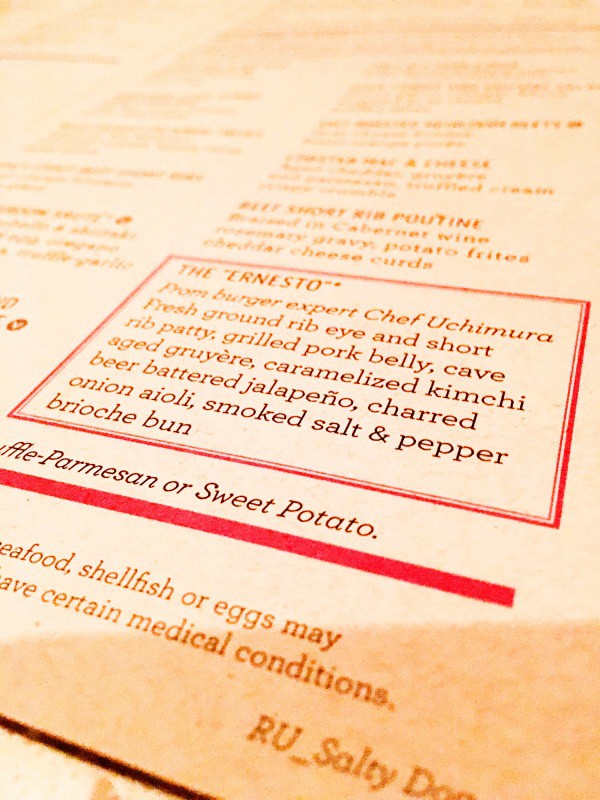 Of course I ordered it! And while it was amazing, their Beer Cheese Fondue poured all over it took it over the top to the status of my favorite all-time burger. When you go, you need to order this burger with a side of their Beer Cheese Fondue and then before your first bite pour the fondue right on top of the burger patty, top with bun and immediately devour.
The Salty Dog pretty much offers a gourmet twist on your classic pub food. I loved the sweet potato fries and the dessert was divine. The atmosphere was fun too – live music at night and closet bar top tables. It made it more intimate than your standard pub making it easy for your group to visit.
"DATE NIGHT" SHARE BY CURTIS STONE
Share by Curtis Stone was just stunning. When I first walked in I felt like I had stepped off the cruise ship and into a big fancy eatery in NYC. Loved all the light fixtures, dark tones, and clean lines. I was excited the instant I walked in, knowing I would love whatever I had.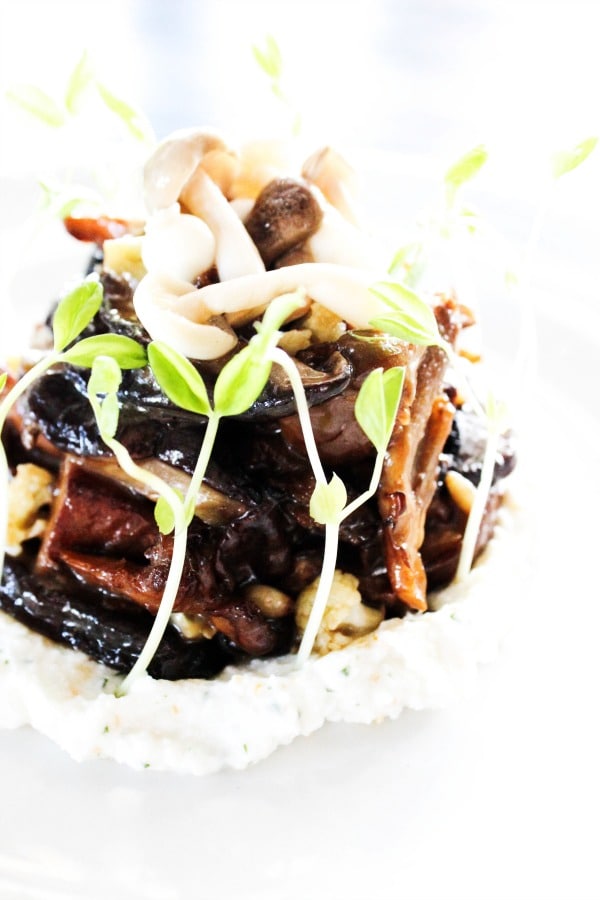 The dishes were elegant and modern. The presentation was impeccable and I didn't want to even take a bite because I was afraid I would ruin it. But I did and devoured every dish from there on out.
Every dish has no complaints, well season, perfectly cooked and went beyond my expectations. This was the dinner we had on the cruise and set a high standard for the rest of the week.
I loved the layout of the restaurant. If you have a large group they have a separate room for you, kind seclusive and great for celebrating. Our group was so large we had to sit at two different tables. I love the table I was at. Dark wood, bar top height seating, and elegant fixtures. Modern, with rustic touches. Warm, classy and inviting. I would say this restaurant is great for a date-night (sans younger children) or fantastic for a large adult friend party.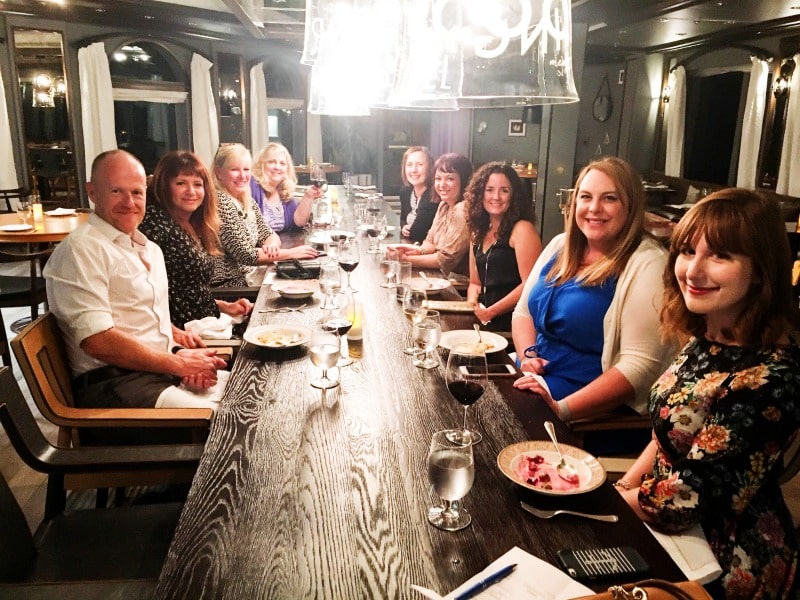 THE "CLASSIC" CROWN GRILL
The Crown Grill was awarded "Best Cruise Ship Steakhouses" by USA TODAY and I can understand why.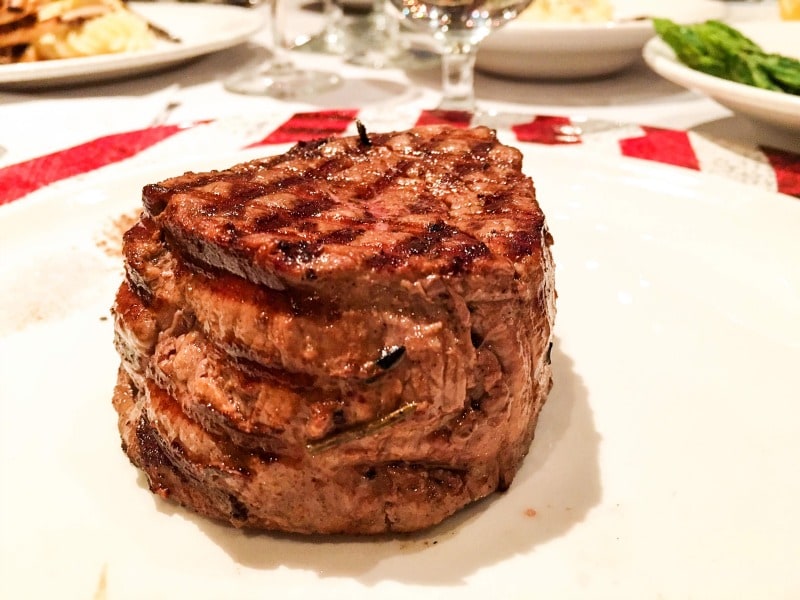 Sadly this was the last dinner I ate on the ship. Had I eaten there earlier in the week, I would have scheduled a reservation every night and maybe that is why they booked this the last night for us because they wanted me to try everything.
The food was top notch! Best steak I have had, for as long as I can remember and the Blue Cheese French Onion soup, well I loved it so much I came home and made it. The service was hands down the best on the ship. I felt like our waiter had been there for decades, but obviously he wasn't because he was so young. When I asked how long he had been there it was only like 2 months. I was shocked he knew all the ins and outs of the menu, had great suggestions and knew that each of us would want to try it all and made sure we did.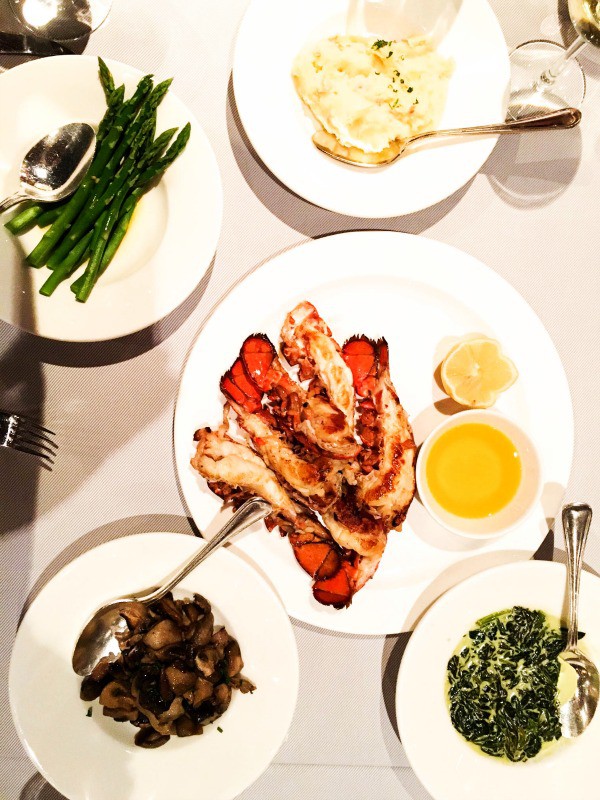 The dinner had less chat than all of the other meals because we all were so intent on eating, which is a very good sign.
THE "CHEF'S CHOICE" CHEF'S TABLE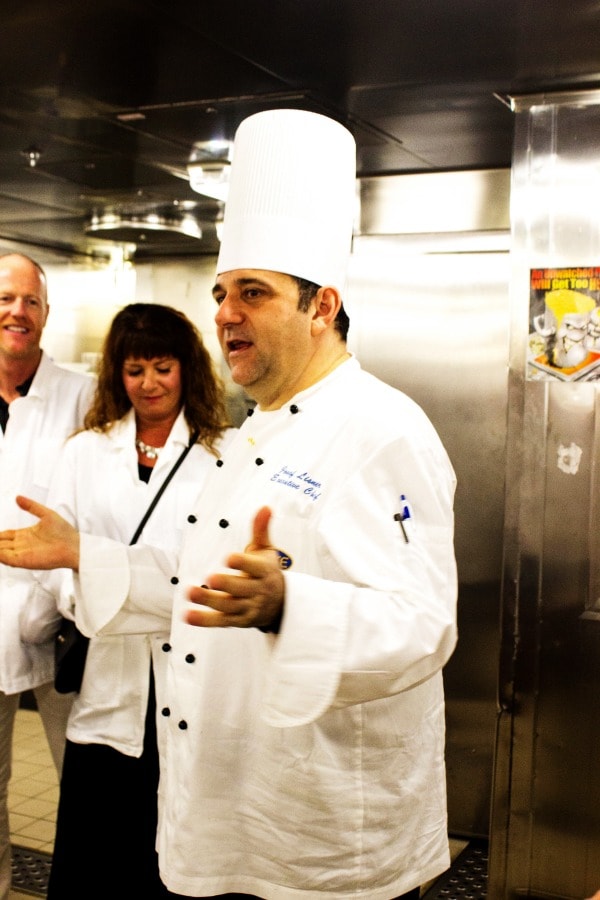 The Chef's Table is literally behind the scenes foodie novice tour. Not only do you get a behind the scenes look behind the entire kitchen and how it works. You get a personally crafted menu. From tapas, salads, main course, and dessert.
I literally thought this was a one-time thing just for us. That is how special they make you feel. If you decide that a tour like this is for you, then book before you board the cruise as this fills up quickly.
The adventure included many bites, this empanada one of my favorites. And of course, the extravagant chocolate dessert tray was to die for. If you are a foodie, then this tasting is for you. Plan for this to take 2-3 hours if you really want to enjoy it.
THE "MUST HAVE" INTERNATIONAL CAFE
I honestly cannot believe that I don't have a picture of the International Cafe since this is where I was every morning grabbing my favorite drink and pastries.
I loved that I got to know the crew here just like I know my Starbucks baristas. This was a saving grace to have no matter the time of the day. This is a "must-have" and I am not sure I would have made it the week without this safe haven.
What I did get a picture of is the amazing chocolate pastry. I may or may not have eaten 3 of these in one sitting.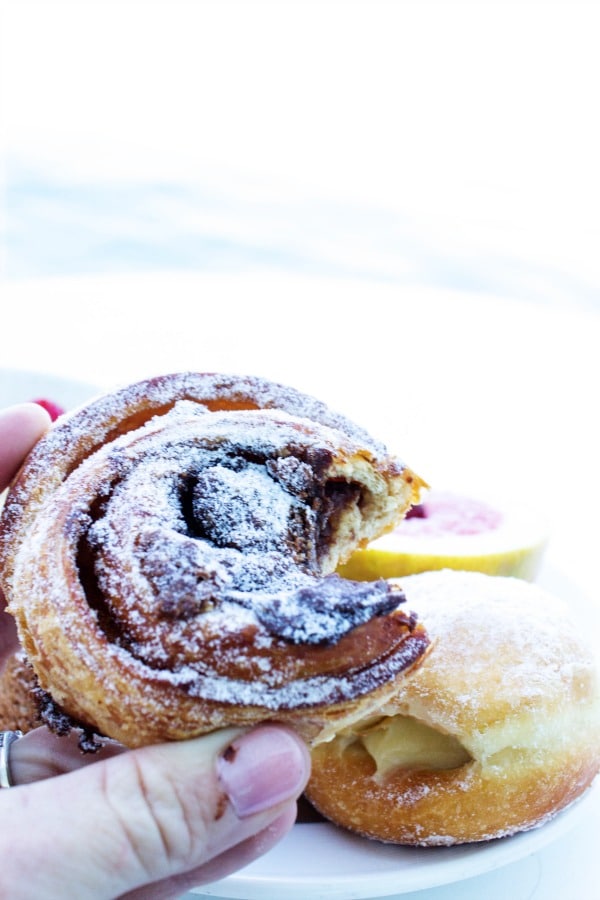 "LADIES NIGHT" VINES WINE BAR
This place was our nightly meeting place before dinner. We would meet up for drinks and a few rolls of sushi. Nothing to ruin dinner, just to get the night started.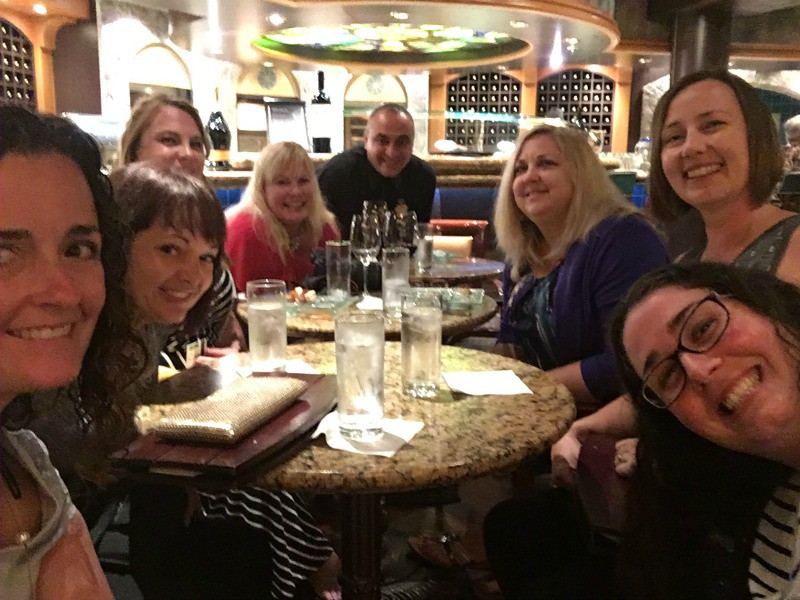 "GRAB & GO" PIZZERIA & ICE CREAM BAR
Who doesn't just love to bathe in the sun, soak in the pool all while eating an ice cream cone or pizza in hand? Well, I do. Soft serve ice cream is a weakness of mine and I know it – so I waited till the end of the cruise to check out the pizza and ice cream. Glad I did, because I went back once a day, well maybe twice one day, but I had missed breakfast.
The pizza was thin and lots of cheese and toppings, better than your typical take-out. The malt was the best at the ice cream parlor.

Save