German Chocolate Carrot Cake – Layers of carrot cake and cream cheese frosting; slathered in German chocolate frosting making it the best carrot cake ever.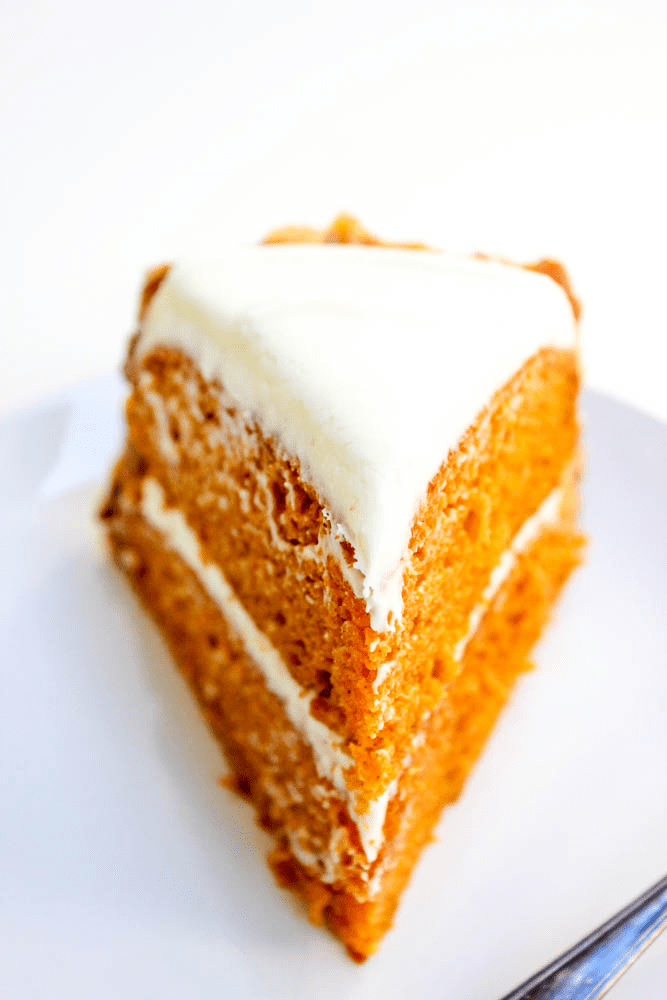 This may come as a surprise but my favorite cake is carrot cake, or I guess I should say it is a close race between my chocolate cake and then carrot cake. Then to follow up with that my favorite frosting is a tie between German Chocolate Frosting and Cream Cheese Frosting. So this GERMAN CHOCOLATE CARROT CAKE is a winning combination of them both.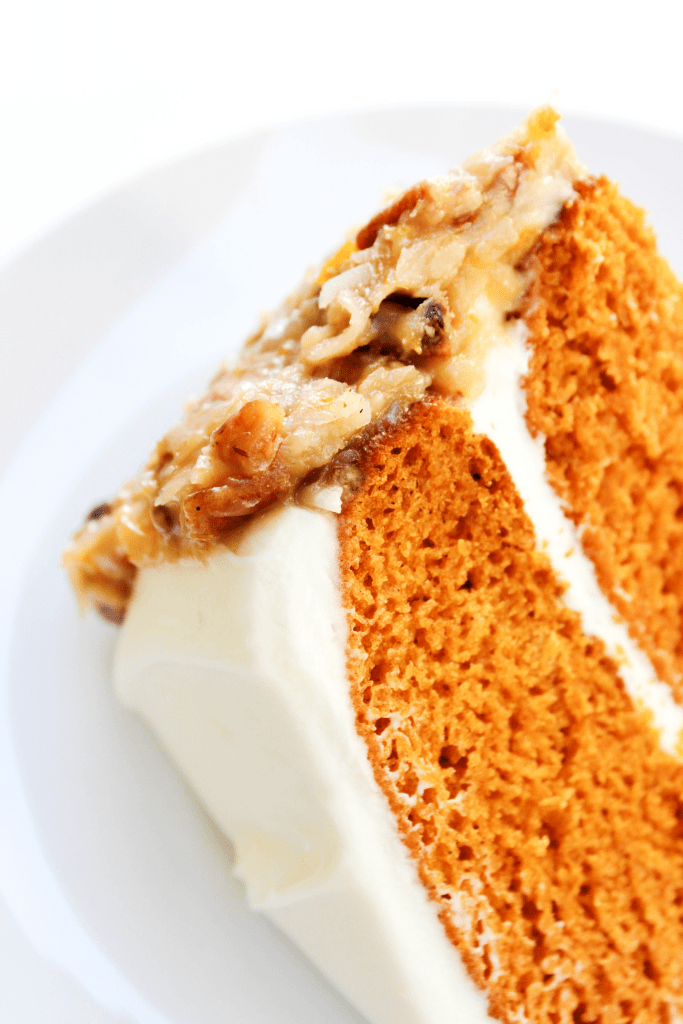 This cake is dedicated to two of my favorite cousins, Mindy and Amy. They are not only family but dear friends. Mindy lives in Utah with her hubby and two high-energy boys and while I don't get to see her all that often when we talk it is like I just saw her yesterday. She loves everyone she meets unconditionally and family is everything to her. Her hubby, Daniel's birthday was last week and he came up with the idea of this cake – I wouldn't have thought of this on my own, and honestly, when she told me about it I was a little hesitant. I am so glad I listened to her encouragement to make it because it is the bomb. The perfect cake for Easter.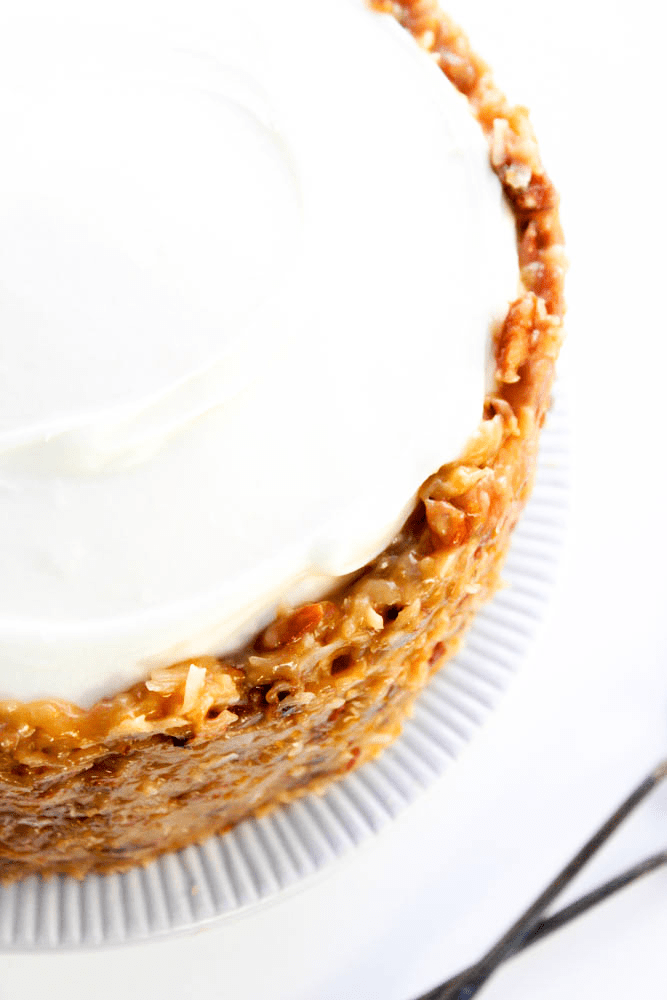 The carrot cake recipe is from my cousin Amy, aka baker and mom extraordinaire. You see being a McCollum genetically means you love two things: food and family. And therefore every get together is full of fun, laughter and lots and lots of food.
The first time I met Jake's family, I knew that regardless of where he ended up (even though I knew it would be marriage, he just didn't yet) I would always stay in touch with all of his cousins. But it was Amy who first smiled, hugged, and greeted me. She was an instant friend. She has the biggest heart and she makes the best food. And her carrot cake recipe was just a perfect match with the layers of cream cheese and German chocolate cake frosting.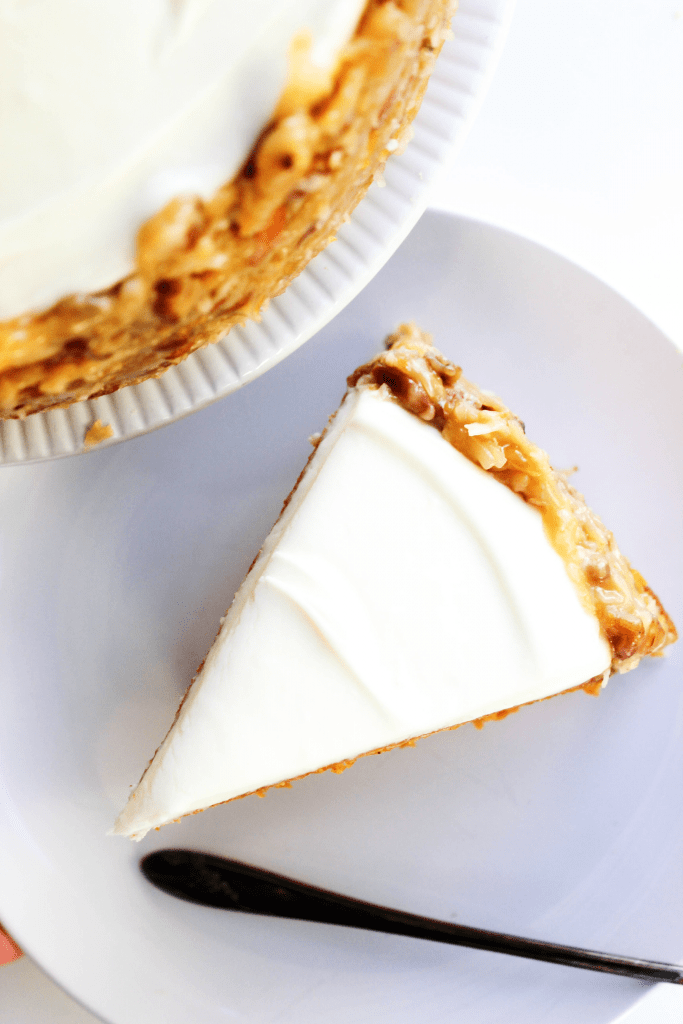 This German Chocolate Carrot Cake is delicious. I love that it combines two traditional favorites into one. Enjoy carrot cake with a twist, as cake has never tasted so good.
Don't forget to pin this recipe for German Chocolate Carrot Cake to your favorite Pinterest board for later.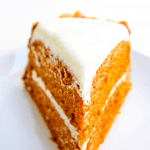 Print Recipe
German Chocolate Carrot Cake
German Chocolate Carrot Cake - Layers of carrot cake and cream cheese frosting; slathered in German chocolate frosting making it the best carrot cake ever.
Ingredients
Carrot Cake
32

ounces

carrot baby food

or 1 3/4 cup carrot puree. I use the baby food every time

2

large

eggs

1

cup

canola oil

2 1/4

cups

flour

1 1/2

cups

sugar

1

teaspoon

salt

1

teaspoon

baking soda

1

tablespoon

maple syrup

1/2

teaspoon

cinnamon
Coconut Pecan Frosting
1

cup

evaporated milk

1

cup

sugar

3

egg yolk, beaten with 1 teaspoon water

1/2

cup

butter

1

teaspoon

vanilla

1

cup

chopped pecans

1

cup

flaked coconut

1

tablespoon

cornstarch
Cream Cheese Frosting
1/2

cup

butter

softened

8

ounces

cream cheese

softened

4

cups

powdered sugar

1

tablespoon

milk
Instructions
Carrot Cake
Preheat oven to 350 degrees, gently spray 2 – 9 inch round baking pans with cooking oil and set aside.

Mix all of the ingredients listed above together until smooth and there are no chunks. Pour batter into the prepared pan, making sure to divide evenly.

Place in preheated oven and bake for 25 minutes. Remove from oven and place on cooling rack until completely cooled.

While the cake is cooling prepare frostings. Make German Chocolate Cake Frosting first, so that it has time to cool.
Coconut Pecan Frosting
In a large saucepan combine evaporated milk and cornstarch and mix; add in sugar, egg yolks, margarine and vanilla. Cook over low-medium heat until it reaches a slow boil. Stirring constantly until thick, about 12 minutes from when it starts to slowly boil. Remove from heat and stir in pecans and coconut, this frosting will thicken up as it cools. Let the frosting completely cool. I sit it out at room temp for about an hour, you can also place in the fridge after 30 minutes to help speed up the process.
Cream Cheese Frosting
In a large bowl, beat together the butter and cream cheese with an electric mixer. With the mixer on low speed, add the powdered sugar a cup at a time until smooth and creamy. Set in the refrigerator until ready to use.
Cake Instructions
Once cakes are completely cool, remove from pans. Place on cake on cake stand or serving plate.

Top with cream cheese frosting. Set in fridge 5-10 minutes to allow the cream cheese frosting to become cold so that when you add the next cake it won't come out the sides.

Add the second cake on top of the cream cheese frosting and frosting with cream cheese frosting.

Set in fridge again for 10 minutes.

Remove cake from fridge and frost the outside of the cake with one layer of German Chocolate Cake frosting. You will have a thin layer and that is perfect, set in the fridge to set frosting for 10 minutes. Remove from fridge and frosting again with German Chocolate Cake frosting, making a thick second coat. Set in the fridge to set again.

Remove from fridge and serve. If you are making this cake for a later time, make sure to remove from the fridge about 30 minutes before serving.
Notes
You don't have to set in the fridge between layering the frostings and cakes but I do just to help with the presentation of the cake. But if you are pressed for time, don't stress about it.
You may or may not use all of the frosting, I usually have a 1/3 – ½ cup of frosting left over for both the cream cheese and German Chocolate Cake frostings.
Total recipe time does not include time for cake to cool.
This post was recently updated from it's original posting date of February 2016.


Save