Planning your menu for a week-long houseboat excursion is no easy feat. So today, I am sharing all the tips, tricks, and even our fool-proof vacation meal planning menu to make your houseboating experience ideal.
This post is sponsored by Ibotta, but all thoughts and opinions are my own. All offers were valid as of the publishing date. Don't forget to check your app for details as offers change frequently and may not be available in all areas.
PLANNING AHEAD
Planning your vacation meal ideas ahead of time allows you to make an easy checklist of items you will need plus makes for additional savings. If you're like me, you may be planning vacation meals on a budget and stretching every dollar makes a big difference!
Here are a few things you will need to start out.
The number of people that will be on the houseboat – this allows you to easily multiply each menu so that you can make sure to have the correct number of ingredients for each meal.
Download the Ibotta App – this allows for easy and additional savings earning cash back while you are stocking up at the store and will even work on your road trip there and back.
Create a Google Sheet and give the adults in your party access to it – this allows you to essentially create a signup for each person or at least give them a view of what you will be packing.
CREATING A SIMPLIFIED MENU
Tip #1 – I think the biggest tip I can share for preparing and cooking in a houseboat would be to NOT use the oven at all and limit the use of the stove-top, ideally not using either.
They heat up the houseboat, which is already quite hot. In addition, if you have air conditioning, you can't run it at the hottest point of the day or it can ice over. So you will want to keep it as cool as possible all day long.
Tip #2 – Keep the shades drawn at all times on the sunny side of the boat.
Keeping this in mind, you need to stick to items that either require no cooking at all like easy meals you can throw together and assemble or meals you can partially prepare on a griddle or grill.
Below is a menu for one week on a houseboat. Note that there are days that reflect "on the road" – these are days that you are loading and unloading your houseboat. Therefore, grab something at the marina, gas station, or a local restaurant.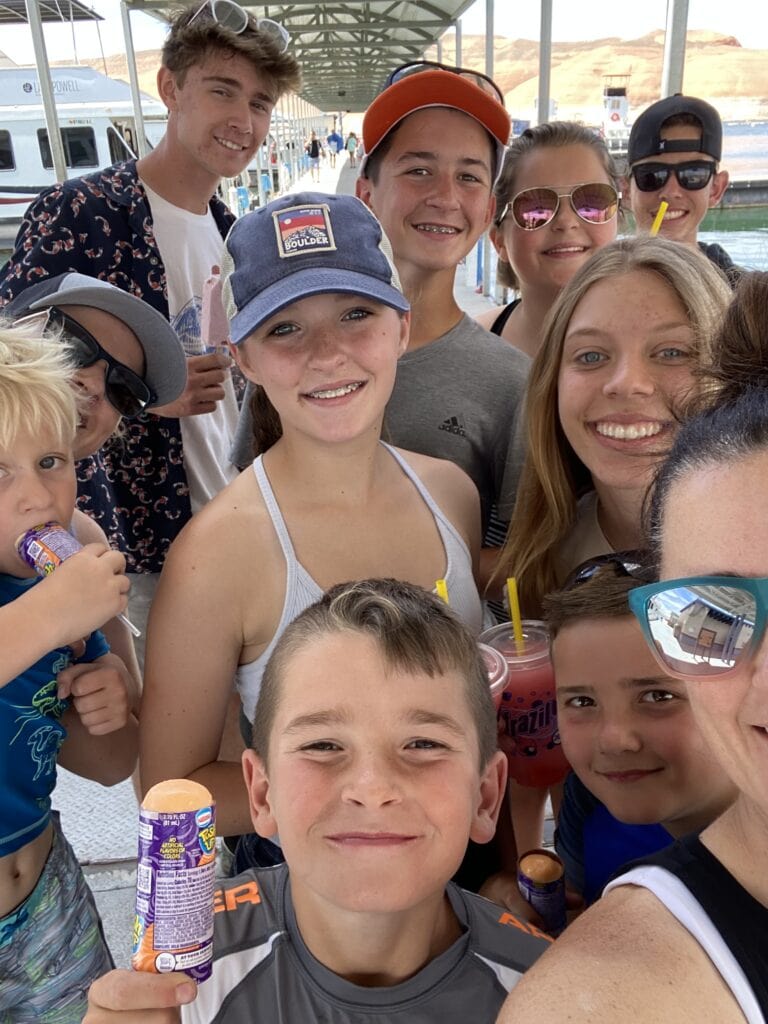 Tip #3 – On the last day when you're scheduled to pull into the dock, just eat all the leftovers; trust me, there will be some.
It's a great way to reduce what you'll throw away and give you that much extra time to squeeze in some last-minute tubing or jumping off the houseboat one more time.
SUMMER SAVING TRAVEL TIPS
My sister-in-law, Alyssa, introduced me to Ibotta a couple of years ago. She is still a dedicated user. I tend to think more when I am stocking up, but honestly, I need to get in the routine so I can keep saving all year long.
All you need to know about Ibotta is that it's a free vacation meal planning app that gives you real cash back on every purchase, online or in-store. It's simple; just load, click, and save! You can earn cash back every time you shop for essentials, groceries, and more, like road trip pit stops.
An added perk is that even when you aren't shopping at the store or road-tripping to Lake Powell, you can link your online purchases. I mean, are there any other Target fans here? You can link that too, double saving and getting cash back using your Ibotta App.
TIPS ON PREPARING YOUR MENU
Let's just be real, planning the menu is the easy part. It's all the prep work, shopping, and packing that is a bit more difficult, especially if your party size is a bit large.
Therefore, to help you with your vacation food tasks and shopping, I have created a few suggestions:
Plan for the number of drinks ahead of time, not including your bottled water. As far as juice boxes or sodas, account for how many a day each person can have.
Plan for 2-3 snacks per day. This is in the menu plan but will need to be changed accordingly to your type of party. Younger kids tend to need a few more snacks to get them through the day.
Create a Google Sheet – we have a pretty intense packing list for Lake Powell assigned in a Google Sheet. Once we have our trip laid out and guests invited, we start labeling who is bringing what. When we went with my parents and nephews, this was necessary because I am a replica of my parents, so our packing styles, methods, and lists are the same, and we wanted to make sure not to have two of everything.
Breakout your list by meal, adding how many you will need of each item. Once you have your meals broken out, combine and condense your lists.
Do your shopping on different trips. This will lessen the load and allow you to pack and sort easily. Plus, while you are unloading one shopping trip, it will remind you to add something else.
Pack your meals together. For example, for pasta night, make sure the sauce and noodles are in the same box. This allows for two things: #1 you can make sure you have everything for that meal. #2 as you unpack it will help you to know where things are.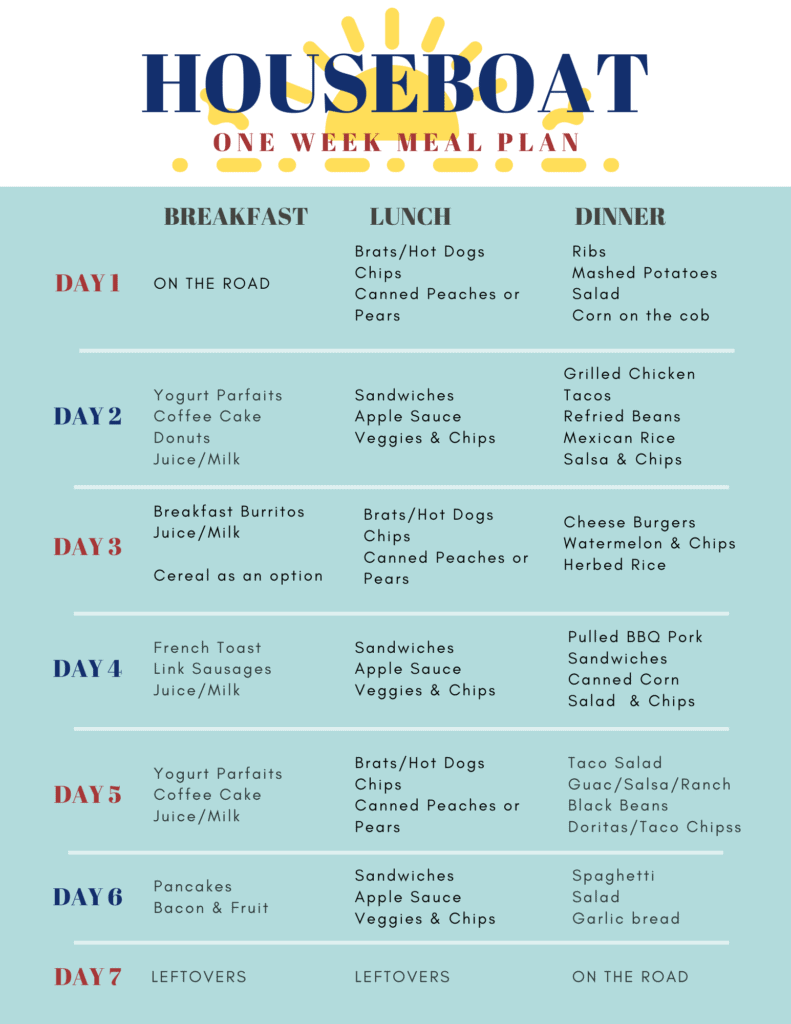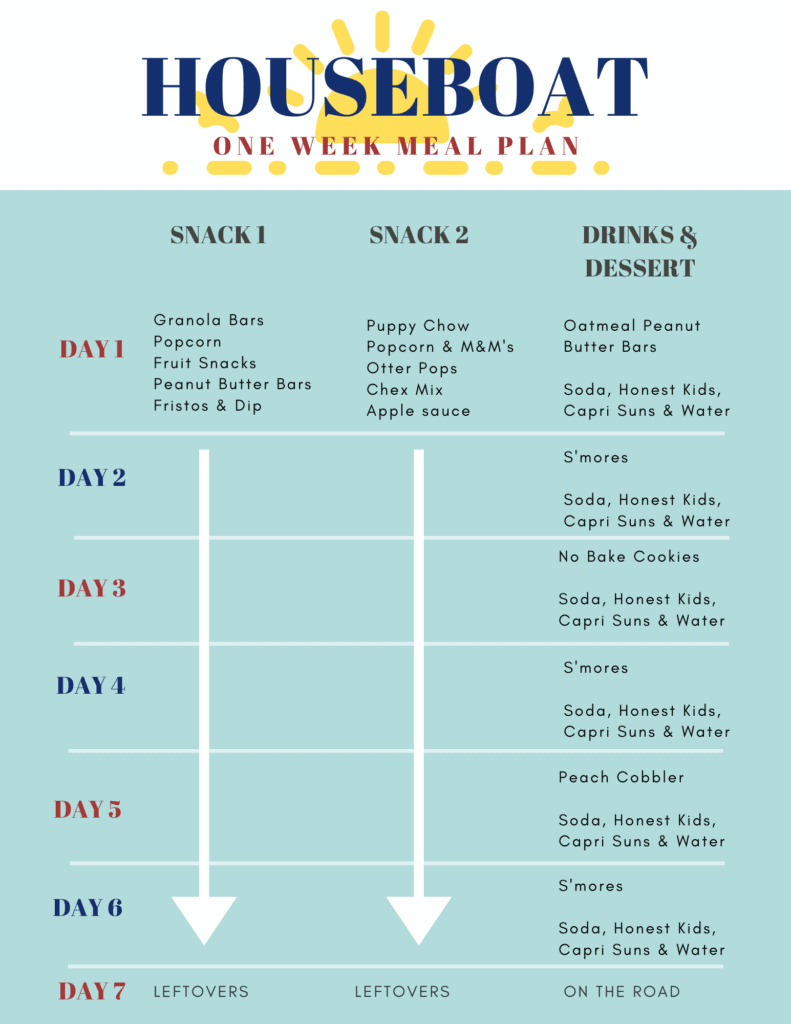 The recipes are simple, and you can do them all on the grill or ahead of time. Check out the details below.
HOUSEBOAT BREAKFAST IDEAS
Breakfasts are super important on a trip like this. We learned that hearty breakfasts provide much more energy and result in better days and better memories.
With this menu, I bake the coffee cake the day before we pack up. Once it has completely cooled, I slice it up and store it in Tupperware containers and set it in the fridge.
For the french toast morning, I make sure to buy Texas Toast. It the best!
Pancakes are easy and the mix never goes bad and it is easy to store.
Cereal we take about 6 boxes, great for an afternoon snack and occasionally we get a picky eater or two not liking what we have, so it's great to have an alternative.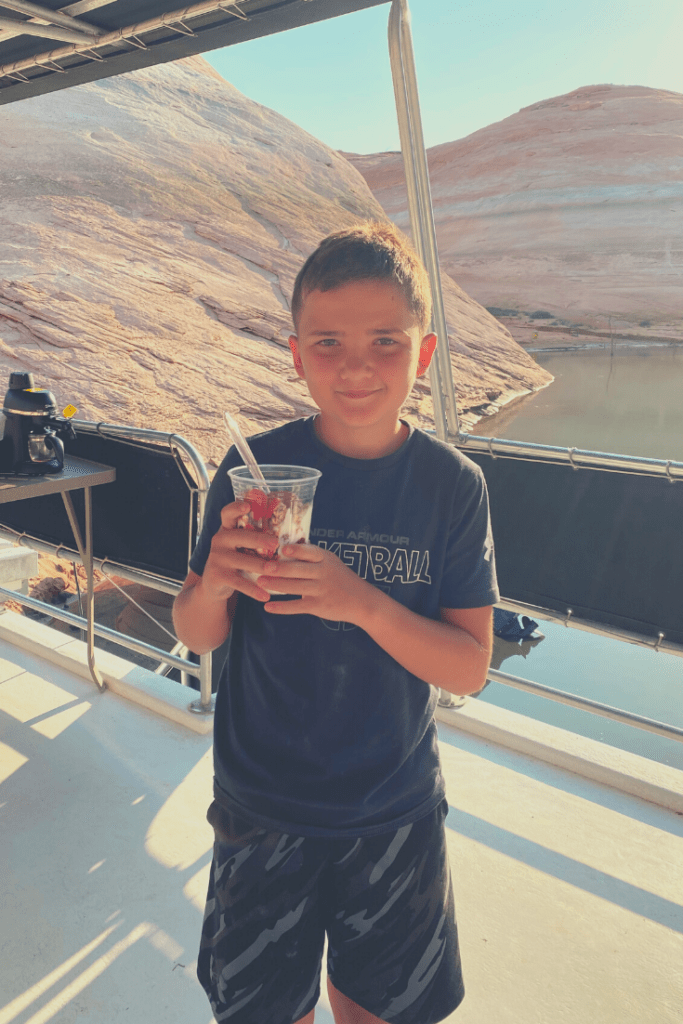 For the yogurt parfait mornings (pictured above), I layer the yogurt and granola with frozen fruit. I buy this in advance and keep it in the cooler. Once we get to the houseboat, I add it back into the freezer and stick it in the fridge the night before so it is ready the next morning. The fruit & yogurt parfaits are the top requested breakfast, so we always have it twice.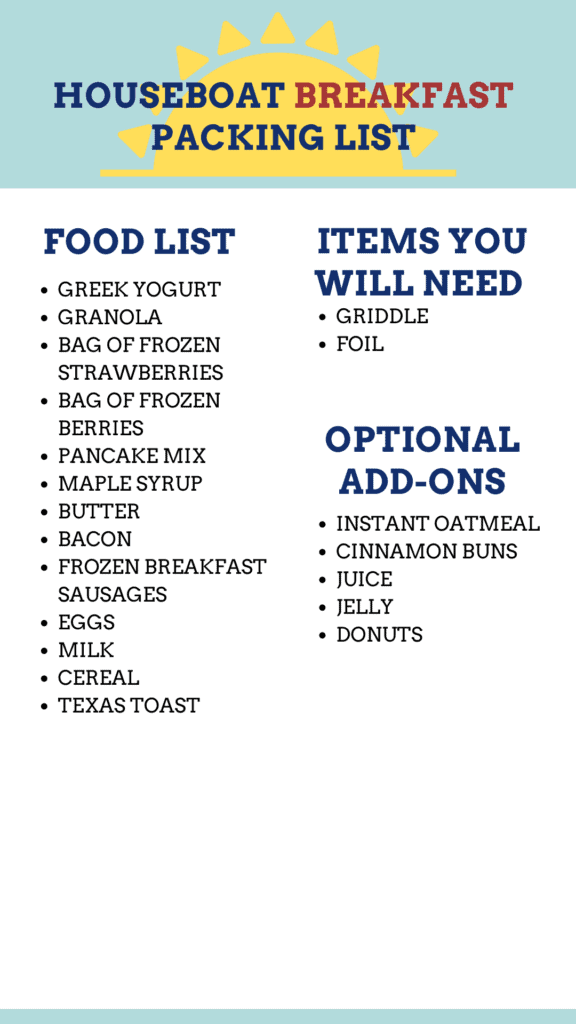 HOUSEBOAT LUNCH IDEAS
The key to lunch is keeping it simple and consistent. Every day, we offered brats, hot dogs, and sandwiches. We asked before lunch what people liked and grilled up the requests. If they wanted a sandwich, they took care of that.
We had apple sauce and canned fruit, which we chilled in the fridge. We also got out a watermelon a few times too. As for me, I need my salad. So while that is optional, I made one daily because I wanted something fresh and cool. I would typically cut up my brat and use that as my protein.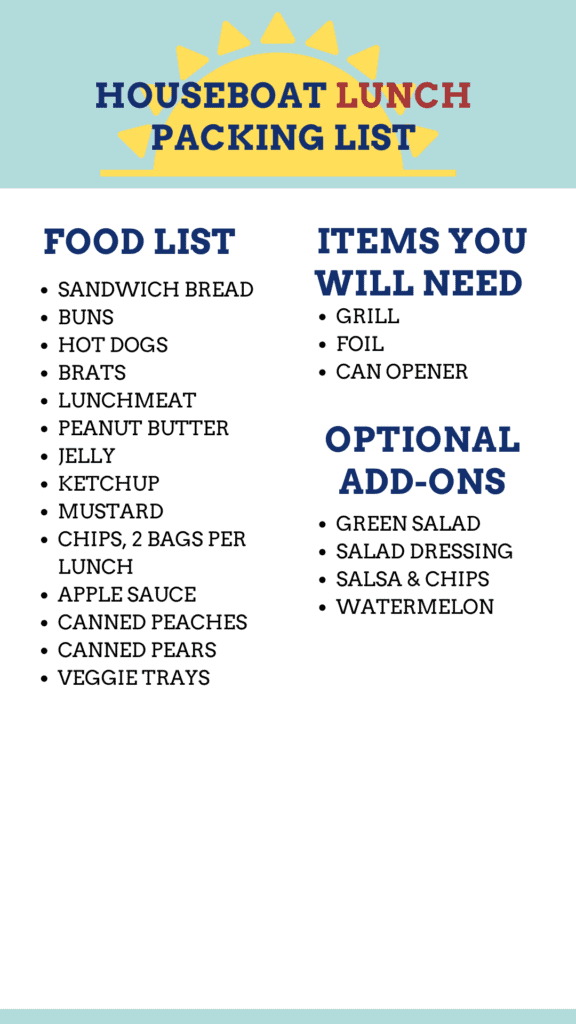 HOUSEBOAT DINNER IDEAS
Keep the houseboat coo and cook dinner on the grill. This is why you'll need two cast iron skillets. The skillets provided by the houseboat typically have some sort of plastic that will melt everywhere.
Rib Night – My husband prepares and cooks these the day before we leave. Once cooled, he stores them in Ziplock bags and tosses them in the cooler. Once there, add your favorite BBQ sauce and heat on the grill. Easy peasy!
Grilled Chicken Tacos – We take about two boneless skinless chicken thighs per person. Season them with a little oil and taco seasoning, and then throw them on the grill. We serve them with Spanish rice from a packet & all the fixings. We typically buy canned salsa, but you can make that ahead as well and store it in the cooler. We love my 5-minute blender salsa.
Cheeseburgers – We buy the frozen patties! It's the one time a year we do, and it makes it so easy and simple! We serve them with an herbed rice packet, salad, and chips. You're golden. You can easily add canned beans or corn too; options are endless.
Taco Salad Night – This is my favorite night. I buy a ton of romaine lettuce for the trip (it stays the freshest the longest). I buy unripe avocados and they're perfect by this night. You can always move around the dinners too to accommodate your food situation. We also love making homemade dressing, so I take everything to make taco ranch dressing. Totally buy your favorite if you're not dressing snobs like us.
Spaghetti Night – You can make your sauce from scratch by all means. But my hack is this: 1 can store-bought sauce + 1 28-ounce canned tomato sauce + 1/4-1/2 cup Italian seasoning + 1/2 cup half-n-half + grated parmesan cheese. I take the cast iron skillet and cook up the meat on the grill, and then add everything but the half-n-half and parmesan cheese. I cook this until bubbly and then stir in the remaining 2 ingredients and let it cook until ready to serve. I cook the noodles in the houseboat, one of the times I use the stovetop.
HOUSEBOAT DESSERT & DRINK IDEAS
We asked the kids and other adults before going what their favorite drinks were, and we "budgeted" 1 soda a day per kid and 4 juice boxes.
TIP – Freeze your water bottles ahead of time to use in your coolers. It saves on ice and you'll have cold drinks.
Once you're on the water, it works well to have each person have 2 to 3 water bottles with their names on them. Cycle the water bottles through the freezer and coolers. This way, everyone always has a bottle in the freezer getting cold, one in the fridge/cooler, staying cold, and one they can drink.
As for desserts, we always make peach cobbler one of the nights. It is the best recipe EVER and so simple. Really, all you need is a yellow cake mix, butter, and a pinch of cinnamon + 8 cans of peach halves drained. But check out the whole recipe if you want to step it up a notch – Best Ever Peach Cobbler recipe.
The favorite dessert for everyone on the whole trip is No Bake Cookies. In fact, next year we will be making that twice + maybe add in pre-baked brownies instead of s'mores 3 times.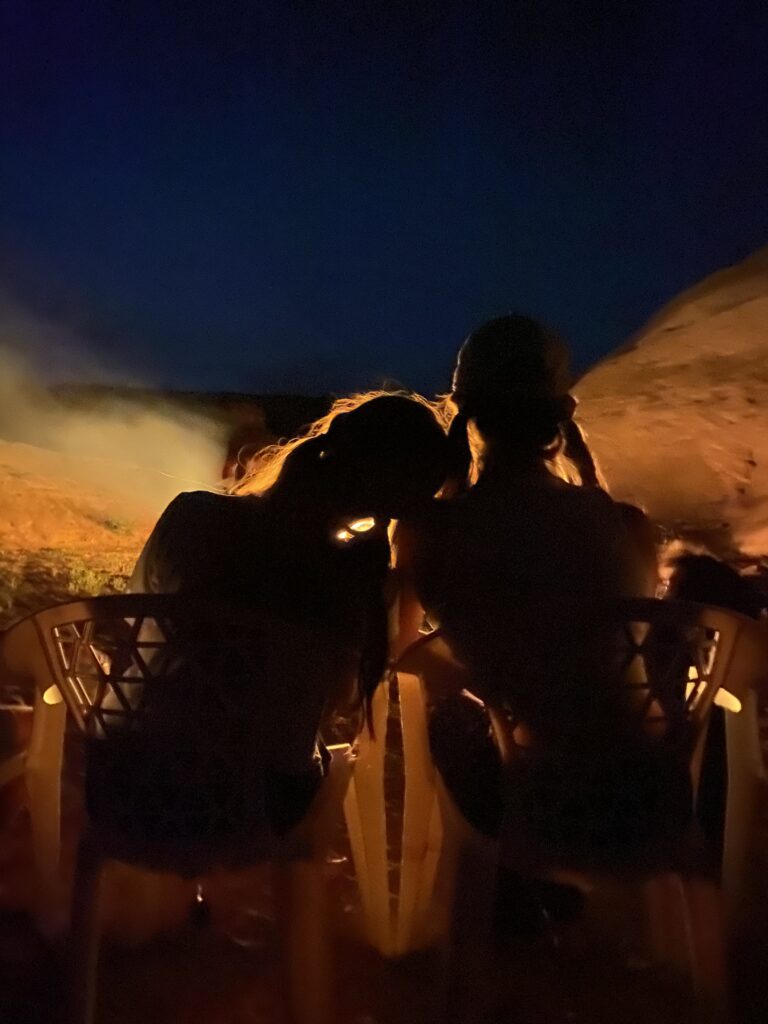 HOUSEBOAT ESSENTIALS
While we can remember all the menu items, I wanted to share a few other items you will not want to forget. Bonus – you can use your Ibotta App for some of these purchases as well!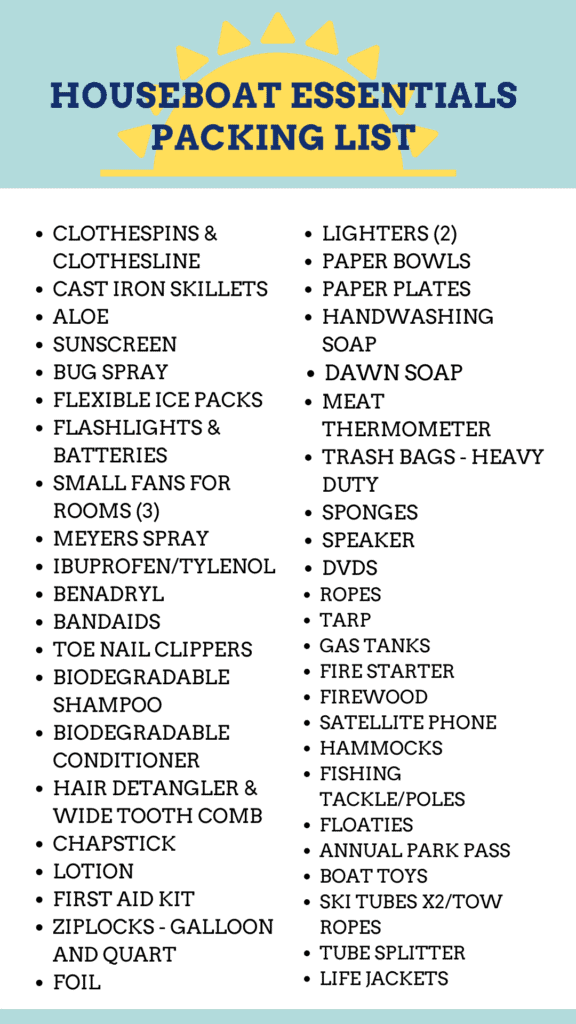 Making Memories
Every year when we return from our houseboat experience at Lake Powell we reflect back on it with smiles, happy tears, and videos that we will watch over and over.
All the packing, lists, grocery shopping, deal finding, and hours of driving pales in comparison to all the things we did together as family and friends, the moments cherished, memories made, and life lessons learned.
From the tubing, s'mores nights, movie watching in the heat of the afternoon, snuggles, tube wars, fish-catching (we caught 55 this year), and countless other magical moments, we will continue this family tradition as long as we are able.
Don't forget to pin this to your favorite Pinterest board for later.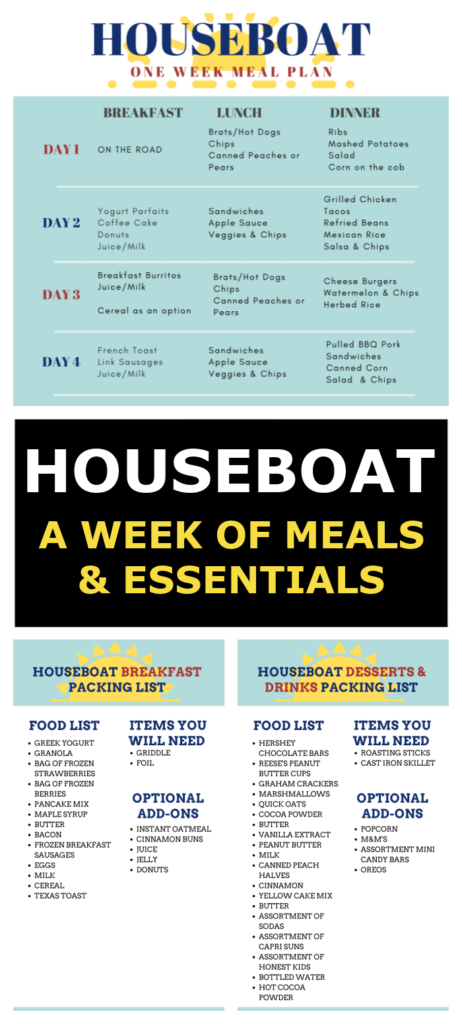 Save