This is a sponsored post written by me on behalf of Safeway. All opinions are 100% mine.
This post is all about easy meals and snacks including a recipe for my easy homemade spaghetti sauce – just one of my favorite make-ahead meals for busy weeks.
As a mom of five, I know how challenging it can be to make wholesome meals and snacks, so I'm sharing some of my favorite Safeway products and recipes that help make even the busiest weeks a little easier.
This time of year, when the kids are busy with school and the hubby and I are busy. I lean on easy recipes to help me get dinner on the table. One of my favorite recipes is my homemade spaghetti sauce with ground beef – the kids always look forward to spaghetti night and this sauce is filling, flavorful, and freezer-friendly, too!
It's just one of the recipes I'm turning to these days and I'm so excited to share with you a few ideas for easy snacks and meals. You can bet the ingredients for these dishes are on my shopping list for the next few weeks and I can always find everything I need at my local Safeway store.
Open Nature® Products
I love Open Nature products which are available exclusively at Safeway here in Colorado. There's a huge variety of options – everything from snacks to ingredients I use in so many favorite recipes. I love that Safeway also offers Grocery Delivery and Drive Up & Go™ for convenient ways to shop! Makes the school week a lot easier having my groceries ready to go and not having to do the actual shopping.
So, here's how I use so many of these great products to keep my family of seven on track each week!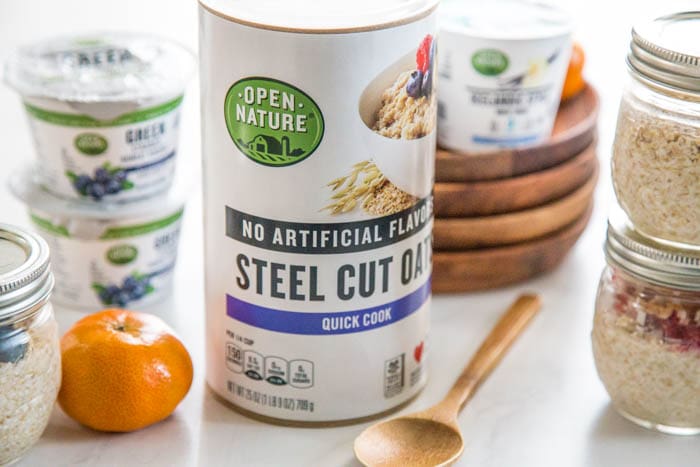 For an easy breakfast, I love to use Open Nature Granola and Pecans & Maple Flakes & Clusters to make easy overnight oats.
It's a super easy grab-and-go breakfast that you can make ahead to have on hand during the week. The granola and cereal are lightly sweetened with no artificial flavors and loaded with crunch – the perfect complement to the creamy oats.
With five kids there's always someone who needs a quick snack to take along to sports practice or to munch on while they're studying. To make things easy I've set up a snack bar with lots of different options so they can choose their own.
We love Open Nature Icelandic-Style yogurt and Greek yogurt, so I stock up every week. It's a creamy, cool snack or an easy breakfast that the kids can grab on their own.
We keep the snack bar stocked with Open Nature Parmesan Cheese Crisps, too. It's a crunchy snack that's loaded with protein – it helps ward off those afternoon cravings!
If there are two ingredients, I always have in my fridge it's fresh boneless, skinless chicken breasts and ground beef. The possibilities for dinner are endless when you have both on hand.
What I love best about Open Nature chicken is that it has no added antibiotics and carries the American humane certification. It's also air-chilled which means it has amazing flavor.
When life gets busy, I use it to make my slow cooker chicken tikka masala. It's so warm and comforting and always a family favorite.
I love to choose grass-fed beef because the flavor is amazing and Open Nature ground beef is antibiotic and hormone-free, so I feel good using it in my recipes.
Use it to make my slow cooker sloppy joes which are a fun to let them cook in the slow cooker, saving me some time.
Or, for pasta night, it's perfect in my easy spaghetti sauce. It's a Bolognese sauce made with savory beef, tomatoes, and lots of Italian seasoning.
It's one of my favorite make-ahead sauces because it freezes beautifully making it a great option for easy dinners during the week.
Easy Spaghetti Sauce with Ground Beef
Open Nature grass-fed ground beef
Chopped onion, carrots, and garlic
Olive oil
Canned tomato sauce and diced tomatoes
Italian seasoning and salt
Fennel, basil, and parsley
Sugar
White wine
Half and half
Grated Parmesan cheese
This is an easy meat sauce that you can cook in one pan on the stove. The aroma of this sauce as it cooks is intoxicating! It's such a wonderful welcome as everyone comes home from a busy day.
It's also a quick-cook sauce that only needs to simmer for about 30 minutes. No need to wait all day for it to cook, but it tastes like it did. It's rich, savory, and so comforting.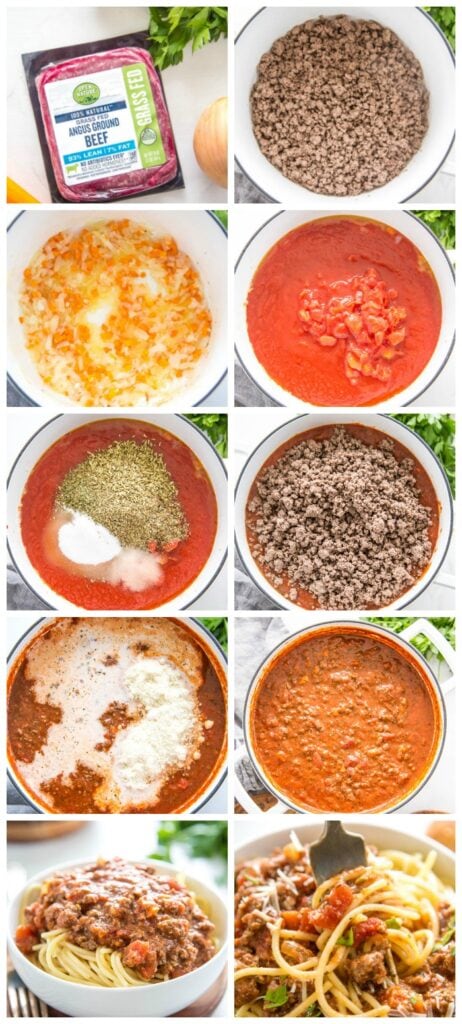 All you do is brown the meat and veggies and then add the tomatoes and seasonings and let it all simmer together. At the end stir in the half and half and cheese to add richness and even more flavor.
Serve it with your favorite pasta for a hearty, delicious dinner. Or, you can freeze it in containers for up to three months. This is such an easy way to have a quick dinner on hand for those nights when there's no time to cook.
I hope you try some of these amazing products and ideas to make your weekdays easy! You can find all of them exclusively at Albertsons family of stores including Safeway, which is where I shop. Follow on Pinterest, Facebook, Twitter, and Instagram and be sure to visit Safeway.com to get lots of recipe and meal prep inspiration.
There's nothing better than getting meals on the table and snacks in hands with as little effort as possible – I hope you've discovered some new ideas!
Enjoy! XOXO San
Don't forget to pin this Homemade Spaghetti Sauce recipe to your favorite Pinterest board for later.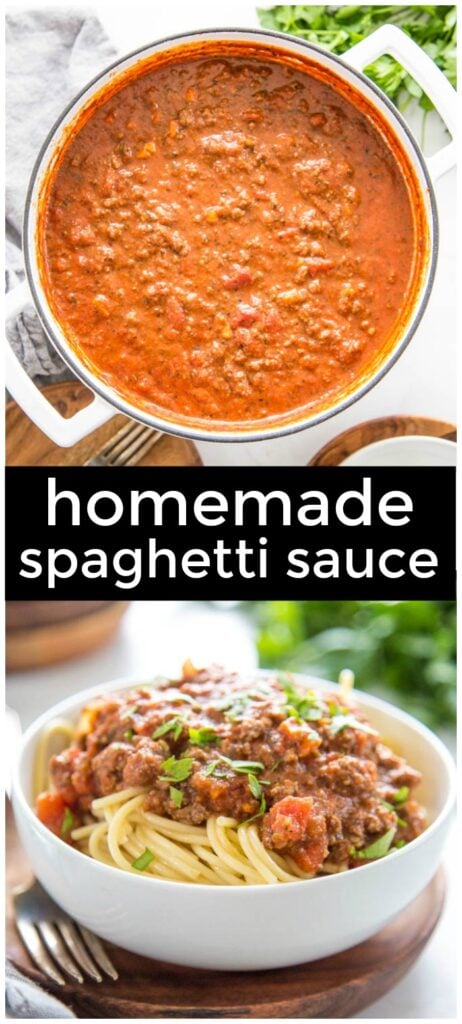 Homemade Spaghetti Sauce
This spaghetti sauce is a hearty, rich and comforting meat sauce that is perfect with pasta. It only takes 30 minutes to simmer, but tastes like it cooked all day. I love to make a big batch and freeze it for easy weeknight dinners.
Ingredients
2

pounds

hamburger

(see note)

1

large

yellow onion

1/2

cup

chopped carrots

2

tablespoons

olive oil

4

cloves

garlic, finely diced

2

(28-oz) cans

tomato sauce

2

(14-oz) cans

diced tomatoes

1/2

cup plus 1 tablespoon

Italian seasoning

1

tablespoon

fennel seed

1

teaspoon

basil

1

teaspoon

parsley

1/4

cup

sugar

1/4

cup

white wine

1

teaspoon

salt

1/4

cup

half & half

1/2

cup

grated Parmesan cheese
Instructions
Season the beef with salt amd place it in a large pot with 2 tablespoons of olive oil and cook over medium-high heat until cooked through and brown. Drain & set aside.

In a large pot, add 2 tablespoons of olive oil, onion, carrots, and garlic, cook until onion is transparent, add white wine and let it cook until it is absorbed.

Add tomato sauce, diced tomatoes, Italian seasoning, fennel, basil, parsley, and sugar. Add the cooked beef to the sauce, stir well to combine then bring to a boil. Reduce the heat and simmer the sauce for 20 minutes covered with a lid and leave a slight crack.

Add in cheese and half and half, stir in until combined and simmer for another 10 minutes. Garnish with fresh basil or parsley and cheese.

Serve with noodles of your choice, with bread or as a pizza sauce.
Notes
Sometimes we substitute half of the ground beef for Italian sausage to change the flavor. If you opt to do this, just use one pound of each.
You can freeze this sauce for up to three months. Just be sure to store it in freezer-safe containers.
Nutrition
Calories:
318
kcal
|
Carbohydrates:
19
g
|
Protein:
18
g
|
Fat:
20
g
|
Saturated Fat:
7
g
|
Cholesterol:
59
mg
|
Sodium:
1107
mg
|
Potassium:
870
mg
|
Fiber:
4
g
|
Sugar:
13
g
|
Vitamin A:
2437
IU
|
Vitamin C:
17
mg
|
Calcium:
149
mg
|
Iron:
4
mg

Save