This is a sponsored post written by me on behalf of Safeway. All opinions are 100% mine.
Pasta salad is traditionally a summer recipe, but I love to eat this all year long.
This Best Ever Pasta Salad has fresh corn, red and yellow peppers, cilantro, cucumbers, green onion and cherry tomatoes. Then it's drizzled with a homemade cumin vinaigrette.
I love throwing together leftover vegetables, cheeses and meats, trying to create an amazing tasting salad. It's actually been a new thing for me this summer, and it has amped up my lunches. I made this pasta salad for the 4th of July, then took the leftovers and mixed them with a green salad, blue corn tortilla chips and avocados, resulting in the most amazing lunch for days.
So while pasta salad may be a common potluck dish, friends, it can also be a tasty, fresh and delicious meal.
HOW TO MAKE PASTA SALAD
What makes a great pasta salad are the big and bold flavors coming from the fresh herbs and peppers as well as the cumin and oregano in the dressing.
Overall, creating a pasta salad is pretty easy. Just start with your favorite pasta for salads; I prefer bow tie. Next, select your family's choice of fresh vegetables & herbs. We went with corn, peppers, tomatoes and onion because those are our kids' favorites. Of course, you can add in some meat, but I prefer only cheese in this fresh pasta salad, using feta or Cotija.
While the dressing may seem like the most basic ingredient for a pasta salad, it primarily gives the pasta salad its flavor. Whether you like mild or big and bold flavors, basic pasta salad has four main components: 1) pasta; 2) vegetables; 3) cheese/meat; 4) dressing. Here are my tips to making the best pasta salad ever!
The pasta salad base: Pasta of your choice.
While I have seen pasta salad served with a variety of noodles, I prefer bow tie. But you could easily use a short cut pasta. I like these two because of the noodle to fresh veggie ratio. Plus, let's just be real – it is so much easier to eat with your fork (or fingers).
It's all about the fresh vegetables!
Using fresh vegetables not only gives pasta salad stunning pops of color, it also allows for a great crunch or two.
Typically, since pasta salads are made in the summer months, you have a great selection at grocery stores to choose from.
I love Safeway's fresh variety. My favorite is at the beginning of August, they have corn from local farms that you can buy in bulk. Along with a great assortment of vegetables, they also have packaged fresh fruits, which they cut right in the deli and have in ready-to-go containers. This makes it easy to throw together a fruit salad or tray on a whim.
Cumin Vinaigrette
This easy dressing takes 5 minutes or less to put together. What is great about this cumin dressing is that it's incredibly versatile.
It tastes amazing on a green leaf salad with an assortment of vegetables too. I've also drizzled it over tacos and used it as a dip for wraps at a summer luncheon.
5 tips on how to select fresh fruits & vegetables
Don't pick produce that is bruised or damaged. Brown spots or leaves are signs of aging.
Before selecting, give produce a light squeeze. This helps to know if it is ripe. The only fruit that should be rock solid is an apple. If an apple is squishy, put it down. Other fruits, including pears, bananas and avocados, continue to soften after picking if left at room temperature. *If my apples, pears or avocados start to become overly soft, I stick them in the fridge.
To check fruit, smell it. My son recently taught me this. The sweeter the smell, the more ripe it is for picking.
Choose vibrant, colorful produce to add some color to your dish and extra vitamins.
Buy produce seasonally. This not only helps with saving money, but also with the quality of the produce too.
What's great about shopping at Safeway is that I have the luxury of using their delivery & to go services. I was so excited when my local Safeway started offering this. I first saw it in California and couldn't wait until they rolled it out in Colorado.
I initially thought I would be hesitant in ordering my produce there. And the first time I was because it is hard to trust someone picking out your idea of quality. With that said, when it comes to understanding fresh produce, I think Safeway does an amazing job.
I prefer the Safeway Drive Up & Go™ method. It's easy to do online on my computer or on my phone via the app! You select your day and the time of pick-up, and that's it.
Every time, I have had amazing service and even the option for no contact. I literally pull up, pop the trunk to my SUV and call the number to tell them the name of my order and what number stall I am in. They walk up with a few clarifying questions from the back of my car, give me any updates I have on my order and then load the groceries and close the door.
This summer has been about simplifying, whether by choice or situation, I have had to change the way I do some things in what used to be my normal every day life.
So it's nice and truly a privilege that I can still get fresh produce and groceries delivered right to my car or even my home. And this is something I have become even more grateful for these past few months. Stay well friends & eat pasta salad.
xo San
Don't forget to pin this Potluck Pasta Salad recipe to your favorite Pinterest board for later.
!– /wp:gallery –>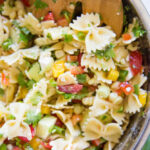 Print Recipe
Best Ever Pasta Salad
Ingredients
Pasta Salad
1 1/2

cups

quartered cherry tomatoes

2

cups

fresh corn kernels

2 ears of corn, cooked

2

yellow peppers

core, stem removed and diced

2

red peppers

core, stem removed and diced

2

cups

English cucumber

quartered and sliced

1

cup

fresh cilantro

coarsely chopped

1 1/2

cups

green onions

chopped

1/2

cup

feta or cotija cheese

crumbled

1

lb

pasta shells

pasta of your choice
Cumin Vinaigrette
1/2

cup

red wine vinegar

3/4

cup

extra virgin olive oil

1

tablespoon

fresh lemon juice

1

teaspoon

cumin

1

teaspoon

oregano

1/2

teaspoon

salt

1/4

teaspoon

pepper

1

teaspoon

dried parsley

1

teaspoon

Dijon mustard

1

tablespoon

minced garlic
Instructions
Cumin Vinaigrette
Add all of the ingredients for the dressing into a mason jar. Screw the lid on the mason jar and shake vigorously until well combined. Set aside in the refrigerator.
Pasta Salad
Fill a large pot with water, add 2-3 teaspoons of salt and bring to a boil over HIGH heat. Once water is brought to a boil add the pasta and cook until al dente. Check package instructions for approximate time.

Drain pasta and rinse under cold water, toss with a little olive oil. Set aside and allow to cool.

Meanwhile chop tomatoes, peppers, cilantro, corn, green onions and red onion. Set aside in a large mixing bowl.

Add the cooked pasta and cheese to the large bowl with the vegetables. Pour the homemade dressing over the top and toss to combine.

Place a lid on the the bowl or cover bowl with plastic wrap and refrigerate. You can serve this pasta right away or up to for several hours. I sometimes make my pasta salads a day or two ahead of time.

Serve cold and enjoy!
Nutrition
Calories:
232
kcal
|
Carbohydrates:
29
g
|
Protein:
5
g
|
Fat:
11
g
|
Saturated Fat:
2
g
|
Sodium:
87
mg
|
Potassium:
268
mg
|
Fiber:
2
g
|
Sugar:
3
g
|
Vitamin A:
774
IU
|
Vitamin C:
54
mg
|
Calcium:
25
mg
|
Iron:
1
mg
While I use the Drive Up & Go at my local Safeway you can also check for these services at all the Albertsons Companies family of stores, including Albertsons, ACME Markets, Jewel-Osco, Randalls, Shaw's Supermarket, Star Market, Tom Thumb and Vons.

Save