Chicken Parmesan Taquitos – Filled with chicken, 3 cheese, and Italian seasoning, dunk these taquitos in a marinara sauce and you have an easier & simpler twist on an Italian classic.
My family love Chicken Parmesan and really the only time we have it is out to eat. I love making it but making it in a traditional way is so time-consuming that I'd much rather do something else with my time and not worry about getting into a meal that is so involved. The only time I would really try to make a meal like this is during Christmas break. Otherwise, when it comes to Chicken Parmesan I would much rather make these Chicken Parmesan Taquitos. The hardest part of making these is rolling them up. Seriously this recipe is so easy and a great busy weeknight meal.
This recipe for Chicken Parmesan Taquitos became all because I didn't want to run to the grocery one chilly afternoon, so I was looking through my fridge trying to figure out what to make and I saw that we had leftover spaghetti sauce, but if we had spaghetti again my kids might flip because that would be the 3rd night in a row. And then I saw an entire rotisserie chicken from Costco that we were supposed to eat in our sandwiches for lunch but the kids went for PBJ instead. So I went with taquitos with a dipping sauce. I thought of some other ideas but these Chicken Parmesan Taquitos were my first thought so I ran with it.
I was a little apprehensive when the hubs came home, anticipating he would not be a fan because of the red sauce and since he is my ultimate foodie taste tester, his opinion means a great deal to me. And after the first bite – the kids and the hubs loved them.
I was so excited because not only was this meal a twist on one of my favorites but it was so easy. Serve with salad or a veggie tray and you have a simple and complete meal. I loved that these taquitos are baked as well. Nothing fried or over breaded and you could taste the chicken.
The kids love how fun they were and to my surprise, there were not any leftover. I had one little one, Cannon, – who only ate the filling and left the tortilla which was fine by me as I loved the crispy baked outer shell.
These make an easy meal that the entire family will love. So whether you just want to try a twist on an Italian classic or looking for something easy and delicious, whip up a batch of these Chicken Parmesan Taquitos. Enjoy friends! XOXO San
Don't forget to pin this recipe for Chicken Parmesan Taquitos to your favorite Pinterest board for later.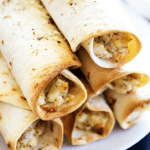 Print Recipe
Chicken Parmesan Taquitos
Chicken Parmesan Taquitos - Filled with chicken, cheeses & Italian seasoning, dunk in a marinara sauce & you have a simpler twist on an Italian classic.
Ingredients
4

cups

shredded cooked chicken

I used a rotisserie chicken

8

ounces

cream cheese

softened

2

tablespoons

Italian seasoning

plus a little extra for garnish

1

cup

grated parmesan cheese

1 1/2

cups

shredded mozzarella cheese

olive oil cooking spray

1

teaspoon

granulated garlic

12-16

flour tortillas
Instructions
Preheat oven to 425 degrees.

Spray baking sheet with cooking oil, set aside.

In a medium mixing bowl combine chicken, cream cheese, parmesan cheese, mozzarella cheese, garlic & Italian seasoning. Mix together until well combined.

Place tortilla on your work surface and in the center of your tortilla add 1/4 cup of the chicken mixture. Tightly roll up the tortilla and place on prepared baking sheet. Repeat with remaining tortillas and chicken mixture. Makes about 12-16 taquitos.

Once you have made all of the taquitos and they are placed on the baking sheet about 1-inch apart - spray the tops with cooking spray and sprinkle with Italian seasoning.

Place in oven and bake for 16- 20 minutes.

Remove from oven once a nice golden brown and the cheese is melted in the taquitos. Serve with a side of marinara sauce to dip them into and enjoy!

Save