Baked Taco Ranch Taquitos – Filled with a cheesy taco ranch chicken and then baked to perfection, they are perfect for any game day or holiday get together.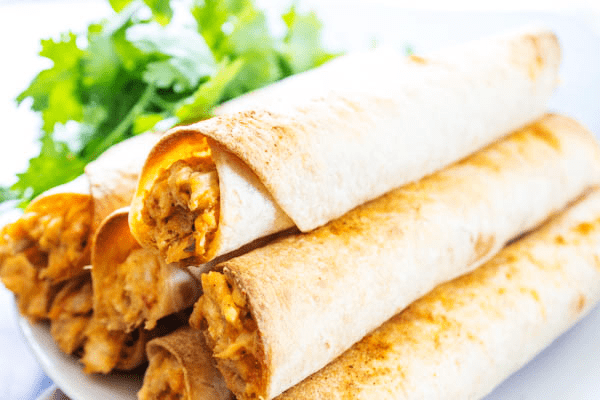 This is a sponsored post written by me on behalf of PAM non-aerosol Cooking Spray.
The first time I made these Baked Taco Ranch Taquitos, there were oohs and ahhs of all sorts. The cheesy stuffed taquitos were an instant hit and stunning to look at. With a golden, crispy outside and a creamy filling on the inside, these Baked Taco Ranch Taquitos were instantly added to our menu rotation.
During the busy school and holiday months (especially the fall), I love creating dishes that are delicious and something the whole family will devour, yet easy for my busy schedule of running the kids around for all their activities. Our kids love taquitos, and it's part of the reason they're willing to go grocery shopping with me on the weekends as most of our favorite stores always have some sort of taquitos to sample.
I love taquitos because I grew up having them every Christmas Eve. It was one of the foodie traditions I looked forward to every year. My dad always made these fried and oh, they were delicious – and sometimes ridiculously spicy. We literally only had them once a year though because they took a long time to fry and we knew that we'd have to wear our comfy pants the rest of the day after dinner.
Now that I am a mom and because I grew up with the fondest memories of taquitos, I want to make them for my kids and skip the frying but keep the crispy outer shell. To do this and avoid frying, I decided to use PAM Spray Pumps in Olive Oil for this recipe of Baked Taco Ranch Taquitos. It worked perfectly.
The PAM Olive Oil Spray Pump coated my taquitos perfectly. PAM Spray Pumps come in two varieties – Olive Oil and Canola Oil; I prefer the Olive Oil, but you could use either one. I love using PAM Olive Oil Spray Pump for cooking vegetables on the grill or in the oven, and even for grilled cheese sandwiches, another easy weeknight dinner.
I love that I had control over how much oil I put on, instead of having to dip the tortillas in grease, which could really ruin these. The catchy slogan of "You PAM Do It" is so right; you can take any meal and give it a healthy spin using the PAM Oil Spray Pump.
I ended up serving these taquitos with our favorite ranch dressing – our homemade Cilantro Avocado Ranch. And the kids dunked their taquitos in it. My husband who is the ranch lover chose not to because he said the taquitos were amazing on their own, and I agreed. But what kid can resist ranch dressing? Mine sure can't.
September has arrived, and we're in our full-blown sports schedule of insanity – 5 kids in 5 different sports. And with the holidays approaching, I'm excited about easy, healthy meals I can make for my family.
These Baked Taco Ranch Taquitos are so delicious, prepared in just 15 minutes and baked in 20 minutes. And they'll be devoured in a tenth of the time. Enjoy these Baked Taco Ranch Taquitos this school year, and whip up a batch for your next holiday get together.
Enjoy friends! XOXO San
Don't forget to pin this recipe for Baked Taco Ranch Taquitos to your favorite Pinterest board for later.

Print Recipe
Baked Taco Ranch Taquitos
Baked Taco Ranch Taquitos - Filled with a cheesy taco ranch chicken and baked to perfection, they are just perfect for any game day or holiday get together.
Ingredients
4

cups

chopped cook chicken

I used a rotisserie chicken

8

ounces

cream cheese

1/2

cup

salsa

1

ounce

package dry ranch seasoning

2

tablespoons

taco seasoning

2 1/2

cups

shredded cheddar cheese

12 - 16

flour tortillas

PAM Spray Pumps – Olive Oil
Instructions
Preheat oven to 425 degrees.

Spray baking sheet with cooking oil, set aside.

In a medium mixing bowl combine chicken, cream cheese, salsa, ranch & taco seasoning and cheddar cheese. Mix together until well combined.

Place tortilla on your work surface and in the center of your tortilla add 1/4 cup of the chicken mixture. Tightly roll up the tortilla and place on prepared baking sheet. Repeat with remaining tortillas and chicken mixture. Makes about 16-20 tortillas.

Once you have made all of the taquitos and they are placed on the baking sheet about 1-inch apart - spray the tops with PAM and sprinkle with taco seasoning.

Place in oven and bake for 20 minutes.

Remove from oven once a nice golden brown and cheese is melted. Serve with salsa or cilantro lime ranch and enjoy!
This is a sponsored post written by me on behalf of PAM Spray Pumps.

Save