Cilantro Lime Coleslaw – deliciously light and refreshing, this twist on your traditional coleslaw is absolutely perfect for tacos, barbecues or as a salad.
This Cilantro Lime Coleslaw is a savory coleslaw recipe made with red and green cabbage, cilantro, green onion, and limes proves that cabbage can be the star of any meal. Whether you are serving this up for an outdoor barbecue, quick easy meal or at a fiesta, everyone will love this coleslaw.
So I can't even begin to tell you how much our family loves this Cilantro Lime Coleslaw recipe. It truly is a big deal for me even to post a coleslaw recipe on my blog because I typically hate coleslaw. My personal opinion is that coleslaw tends to be overdressed.
Way too creamy that it ends up taking away the crisp to the cabbage. It is like a watered-down drink that just isn't right. Now don't get me wrong I love the dressings on coleslaw, that is if it isn't too much and it has big flavor. This coleslaw recipe that I am sharing today is not your average store-bought coleslaw and you can thank me later for that. This coleslaw recipe is packed with flavor thanks for the addition of lime and cilantro, of course, salt and pepper help out too!
This coleslaw recipe was first published back in May 2014 and every time I make this Cilantro Lime Coleslaw I am always amazed how much I love it. My favorite with this coleslaw recipe I love the to play around with how much I dress the coleslaw for that meal, I can make it a little more dry or creamy just dependant on what I am making. So whether I am making barbecue chicken sandwiches, tacos or subs I can adjust but typically I just follow the recipe.
This coleslaw recipe is just stunning. I love the color that the purple "red" cabbage brings to the dish and the dark green contrast of the cilantro and green onions to the green cabbage is just gorgeous. This is always a crowd pleaser whenever I take this somewhere not only because it is delicious but because it is a stunning side dish.
Typically my husband who hates anything resembles coleslaw loved this Cilantro Lime Coleslaw. Now I will admit he hesitant tried this coleslaw recipe but he loved it. He loves the coleslaw dressing which is made with a combination or mayo and sour cream because it is not too tangy.
This Cilantro Lime Coleslaw is a must make for spring and summer months. Whether your hosting a party or having dinner with your family, whip up a batch of this coleslaw and you will have everyone oohing and aahing. Enjoy friends! XOXO San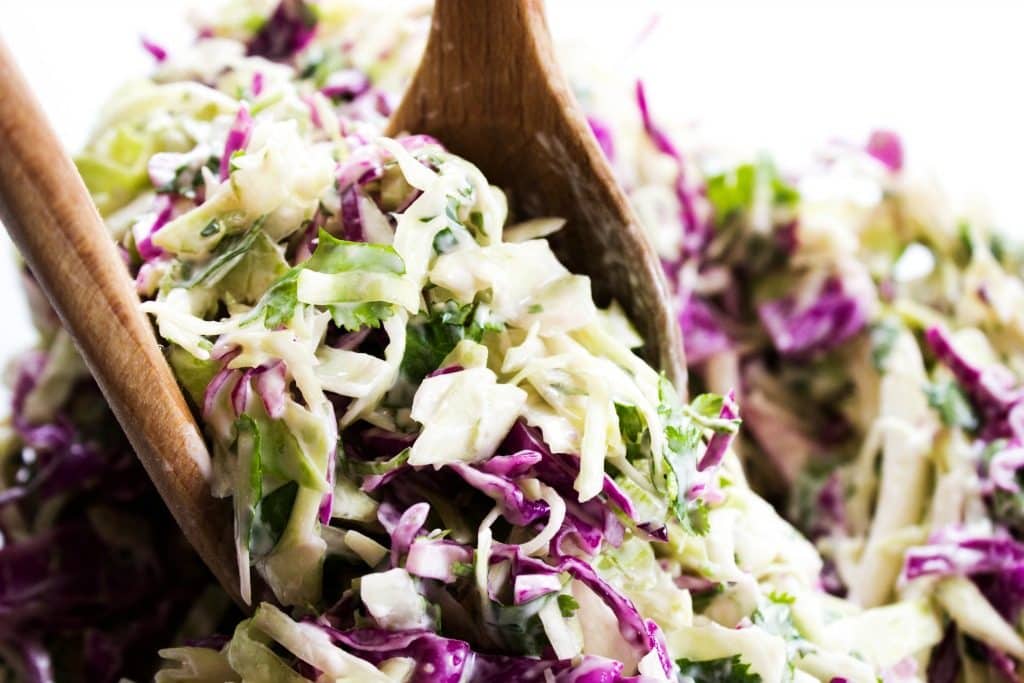 Don't forget to pin this recipe for Cilantro Lime Coleslaw to your favorite Pinterest board for later.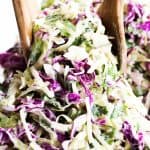 Print Recipe
Cilantro-Lime Coleslaw
Cilantro Lime Coleslaw - deliciously light and refreshing, this twist on your traditional coleslaw is absolutely perfect for tacos, barbecues or as a salad.
Ingredients
1

head green cabbage

thinly sliced

1/4

purple cabbage chopped

4

scallions

1/2

bunch fresh cilantro

roughly chopped

1/2

cup

sour cream

1/2

cup

mayonnaise

1 1/2

tablespoons

sugar

2

limes

Kosher salt and freshly ground pepper
Instructions
Cut the green cabbage using a sharp knife or I used my mandolin to make thin ribbons. Roughly chopped the purple cabbage until you have 1 cup. Chop the scallions Toss the green cabbage, purple cabbage, scallions and cilantro in a large salad bowl.

Make the dressing by combining the sour cream, mayonnaise, sugar and the zest from one of the limes in a medium bowl. Season with salt and pepper and finish with a squeeze of lime juice from the remaining lime. Pour the dressing over the cabbage mixture and toss to combine.
Nutrition
Serving:
10
g
|
Calories:
140
kcal
|
Carbohydrates:
10
g
|
Protein:
1
g
|
Fat:
10
g
|
Saturated Fat:
2
g
|
Cholesterol:
10
mg
|
Sodium:
103
mg
|
Potassium:
248
mg
|
Fiber:
3
g
|
Sugar:
6
g
|
Vitamin A:
465
IU
|
Vitamin C:
50.1
mg
|
Calcium:
66
mg
|
Iron:
0.8
mg

Original post image isn't too shabby and I actually like it but just wanted to bring more life the colors of the coleslaw.

Save