A classic potato salad just the way my grandma used to make it. Simple, easy to make, and delicious! This is a side you can enjoy all summer long.
If I ever want to dial up summer memories from when I was a kid, I make my grandma's potato salad. I have several potato salad recipes on this blog, but this one with it's simple ingredients and simple preparation always tugs at my heartstrings.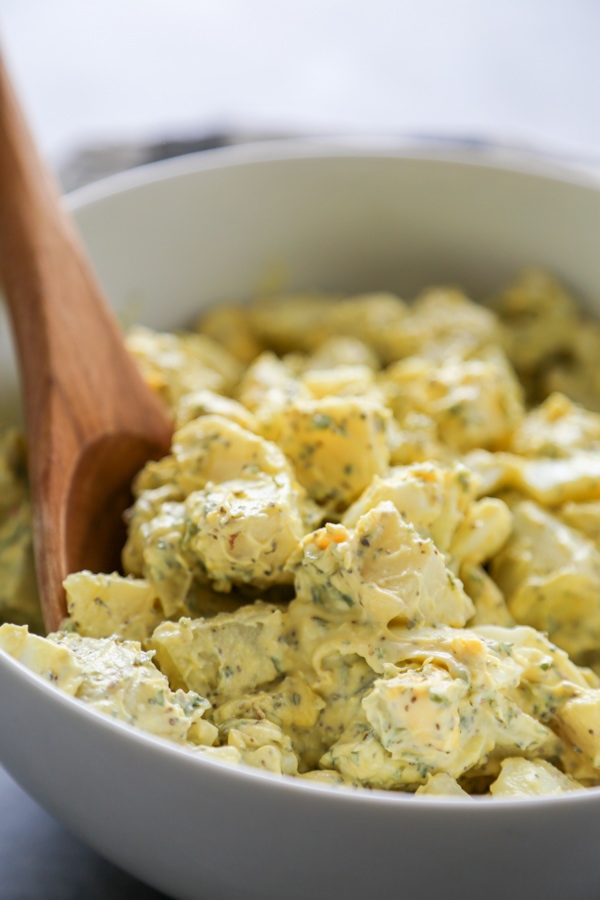 I've shared quite a few of my grandmother's (or Gigi as we called her) recipes and this potato salad is yet another favorite.
It's an old-fashioned potato salad with a mayonnaise-mustard dressing flavored with pantry seasonings.
We always had it with hard-boiled eggs mixed in and they pair perfectly with the soft red potatoes.
I have to admit my all-time favorite recipe is my loaded potato salad – it's more amped up – but this one, my beloved Gigi's salad, will always have a place on our summer dinner table.
Recipe Notes
For this recipe, you can boil the eggs ahead of time and keep them in the refrigerator until you're ready to use them.
We use red potatoes in this recipe – they hold their shape when you boil them and don't turn mushy like starchier potatoes do.
My grandma always kept things deliciously simple, so we make good use of the spice rack for this recipe. That doesn't mean you can't toss in a few fresh herbs if you happen to have them – they'll just enhance the flavor.
Whenever I make this recipe I usually make Gigi's baked beans, too. The two go hand-in-hand for me and make it feel like summer no matter what time of year I make them.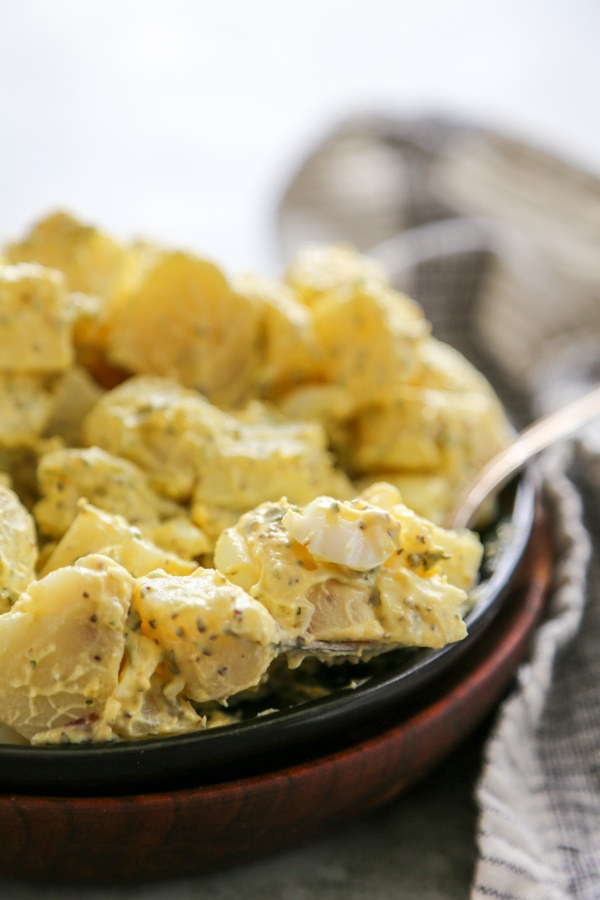 Ingredients
Hard-boiled eggs
Red potatoes
Mayonnaise
Mustard
Parsley
Celery seed
Onion powder
Salt and black pepper
How to Make Old-Fashioned Potato Salad
Peel the potatoes and then cut them into bite-sized pieces. Place them in a pot and cover them will water. Bring the water to a boil over high heat and cook them until tender.
Drain the potatoes and let them cool to room temperature. Once cooled, place them in a large bowl.
Cut the hard-boiled eggs into chunks and place them in the bowl with the cooked potatoes.
Add the rest of the ingredients and mix well to combine. Chill the potato salad until you're ready to serve it.
What potatoes are best for potato salad?
I like red potatoes, but other waxy potatoes will work like Yukon Gold, baby potatoes, or even fingerlings.
How long does it keep?
Homemade potato salad will keep for several days in the refrigerator. It will dry out a bit since the potatoes will absorb some of the dressing. If that happens, you can add a little more mayo and stir well before serving it.
Recipe Tips
You don't have to peel the potatoes, but I like to because they have a tendency to seperate from the potato when you cook them. Some people like the texture it adds, so as long as the skin is thin it's fine to leave it on.
I like to sprinkle some paprika over the top for garnish before serving it.
Because this salad has a mayonnaise dressing, don't keep it out at room temperature for more than two hours. You should refrigerate it sooner if you're serving outside on a warm day.
My grandma's potato salad will always be a favorite at our house. I'm so happy to share it with you – I hope it's your new favorite, too. Enjoy! XOXO San
More Summer Side Dishes
Don't forget to pin this recipe to your favorite Pinterest board for later.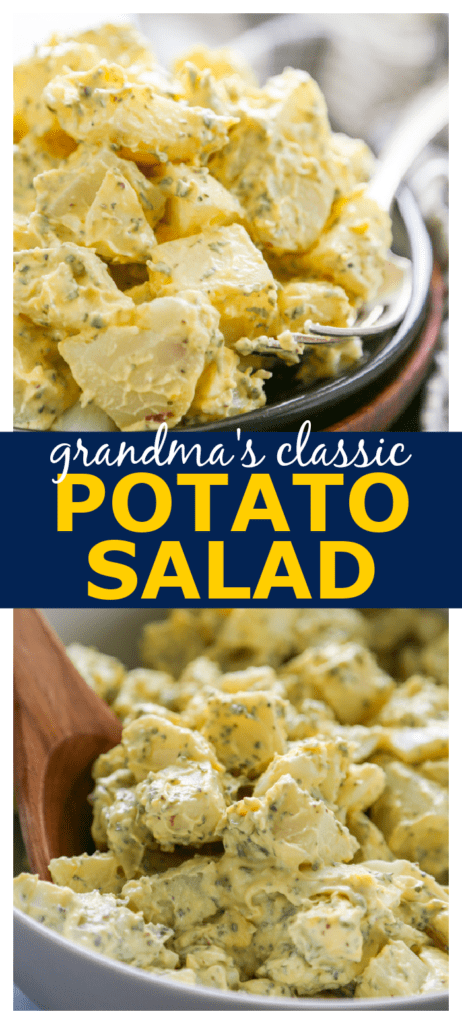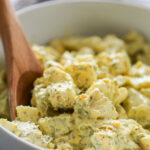 Print Recipe
Grandma's Potato Salad
A classic potato salad just the way my grandma used to make it. Simple, easy to make, and delicious! This is a side you can enjoy all summer long.
Ingredients
4

eggs

4

red potatoes

3/4

cup

mayonnaise

I use Best Foods

2

tablespoons

mustard

2

tablespoons

parsley

2

teaspoons

celery seed

1

teaspoon

onion powder

salt and freshly ground black pepper

to taste
Instructions
Peel and cut potatoes into small cubes. Add to cool water and boil until tender, about 8-10 minutes. Let cool at room temperature while boiling eggs.

Make hardboiled eggs using your preferred method. I like doing this on the stove-top. Peel and chop into bite-sized chunks.

Place chopped eggs and cooled potatoes in a large bowl. Add remaining ingredients and mix well.

Cover bowl and refrigerate until chilled and ready to serve. Top with paprika if desired.

Save