Chewy Healthy Peanut Butter Banana Cookies are a twist on your peanut butter cookie recipe. Made with no butter and less sugar, they make a great snack!
I'm sort of obsessed with peanut butter whenever I have a snack craving it is my to-go-to. I have worked in peanut butter into some of my favorite foods including caramel with my Peanut Butter Caramel Sauce and snickerdoodles cookies with my Peanut Butter Snickerdoodles. But these Healthy Peanut Butter Banana Cookies always come in for the win over summer month and the start of the school year.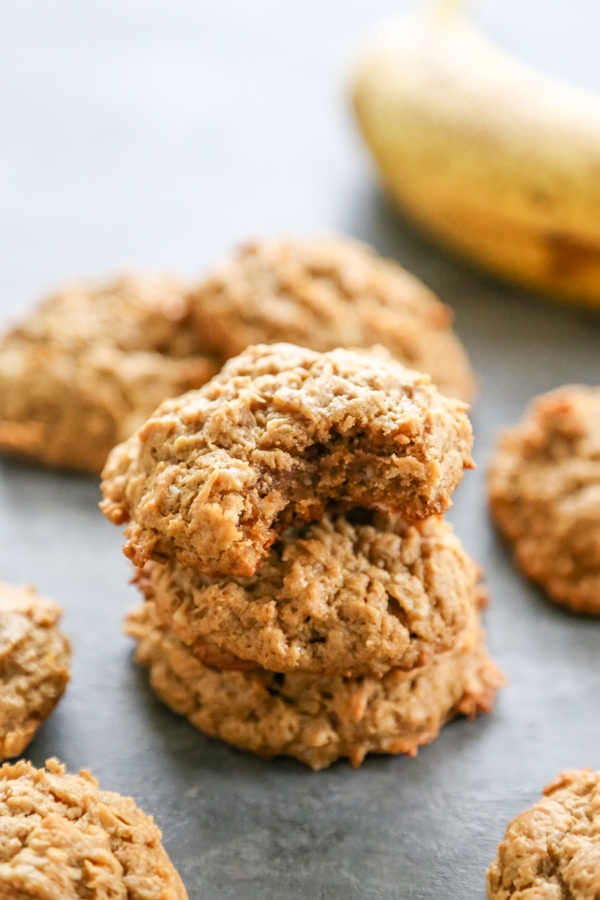 These Healthy Peanut Butter Banana cookies are inspired by my obsession with my Best Ever Soft Peanut Butter Cookies. Not only do we love that recipe for peanut butter cookies, but as well as many of you. One of my top-performing pins right now – those Peanut Butter Cookies are becoming a household favorite for many of you.
It was actually a reader's comment that made me switch up the recipe for my peanut butter cookies to make these Healthy Peanut Butter Banana Cookies. They mentioned in their comments that they reduced the brown and granulated sugars, increased the peanut butter, and added a banana. I meant to follow their directions and my recipe to a T so that I could recreate and try it.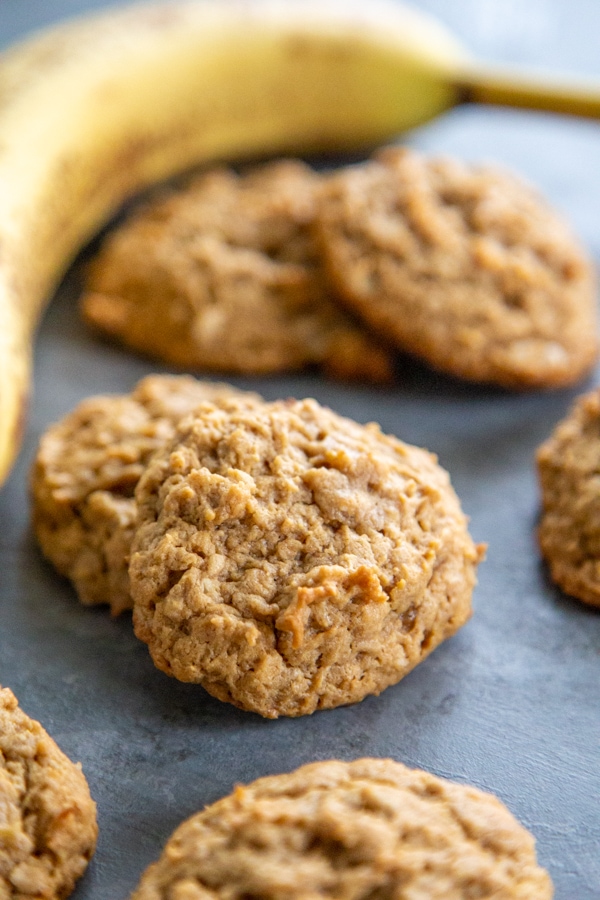 Sadly, I didn't follow my own recipe directions and unknowingly omitted the butter. Now upon first bite, I was like holy cow I can really taste the banana. I felt like I had missed an ingredient, but they raised more like a muffin than a cookie. But they were oh, so soft and the banana & peanut butter really shined. So I just didn't think more about it.
Then when I came to write the recipe was when I realized I left out the butter. EEK!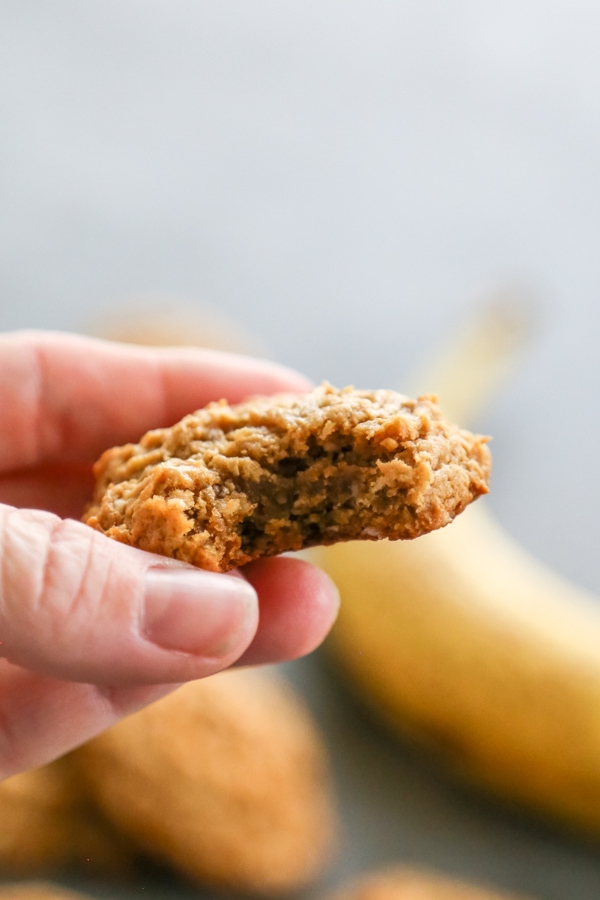 BUT when I added the nutritional content to these cookies, they came out to only 112 calories per cookie! So I was like heck yes, they were just right then. Making a snack that is one of my kids' favorite without overloading them with granulated sugar in the afternoon before dinner.
Jersey and her friends ate these right before yoga and Zumba, to which they stretched and danced their hearts out for over an hour and 45 minutes. They usually instantly complain about being starving, but there was none of that this time. These cookies held them over – double win!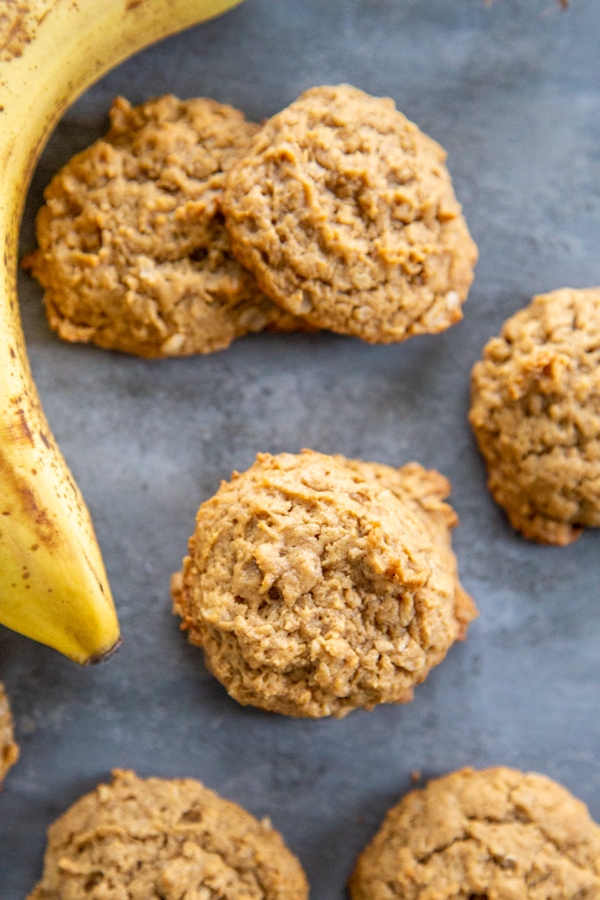 My hubby tried them and liked them but he said that they would even be better with dark chocolate, I agree. It would add the perfect touch of sweetness.
I honestly can't wait to try these cookies again, maybe next time with the butter and for sure with chocolate chips.
I love cookies and they are a weakness of mine so anyway or tip I can do to make them a little bit, even a smidge better for I am all game. With that said they still have to taste like a cookie, no cardboard here.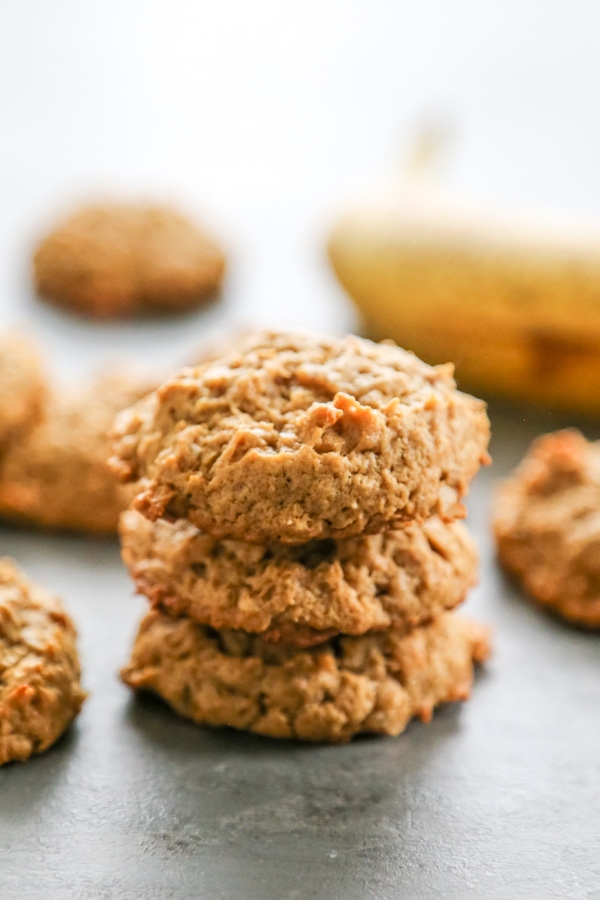 Some people struggle to make peanut butter cookies. Weird, well I thought so until I got a few comments on one of my recipes. So I thought I would share a few tips with you.
Whip together the peanut butter, brown sugar, and sugar (butter as well if you have that ingredient in your recipe) for 3-5 minutes, this will make your cookie turn out less grainy.
Keep oven temperature between 325-350 degrees. For this recipe I bake the cookies at 350 degrees, this makes your cookie chewy on the inside with a crisp outer edge. Cookie perfection.
Measuring peanut butter can be a sticky mess, spray your measuring cup with cooking oil to make this process a little less messy. Also, using a rubber spatula is really helpful when removing the peanut butter from its jar.
Now while these cookies are labeled "healthy" my kids still ate them. They are perfect served with a glass a milk to dip into a drink after.
My daughter Jersey who claims to hate peanut butter tried these after her friends gave a thumbs up and she liked them too. All the kids the day I made them wanted to eat the leftover cookies for an after-dinner snack. I didn't let them because well, these are an afterschool treat that this mama is proud to serve.
And while the entire recipe only takes a little over 30 minutes from start to finish, I just would rather only bake up a batch once a week, rather than once a day.
So are you looking for a snack or treat, that doesn't all the "extras" like butter and sugar? Then try these Healthy Peanut Butter Banana Cookies. They are McCollum kids approved and that in itself is a reason you should try them.
Enjoy friends and come back and let me know what you think. XOXO San
Don't forget to pin this recipe for Healthy Peanut Butter Banana Cookies to your favorite Pinterest board for later.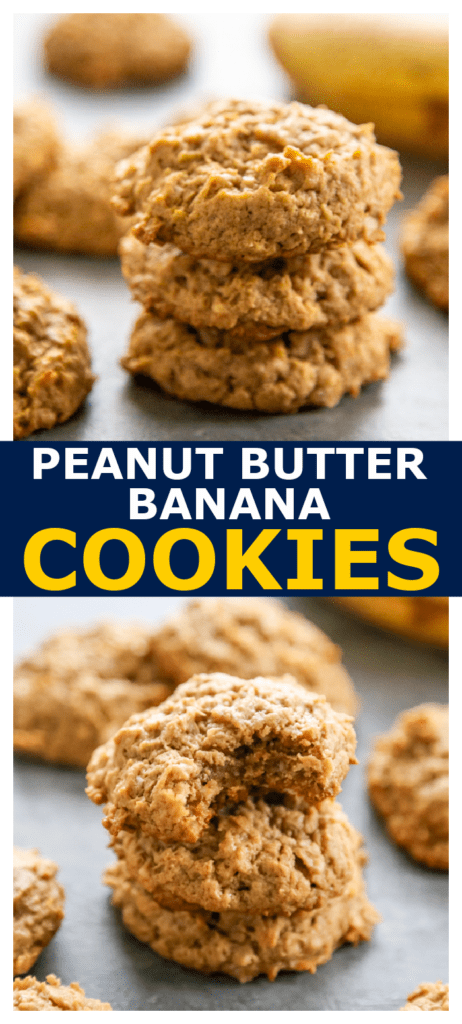 Healthy Peanut Butter Banana Cookies
Chewy Healthy Peanut Butter Banana Cookies are a twist on your peanut butter cookie recipe. Made with no butter and less sugar, they make a great snack!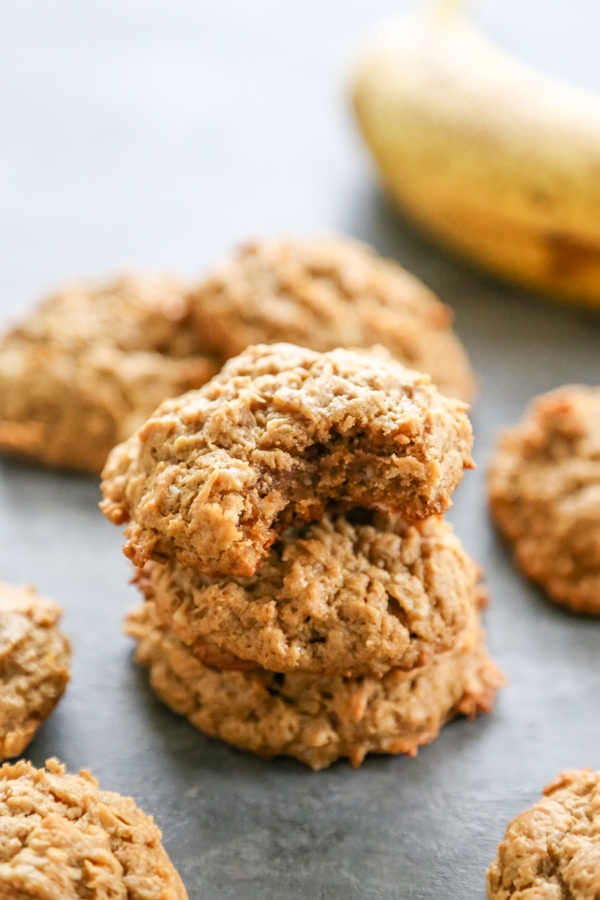 Ingredients
1

cup

peanut butter

1/2

cup

ripe banana

1 – 1 1/2 bananas

1/2

cup

brown sugar

1

egg

1

tablespoon

vanilla

1/2

cup

flour

1/2

cup

instant oats

1

teaspoon

baking soda

1/2

teaspoon

salt
Instructions
Preheat the oven to 350 F.

Mash the banana(s) using a fork or masher.

Using an eletric mixer, beat together the peanut butter, brown sugar, and mashed banana.

Add the egg and vanilla extract and continue to mix until well combined.

In a small mixing bowl, whisk together the flour, oats, baking soda and salt. Slowly add to the mixer and combine with the wet ingredients.

Use a cookie scoop to form into rounded balls and place on a parchment lined baking sheet.

Bake for 10-12 minutes or until golden brown.

These keep well for a couple of days in an airtight container.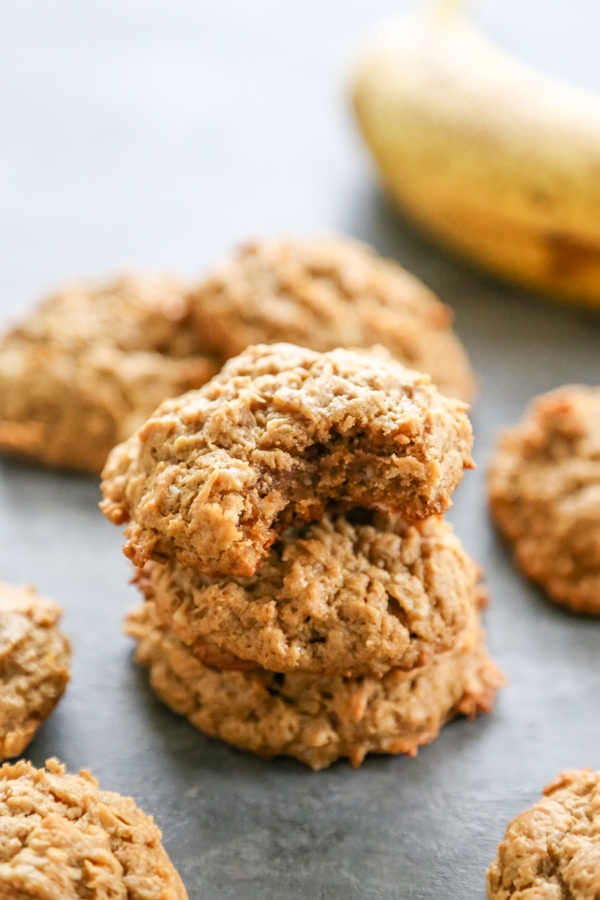 Tried this recipe?
Let us know what you think!