Indulge in the ultimate chocolatey treat with these Copycat Starbucks Double Chocolate Brownies. Rich, soft, and chewy, with an incredible fudgy flavor this is our favorite from scratch brownie recipe.
There's something incredibly satisfying about enjoying these homemade delights, knowing that you've mastered the secret recipe of Starbucks' irresistible brownies. So go ahead, take your baking skills to the next level, and experience pure chocolate heaven in every bite.

As someone who knows me will attest, I readily admit to having an addiction to Starbucks. And it's not solely because they boast the most divine caramel sauce imaginable, although that does indeed play a big role.
On rare occasions, I will treat myself to one of their bakery items or breakfast sandwiches including their chocolate chip cookies, vanilla bean scones, or Double Chocolate Brownies.
I have shared almost all of my favorite copycat recipes from the Starbucks menu, except for the caramel sauce. The secret to its amazing flavor still eludes me. However, I haven't yet shared the delectable recipe for Double Chocolate Brownies. If you're a chocolate lover or a fan of brownies, you'll absolutely adore these.
The best part is that you can make a whole batch at home instead of heading to Starbucks and spending $3 on a potentially dry, overexposed brownie. So, why not give these a try?
These Copycat Starbucks Double Chocolate Brownies are incredibly versatile. They're perfect for indulging in as an afternoon snack or a late-night dessert. They also make a thoughtful gift for a friend. Just remember to save a couple for yourself if you decide to give them away.
When I gift these brownies, I take extra care to remove the crust, giving them that irresistible bakery appearance. As for the edges I've cut off, the kids and I can't resist devouring them. It's truly a delight to share these treats with loved ones while savoring every bite.

While you may not be as big of a Starbucks fan as I am; you still need to try making their delicious brownie recipe. So whether you enjoy a cup of Joe or indulge in caramel steamer, these Copycat Starbucks Double Chocolate Brownies are a must-try.
This recipe will become one of your go-to recipes, and you and your friends will be delighted that you gave them a try.
Recipe Tips
To a smooth texture in your brownie batter. You can sift any lumps from your cocoa powder and flour before incorporating it. Nobody wants unwanted clumps interfering with the delectable perfection of their chocolate brownies!
Also, if you don't have chocolate chunks on hand you're welcome to use chocolate chips instead. Stick with semi-sweet though so these brownies aren't too sweet.
I do not recommend switching out the butter for oil, you will not get the same chewy brownie.
Fudgy Brownies
For achieving the desired texture of your brownies, I recommend following these baking times. My kids adore gooey, slightly undercooked brownies, whereas I prefer a moist center with slightly firm edges.
Bake for 30 minutes to get those extra gooey, fudgy pieces in the middle, and the perfectly fudgy pieces at the edges of the baking pan. Enjoy!n.
Only 35 minutes to achieve perfectly fudgy pieces in the middle and those delightful chewy-fudgy edges! Enjoy!
You'll need to bake these delicious treats for around 40 minutes to achieve chewy-fudgy pieces in the middle, along with some delightful chewy edges. Enjoy!
Pin this recipe for Copycat Starbucks Double Chocolate Brownies to your favorite Pinterest board for later.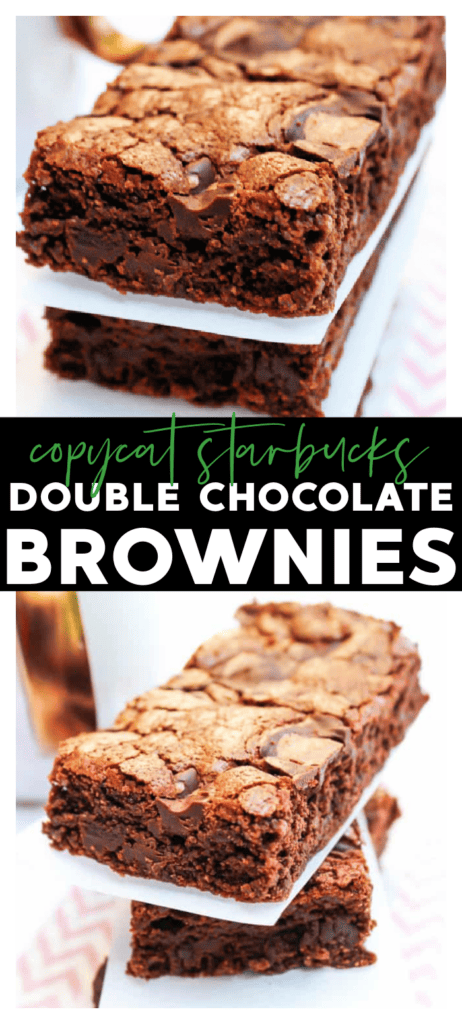 Print Recipe
Copycat Starbucks Double Chocolate Brownies
Copycat Starbucks Double Chocolate Brownies – these decadent brownies are rich, soft and chewy, tasting even better made at home.
Ingredients
1

cup

butter, room temperature

1 1/2

cups

sugar

1/2

cup

brown sugar

2

teaspoons

vanilla extract

4

eggs

1 1/3

cups

flour

1

cup

cocoa powder

1/2

teaspoon

baking soda

1/2

teaspoon

salt

2 –

3.5 ounce bars

Ghirardelli Intense Dark 72% Cacao, Twilight Delight bar
Instructions
Preheat oven to 350 degrees F. Lightly spray a 9×13 baking pan then line with parchment paper, spraying it first helps the parchment paper to stick.

In a large mixing bowl or stand mixer beat together the butter, sugar, brown sugar and vanilla.

Once the mixtures have combined, add the eggs in one at a time, beating in between each addition.

In a small mixing bowl sift together the flour, cocoa powder, baking soda and salt.

Slowly mix in the dry ingredients to the butter mixture.

Coarsely chop 1 of the chocolate bars into chunks. Then with a wooden spoon or spatula mix it into the brownie batter.

Spread the batter into the 9×13 prepared pan. 

Coarsely chop the remaining chocolate bar into chunks, sprinkle over the brownie batter in the pan and gently press into the top of the batter.

Bake for 30-35 minutes, until brownies begin to pull away from the side of the pan.
Notes
Note: The brownie batter is thick, remember this isn't a boxed recipe. Trust me it will turn out great.
Nutrition
Calories:
357
kcal
|
Carbohydrates:
49
g
|
Protein:
5
g
|
Fat:
18
g
|
Saturated Fat:
11
g
|
Polyunsaturated Fat:
1
g
|
Monounsaturated Fat:
5
g
|
Trans Fat:
1
g
|
Cholesterol:
95
mg
|
Sodium:
290
mg
|
Potassium:
162
mg
|
Fiber:
3
g
|
Sugar:
34
g
|
Vitamin A:
552
IU
|
Calcium:
32
mg
|
Iron:
2
mg

Save