Key Lime Sugar Cookies are sweet and tart cookies topped with lime buttercream frosting. A twist on the classic Southern pie made into a simple and delicious cookie recipe.
Lime sugar cookies are soft and chewy with a dollop of buttercream frosting to dress them up. They're as sweet as the pie that inspired them!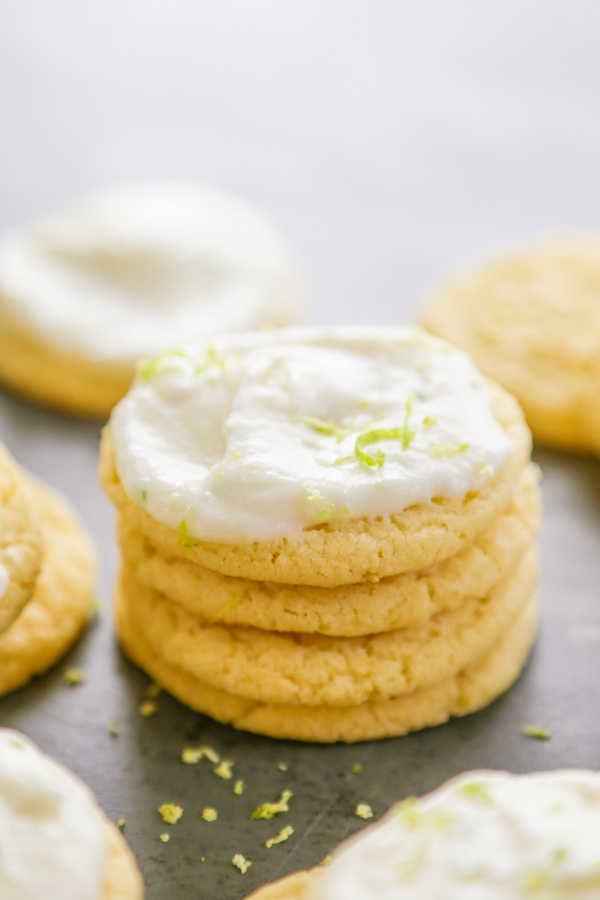 My husband is originally from the South, Louisiana to be exact. Since I've met him, I've been introduced to crawfish, jambalaya, gumbo, and his favorite… key lime pie.
His preferred version comes from his mom, who knows his craving for super bold flavors, rendering this favorite pie a bit too powerful for the rest of us – unless we're willing to walk around with puckered faces until the citric acid wears off.
These Key Lime Sugar Cookies are my attempt to turn his favorite pie into a cookie. And let me just tell you he loves them, and so do I. These cookies turned out to have all the lime flavor from the inspired pie minus the extreme tartness of the limes that one would expect to have.
They are incredibly balanced, soft, and addictive, as evidenced by my hubby inhaling three before acknowledging my existence. While I'm not the most significant key lime pie fan, I really love these lime cookies and devoured almost just as many as my husband.
Ingredients
White sugar
Softened butter – you will need it for the cookies and frosting.
Lime zest – you can use key limes or regular limes. The zest is used in the cookies and frosting.
Egg yolks
Fresh lime juice – you will need some for the cookies and the frosting.
Clear vanilla extract – regular vanilla will discolor your cookies a bit,  but you can use the same amount if that's what you have on hand.
All-purpose flour
Baking soda
Cream of tartar
Confectioner's sugar (powdered sugar)
Milk
Lemon extract
Why key limes make great desserts
Key limes are known for their unique flavor and acidity, which makes them excellent for creating delicious desserts. Here are a few reasons why key limes are great for desserts:
The flavor of key limes differs from regular limes because they are more intense and aromatic, giving desserts a refreshing and vibrant taste. Their tart and tangy flavor is distinct and adds a special touch to various sweet treats.
Key limes have high acidity, which is beneficial in desserts as it balances out the sweetness. The tartness effectively complements rich ingredients like cream and butter, resulting in a more complete flavor. In addition, the zesty and vivid flavor note provides an extra boost to the taste.
You can use key limes to make various desserts, such as pies, tarts, bars, cakes, cookies, and more. Key limes go well with ingredients like graham cracker crusts, whipped cream, meringue, coconut, and chocolate. This versatility allows for a variety of dessert options.
Recipes we love that are made with limes!
Cookie Baking Tips:
Can you freeze sugar cookies?
All cookies can be frozen, but it is best to wrap them individually to freeze them and only do this once they have cooled completely. Another way to freeze them is to stack them in layers in a Ziplock or container, separating the layers using parchment paper. I love individually wrapping them as I feel they taste better. Do not freeze after frosting.
How long will cookies stay fresh in an airtight container?
Properly stored, freshly baked cookies will last for about 2 to 3 weeks at average room temperature and stored in an airtight container. It is best if you frost before serving.
Can you freeze the dough?
This cookie dough can be easily frozen but it is best if you portion about the dough beforehand. Scoop the cookie like you were going to bake them and place on parchment paper. Then wrap the parchment paper in plastic wrap or store in an airtight container.

Before you bake preheat the oven, following the cookie recipe suggested temperature. Stick on a baking sheet lined with parchment paper, placing 2 inches apart, the only thing you will need to change is adding an extra 1-2 minutes to the baking time for the frozen dough.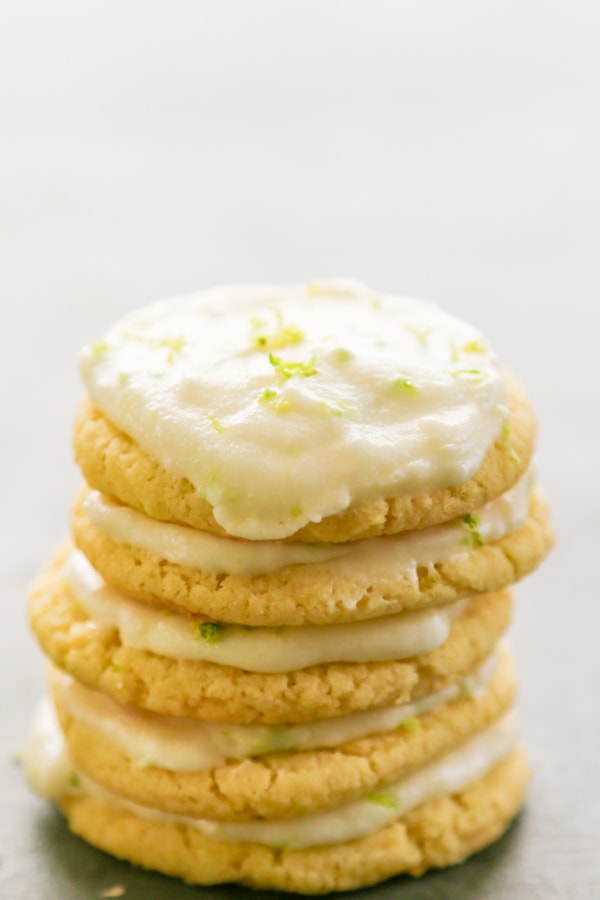 So looking for a twist on a classic Southern pie or just a cookie that everyone will ooh and ahh over – try these Key Lime Cookies. This an easy recipe for a soft, chewy sugar cookie with a punch of citrus flavor. Enjoy! XOXO San
More Sugar Cookie Recipes
Don't forget to pin this to your favorite Pinterest board to save for later!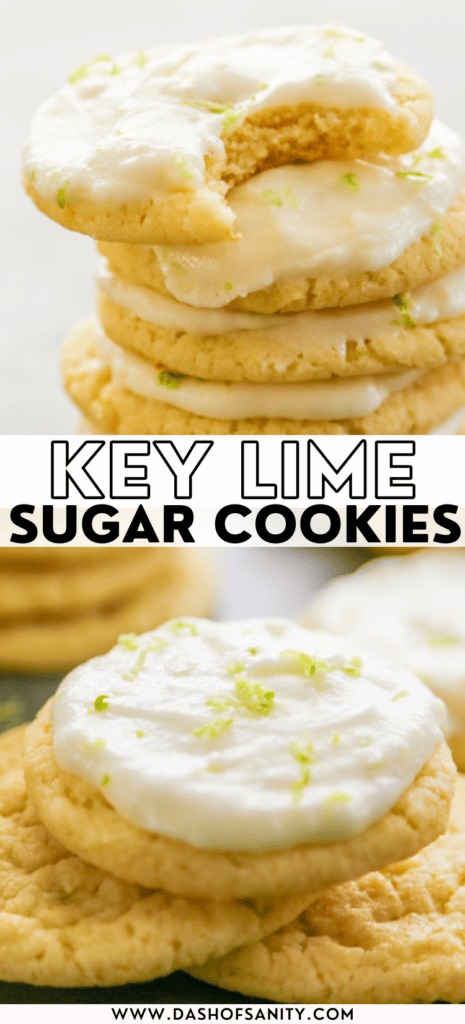 Key Lime Sugar Cookies
Key Lime Sugar Cookies are a key lime sugar cookie with lime buttercream. A classic Southern pie made into a simple and delicious cookie.
Ingredients
Key Lime Sugar Cookies
1 1/4

cups

white sugar

1

cup

butter

3

tablespoons

key lime or lime zest

(2-4 limes)

3

egg yolks

4

key limes

juiced, or 2 regular limes

1/2

teaspoon

clear vanilla extract

2 1/2

cups

all-purpose flour

1

teaspoon

baking soda

1/2

teaspoon

cream of tartar
Key Lime Frosting
4

cups

confectioner's sugar

1

key lime

juiced

3

tablespoons

lime zest

(2-4 limes)

1/2

cup

butter

3-4

tablespoons

milk

¼

teaspoon

lemon extract
Instructions
Lime Sugar Cookies
Preheat oven to 350 degrees F (180 degrees C). Line cookie sheets with parchment paper or a silicone mat.

Cream together sugar, lime zest, and butter. Beat in egg yolks, lime juice, and vanilla.

Add flour, baking soda, and cream of tartar. Combine.

Form dough into walnut size balls and place 2 inches apart on cookie sheet. Don't flatten. Bake 10-12 minutes, until tops are cracked and just turning color.
Lime Frosting
In a large bowl, cream together the confectioners' sugar and butter until smooth. Gradually mix in the lemon flavoring, lime zest and juice, then add the milk 1 Tbsp at a time until it reaches your desired consistency. Beat until smooth and stiff, about 1 minute.

Frost cookies and serve or store in an airtight container and frost before serving.
Tried this recipe?
Let us know what you think!